Doc Socks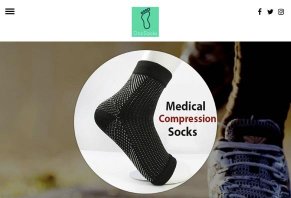 Doc Socks claim to use seven compression zones and three levels of compression strength to provide support and promote circulation in your feet.
Doc Socks Review: Will They Really Help Your Aching Feet?
Doc Socks are one-size-fits-all compression socks that claim to help prevent plantar fasciitis, limit swelling and reduce pain for those who are on their feet often.
The sock claims to use seven different compression zones to help improve circulation and support your foot. The site claims that a leading podiatrist-designed the socks but it did not give any additional information as to who the podiatrist is.
As you consider buying these socks, you'll want to get a clear understanding of how it works and what science says about its claims. Once you have those bits of information sorted out, it will help you know if these socks are right for you.
In our review, we will begin by addressing those two main areas – how the socks work and what science says about compression technology – and then discuss the sock's pricing.
How Doc Socks Work
As we mentioned a few seconds ago, these socks have seven different compression zones and there are three different levels of compression amid these zones.
But, from what we can tell from photos, those seven areas are:
Back of ankle
Upper heel
Lower heel
Mid-underfoot
Front underfoot
Top of the foot
Front of ankle
Each one of these areas plays a role in your foot's mobility and bears a lot of when you walk, sit down or stand up. Therefore, compression in these areas, the thinking goes, will promote foot health through increasing circulation and reducing possible pain points through added support.
Because the socks have a universal fit, you won't have to worry about choosing the right size. They should stretch out to conform to the shape of your foot.
What Does Science Say About Compression Socks?
It might be hard to believe that a pair of socks has the ability to strengthen circulation and help support your feet. While you might be skeptical, science actually has a lot to say about the effectiveness of compression socks.
They Can Help With Aches, Swelling, and Circulation
Here's a snippet from WebMD's breakdown of what happens when you wear compression socks (keep in mind that they're describing socks that go up to the top of your calves):
"Compression stockings can keep your legs from getting tired and achy. They can also ease swelling in your feet and ankles as well as help prevent and treat spider and varicose veins. They may even stop you from feeling light-headed or dizzy when you stand up. Because the blood keeps moving, it's harder for it to pool in your veins and make a clot."
What's tough about this description is that it's not speaking specifically about your feet. Rather, it focuses on the legs. This creates a little discontinuity since Doc Socks only go around your foot and ankle.
While there is a little bit of a disconnect between what Doc Socks do and what WebMD says, we do believe the site presents sufficient evidence that compression gear can increase blood flow and reduce swelling.
Not a Lot of Evidence for Plantar Fasciitis Prevention
Now, the other main piece here is that the site claims the socks can prevent plantar fasciitis, a painful condition that pops up where connective tissue attaches to your heel. WebMD notes that the best way to alleviate the condition is rest and pain medication.
Based on this, we believe that compression socks aren't a cure for plantar fasciitis; rest, pain medication, and, in some cases, treatment from a doctor are.
As far as prevention goes, the articles we read listed various things you can do to keep your plantar fascia in good shape. Shoe inserts and heel cups are two solutions, as they keep your foot's arch in good shape and reduces plantar fascia stress.
The Jacksonville Orthopaedic Institute recommends doing various exercises to help strengthen your plantar fascia:
Wear proper-fitting shoes
Scrunch a towel with your toes
Do daily calf stretches
Run on flat surfaces
Doc Socks Pricing and Return Policy
At the time of publishing, Doc Socks offered the following pricing tiers:
Two pairs: $52
Three pairs: $69
Five pairs: $95
Seven pairs: $119
After we checked these prices and tried to leave the page, Doc Socks offered us an additional 10% off our purchase.
We checked out Amazon to find compression socks specific to the feet and ankle that received at least four stars from customers and found that prices ranged from $9.99 to $18.99.
The site says that you have 30 days to return your socks if you don't like them. To complete your return, you'll need to send the socks along with your order number, name, and address, phone number, an explanation as to why you're returning your socks and whether you want a refund or an exchange.
The fine print says that your refund won't cover the shipping and handling you paid to get the socks or return them. Also, you have to send the socks back along with the original packaging and any instructions or paperwork that came with your socks.
The Bottom Line: Reviewing the Pros and Cons of Doc Socks
Based on our research of these socks, prevailing research on plantar fasciitis and pricing of comparable products on Amazon, we believe that Doc Socks have specific pros and cons.
First, the positives. We believe that compression socks are effective in promoting circulation and reducing swelling, two things that are good for feet, especially if you're on them all day and are looking for extra support.
Second, the refund policy for these socks is decent in the sense that, if you choose to return them, there's a good chance shipping cost will be around $8 or less for USPS shipping, which means the risk isn't all that high if you end up not liking them.
The downside to the socks and compression socks, in general, is that we weren't able to find any conclusive evidence that said compression socks of this type can prevent plantar fasciitis. Experts note that choosing the right shoes and wearing shoe inserts are an effective way of maintaining your foot arch and, in turn, promoting plantar fascia health.
Cold toes

By Jeanette H.

,

United Kingdom

,

Jan 28, 2020
Verified Reviewer

I'm quite pleased with the socks, I think they will help my painful feet, except for my toes are going to be cold unless I put socks over the top. Of course that won't work because it drags back the sock and then you do get a wrapped up fabric, which is uncomfortable when you stand up. I'm going to try wearing nylon ankle socks underneath the socks and I'll let you know how that goes.

Bottom Line: Yes, I would recommend this to a friend

---

Ineffective

By Martin G.

,

Colorado

,

Jan 17, 2020
Verified Reviewer

Yada yada. Third day using them. Sitting here and feet still burning. Tried to ignore it at first. Oh no, not another disappointment. Sent some to friends. Bottom line. Save your money. Not even spazzing for a refund. Not worth it to me.

All this yada yada. Why still burning? Haven't a clue.

No fake reviews on this either.

Bottom Line: No, I would not recommend this to a friend

---

Didn't help

By Kim P.

,

Alberta, Canada

,

Oct 18, 2019
Verified Reviewer

My legs swelled so badly above the sock. I had painful indents in my legs. Not only that, after one wash, one of the socks has begun to fray beyond wearing again. It was a huge waste of money as far as I am concerned.

Bottom Line: No, I would not recommend this to a friend

---

I love my "Doc Socks"

By Vanice C.

,

Houston, TX

,

Oct 16, 2019
Verified Reviewer

First of all, there are companies who have tried to copy the Doc Socks and failed.

One lady said hers were notwithstanding the laundry and threads were all breaking. They were NOT true Doc Socks.

Mine are the real "Doc Socks" and although I hand wash them in the shower, are holding up very well.

They DO help relieve some of the pain from Morton's Neuromas in both my feet. My feet burn and sting like crazy some nights when I go to bed but after wearing the socks, I have no pain in the morning.

Bottom Line: Yes, I would recommend this to a friend

---

Advertisement

---

SCAM!

By Dianne N.

,

Boston, MA

,

Oct 7, 2019
Verified Reviewer

I got two pairs (2nd half off) and they did nothing! Just a regular pair of socks, no compression. Emailed I wanted a refund and they said to keep both pair and I'd get a refund in 3-5 days, still waiting to see if that happens. And I'm out the $10 shipping either way. Don't waste your money!

Bottom Line: No, I would not recommend this to a friend

---

Buying Doc Socks was a stupid idea.

By Michael M.

,

Texas

,

Oct 5, 2019
Verified Reviewer

Wish I could give zero. I purchased Doc Socks for myself and regret it. I tried them on and they hurt the first time I wore them. They cut off circulation and were binding. The open toe idea is dumb. You can also slip and fall if you wear them without shoes as many people will. I tried to return them and they now say 30 days (I believe it was longer when I bought them). Save your money and buy good quality socks instead. There is no toe covering so you cannot wear with shoes either. I feel scammed and learned another valuable lesson about if it sounds too good to be true, hold on to your wallet. Only buy if you get a full year guarantee to return.

Bottom Line: No, I would not recommend this to a friend

---

Never got 2nd pair

By Melene G.

,

Monrovia, CA

,

Sep 17, 2019
Verified Reviewer

Just got these today and there was only one pair and mine was buy one get 1/2 price, which I paid for and did not get. Other than that I'll let you know how they make my feet feel. I will not be ordering another until I get the other 1/2 price in the mail.

Bottom Line: Yes, I would recommend this to a friend

---

SCAM

By Mark W.

,

Ocala, FL

,

Sep 16, 2019
Verified Reviewer

These Doc Socks are a joke. They do nothing except hurt my feet and ankles! Very over priced and I think the good reviews must be fake. I wish there was a way to leave a zero! I would NEVER tell or say anything good about this product and wish I could get my money back!

Bottom Line: No, I would not recommend this to a friend

---

Love the Doc Socks

By Linda K.

,

Massapequa, NY

,

Sep 9, 2019
Verified Reviewer

Unlike many reviews, I found these socks to fit well under another pair of socks. They had just the right amount of compression. I stand on my feet for hours at work and I found they helped relieve the pain and leg fatigue I had without them. Wonderful product!

Bottom Line: Yes, I would recommend this to a friend

---

Worth the money

By Agnes A.

,

Philadelphia, PA

,

Sep 3, 2019
Verified Reviewer

Got 3 pairs of Doc Socks at my husband's suggestion. He wears one pair, I have the other, and my son-in-law wears the third. I believe they help a great deal even when you are not walking. I have a bad arthritic knee that sometimes wakes me in the middle of the night. I put on the sock and the pain is gone and I can go back to sleep. Not easy to get on and off if you have trouble with your hands but I do it and I cannot open jars anymore. My husband has a bad back and he believes it helps him. Have not yet heard how my son-in-law likes them. He is on his feet all day so I will be anxious to hear. Thinking of getting them for Christmas gifts for the family. Wish they were a bit cheaper and came in assorted colors and patterns though.

Bottom Line: Yes, I would recommend this to a friend

---

Buyer beware

By Sandy C.

,

Sedona, AZ

,

Aug 21, 2019
Verified Reviewer

One size does not fit all. I'm an active woman in my early seventies and I never do reviews. However, it took extraordinary effort to put on the socks and when I needed to remove them I was just a hair-trigger short of removing them with scissors because I could not get them off myself. They seemed okay while I wore them but after what I went through to get them on and off it is not worth it. I sent them back the next day. Also, the shipping and handling charges (over $10.00) are non-refundable, plus you have to pay the return shipping as well. This is not disclosed. Buyer beware.

Bottom Line: No, I would not recommend this to a friend

---