DoggieLawn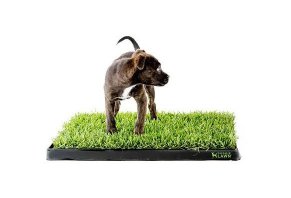 DoggieLawn is a biodegradable pet bathroom that uses living grass to give your dog a space to do their business indoors.
DoggieLawn Review: A Detailed Overview
What Is DoggieLawn?
DoggieLawn is a natural indoor pet potty designed to make it convenient for dogs to do their business when they don't have easy access to the outdoors.
This small patch of living grass creates a space for pets to pee indoors where microbes break down the urine so that your home doesn't smell.
This biodegradable pet bathroom came into existence when founders Zack Norman and Natalie Youn grew frustrated from cleaning up accidents when their busy schedules meant that they weren't able to give their dogs enough bathroom breaks throughout the day.
Their goal was to develop a convenient yet eco-friendly solution that was more sanitary and less smelly for pet owners than pee pads.
The product website states that DoggieLawn is designed for apartment dwellers, those who work long hours away from home, and pet owners who have sick, small, or elderly dogs that struggle to hold their bladder.
You can sign up to receive DoggieLawn on a subscription basis for consistent deliveries of fresh grass. But is this a purchase worth making? Let's study the facts so you can decide.
How Does DoggieLawn Work?
DoggieLawn states online that given a choice, dogs prefer to pee on real grass. That's due to both its smell and texture. Unfortunately, many pets have limited access to the outdoors during the day, which causes them to turn less appropriate places into the bathroom spots.
This subscription lawn delivery service is designed to solve that problem by giving pets space they are instinctively comfortable with to do their business.
DoggieLawn states that most pets pick up on lawns without much training, though you can positively reinforce their behavior with a treat the first few times they figure it out.
If your pet struggles to adjust to using their DoggieLawn, the company offers free phone consultations with their on-staff training experts at (310) 853-8997.
Each Doggielawn order comes as live grass meant to be placed in a reusable tray. Unlike standard sod, DoggieLawn grass grows in thick, durable mats designed to absorb lots of liquid to prevent leaking and urine odors.
This eliminates the need for synthetic turf and pee pads that must be tossed into the trash daily to avoid odors. In this way, DoggieLawn is designed to give pet owners a near-effortless way to help their pet meet their bathroom needs when stuck indoors.
DoggieLawn states that young pets might take an initial interest in their small lawn by digging through the dirt or chewing the grass. Pet owners should supervise their pets for the first few hours around the lawn so that they can award good behavior and stop destructive ones.
If your pet takes a long time to stop wanting to dig up the grass, you can use aviary netting and zip ties to restrict their access until they lose interest.
Most pets will likely also use their lawn to do number two. DoggieLawn includes a roll of plastic cleanup bags with your first order to help you clean up.
The company suggests only watering your lawn as needed, as most dogs don't like walking in wet grass. The color of the grass doesn't bother your pet and that they will pee on dead or yellowing grass as well.
If you keep the grass on a porch or balcony, the company suggests covering it when it rains to keep it dry.
When your lawn arrives, you can use the included disposable gloves to unroll the glass unto the tray. Place it in your preferred spot for your pet's bathroom and remove solids daily. When it's time to dispose of the lawn, reroll it and throw it in the trash or your compost pile.
For further guidance, the company offers un-boxing videos.
Natural Grass Versus Artificial Grass
DoggieLawncompany reports that dogs aren't instinctively willing to pee on synthetic grass unless it's sprayed with a urine substitute. These harsh chemicals can disrupt your home's scent and they might harm your dog if they have too much exposure.
Likewise, synthetic grass systems can't absorb urine, which means it collects in drip trays that users need to empty.
Living grass, in contrast, absorbs the liquid and the naturally present microbes break it down. Once the grass is fully saturated (usually after a few weeks), you can dispose of it outdoors where it will quickly break down.
How Much Does DoggieLawn Cost?
DoggieLawn currently offers four sizes of lawn to choose from. They are as follows:
Standard (20" x 16"): Dogs up to 15lbs ($29 to $30 per delivery)
Medium (20" x 24"): Dogs up to 30lbs ($29 to $30)
Large (24" x 24"): Dogs up to 50lbs ($31 to $32)
XL (24" x 48"): Dogs 40lbs and over or multiple dogs ($34 to $38 or $50 to $58)*
* The final price depends on your shipping frequency. Weekly and biweekly orders are the cheaper options.
You can also purchase a reusable plastic tray for the lawn for $4 or use your own.
The most common way to order DoggieLawn is to sign up for an auto-ship subscription. The frequency of your deliveries will depend on the needs of your dog. As a general rule, medium-sized dogs using the lawn up to twice a day should have a biweekly subscription.
Young puppies have small bladders and will pee more frequently when adults, so they may need a new lawn twice as often as they will as adults.
You can change, cancel, or snooze your subscription at any time through the "My Subscriptions" section of your online account, or by messaging the company at contact@doggielawn.com.
This email is also the best way to contact the company for any other product questions that come up.
Analysis of DoggieLawn Customer Reviews
If you look online, you'll find that there are dozens of reviews of DoggieLawn on numerous dog-related websites. From our perspective, the vast majority of these reviews are positive.
Apartment dwellers seem to love DoggieLawn. Many people reported that it was a pain to take their pets down the elevator every time they needed to use the bathroom and that they often had to walk several blocks away to find real grass for their pets to pee in.
These reviewers found the lawns to be major timesavers because their pets could use the bathroom whenever they felt like it.
Several reviewers reported that they were afraid the grass would smell or that their pets wouldn't want to use it, but the majority consensus seems to be that this wasn't a problem.
Others noted that they had positive experiences with the DoggieLawn customer service and that all their questions were answered quickly.
Many of these reviewers also said they appreciated how much more environmentally sustainable the mats were compared to plastic pee pads.
The only negatives we noticed overall came from people who had shipping problems and didn't get their lawns when desired.
The Bottom Line: Should You Sign Up for DoggieLawn?
After this review, you're probably tempted to try out DoggieLawn for your home. We think that's a smart idea.
This brand offers a bathroom solution that benefits both canines and their companions by giving dogs a designated space to go to the bathroom.
This prevents you from stressing about how often you're taking your pet out to pee, and it eliminates the discomfort that pets feel if they have to hold their bladder for too long.
As an added benefit, DoggieLawn will likely reduce the incidents of accidents in your home, which will stop your house from smelling urine and may protect your floors.
And since DoggieLawn is set up as a subscription purchase, you won't have to worry about running out.
Dog owners that spend a lot of time away from home or who find it inconvenient to bring their pet outdoors regularly will likely find that DoggieLawn is a game-changer.
If you can fit $60 to $120 in your monthly budget for an indoor pet bathroom, then this is a company well worth considering.