Dollar Beard Club Reviews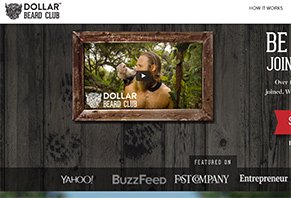 Dollar Beard Club's subscription service provides monthly access to a variety of beard grooming products such as oils, balms, waxes, supplements, and more.
About Dollar Beard Club
Dollar Beard Club is an online subscription service that delivers custom-made boxes of all-natural beard products to your door each month, including oils, balms, waxes, shower items, growth accelerators, and more.
Based out of Huntington Beach, CA, Dollar Beard Club was co-founded in 2015 by serial entrepreneur Chris Stoikos, who also founded CoolBox (a "smart" toolbox pitched on Shark Tank), Project CoPilot (a company that helps crowdfunded projects succeed), and RangeToGo (a portable driving range).
Dollar Beard Club's Uncut Beard Co. branded products promise to deliver big savings, no fees or commitment, and exclusive events and offers to their 150,000+ members.
Low prices and large customer base aside, can you expect Dollar Beard Club's products to help you "grow your beard like never before"? Even then, are they a better value than the competition?
First, let's talk briefly about beard hair.
Beard Hair vs. Other Body Hair
Before puberty, most of the hair on a man's body is known as vellus hair, which is soft and straight. On the scalp is another type of hair, known as terminal, which is longer, thicker, and darker than other hair on the body.
After puberty, however, most of a man's body hair (with the exception of the head) turns into something called androgenic hair, which is thick, curly, and wiry. It looks and feels so much different than scalp hair because these follicles twist as a result of being exposed to testosterone.
Pro tip: The thickness and overall coverage of a man's beard has a lot to do with the amount of testosterone in his body, which can't be changed a whole lot using oils, waxes, and so forth.
However, you can make sure your body has all the essential nutrients it needs to maximize results within your genetic limits, including vitamin B5, C, and E; biotin, inositol, niacin, and more.
Because of their different texture and place on the body, beard hair typically requires different care than head hair. For example, because facial skin is more sensitive than scalp skin, a shampoo that works great for cleansing head hair could be overly drying for the face.
Because of its wiry, unruly texture, beard hair also typically requires more conditioning than does scalp hair, as well as specialty tools, like beard brushes and combs.
Given this, how does Dollar Beard Club claim to help? Let's take an in-depth look at their lineup.
How Does Dollar Beard Club Work? What Uncut Beard Co. Products Do They Offer?
Dollar Beard Club offers customers a variety of different products they claim will help nurture your beard, improve its health and appearance, and deliver thicker results.
When building your kit, the process works over five steps:
Step 1: Choose Your Beard Oils
Dollar Beard Club tells us their Original and Sandalwood-scented oils can help provide nourishment and keep your beard "silky, smooth, and smelling manly."
All their beard oils are made from natural ingredients and are free of chemicals and preservatives, which can help minimize beard itch, improve shine without greasiness, and repair damaged hair.
The Original Scent includes the following ingredients: Sweet Almond Oil, Argan Oil, and Fir Needle.
With a woodsy and warm scent, DBC's Sandalwood option features Sweet Almond Oil, Sandalwood Oil, Sweet Orange Oil, Argan Oil, and Jojoba Oil.
Step 2: Choose Balms & Waxes
Original & Sandalwood Balms
Dollar Beard Club's nourishing balms promise to combine the benefits of oil and wax by encouraging growth, boosting hydration, softening rough hairs, and relieving dry, itchy skin.
This way, you'll be able to control frizz and style your beard with ease. Original ingredients include:
Sweet Almond Oil
Fir Needle
Orange
Cedarwood Atlas
Sandalwood balm includes the following: Sweet Almond Oil, Shea Butter, Sandalwood Oil, Beeswax, Coconut Oil, and Orange Oil.
DBC Beard Cream
If your beard needs a little taming, but you prefer to maintain a natural look, Dollar Beard Club claims their cream can condition and tame unruliness, while hydrating and nourishing skin.
We're also told their cream will help protect your beard against harsh climates and minimize itch while remaining non-greasy. Ingredients include:
Purified Water
Organic Sunflower Seed Oil
Xanthan Gum
Organic (Aloe Vera) Leaf Juice Powder
Sandalwood Essential Oil
Organic Coconut Oil
Cetearyl Alcohol Coco-Glucoside
Organic Shea Butter
Citric Acid
Lactic Acid
Dehydroacetic Acid
Cedarwood Essential Oil
Beard Wax
Made of pure beeswax, cedarwood atlas, lavender, shea butter, fir needle, and orange, Dollar Beard Club's Wax claims to deliver control and shine, while keeping your beard and mustache healthy.
Step 3: Choose Your All-Natural Shower Items
Body Wash
According to Dollar Beard Club, their Body Wash's cleansing formula can help leave you feeling "healthier, stronger, and ready to conquer the world."
While it might come from a beard company, we're told the product can be used all over your body to keep skin smooth and moisturized, blast away dirt, and leave behind a mild scent.
You'll find the following ingredients in the Body Wash:
Saponified Organic Oils of Coconut
Organic Aloe Vera
Water
Sodium Chloride
Cedarwood Essential Oil
Olive and Jojoba
Organic Rosemary Extract
Coconut Oil
Vegetable Glycerin
Guar Gum
Orange Essential Oil
Vetiver Essential Oil
Shampoo
Made from all-natural ingredients, Uncut Beard Company Shampoo claims to wash away debris without dehydrating your hair, eliminate dandruff, minimize tangles, and "restore your beard to its epic natural state." These include:
Saponified Organic Oils of Coconut
Organic Aloe Vera
Rice Bran Oil
Grape Seed Oil
Safflower Oil
Guar Gum
Vetiver Essential Oil
Olive and Jojoba
Organic Rosemary Extract
Water
Coconut Oil
Vegetable Glycerin
Cedar Wood Essential Oil
Pine Scotch Essential Oil
Rosemary Essential Oil
Step 4: Pick Your Accelerators
Growth Oil
Using Dollar Beard Club's Beard Growth Oil daily, we're told you'll be able to stimulate blood flow, nourish follicles, soften and smooth your hair, and grow a longer, fuller beard. To accomplish this, Growth Oil contains:
Castor Oil
Rice Bran Oil
Avocado Oil
Cedarwood Essential Oil
Vetiver Essential Oil
Sunflower Oil
Coconut Oil
Jojoba Oil
Peppermint Essential Oil
Vitamin E
Growth Vitamins
This supplement contains a blend of botanical extracts and multivitamins that might be able to improve the health of your skin and hair, unclog oil glands, minimize irritation, and "prevent graying caused by nutrient deficiencies."
Growth Vitamin Spray
After lightly spraying on your beard, we're told the Growth Vitamin Spray will smooth and strengthen your hair, control dandruff, and leave your beard smelling fresh. Ingredients include:
Water
Peppermint Hydrosol
Glycerin
Lavender Hydrosol
D-Ribose (Vitamin D)
Pantothenic Acid (Vitamin B5)
Methylsulfonylmethane (MSM Powder)
Phenoxyethanol
Biotin (Vitamin B7)
Calcium Ascorbate (Vitamin C)
Step 5: Need Accessories?
While these products won't necessarily condition your beard, they could help it look better. These include a beard brush, standard comb, money clip, stainless comb, and sandalwood mustache comb.
With this out of the way, how much will you pay for these products?
Does a Dollar Beard Club Membership Only Cost $1?
Dollar Beard Club products are priced as follows:
Beard Oils
0.5oz Bottle: $1/mo
2oz Bottle: $4/mo
Balms & Waxes
Balm (1oz): $7/mo
Cream (2oz): $8/mo
Wax (0.5oz): $6/mo
All-Natural Shower Items
Body Wash (8oz): $9/mo
Shampoo (4oz/8oz): $10/$17 per month
Accelerators
Growth Oil (1oz): $8/mo
Growth Vitamins (60 capsules): $19/mo
Growth Vitamin Spray: $13/mo
Accessories
Beard Brush: $9
Beard Comb: $5
Money Clip: $19
Stainless Comb: $15
Sandalwood Mustache Comb: $7
Regardless of your order total, it appears you'll pay a flat $3.99 for S&H.
According to the company's FAQ, your recurring billing date is determined by your original signup date. So, if you joined on the first, your next shipment will be billed and processed on the first of each month.
All Dollar Beard Club memberships are billed on a month-to-month basis, although there are no contracts or commitments. You can cancel anytime by following these steps:
Go to Edit Box
Remove all items from your box
Click Update to save the changes
Follow cancellation steps
After their warehouse processes orders, however, no refunds or cancellations are available on Dollar Beard Club products.
As you can see, despite what the company's name might lead you to believe, the only product available for $1 is their oil. And if that's all your budget will allow, or if that's the only product you're interested in, you'll pay 4X this amount in S&H charges.
What Can We Learn From Dollar Beard Club Reviews?
Although we're told Dollar Beard Club has more than 150,000 members, there wasn't a whole lot of online feedback for the company at the time of our research.
SoCalSessions
We found a fairly in-depth three-part review on SoCalSessions.com, who immediately liked the well-designed products and quality packaging.
Overall, they found them to have good smells that tended to last all day. They also experience softer, more manageable beards using them, although they noted that it might take several uses before delivering meaningful results.
In the case of the shampoo, the author mentioned that you'll need a lot, which may not last a full month, depending on the length and thickness of your beard. They also felt that the beard oil's price was great, but it doesn't seem to come with a dropper.
Below these reviews, several commenters's provided feedback of their own, which referenced the inability to suspend a subscription (it can only be changed or canceled), website issues, and unresponsive customer support (this issue appears to have since been addressed).
Reddit Feedback
We also found nine user comments on Reddit, several of whom noted that they received more product than they could use in a month, leading to a lot of waste (again, you can't suspend your subscription).
Many seemed to enjoy the quality of the products, however, but found their scent selection limited and didn't appreciate that you can't order kits without at least one bottle of oil.
Are There Other Subscription Services Like Dollar Beard Club?
There are certainly dozens of companies that offer beard grooming products, including options like Beardbrand, although there are many popular competitors like TOPPBox, Beard Care Club, Beardology, The Roughneck Beard Company, Beard of God, and more.
On top of this, some existing discovery commerce companies like Cratejoy and Birchbox also offer beard-based subscription plans.
Compared to Dollar Beard Club, you'll pay anywhere between $4.99 and $40 for these subscription options, while products from standalone retailers tend to come with much higher prices (but without any autoship program).
Will You Achieve a Better Beard with a Dollar Beard Club Subscription?
Because only some of their oils are priced at $1, along with the fact that you'll have to pay a minimum of $3.99 S&H each month, it might seem like Dollar Beard Club's name doesn't fully represent what they offer.
However, they still tend to feature meaningfully lower prices than much of the competition and seem to come with high marks from customers, based on quality and performance.
This is despite the fact that WebMD indicates there's little clinical evidence showing their ingredients can work as much more than fragrances, emollients, and moisturizers. This also appears to be the case for their hair supplement.
So at least from this perspective, they don't seem to be a whole lot different than many other beard care products you'll find out there.
In layman's terms, what does this mean from an efficacy standpoint? Like those found in standard hair care products for your head and scalp, the ingredients in Dollar Beard Club products might help soften your beard and improve its feel, make it more manageable and tame unruliness, and increase its shine and boost appearance.
However, according to authoritative websites like WebMD, there's little clinical evidence that they'll help speed up growth, or—unless your beard is especially out of control—provide dramatic results from an appearance perspective.
Bottom line? If the price is your number one factor, then it could be difficult to beat Dollar Beard Club. And based on limited customer feedback, despite their competitive prices, they seem to deliver solid quality.
While you won't be able to get a refund on your Dollar Beard Club products after being processed, the good news is that you can modify or cancel your subscription at any time, without any fees or further obligation.
---
Can't beat the price or quality

By Derek

,

North Carolina

,

Mar 22, 2017
Verified Reviewer

I'm on my fourth month using Dollard Beard Club and am pretty satisfied with the product quality and price. I do wish you could buy things instantly and not have to wait on the monthly shipment to process. That's one of the main drawbacks of using Dollar Beard Club.

I also would like to see more variety in the scents they offer. The choices are Original (pine) and Sandalwood. My latest order was the sandalwood scent, which I didn't like at first, but it is growing on me. I'll probably be changing my order back to Original, though.

For the price, you can't beat Dollar Beard Club. I've tried to order oils from other companies, but I just can't bring myself to pay $20 for the same thing I can get at Dollar Beard Club for $4.

Bottom Line: Yes, I would recommend this to a friend

---

I highly recommend the product. The website could use work.

Northwest Territories, Canada

,

Jan 22, 2018
Verified Reviewer

So I'm aboriginal. I can try growing a beard for six months, and I'll just have really gross hairs and patches everywhere.

I used it for three months straight and started noticing the change. Patches are gone, and it's forming more of a beard.

I stopped due to cutbacks at work but restarted again, and have been using for six months.

It's grown a lot better. I don't notice many patches. But I also don't use it as frequently as I should (pills two times a day and lotion five times a day is recommended), due to depressive waves that have been hitting me.

I'm slowly getting into it again and as before my beard is thicker and more prominanent than ever before. I'm 23, been trying to grow a beard my whole life, so I have gone months without shaving to no results until this product.

I highly reccomend this product

I don't know why people are saying they can't cancel their orders as it's been extremely easy for me to do so. You just need to cancel before your subscription restarts.

Bottom Line: Yes, I would recommend this to a friend

---

Advertisement

---

Oil for a $1? Wow!

By Jose Grande

,

Omaha, NE

,

Jan 12, 2018
Verified Reviewer

While they do only offer two scents compared to all the other competitors, let's take a moment to realize that for $1 you can get a 1 oz bottle of Oil, and after shipping it's only $4-$5.

Competitors will sell you 1 oz for $8-$15 + shipping. You can't even get a sample size for $1 with the competitors.

Let's talk about their website. It's a lot more clean and user-friendly than all competitors. They have a section on the website so you can even manage your subscriptions. It's not as bad as these illiterate users think.

The only people who give this company a 1-star rating are beardless crybabies (no pun intended).

This company does not sell magical potions that can grow beards, nor do they claim to. They sell products with ingredients proven to increase the health of a beard (Biotin, Vitamin E, etc), thereby helping it grow better. However, no one wants to take the time to research beard growing. They wasn't to believe there is a simple solution to growing a beard overnight. These same people are the ones wasting money on health supplements and then rate one star saying "I'm still a skinny boy."

Aside from all that, most of their other items do seem to match or beat the competitors.

Stay beardy my friends!

Bottom Line: Yes, I would recommend this to a friend

---

Great product, website/shipping could use improvement

I absolutely love their products and marketing. I love the concept of what they're doing here, but the hard part is knowing just how much product you'll need. With a monthly subscription, you're likely to be shipped way too much (either that or your beard will be dripping oil every day). If you're like me, you'd rather just buy a larger quantity to save on unnecessary shipping costs (which is definitely not cheap).

The problem I encountered was suspending my account temporarily. When turned the subscription back on, I had to wait until my next shipping date, which was nearly a month later. I couldn't get them to send it right away. The next time I did this, it took three months, and I still didn't get my order, so I finally threw my hands in the air.

I tried contacting the company but didn't get anywhere with it, so I went to a competitor. In my humble opinion, they need to iron this out and offer a "Buy It Now" button. Their sales would increase. The concept they have is great, but the execution could use some improvement. If shipping was more affordable or even included, I would be much more likely to let the monthly campaign work as designed.

I have used other company's products, and while most pretty much offer the same thing, I prefer the Dollar Beard Club. My beard felt less greasy and overall much softer. The product gets five stars, but the website gets two and a half stars. Come on Dollar Beard Club. I want to keep using your product. Help me out.

Bottom Line: Yes, I would recommend this to a friend

---

Advertisement

---

Acceptable - kind of

By Brandon

,

Mesa, AZ

,

Feb 20, 2018
Verified Reviewer

So, my beard is about to the middle of my chest. I wanted to tame it and have more control over the styling. The products work well at doing that but not much in terms of the health or growth support as claimed.

As for canceling your order, you just need to go into your account and remove your subscription. It's not that hard to do.

Bottom Line: Yes, I would recommend this to a friend

---

Mediocre products at best

By Umar Z

,

Connecticut

,

Jan 22, 2018
Verified Reviewer

Their standard oil you get for a dollar is ok. It smells ok, but didn't really do much for me. I have not noticed a reduction in split ends and tangles since I started using it several months ago. The beard balm is also ok. It helps as a styling product but again didn't do much for the health of my beard.

My beard is a bit more than two fists below my chin, so maybe for shorter beards these products work better.

I have also tried the beard cream, which is just weird. It's more liquid than I would expect for a cream and has a weird smell to it. I wouldn't say it's horrible but definitely unpleasant. It also didn't do anything for my beard. Next, I tried the beard shampoo, which I honestly think is just the beard cream in a different container. It was the same consistency and had the same weird smell. It didn't lather like you'd expect, and I know that isn't necessary for something to clean but it is reassuring that it's doing something.

The beard comb and brush I got from them seem nice enough.

I canceled my subscription after five or six months. I really wanted to like it, but it just doesn't quite live up to the hype.

Bottom Line: No, I would not recommend this to a friend

---

Terrible customer service

So I once did a one time order for oil and beard shampoo from Dollar Beard Club, and I will say I did enjoy their product. I ordered their beard shampoo probably on three occasions and did like the product.

This being said I wanted to try their body wash and was in need of more of the beard shampoo, so I put an order in that did not give me an option to do a one time order just an automatic subscription that I could delay if need, which is what I did.

After the first order, I didn't need more of either as the beard shampoo lasts a while and the body wash is only 8oz and is fairly expensive for what you receive. The body wash also doesn't last long, and you have to use more than directed, so I wasn't planning on getting any more. I will admit to my own mistake that I didn't remember when my order would be refilled and got an email at 3 AM that they were shipping my next box, and that they were going to ship it to my old billing address that I never once used for shipments and does not receive deliveries.

I attempted to find a customer service phone number for the company, but there are none listed that at least I was unable to find. This led me to try other solutions to figure this out and found out they don't have a contact number to speak with anyone, and had to go through their electronic process, where I was informed that they would cancel my subscription (which you cannot do on their website), but I would not be refunded and they wouldn't reship a new box to my correct address (which is where my last box was correctly shipped to), nor would they issue a refund for something I would never receive based on their return process that is hidden in the fine print.

I will no longer ever recommend working with this company and will tell anyone that uses them to cancel their subscription through their email process that is a pain to use. I understand this probably won't have a huge affect on their business, but I at least want it out there. They offered me no solutions and refused to refund my order. There are plenty of beard products out there that are just as good as this company, that offer much better customer service if there is ever an issue. Working in customer service for the past three and a half years, I am appalled that there is no way to call this company to help solve any issues. Also, any other subscription service I use for a product (not a service like Netflix, but similar to Dollar Shave Club) always send out reminder emails days before your order to make sure you still want it or if you need to add anything to it, which Dollar Beard Club does not do. And also with other companies, the cancellation process is extremely easy and straight forward.

This company's customer service is by far one of the worst I have experienced and I highly recommend looking for a service that actually cares about its customers.

Bottom Line: No, I would not recommend this to a friend

---

Great product, bad service

By Julian

,

Florida

,

Sep 7, 2017
Verified Reviewer

Bottom line, they have an alright product, but the WORST customer experience I have ever seen. They advertise being able to cancel at any time but only allow you to cancel via email. I have been overcharged ($1 for a product, $4 for shipping, $20 charged to my account) for two months now with no response from support@thebeardclub.com. Do not order from here!

Bottom Line: No, I would not recommend this to a friend

---

Horrible service! Rip off!

By Josh Wright

,

Bedford, IN

,

Oct 3, 2017
Verified Reviewer

I made one order and was not happy with the product, so I canceled my subscription and sent emails to stop further orders. Instead, they sent another order without my permission. I sent more emails, and they said it wouldn't happen again and my account was gone. But the other day they did it again, and they shipped an order of $35 of product that I did not order or want, and it put my bank account in the negative and that's a $45 fee. So the order they just sent was $80 and they said all they will do is promise it won't happen again.

Do NOT buy anything from this place!

Bottom Line: No, I would not recommend this to a friend

---

Scam artist!

By Joey Krent

,

Seattle, WA

,

Nov 3, 2017
Verified Reviewer

They have such great marketing that I made an impulse buy. Little did I know, the customer service sucks and the products are mediocre.

What is worse, they make it impossible to cancel. I should have known as The Beard Club literally ripped their entire business from Dollar Shave Club.

A parody at it's best? Yes!

Bottom Line: No, I would not recommend this to a friend

---

Unethical billing practices!

Where to start? Products don't work. They are not transparent about their billing practices, meaning you cannot sign up for a one-time purchase and you automatically enroll in their monthly subscription, without them explaining this to you first (of course it's in the fine print of the contact but that is sketchy to tell your customers about it). Then they'll refuse a refund. On top of that, horrible customer service. They're a bunch of talentless, beardless hacks over there. Stay away!

Bottom Line: No, I would not recommend this to a friend

---