Dollar Shave Club Reviews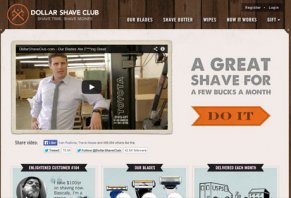 Dollar Shave Club is a men's and women's online subscription service that provides a selection of low-cost, high-quality razors, which are delivered directly to your door each month.
What Is Dollar Shave Club?
Dollar Shave Club is a monthly subscription service that allows you to get "a great shave for a few bucks a month." The company allows you to choose between three different razor levels, in addition to exclusive complementary products such as shaving butter and personal wipes.
Dollar Shave Club is well known for their in-you-face advertising style, and has been featured in Forbes, the Wall Street Journal, The Economist, and more. The company is based out of Santa Monica, CA, and holds an A- rating with the Better Business Bureau, based on just eight closed complaints over the past three years.
Online reviews regarding Dollar Shave Club appear to be primarily positive, though we did read numerous complaints of long shipping times. However, the company appears to have rectified the situation, and shipping times were 3-5 days as of the time of this writing.
How Dollar Shave Club Works
In short, Dollar Shave Club claims that, "for a dollar per month, we send high-quality razors right to your door." Each razor is claimed to include stainless steel blades, aloe vera lubricating strips and pivot heads, across three distinct models:
The Humble Twin – The most basic razor available, which includes 2 stainless steel blades. With this plan, you'll receive 5 cartridges per month.
The 4X – This mid-grade razor is claimed to provide a "gentle shave in a single stroke," and features 4 stainless steel blades. With this plan, you'll receive 4 cartridges per month.
The Executive – This high-end razor features 6 stainless steel blades and a built-in trimmer edge. With this plan, you'll receive 4 cartridges per month.
In addition to razors, Dollar Shave Club also offers two exclusive complementary products:
Dr. Carver's Easy Shave Butter – A 6oz tube of "butter" that works as an alternative to traditional shaving cream. Non-irritating and safe to use with sensitive skin, this product helps you get a better shave, and comes with a 100% satisfaction guarantee.
One Wipe Charlies – These durable—yet soothing—"buttwipes" are made of flushable and biodegradable viscose rayon, with a "gentle peppermint scent."
According to the company's FAQ section, none of their products are tested on animals, though they are manufactured overseas.
If you're interested in signing up for Dollar Shave Club, all you have to do is pick your razor, choose your additional items (if any), enter your name, email address, shipping address, and payment method, and you're good to go.
When your fresh monthly razor supply arrives and it's time to change out your blade, simply unclick the handle and reattach it to your new blade. The company claims that your razor handle is "free," and you'll receive a new one free of charge if you upgrade or downgrade your plan. If one of your handles were to break, you can also obtain replacements for an additional fee.
Finally, if you don't shave very often, you can choose the "Not So Hairy" plan from your account page. This should take effect the following month, and means you'll then receive a fresh set of razors every other month.
Related: How to Choose the Best Subscription Box Services
Dollar Shave Club Pricing & Refund Policy
Dollar Shave Club offers three different pricing levels:
The Humble Twin – $1 per month
The 4X – $6 per month
The Executive – $9 per month
Regardless of the model you choose, you'll be given the opportunity to include a 6oz tube of Dr. Carver's Shave Butter ($8), and/or 40 One Wipe Charlies ($4) with your order.
Shipping is currently $2 for the Humble Twin option, while the 4X and Executive options include free shipping.
If you're dissatisfied with any of your razors, Dollar Shave Club offers a NQA (No Questions Asked) refund policy. However, keep in mind that you'll only be refunded your most recent month's payment, and only within 30 days of product shipment.
If you're looking to save even more money, you can also receive a $5 credit on your next month's order for each friend you refer.
Dollar Shave Club Pros & Cons
Pros:
Receive all the razors you'll need starting at just $1 per month.
Additional exclusive products available.
Razors work well for both men and women.
A- Better Business Bureau rating.
Mostly positive online feedback.
Easy to use website.
Cons:
A lot of online complaints claim that it took a long time to receive their first order, though the company appears to have since remedied the situation. As of the time of this writing, orders were being shipped within 3-5 days of signing up.
Bottom Line:
If you're used to paying very high prices for replacement razors, Dollar Shave Club can offer big savings, in addition to the convenience of monthly shipments. However, we did learn that the company appears to source their razors from Dorco, which can be purchased directly for about 1/3 of the cost.
See Also: Dollar Shave Club vs. Harry's vs. ShaveMOB: Which Men's Shave Club is Best?
1 out 2 people found this review helpful

VERY unprofessional

By William B.

,

Palmdale, CA

,

Jun 27, 2019
Verified Reviewer

DSC operates in a complete vacuum. There are no customer service contact channels, phone numbers or email addresses. And it is impossible to cancel an account. There are no methodologies to order a replacement handle for instance. There are already several complaints about just that. I have now contacted my bank to cease all payments to DSC and to consider any further attempts by DSC to be reported as fraud.

This method of operation is rather a surprise because the products are good.

Bottom Line: No, I would not recommend this to a friend

---

2 out 3 people found this review helpful

Product broke

By Kelly D.

,

Rochester, NY

,

May 6, 2019
Verified Reviewer

As a woman, I thought having a manly razor it would last a lot longer. My first bad experience with this one was when I canceled the subscription because I didn't need to receive so many blades every month. Low and behold I'm charged for blades. Instead of apologizing I got a response of, oh well you didn't cancel on time so that's why that happened but you won't get charged again. Ok, fine, whatever, now I had like 6 blades.

Fast forward to today. I'm only on my 3rd blade. I go to change it out and the blade won't come off. I swear I did not use any extra force. I was just wiggling it a little trying to get it off and the whole thing broke. The part that keeps the blade in the razor came right off. So now I have all these blades and no razor. So much for thinking a manly product would last long. Just very disappointing. They try to market to women too but I wouldn't recommend this product to any of my friends.

Bottom Line: No, I would not recommend this to a friend

---

Advertisement

---

1 out 1 people found this review helpful

RAZOR

By Russell J.

,

Hemet, CA

,

May 3, 2019
Verified Reviewer

My wife bought a welcome package for me. Razor lasted for approximately 4 months Blade release broke, maybe because plastic and the part that holds the blade on top of the razor broke.

The blades last long for medium amount of beard.

The razor needs to be made with stronger metal and plastic. I don't know if it can be replaced or refunded. I have to look up the order number, but may not find it because I super glued the top of the razor to use until my other order from Harrys arrived today.

Bottom Line: No, I would not recommend this to a friend

---

2 out 3 people found this review helpful

Worst online buying experience ever

By Clark R.

,

Mobile, AL

,

Dec 20, 2018
Verified Reviewer

Dollar Shave Club totally unprepared for online Christmas shoppers. IF the products even actually arrive, it will be TWO+ weeks since ordered...even though the charge went through on the day the order was made. Speaking with customer "service" was of little help.

Bottom Line: No, I would not recommend this to a friend

---

Advertisement

---

4 out 6 people found this review helpful

SUCKS!

By Keith H.

,

Pennsylvania

,

Dec 10, 2018
Verified Reviewer

I received my first box basically to compare them to one of their competitors Harry's. Right after I received my first box, I emailed them and told them that if I wanted further deliveries, I would let them know. I didn't want anything further right then. I didn't hear anything and assumed that was the end of it. Three weeks later I see a charge in my PayPal for $26.18. I tried to communicate once again that I didn't want anything else and to refund my money. A week later I get another box containing eight more refill blades and more"shave butter." So in all, I paid $5 (initial box) + $26.18 for the second box, for a total of $31.18 for a razor, 12 refills and 10oz of shave butter (which also sucks BTW). I feel ripped off and screwed over. Needle to say I don't recommend DSC.

Bottom Line: No, I would not recommend this to a friend

---

1 out 2 people found this review helpful

Great customer service

By Kim R.

,

Kincardine, Ontario, Canada

,

Oct 23, 2018
Verified Reviewer

I began receiving blades a few years ago. The product arrived monthly and was of excellent quality. I needed a new handle and wanted a couple of extra handles so contacted Dollar Shave Club to place an order. They sent out three handles quickly at no charge. Using this service has been extremely convenient.

Bottom Line: Yes, I would recommend this to a friend

---

4 out 4 people found this review helpful

Shipping is awful

By Kris W.

,

Pennsylvania

,

Aug 2, 2018
Verified Reviewer

I'm completely happy with the blades and shave butter. I can get 2-3 weeks out of one blade. What's terrible is their shipping. My order bills on the 22nd. It is the 29th and no blades in sight, no tracking through DHL. This is my third shipment and each is progressively later, yet always billed on time. If someone needed to change the blades every week, you'd probably wind up buying something at the drugstore while waiting for a shipment.

When I contacted customer support, I was told it's my fault the blades didn't arrive because I changed my shipping address. No, I knew I would be away for a shipment and updated my address prior to traveling so this problem wouldn't occur. So even though I had my travel address in my profile, they still shipped to my permanent address and blamed me. To compensate, they offered to send me complimentary blades...and they did, again to my permanent address even though my vacation address is in my profile. Really not worth the hassle.

Bottom Line: No, I would not recommend this to a friend

---

7 out 9 people found this review helpful

Changed shipping to save money

I have recently had to cancel my subscription for Dollar Shave Club. I was told through chat from one of the techs from Dollar Shave Club that they changed the shipper they originally used. I ordered blades on 3/5 and never showed up complained, so they resent it on 3/17, and they also never came. I tracked them, and both orders say "tendered to delivery service provider." I contacted Dollar Shave Club and their response was "sorry, we will resend and send you an extra set of blades." LOL. You can send me 10 extra, which does me no good if they don't show up! Stay away!

Bottom Line: No, I would not recommend this to a friend

---

5 out 9 people found this review helpful

Liars

Colorado

,

Nov 7, 2017
Verified Reviewer

I was a member for almost a year and in the first few months they were great, and the razor and blades are great. My complaint is customer service and getting treated like a fellow human, not a nobody.

My last order did not come to my locked mailbox, so I contacted them and was told they would reship and they were sorry. So this was all good, but then two weeks later and again no razors. I emailed the gentlemen, his name was David. But anyways, then almost a week went by and no response, like I did not matter. So then I contacted them over their chat and got the order canceled and was told "sorry, David had been out of the office," but really like they did not care I was a customer and was unhappy.

It is one of the worst customer service experiences of my life, and I will never deal with them again.

Bottom Line: No, I would not recommend this to a friend

---

2 out 6 people found this review helpful

Great products at great prices

By Laurie

,

Palatine, IL

,

Nov 2, 2016
Verified Reviewer

Love Dollar Shave Club! They have quality products with great customer service with free shipping.

I can change deliveries or even cancel one with no repercussions. With 3 shavers in the house, this has saved us quite a bit of money over the last year. Over $80 so far! I will continue to use this company for as long as it's around.

Bottom Line: Yes, I would recommend this to a friend

---

4 out 7 people found this review helpful

Does what it advertises

By Jim Fields

,

Southern Pines, NC

,

Feb 27, 2016
Verified Reviewer

I am on my third month, and it's a fine razor. I've settled on the four blade, and it works as well as any Gillette. It's what I compare blades to, because Schick is dangerous for me, and has been for years. I've tried different blades at different times, hoping for the perfect shave, but haven't really found it though. However, Dollar Shave Club has done all I've asked, and saved me a load of money. Also, I do like the Shave Butter they offer, it's less of a mess than cream or gel, and it moisturizes too. I think I'll stick with them. I've read they source their blades through Dorco, which I tried just the other day, but it became a styptic pencil aprés shave and tore my face up. So I think they get their blades elsewhere, or a better Dorco blade not available to regular customers. Give the club a shot, go and look again at the prices you would pay for Gillette, and be glad you made the change.

Bottom Line: Yes, I would recommend this to a friend

---