Dollarbird Reviews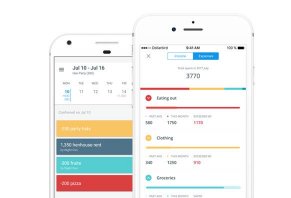 Dollarbird is a Paris-based budgeting app that has a surprisingly simple interface and allows you to track your spending and log transactions via a calendar that tracks daily and monthly spending.
What Is Dollarbird?
Dollarbird is a budgeting tool that uses a unique calendar system to keep track of your daily spending.
Whereas most budgeting apps either use category-by-category balances or charts to show you what you spent and earned, the Dollarbird app home page is a calendar indicating how much you've spent each day.
The company was founded in 2011 and is based in Paris, France.
With so many budget apps out there, we were curious about how Dollarbird works. So, we downloaded the app and used it.
What we learned from our test run was invaluable and we're going to share our findings with you in this in-depth review.
We'll talk about what features the app offers, how much it costs to use and how the app compares to other budgeting apps. We'll also tell you what other users are saying about Dollarbird.
At the end of our review, we'll include a quick section of the app's overall pros and cons.
Dollarbird's Features
Dollarbird is one of simplest budgeting apps we've ever used. The app's features can be boiled down to two things: the calendar and adding transactions.
Calendar
The first thing you see when you open the app is a calendar with the current month and your name at the top.
This calendar is the heart of the app. Each day shows you two numbers. The top number shows the day's balance for income and expenses and the bottom number shows your overall running total for expenses.
So, if today is the 15th and you spent $200 without getting any income, then the 15th will show -200 for the top number. The bottom number, as we said before, is your running total. We'll say +200, for example's sake.
Keep in mind that your running total includes all income and spending up through that day. As soon as you add an expense or income for the day, the bottom number changes within seconds.
Another important-but-subtle the app shows your balance on the last day of the month. What this means is that it calculates today's running total and future credits and debits and gives you a final number.
We like this method because you always have an idea of where your balance stands at the end of the month. As you add more transactions each day, that number changes based on what you enter.
The running balance at the end of the month acts like a finish line for the monthly budget race you're running. It's as if the app is telling you, "This is what your bottom line will look like at the end of the month if you keep your current spending habits."
The downside to this method is that it will seem deceptively simple if you're used to using apps like Mint and YNAB, whose formats focus more on category-by-category spending and other metrics that aren't laid out in a calendar.
How to Use Dollarbird's Calendar to Your Advantage
The app's visual monthly layout means you can enter in bills that happen on the same day every month and, in doing so, see when those bills will happen and what effect they have on your end-of-the-month running total.
If you're a freelancer with income that goes up and down each week, seeing those upcoming bills on a calendar will help you know when you need to have more money in the bank and, thus, help you see which parts of the month require more income than normal.
Also, if you are a hardcore budgeter who can be disciplined enough to spend around the same amount of money each week on your groceries and other variable expenses, you can enter those amounts ahead of time. The more expenses you can lock into your calendar, the better view you'll have of how they affect your overall monthly balance.
Adding Transactions
The second main feature you get with this app is the ability to add transactions. This is standard for all budgeting apps but what makes Dollarbird unique is, again, the simplicity.
Each transaction has a button you tap to designate an expense (minus sign) or income (plus sign). Next to that button are two fields: one for entering the transaction amount and one to label the transaction. Use the label option to denote the store or website where you made the purchase. For income, you can note where the money came from.
Once you have that information plugged in, you can choose the category of the transaction. Dollarbird gives you 12 default categories:
Car & transportation
Clothing
Eating out
Entertainment
Fitness
Groceries
Health
Household
Income
Personal care
Subscriptions
Uncategorized
Each category is color-coded. You also have the option of adding your own categories. You'll need to do this, as the default list doesn't include things like car insurance or loan payments.
The two other customizations allowed are marking the transaction as a recurring payment and adding a description that's lengthier than the label put you put on the transaction.
The final nuance to this feature is the "Confirmed" check-box. This is where you'll check a transaction when that transaction is made. Once you do, Dollarbird will add the transaction to your total for the day and your running total.
Pro tip: The Transaction feature also allows you to update your balance. The app's support pages didn't explain what this feature is for. We imagine it would come in handy if you haven't logged past transactions but know what your running balance is.
How to Use the Transaction Feature to Your Advantage
Before you use Dollarbird, write out your monthly budget on paper. Make sure you have every spending category written down. Then, add those categories to Dollarbird. Mark the recurring payments as such.
Being precise with your categories and entering all your recurring payments and income will help you get the most out of Dollarbird and will ensure that you have a comprehensive view of your finances for the month.
Pro tip: You can access your calendar from the mobile and desktop versions of Dollarbird. We liked the desktop version because the calendar was bigger and it was easier to see all the transactions in a day without having to click on anything.
Dollarbird's Fees
The app has two levels of features. The free level gets you one "team," something we'll explain in a second – and one calendar.
Their paid version, was, at the time of publishing $25.99 a year or $4.99 a month. The paid version allows you to add people to your team. In other words, you can share your calendar with other people and they can add transactions through their own phone, tablet or computer.
The paid version is a good option, in our opinion, for couples who want to manage their finances together.
Dollarbird User Reviews
The app gets an average rating of 3.8 stars in the Google Play store and 4.6 stars from more than 800 reviews in the iTunes store.
There weren't any recurring complaints that we found; many of them were unique. Users complained that it was hard to read the calendar because the transaction fonts weren't bold enough, that the app was buggy and that the previous version of the app known as Classic DB was better.
Many of the positive reviews praised how simple and easy-to-use the app is.
Our Final Thoughts About Dollarbird: Pros and Cons
Dollarbird is the second simplest budgeting app we've tested, with Fudget being the easiest. When you first open the app, the simplicity throws you off because it's hard to tell what's happening. However, as soon you start adding transactions, everything starts to come together.
So, in that sense, the app's simplicity is its greatest strength and, initially, its weakness. Another weaknesses, in our opinion, is the mobile version of the calendar is small. We found the calendar much easier to read and navigate via the desktop version.
Another drawback is that Dollarbird's help site doesn't provide in-depth explanations of the app's features. For instance, here's the explanation their help site gave for the Update Your Balance tool:
"Start adding a transaction and select 'Balance' at the top right side of the header to perform a balance update."
As you can see, the explanations focus on how to help you find the tool rather than explaining what those tools do.
If you aren't convinced that Dollarbird is the right budgeting app for you, we encourage you to do some research on similar apps.
We've reviewed Fudget and Goodbudget, two apps that boast simple tools and features, as well as more complex budgeting apps Mint and YNAB. Reading through these reviews gives you a good idea of what you can expect.
We recommend YNAB if you prefer a numbers-heavy approach to budgeting. Mint is a great option if you want a mix of budgeting tools along with an analysis of your spending. Both of these apps require that you connect a bank account.
Dollarbird, Fudget and Goodbudget are better for those who want the simplest possible way to keep track of their spending.