DoorDash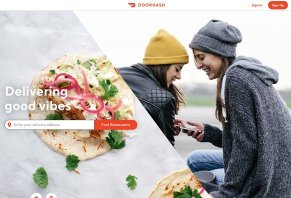 DoorDash's technology platform allows customers to order local food from their favorite restaurants in more than 600 cities and have it quickly delivered.
DoorDash Review: Is It the Best Restaurant and Food Delivery Service for You?
By taking your order, sending it off to a restaurant, and assigning a Dasher to pick it up and deliver it to your doorstep, DoorDash is a technology company that promises to help connect the best local businesses to people in their cities.
Whether you sign into their website or app and need delivery to your home, office, or a nearby park for a group picnic with friends, the website advertises that they provide access to a huge selection of restaurants to help you satisfy your cravings. And after your order is placed, you can track it in real time, so you'll know exactly when it's set to arrive.
DoorDash has been in business since 2013 and has grown to serve more than 600 cities, while providing delivery services from 110K restaurants and employing 210K Dashers.
But, have they earned a reputation for always delivering five-star service? Are there other on-demand delivery companies that might provide better value? These are just a couple of the key questions we'll explore in this brief article.
How Does DoorDash Work?
Overall, DoorDash works a lot like many of the other on-demand delivery services we've written about (more soon).
You'll begin by entering a delivery address on the home screen, which is followed by a screen displaying each local restaurant's name, the type of food they serve, delivery fee (if any), and current estimated delivery time, which they explain is "based on their evolving algorithm."
DoorDash emphasizes that you'll only see options "within a given distance from your location," to ensure speedy, fresh deliveries. If you have a favorite restaurant outside this distance, you won't have the option to order.
Clicking on a restaurant's listing will display its hours and its overall user rating, or what DoorDash calls their "Delight" score. We're told this aggregates factors like "delivery quality, restaurant popularity, and customer feedback" into a number ranging between one and 10. The higher the score, the more likely it is "you'll be delighted."
Dishes, prices, and images accompany all of these details, which can be filtered by Most Loved, Most Popular, and so forth.
Keep in mind that even if you're able to view a restaurant's menu, this doesn't mean that they're accepting orders.
A "Closed" or "Unavailable" designation indicates you'll have to wait until they're open to place an order, and "Busy" means that their "current delivery time exceeds [DoorDash's] standards for a fast delivery, and [they're] temporarily not accepting orders for that restaurant." "Pre-Order" gives you the opportunity to schedule a delivery up to four days in advance.
Availability will also depend on restaurant hours and holidays, although the company begins delivering as early as 8 am and runs as late as 11 pm.
Clicking on a food or dish opens a pop-up box, where you'll find images and available options, have the ability to instruct the restaurant what to do if they're sold out of your choice (e.g., go with merchant recommendation, refund the item, contact me, etc.), along with a box where you can indicate any of your preferences. These include allergies, dietary restrictions, substitutions, or special preparations, which the restaurant will accommodate to the best of their ability.
Finally, you'll add the item to your cart and check out. DoorDash gives customers the opportunity to choose items from different restaurants in the same order, although each restaurant will entail a separate delivery fee. As each order is received, picked up, and makes its way to you, you can track it live on a map in the app or on the website.
You can also adjust, cancel, or change the instructions for your order before the restaurant begins preparation, as well as your address until the Dasher picks up your food. Delivery instructions can be changed at any point during the process.
Although you'll enter your email address and mobile number when checking out, upon arrival, Dashers will "ask for an ID and use proprietary technology on their smartphones to check the validity of a customer's form of identification." As such, make sure you have identification and the card used to make the purchase nearby when they show up.
How Much Does It Cost to Use DoorDash?
The DoorDash FAQ emphasizes that most menu items on the site are the same as you'll find in-store. "In some cases," they caution, "menu prices on DoorDash may be higher than in-store prices. We're working to make prices even lower, so check back often."
In addition to your order total, DoorDash will also include tax and a delivery fee, which will vary by region and business. At the time of our research, DoorDash offered to waive delivery fees for 30 days for all new customers, with free delivery on orders $15+ thereafter.
Some restaurants will also include an additional service fee of their own, and you'll always have the option to tip your Dasher (strongly recommended, since they receive 100% of your tips).
You can view a restaurant's delivery and services fees in advance by clicking on the Delight score from the menu page, as well as on the checkout screen before finalizing your order.
If you indicate special dietary restrictions, substitutions, or special preparations, an extra charge may be required. If so, your order cost will be adjusted after confirming with the restaurant, and they'll email you an updated receipt.
If you order alcohol and the Dasher can't deliver it, whether you don't have an ID, aren't 21+, aren't the same person who placed the order, or are clearly intoxicated, you'll be assessed a one-time, non-refundable $20 restocking fee. This is said to cover "the cost of the Dasher's time and the value of the goods purchased from the merchant."
DoorDash doesn't have a set-in-stone refund policy, although the FAQ emphasizes that you should visit doordash.com/help if you encounter an issue, and they'll "do everything we can to make it right."
What We Learned from DoorDash Online Customer Reviews
Since writing our original article, nearly 40 HighYa readers have provided feedback about their experiences with DoorDash, giving them an average rating of one star. Most complaints referenced less-than-stellar delivery and customer support.
Among more than 330 customer reviews on BrightReviews.com, the company had a slightly higher average rating of about 1.5 stars, with many of the same complaints.
On the other hand, between iTunes and Google Play ratings, 120,000+ users gave the DoorDash apps a meaningfully higher combined average rating of about 4.4 stars. Compliments often revolved around ease of use, quick deliveries from pleasant Dashers, and the convenience it provides.
In addition to those noted above, the relatively few complaints also cited higher prices than at restaurants, along with limited menus compared to what's available in-store.
DoorDash vs. GrubHub, OrderUp, Uber Eats, Caviar, and Other On-Demand Food Delivery Services
There are several other popular services competing directly with DoorDash, such as GrubHub (3.05% + $0.30 delivery fee per order; other fees vary by restaurant), OrderUp ($3.99 delivery fee), Uber Eats ($4.99 delivery fee, other fees depending on time of day), and Caviar (flat 18% service fee, $1.99 delivery fee).
Like DoorDash, these options provide the opportunity to browse photo menus, order delivery and pickup from local restaurants, schedule deliveries in advance, receive estimated delivery times, and track food after orders are placed.
However, several of other services also deliver additional items depending on your needs, including Postmates (groceries and liquor), Shipt (also includes meal prep), and Google Express (includes home and garden, electronics, sports and outdoors, and home improvement products). Which one should you choose?
Despite the variety of options at your fingertips, the reality is that selecting between DoorDash and another option is going to boil down to two primary factors: 1) If the service offers food from your preferred restaurant, and 2) if their delivery and other fees are worth the convenience of not having to leave home or work.
Is DoorDash the Right Restaurant Delivery Service for You?
The website advertises that DoorDash boasts the largest network among restaurant delivery options, with more than 600 cities currently served. So if you find yourself in a smaller metro region, this widespread presence might make them an ideal option.
On the other hand, DoorDash held an F rating with the Better Business Bureau, based on 220+ closed complaints, as of 8/17/18. Most of these referenced the same issues noted earlier, although it's important to balance this with the app's much higher average rating on iTunes and Google Play.
Whatever service you decide to go with, though, just keep in mind that you're paying a premium for the convenience, so ordering frequently can quickly add up to a lot of extra money spent.
Please do not use DoorDash

By Jay C.

,

Seattle, WA

,

Apr 8, 2020
Verified Reviewer

Please do not order from DoorDash. I was in a situation my family had to go hungry. My driver stated they were lost but still completed the order. I did not receive my food nor did I receive a refund. I chatted with not 1 but 3 DoorDash agents who were NO HELP. They sent me an email stating I COULD NOT get a refund because of account history. I spent my last $15 to order food for my family. I even tipped the driver beforehand, everyone is struggling to make it due to COVID-19. I was left with the short end of the stick. Mainly feeling saddened by the fact DoorDash didn't consider my financial situation. The lack of insensitivity I received from DoorDash I WILL NOT use the app to order food EVER AGAIN. Everyone be safe and be blessed.

Bottom Line: No, I would not recommend this to a friend

---

Nice driver, TERRIBLE experience

By Jacob E.

,

Illinois

,

Jan 23, 2020
Verified Reviewer

The driver was nice and that's where the compliments end. The delivery took over an hour and a half. The food was cold and the order was wrong. By the time the food was delivered it was too late to order from anywhere else. I made a complaint online and they offered me 15 bucks which was not even a third of the cost of the order. I deleted the app and will not be using DoorDash again. They can keep their $15.

Bottom Line: No, I would not recommend this to a friend

---

Advertisement

---

I'm a driver for DD and have had it...

By Dave H.

,

Fort Meyers, FL

,

Dec 13, 2019
Verified Reviewer

Today was the last straw...the company sent out a text message to all of us here in Fort Myers, Florida stating, "There will be up to three dollars in bonuses per delivery between zero 12/06 through 12/09." Which got me excited to get out there and start working...Come to find out there is no such thing happening for DoorDash drivers in Fort Myers, Florida according to their application!

I have had quite a few altercations with DoorDash and their Help Desk, which is probably located in Bangladesh, as it's almost impossible to understand most of the people that come to the phone by the name of Joe or John...Not to mention have been given bad information and or bad advice by said Help Desk...

If a company that screws its own does so without a second thought, what do you think it's going to do to its consumers/customers…

Bottom Line: No, I would not recommend this to a friend

---

RIPPED OFF!

By Cathleen F.

,

Pennsylvania

,

Nov 5, 2019
Verified Reviewer

I never received or ordered from DoorDash! I was charged and because of this I had to cancel my card and get a new one. Tried NUMEROUS attempts to contact them with no response. Charges will be filed. DISGUSTED!

Bottom Line: No, I would not recommend this to a friend

---

Advertisement

---

Horrible

By JR C.

,

Bartlett, TN

,

Oct 4, 2019
Verified Reviewer

We have used this company as well as many others for food delivery. Every time we use this company, both the restaurant and the dasher leave items off of our orders that we are charged for. We report this because it is not only disappointing but costs us money for orders that are without fail, always missing at least two to five items on each order. While the first few times we reported this, DoorDash provided small refunds that did not take into account tax nor tip, they have refused to acknowledge it the last three times we have reported it. It is not actually our fault that your dashers do not check orders or the restaurant preparing it is leaving items off. Maybe if you do not want to have to do refunds, then you should have your dashers check. We order from Bite Squad, Grubhub, Ubereats, and Postmates but the only time we are missing food is with your company. Subpar service here. Might even be your dashers are stealing food. The only reason we kept trying to use you is because you offer more in our area. But we will not continue to pay for food we are not receiving. Your customer service really is a sad excuse and reflects poorly on your company. We will never use DoorDash again. We are not paying for incompetence and possible theft.

Bottom Line: No, I would not recommend this to a friend

---

Never got my food - twice!

By Andrea H.

,

Cypress, TX

,

Oct 4, 2019
Verified Reviewer

I'm still trying to get refunded!

I was so looking forward to giving myself a treat after a hard day! This just crushed me further. And when you have a problem? Little to no response. No interest. No investment in my issue.

Bottom Line: No, I would not recommend this to a friend

---

Hour old mayonnaise seems like a recipe for food poisoning

By Nicole P.

,

Arizona

,

Aug 23, 2019
Verified Reviewer

Do you think it's safe to eat a burger with mayo an entire hour after it's been prepared, and not kept in a warming container? Probably not. There are reasons restaurants have food safety standards. Not to mention, the soggy lettuce and bun and cold food. The restaurant I ordered from is 1.6 miles and a 6-minute drive from the delivery location. But this company decided to double up on orders so my food arrived, no joke, 50 minutes after I got a notice it was on the way. The company would only offer a partial refund.

I wrote the company, I explained all of these things to them. I told them I wanted the name of their CEO and email address so I could let them know how their company was being managed, they wouldn't provide me the information.

They are supposed to deliver the food hot. They didn't and refused to give a refund, which was entirely in their control to do so. They didn't have to double book my delivery.

I will never order from DoorDash again. I sincerely hope this company learns the value of ethics in business.

Bottom Line: No, I would not recommend this to a friend

---

Fraudulent seller

By Breena K.

,

Littleton, CO

,

Aug 12, 2019
Verified Reviewer

They said the food would take a certain amount of time to arrive but then increased that time dramatically after I paid, then refused to give me a full refund. When contacting support my concerns were not read and the replies were generic and my concerns were not read.

Bottom Line: No, I would not recommend this to a friend

---

DoorDash SUCKS!

By Joe G.

,

Texas

,

Jul 25, 2019
Verified Reviewer

DoorDash SUCKS! I placed an order at Walmart and they decided to use DoorDash. When my order was scheduled to arrive I receive a call from from the delivery who doesn't speak English saying he doesn't have the right address. I texted him my address and 20 minutes later someone from DoorDash calls saying the driver had the wrong address. I gave the caller my address again and an hour later I STILL don't have my order. I will never use DoorDash and I'm going to post negative reviews of DoorDash on every website that I can.

Bottom Line: No, I would not recommend this to a friend

---

Do not use them! Horrible company.

By Crystal B.

,

Texas,Dallas,USA

,

Jun 3, 2019
Verified Reviewer

If I could give no stars I would. Can someone explain why they advertise a 17-minute delivery time for a specific restaurant and then once that submit button gets pressed, they tell you it will take 45 minutes? But awesome because they have a cancel button, so you press that button and guess what? Five seconds into submitting that order you can't cancel, so now your stuck waiting for food you don't want because you don't want to wait 45 minutes after thinking you would be eating a burger in about 20 minutes. So you look to contact the dasher and they provide a number. You text that number and guess what, that number is no longer valid for the door dash. So I look online for help, press that button and it takes you to a FAQ page. No way to contact anyone. This is a horrible way to conduct business and I will make sure to advertise how horrendous this service is. Oh, and of course, I don't receive a refund. A big middle finger to this company.

And before they try to come back and say I had the wrong address, that was an after the fact moment. I tried to cancel before I even knew that.

Bottom Line: No, I would not recommend this to a friend

---

DoorDash scam

By Michael V.

,

Arlington, TX

,

May 30, 2019
Verified Reviewer

Placed an order 05/21 at 6.30 PM. Waited until 8 PM but nothing ever came so we contacted DoorDash. Had a conversation with a so-called agent (I think it was a computer that answered our questions).

First we were been told the address was incorrect (strange, the last time we ordered the food arrived) and after continuing the so-called discussion with the "agent" they suddenly changed their tune and said he was at the house at 7.30 PM but nobody answered the door.

They refused to reimburse us. I would have been willing to give them another try but after this experience, I will never use them again. It's like a scam and I wonder how they get away with this. Learned a valuable lesson and will just get my lazy butt out of the couch and get my food myself from now on.

Bottom Line: No, I would not recommend this to a friend

---