Dosh Cash Back App Reviews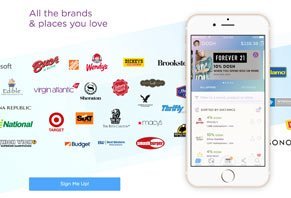 The Dosh Cash Back App promises to make earning discounts, coupons, and cold, hard cash as easy as going about your daily life.
What Is Dosh Cash Back App?
The free Dosh Cash Back App claims to revolutionize shopping rewards by offering users the ability to put cash into their pockets every time they shop. How does it work?
While the app isn't set to be released until April, we're told you simply connect your credit and debit cards. Then, Dosh will immediately begin finding offers that can provide cash back from 100,000+ merchants and brands across the country.
This includes Target, Microsoft, Barnes and Noble, Macy's, Sheraton, AT&T, Neiman Marcus, Big Lots!, Smash Burger, Avis Car Rental, and Home Depot.
And compared to every other cash back app out there, Dosh claims there's no UPC scanning, taking photos of receipts, mailing in rebates, promo codes, or fumbling around while you're at the register.
In other words, you continue living your life as normal. While you do, the Dosh Cash Back App claims to take advantage of the $200 billion advertising industry's wasteful spending and pass a little bit of it along to you each time you shop at partner retailers.
And not only can you save money at the register, but you can also earn real money in your Dosh account and spend it however you please, along with stellar travel deals for hotels, rental cars, and experiences.
But is Dosh the real deal?
After all, it's almost mandatory for a startup to claim that they're set to 'disrupt' one industry or another these days. It's right up there with the use of jargon like 'paradigm shift' and 'synergy.'
When it comes to the Dosh Cash Back App, though, is its 'disruptor' label an accurate assessment, or is it hype?
We had an exclusive opportunity to speak with Dosh's CEO Ed Mock and VP of Marketing Marcy Comer, who granted us inside access to the app's fundamentals and who briefly walked us through its features.
Here, we'll discuss what we learned so that you make a more informed decision.
First, we'd like to start off by thanking Marcy and Ed for agreeing to speak with us, as they weren't planning to grant any interviews until March. We certainly appreciate the exclusive opportunity to help inform you, their potential customer.
Ready to dig in?
What's the Fundamental Theory Behind the Dosh Cash Back App?
While some initially thought it was impossible to build the technology, Ed told us that Dosh works by funneling money out of the multi-billion dollar advertising industry and into the hands of consumers, in the form of cash.
From a behavioral standpoint, it's based on Pavlovian theory: You notify/surprise the customer, incentivize behavior, create insight, and deliver predictive results.
While it might sound complicated, it's a lot like signing up for a savings or discount program through your favorite gas station. You link your card and every time you spend, you automatically receive a per-gallon discount.
How Is the Dosh Cash Back App Different Than the Competition?
Speaking of which, gas stations offer perhaps one of the easiest methods of earning discounts in the retail world, although you'll still likely have to fill out an application and wait a few days for approval.
But if you're referencing other cash back apps competing in the same general space as Dosh, earning discounts and cash back can be even more labor and time-intensive.
For example, Ed mentioned that with Ebates, consumers are required to manually link offers, and they tend to only feature 25-50 merchants at any given time. With Ibotta, consumers have to scan receipts and wait to get their money.
Instead, there are no extras required with Dosh. Simply download the app, link your cards, and start saving.
Ed repeatedly reinforced that their goal is for Dosh to be the best app in a person's phone. Because in the end, Ed reinforced, "Dosh is all about the consumer."
A Look at Dosh Cash Back App's Features
Marcy and Ed noted that there are three primary components within the Dosh ecosystem:
The consumer app
The merchant platform
Mobile wallet and banking environment
Here's how they all come together:
Offers are geo-targeted based on your location. When one is available (there will be 100,000 merchants at launch), you'll receive a notification telling you what the deal is and which retailer is offering it.
Even if you don't receive a notification, the Dosh app will still search for discounts and coupons when checking out at any retailer (this is what we discussed in the intro).
In addition to the discounts and coupons, each time you shop at a participating retailer, you have an opportunity to earn cash back, which will be displayed on your Doshboard.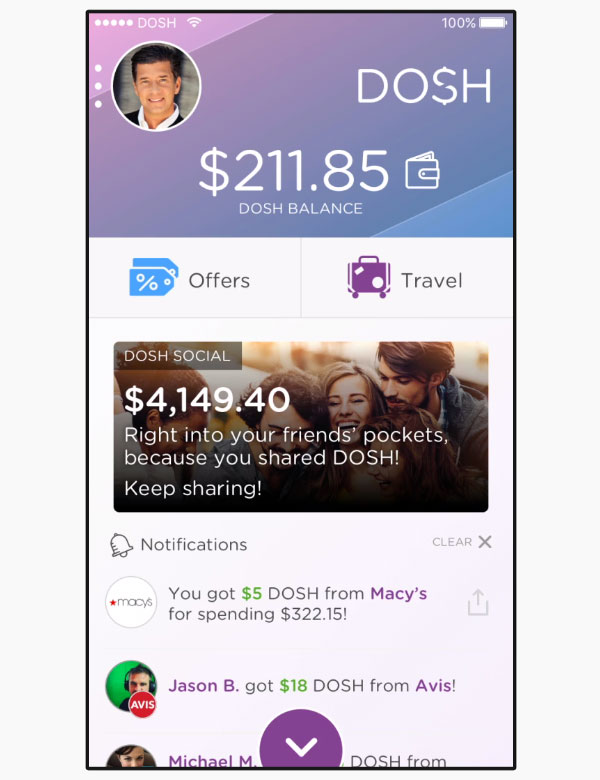 In this simulated screenshot taken from their website, you can see the user's Doshboard, including their wallet balance, notifications, and available offers. Image credit: Dosh
Ed told us this is real money, and that the app is integrated with every US bank, as well as every charity, which allows you to automatically transfer money to either. Money can be transferred directly to Paypal and Venmo as well.
You'll also be able to see how much money you've helped your friends and family accumulate through Dosh Social, share money directly, give gifts, send customized messages to friends, and even integrate with your Google account.
You'll also notice the prominent travel button, which is what we'll discuss next.
What About Dosh's Travel Perks?
In a nutshell, Dosh's expansive travel engine starts by scouring the web for the least expensive price (for a hotel in Los Angeles, CA, for example, although auto and experience perks are available, too). It then beats this price by anywhere between $1 and $3.
Next, Dosh calculates the difference between this price and the best retail price, and then sends this difference—less 15%, which is retained by the company—to the consumer's Doshboard.
Marcy and Ed quickly walked us through a live scenario where the best-advertised price for a hotel in Dallas, TX was $259 on Trivago, while the Dosh travel engine offered the same room for $125.
The difference between these two prices was $134. This means Dosh would keep 15%, or $20.10, while the remaining $113.90 would have been sent to the consumer's Dosh account.
What Kind of Security Does the Dosh Cash Back App Offer?
Ed noted that consumer security is a top priority, so Dosh is PCI compliant and utilizes the highest encryption possible. No usernames, passwords, or credit card data are stored on their servers.
What Benefits Does the Dosh Cash Back Offer for Merchants?
We've talked a lot about consumers so far, but Marcy and Ed impressed that Dosh is equally as valuable for companies, since it will provide social engagement, predictive analytics, an audience insight engine, and offer creation and management capabilities.
In other words, Dosh claims to deliver more effective performance-based marketing for business and companies, including customer acquisition and loyalty programs.
And unlike most other cash back apps, Dosh works with big and small businesses alike, which can be fully customized based on size and scope, while providing them with full control over all their parameters.
As an example of the scope this can provide consumers, Ed mentioned that Dosh is partnered with 362 restaurants in Austin alone, where they're headquartered.
Who Founded Dosh?
Dosh was founded by Ryan Wuerch, who also founded Solavei, a mobile service company that operated on an MLM structure by allowing customers to earn an additional, recurring monthly income through enrolling others in the program.
Before Solavei, Ryan founded and acted as CEO for Motricity (now part of Voltari), a mobile data and solutions provider.
Compared to Solavei, Dosh doesn't seem to involve any kind of multi-level marketing component. You can, however, earn $5 for each person who signs up for a Dosh account using your affiliate link.
Does the Dosh App Have Any Direct Competition?
In a word: No.
Sure, there are perhaps hundreds of popular free cash back apps and websites like Ebates, Ibotta, Snap by Groupon, Find&Save, SNAPnSAVE, and GoCashBack—but as we mentioned earlier, none of these seem to work as seamlessly as Dosh, since they often require consumers to mail in receipts, scan UPC codes, redeem promo codes, and so forth.
What's the Bottom Line About the Dosh Cash Back App?
Based on what we saw and what was explained to us during our interview, if it delivers on all of its promises, we could certainly see how Dosh might quickly become a favorite app among consumers once it's released. Even a 'disruptor.'
Dosh

By Evelyn B.

,

Florida

,

Nov 18, 2018
Verified Reviewer

I personally love this app. I just started it, but they give you $5 to link a card. You never have to scan a receipt and automatically get credit any time you use your linked card.

Bottom Line: Yes, I would recommend this to a friend

---

Dosh isn't worth the bother

By Deborah F.

,

Arizona

,

Sep 12, 2018
Verified Reviewer

Dosh seems to work great for some, but for the others, it's almost not worth the hassle. From day one, I had to contact customer service to receive my cashback and it still continues on every single transaction! The issue is with Sam's Club Mastercard for months now! It's a glitch and they need to fix it already! Or better yet, don't accept that card. I now have to take a pic and submit it to customer service reps.

It's very frustrating when they tell you it's on your end when it's not. Then when you state your case and see the Facebook postings where people are saying the exact same thing, they finally acknowledge it's on their end and that credit card is being entered as a debit card. Nah, I don't think so. Enough with the excuses! So my question is, for that every dollar I generate and don't receive, is that Dosh's way of ripping me off and pocketing the money that I earned?

Bottom Line: No, I would not recommend this to a friend

---

Advertisement

---

Y'all angry people are funny

By Shawn

,

Texas

,

May 25, 2018
Verified Reviewer

Ok, first off, this app is...free? Yes, free, LOL. So why y'all complaining? I write reviews for Google and get little small perks but with this, I'm not getting anything, but I HAD to say something because this is just ridiculous.

If you paid Dosh and they never gave you your money back then yes, I can see how it's a scam. But just because it's not working, or you don't know how to make it work doesn't make it a scam. That is the most bizarre thing to get angry over, something that you chose to download...and is free! Wow.

But anywho, I had a similar problem with the Sam's Cashback until one day I realized I had the Sam's Club app and I didn't feel like waiting in line, so I paid for my groceries through the app and two minutes later I saw a wierd little "S" at the top of my phone and it said I got some Dosh money, and that's when I realized that the card I have on file with the Sam's app is the same with Dosh, so every time I use the Sam's app I get cash back. If I just use my card I don't. It is a glitch I think should be fixed, but hey. Now all you Sam's Club people can go be happy and free and frolic through a field of whatever makes you happy, LOL...it's a scam, ha! Sit down somewhere and have a cookie...have several cookies.

Bottom Line: Yes, I would recommend this to a friend

---

Scam

By Logan Rae

,

Florida

,

May 11, 2018
Verified Reviewer

I tried to book a hotel room using it, and it wouldn't work. I emailed them and they told me to update the app. I waited several weeks and tried to book a different trip. It went through successfully, however, when my confirmation came it was for the wrong date. I immediately notified Dosh and they told me they'd waive the $20 cancelation fee if I re-booked. I tried to rebook with FOUR different hotels within 10 hours of the original reservation, and the Dosh app wouldn't let me. I have been going back and forth with customer service and they are refusing to give me my money back. Do NOT use. They STEAL your money.

Bottom Line: No, I would not recommend this to a friend

---

Advertisement

---

Referral bonus and cash back

Michigan

,

Mar 14, 2018
Verified Reviewer

I still have two people I didn't get my $10 referral bonus for. I have placed several tickets and replied to their comments. This has been since the end of January, and I still have not heard anything from them. I also went to Sam's Club and spend $130 and did not get my cash back from that, and I put in the ticket, attached my receipt and still nothing. So I'm owed 20 something dollars and they still have not given it to me or replied to my tickets, so I am not happy with this app. I'm going to uninstall it and not refer anyone else unless this is resolved.

Bottom Line: No, I would not recommend this to a friend

---

My Dosh experience

I booked a hotel through Dosh on February 7th and received an email with my hotel information and confirmation number. I even received a reminder email about my stay. When I went to check into my hotel on February 10th, the hotel had no reservation in my name. I called Dosh and got the recording to leave a message because it was after hours and it took someone three hours to call me back. By that time, I ended up staying with a friend who happened to be in the area at the time.

When Dosh finally called me, it was after midnight. They told me the hotel had rooms available and they would hold a room for me...but I had to pay. Excuse me? I told Dosh I wanted a refund of my money and the rep on the phone said she would issue a refund.

Fast forward to March. I have been going back and forth with Dosh for a month now trying to get a refund, and I still have not received it. They emailed me Friday, March 9th, stating this:

"Even though the hotel and the supplier are not willing to help with the refund, we would like to address the issue you experienced from another point of view. In order for us to request a refund for the reservation you were unable to use, please attach to this ticket either a copy of the receipt given at the hotel you stayed for their charge or a screenshot of your online statement showing the charge for that hotel. As soon as we receive that piece of information, we will be able to restart the procedure."

This is absolutely ridiculous. As soon as I booked the hotel, they charge my card, but it has taken over a month to get a refund? This company will never be recommended by me.

Bottom Line: No, I would not recommend this to a friend

---

Dosh App

By Nychole

,

Michigan

,

Jan 18, 2018
Verified Reviewer

Sometimes it took longer than others to receive the payouts, but always before the deadline. Transfer to my PayPal was easy. Other people I referred have received their payouts on time also. The time frame varies as if they are manually completing these incentives, so be patient. Any business owner should understand startups and untimely uprisings. I joined Solavei a few years ago, which paid out incentives also. Same founder of Dosh. I gave five stars because it does what it says and there's nothing to lose, only gain. Thanks Dosh.

Bottom Line: Yes, I would recommend this to a friend

---

It WORKS!

By Farris Long

,

Knoxville, TN

,

Jan 16, 2018
Verified Reviewer

I was referred to the app by a reputable friend during the first referral bonus period back in December. I was skeptical too until he showed me how much he had gotten from referring people. I got in in the last 3 days of that and made $50. Unlike the other reviewer, I HAD NO PROBLEMS. When I cashed it out, I sent it to my PayPal account, and it was there within a couple of days. Subsequent to that, any cash-outs I have done have taken only around 24 hours or less. NOTE, I said "cash-outs;" plural.

In this second referral bonus period that started in January, I was convinced. And I have made a decent amount simply by referring people to the app. A number of my friends have inboxed me thanking me for referring them because they have made some good money via the referral program as well.

I also keep telling people that the reason you add your card is so you get the money back from the retailers that are partnered with the Dosh App. Surely retailers like Denny's, Sam's, and Hilton Hotels would not sign their name to something that is a scam or a fraud! One of my friends got 10% cashback from a meal he ate at Denny's because he used the card attached to his Dosh account. All I am saying is, I have seen it help a lot of people.

Bottom Line: Yes, I would recommend this to a friend

---

Wary of scam

By Jamie Frost

,

Columbus, OH

,

Jan 14, 2018
Verified Reviewer

I tried downloading this app because my sisters referred it to me, but I've been weary from how a "company" like this misspells words like "too" instead of to. I also tried adding a card I rarely use to test, and it won't allow me to add any cards as I keep getting a message that states they aren't accepting any prepaid cards when they themselves said I would get $5 for adding any card.

Bottom Line: No, I would not recommend this to a friend

---

Scam

By Tim Weaver

,

Las Vegas, NV

,

Jan 12, 2018
Verified Reviewer

I signed up a bunch of people last week and didn't get paid. I contacted them asking why.

Their reply was, "We're hoping to get caught up paying people for December's pay by the end of this month."

HOPING to?

Also, that means anyone you sign up this month won't get paid until February, even though they advertise, "Get paid in 72 hours."

Blatant lying.

Why in the world would they start a new promotion when they can't/won't pay anyone for a month and say, "Get paid in 72 hours"?

Waste of time.

Bottom Line: No, I would not recommend this to a friend

---

I wouldn't recommend this app

I downloaded the app and I had $52 in my wallet. I tried to transfer it over to my PayPal ($25), and I still haven't received it yet. I keep making a ticket, and it prompts me with the same email that they are backed up and it will take 3-5 business days. I did that on the 21st, and it's now the 28th and I still don't see it. And I can't link my card manually. I tried to make a ticket about that but they don't have anyone you can contact directly. This app sucks and I wouldn't give it any stars.

Bottom Line: No, I would not recommend this to a friend

---