Dr. Al Sears MD Reviews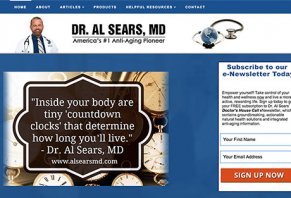 Dr. Al Sears MD is a naturopathic doctor who claims to use a variety of natural, holistic therapies and supplements to prevent aging, fight disease, and more.
About Dr. Al Sears MD
Dubbing himself "America's #1 board certified anti-aging pioneer," Dr. Al Sears MD is a health and wellness practitioner that claims to use natural, holistic remedies and other alternative treatments to help his patients live happier healthier lives.
Dr. Sears and his practice, the Center for Health and Wellness, are claimed to have helped more than 25,000 patients achieve this, not just through his in-person consultations, but also through an integrated approach that helps provide information you won't find in mainstream medicine, regardless of your location.
This includes monthly e-newsletters, daily email broadcasts, articles posted to his website, Dr. Sears's more than 15 books and reports on health and wellness, in addition to his Primal Force line of nutritional supplements intended to address weight loss, low testosterone levels, brain health, and many other conditions.
In short, Dr. Al Sears MD claims to be "exposing the flaws of mainstream medicine and pioneering new solutions through innovative approaches to exercise, nutrition and aging."
Whether you've spent a fortune in medical bills only to have your condition worsen, or you're simply interested in the quickly emerging field of "naturopathic medicine," you've come here to find out if Dr. Al Sears is the real deal, or if you're just dealing with more quackery. So which is it? Consider the following:
What Is Naturopathic Medicine? Is It Legitimate?
According to Naturopathic.org, "Naturopathic medicine is a distinct primary health care profession, emphasizing prevention, treatment, and optimal health through the use of therapeutic methods and substances that encourage individuals' inherent self-healing process.
The practice of naturopathic medicine includes modern and traditional, scientific, and empirical methods."
While this may sound straightforward and promising, there is a lot of controversy surrounding naturopathic (also known as complementary or alternative) medicine. But why?
As Science-Based Medicine puts it: "Anything that can be portrayed as "natural," be it traditional Chinese medicine, homeopathy (which is an integral component of naturopathy, something that should tell you all you need to know about naturopathy), herbalism, energy healing, Ayurvedic medicine, the four humors, or whatever.
Add to that a number of bogus diagnostic modalities, such as applied kinesiology, live blood cell analysis, iridology, tests for imaginary "food allergies" and "nutrient deficiencies" that conventional medicine doesn't recognize, plus an overwhelming emphasis on purging the body of "toxins," unnamed and named but all unvalidated by science, and it rapidly becomes apparent that naturopathy is a veritable cornucopia of pseudoscience and quackery."
Quackwatch takes it one step further by stating, "Scientific research has identified measurable, causative factors and specific methods of preventing and/or treating hundreds of health problems. Naturopaths have done little more than create glib generalities. [These] theories are simplistic and/or clash with science-based knowledge of body physiology and pathology."
In layman's terms, much of naturopathic medicine revolves around solving problems that are non-existent (e.g. creating both the problem and solution), as well as around incomplete science, which is what we'll discuss next.
What Does Science Say About Dr. Sears's Programs?
While there isn't any detailed information on his website about the therapies provided by Dr. Al Sears, based on some of the customer reviews we encountered during our research (more about this in a moment), it appears that patients meet with the Doctor on a regular basis, where he formulates a plan to address their problems using a combination of diet, exercise, and supplementation.
Alternately, for those patients not located near Dr. Sears's clinic, many of his programs are available in book format, such as his PACE Program and his "Doctor's Heart Cure" method of fighting off heart disease.
However, the only hard data we have to go on relates to Dr. Sears's supplements, so let's take a closer look at these.
Are Dr. Al Sears's Supplements Effective for Improving Your Health?
Due to the sheer number of Primal Force supplements, it would take far too long to break down each ingredient contained in each one. As a result, we thought it would be more productive to take a closer look at two of Dr. Sears's most popular supplements:
Ultra Primal Lean
A supplement that's claimed to help "melt fat right off your body" using white bean extract, fucoxanthin, irvingia gabonesis, garcinia cambogia, and chromium. However, according to the links above, there is insufficient clinical evidence available showing that these ingredients, whether in combination or alone, can help you lose weight.
TeloEssence
Claims to use natural ingredients to lengthen your telomeres, which may help prevent aging, boost energy, and to protect against cancer, using the following ingredients:
Vitamin D3, Vitamin C, Vitamin B3, Vitamin B6, Vitamin B12, Folic Acid, Selenium, Magnesium Citrate, Trimethylglycine, Asian Ginseng, Kudzu, Milk Thistle Extract, Horny Goat Weed, Bacopa, Green Tea Extract, Cat's Claw, Natural d-Mixed Tocotrienols, Resveratrol, pTerostilbene, Fenugreek, Citrulline, Mixed Tocotrienols, Gingko Extract, Gotu Kola, and Ashwaghanda.

Amino Acid Proprietary Blend: Alpha-Ketoglutarate, Arginine, Acetyl L-Carnitine, Carnosine.
It's interesting to note that Dr. Sears claims to have invented this formulation based on years of research, including research performed by NASA (which he fails to cite) and the study that won the 2009 Nobel Prize for Physiology or Medicine, which involved adding "DNA end sequence of linear DNA molecules from Tetrahymena to artificial minichromosomes [which] allows their long term stable maintenance in yeast."
However, none of this study was conducted using supplements, so we're unsure how this relates to TeloEssence in any way.
With this said, based on current clinical evidence, none of the ingredients contained in TeloEssence have been shown to lengthen telomeres.
What Are Customers Saying About Dr. Al Sears MD?
Despite claiming to have helped more than 25,000 people in his clinic, there are a fairly limited number of online reviews for Dr. Al Sears MD, his Center for Health and Wellness, or his Primal Force supplements.
And of these reviews, most referenced his Center, which appears to have a primarily positive online reputation. As such, common compliments cited effective programs, friendly staff, and that Dr. Sears is directly involved in the day-to-day operations of the clinic.
On the other hand, some of the most frequent complaints related to Dr. Sears's center were failure to experience results, high prices, and treatments that were not covered by insurance.
From a product perspective, Dr. Al Sears's PACE book (which basically consists of intervals) has an average rating of 4 stars on Amazon (as of 2/17/15). Despite this positivity, the most helpful review rated the book just 2 stars, and complained that most of it consisted of Dr. Sears telling you how great the program is, and in what little remains, about the program itself.
This reviewer even specifically mentioned, "The book is very poorly organized, nearly impossible to understand, and practically a waste of time. It took me far too long to pull the bits out that actually explain the program because they aren't in any logical order and are separated by more schmaltzy infomercial talk."
Dr. Al Sears's other most popular book, Doctor's Heart Cure, has an average rating of 4.5 stars. While most of the reviews are clearly positive, some of the most common complaints cited that there is a lack of credibility to the Doctor's work, and that the book contains much more selling than it does information.
Dr. Al Sears MD's Selling Tactics
Considering the number of consumers who complained about Dr. Al Sears's selling approach (e.g. selling through hype instead of substance), we thought it would be worthwhile to briefly address this concern.
Here at HighYa, we've reviewed hundreds of nutritional supplements and wellness plans, and have found that some companies spend a lot of time scaring you into a tizzy, and very little time actually informing you about the products themselves or backing up their claims with solid science.
And based on the marketing angles used in most of Dr. Sears's product descriptions and landing pages, it would seem he's taken this tactic and run with it.
For example, take a look at Dr. Al Sears's most recent article. In it, he tells an awful lot of personal stories and constantly references that he believes the "medical establishment," Big Agriculture, and Big Pharma have all got it wrong, and are deliberately fooling you. Fortunately though, he's got it all right.
However insightful the Doctor might seem to be though, after you wade through paragraphs and paragraphs of hype-filled text, it basically just comes down to eating right and exercising regularly, which is what any other physician will tell you to do for optimum health.
Dr. Al Sears MD Pricing and Refund Policy
Dr. Al Sears MD sells a wide variety of products, including books, videos, audio recordings, and even heart rate monitors and skin fold test calipers, which range in price between $14.95 and $349.
However, the articles on his website are free, as is signing up for his e-newsletter.
All products purchased through Dr. Sears's websites are claimed to come with a 100% money-back guarantee if you're not fully satisfied. In order to request a refund, you'll need to contact customer service at 866-792-1035.
Will Dr. Al Sears MD Help You Become Healthier and Live Longer?
While Dr. Al Sears MD is a board certified physician, this doesn't mean that any of the therapies he provides or the supplements he sells are rooted in solid clinical science. Instead, like so many other supplements manufacturers, it seems that Dr. Sears takes 1 or 2 studies that:
May not have been peer reviewed.
May conflict with the wealth of other clinical studies already completed.
May not ever have been repeated.
May not have even been performed on humans, or in some instances, were performed only in a Petri dish.
And then extrapolates this to reach some conclusion that's far outside the scope of the trials he's referencing.
Because of this lack of evidence, along with the very high prices associated with Dr. Al Sears's therapies and supplements, we might recommend making a purchase only after thoughtful consideration and thorough research.
Telo Essence does the trick

By Paul C.

,

Australia

,

Mar 16, 2020
Verified Reviewer

I have been taking Telo Essence religiously for 6 years and there is no doubt in my mind that this product has helped with my general health and well-being. My annual blood tests show fully normal each year and I do not and have not been taking any medication. I am 72 years old but still feel many years younger.

Although it is expensive, especially down here in OZ with a 65c exchange rate, I will still continue to take Telo Essence.

I thoroughly recommend this product.

Bottom Line: Yes, I would recommend this to a friend

---

Environmental disaster

By Susan S.

,

California

,

Jan 8, 2020
Verified Reviewer

I ordered the Triple Burn Turmeric on the recommendation of a friend. The product is OK but not working any better than another turmeric product I've taken. But since then the flood of mailings has been non-stop. I was so disgusted by this huge waste of paper I retained all the mailings for November and December. In this 2 months period I've received in the mail 30 pieces of literature most averaging 20-30 pages long - that is over 600 pages. If he limited his spell to 2-4 pages and sent something once or twice a month, I might have tried another product but what a waste of trees for a lot of bullcrap. I will never recommend this company to anyone.

Bottom Line: No, I would not recommend this to a friend

---

Alzheimer's DVD cure

By Harmon K.

,

Andalusia, AL

,

Dec 6, 2019
Verified Reviewer

I ordered this DVD that was advertised to contain a cure for Alzheimer's that consisted of a dosage of three spoonfuls per day and the advertisement stated that this treatment plus a 6 ingredient cocktail that would build stem cells to help a person's brain. I got the DVD and there was no mention of a cure for Alzheimer's that one would take 3 spoonfuls per day, and there was no mention of a 6 ingredient cocktail. When I watched the video to the end there was a message to see the attached booklet for the final lesson. There was no booklet! I did get a refund but watching this DVD was a total waste of time because there was no helpful info on it.

Bottom Line: No, I would not recommend this to a friend

---

T-Max Primal Force

By John T.

,

Houston, TX

,

Oct 31, 2019
Verified Reviewer

I have used Primal Force T-Max for a couple of years on and off. I believe it helps. Feels like testosterone may have increased...better results in the gym and with girlfriend. A buddy of mine tried it and reported the same...both over 60 years old.

Bottom Line: Yes, I would recommend this to a friend

---

Advertisement

---

Primal Force Turmeric Triple Burn

By Nina S.

,

Illinois

,

Oct 11, 2019
Verified Reviewer

I have been self-reading/studying about nutrition, natural products for quite a few years now. I use several of Dr. Sears products and just stared with Pro-Biotic, Vit.D-3/magnesium, and ordered the sleeping mouth spray. The most important product to me is the Triple Burn Turmeric. It does help big time with sore joints, etc. Many other articles/books I have read constantly repeat the same information that I read all the time of Dr. Sears. I totally believe in the products that I have used thus far. It is true Big Pharma is scared to death of the "natural" way. After all, almost everything we need to maintain good health is from our Earth. I am 66 years old and take no medications at all. I find that most people don't want to try anything on their own to help themselves instead depending upon pills to help/cure their diseases/health problems. It is sad to me that more people won't give the natural way a good chance to help them heal. Of course, there are times when doctors are right, but when I find I have a health issue, I find the natural product to help myself. If something doesn't work I will try something else until I find the right ingredients naturally for me. I praise Dr. Sears for continuing to find the natural mixes of herbs/plants on our Earth to help people overcome and at least try to get out of the "Big Farce/Pharma" dilemma.

Bottom Line: Yes, I would recommend this to a friend

---

Medical tests don't lie

By Lori P.

,

Pittsburgh, PA

,

Sep 22, 2019
Verified Reviewer

First I started taking the Telo Essence. My bloodwork results all improved after 3 months of taking it. I took this for a few years and felt so much better than I did when taking meds with terrible side effects. I stopped taking it due to the financial situation. After stopping for a while my blood counts decreased in a negative way again. Next, I switched to the Omega Rejuvetol since it was cheaper and still increased telomeres (though not as much), as well as other benefits. I recently had bloodwork done and everything improved again! Big Pharma wants us to stay on meds whose side effects are often worse than the problem! The medical tests don't lie!

Bottom Line: Yes, I would recommend this to a friend

---

Who to blame

By Catherine A.

,

Deer Park, NY

,

May 20, 2019
Verified Reviewer

I have tried almost all of Dr. Sears supplements because I am old and gullible and full of hope for feeling more energetic. None have proved beneficial. Once I took advantage of the money back guarantee I seem to have gotten black-balled. However, I take this as a positive so that no matter how convincing Dr. Sears sounds, I am protected. Thank you.

Bottom Line: No, I would not recommend this to a friend

---

Doesn't work, no refund.

By Mark B.

,

Honolulu, HI

,

May 18, 2019
Verified Reviewer

This product simply didn't work for me. I took as directed for 3 months, 3-bottle supply, and at the end joints felt no better. When I inquired about the refund it was when I finished the last bottle but beyond 90 days, so refund "guarantee" no good? Tried other products from Sears, and none really worked but I didn't ask for a refund. Would not recommend dealing with this company.

Bottom Line: No, I would not recommend this to a friend

---

Pure radiance hair mist - think twice.

By Carol D.

,

Arkansas

,

May 10, 2019
Verified Reviewer

Thinning hair for years, I used hair vitamins, keratin, etc., and got it to thicken up, but thought I would try this to take it even further! The first 2 weeks it looked thicker which I liked, but the 3rd week I got up and 50% of the hair on the top of my head where I was spraying it was gone! I don't know if burned the hair off or what. Did it damage the follicles so no hair will grow again? I don't know! VERY ANGRY about this, sure I got my money back but that doesn't get my hair back! If a product doesn't work that's one thing but to make it worse is quite another!

Bottom Line: No, I would not recommend this to a friend

---

Just look at the overall rating summary

By Milo A.

,

Apr 12, 2019
Verified Reviewer

First, I am a Dr. Sears customer (Tumeric). I cannot say there has been a stunning improvement from it. I recently received another product sales pitch and decided to search and found this review. I have read a LOT of reviews of all kinds of products over the years. For me, the rating summary at the top should tell you the whole story. There are MORE 2-star ratings than 4. And there are way more 1 ratings than 5. While I have always maintained that just negative reviews alone do not tell the whole story because there is always going to be some people that don't like a product no matter what. But when you see an across the board low scores like you see here, you should run away FAST.

Bottom Line: No, I would not recommend this to a friend

---

All about the money!

By Edward R.

,

Palm Beach Gardens, FL

,

Feb 15, 2019
Verified Reviewer

They are all about the money! When they found out that I didn't have a lot of money to spend, they were uninterested in giving me an good evaluation and rushed through my exam. They were supposed to write out some recommendations and I never received them. The staff is good, but the doctor I saw ("NOT" Dr. Sears) looked like she was ready to leave the room as soon as she came in.

There is so much more I can say, but it would be really long and wordy. In a nutshell, I paid $350 to hear the doctor say I don't give pricing and what we offer is not in your price range anyway. Nice thing to tell someone with stage 4 colon cancer! Also, they never asked me to bring any medical records or blood work and made no attempt to get them. If you decide to go there, I wish you the best and hope you are treated better than I was!

Bottom Line: No, I would not recommend this to a friend

---