Dr. Sock Soothers Reviews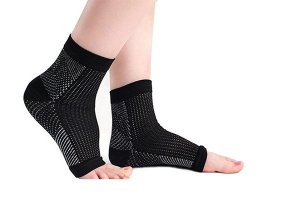 Here, we'll explore Dr. Sock Soothers, compression foot sleeves that claim to increase blood flow, address plantar fasciitis, and deliver breathable support.
About Dr. Sock Soothers
Designed by a leading podiatrist with extensive foot pain management experience, Dr. Sock Soothers anti-fatigue compression foot sleeves promise to help provide immediate relief from swelling, heel pain, achy feet, and poor blood circulation caused by the aging process.
Each sleeve is said to feature seven zones and three levels of targeted compression, which can provide breathable support whether you're on your feet working, hiking, running, enjoying sports activities, at the gym, or just out and about walking. Simply slip it on as you would a normal sock, whether under or over your socks.
In addition, the company tells us that Dr. Sock Soothers' sleeves "create support for the plantar fascia connective tissues" and reduce associated healing time. Also, that they naturally elevate dropped arch support caused by obesity, weight gain, and other frequent weight-bearing activities.
If you're dealing with foot pain or other types of discomfort, the bottom line is that you want it gone yesterday, and want to know whether or not Dr. Sock Soothers' sleeves represent a realistic solution—as well as a wise use of your money. In this article, we'll help you find some answers, starting with the basic process that allows these types of products to do their job.
How Compression Garments Like Dr. Sock Soothers Work
Garments like these are typically constructed of a "flexible yet firm, spandex-type material" that fits closely to your body, gently squeezes the area to which it's applied, and thereby potentially boosts circulation and blood flow. As a result, users often report reducing swelling, pain, and general discomfort.
However, not all compression garments are created equal. For example, prescription options available only through a physician typically measure their level of compression in millimeters of mercury (mmHg), providing users with very specific details about what they're buying.
On the other hand, consumer-grade products like Dr. Sock Soothers only deliver generalized compression, which could vary—and deliver different benefits—depending on how snugly the sock fits.
How Much Do Dr. Sock Soothers Cost?
Dr. Sock Soothers are priced as follows (no sizing information was listed on the product's website at the time of our research):
2 Pairs + 1 Free: $39.95
3 Pairs + 2 Free: $59.95
5 Pairs + 5 Free: $99.95
8 Pairs + 12 free: $159.95
All orders come with free insured shipping (3-5 days), along with a money-back guarantee. Keep in mind that per the site's Returns page, the product "must be in the same condition that you received it. It must also be in the original packaging."
All socks come in one standard size.
In order to request one, the company can be reached at (833) 766-4498 or support@drsocksoothers.com.
Are There Other Compression Socks Like Dr. Soothers'?
A quick online search for 'compression socks' and 'compression foot sleeves' across marketplaces like Google Shopping and Amazon returned hundreds of results from dozens of different manufacturers at the time of our research, most of which ranged in price between $10 and $40, putting Dr. Sock Soothers' version somewhere near the middle.
Some of these competitors even appeared very much alike design-wise (even down to the coloring and stitching patterns) to Dr. Sock Soothers. Given these pricing and functionality similarities, how can you decide which foot compression sleeve will work best for you?
According to WebMD, compression socks (regardless of the brand) can be useful for addressing a wide variety of conditions and situations, including:
People with or at risk for circulation problems, like DVT, varicose veins, or diabetes
People who've just gotten surgery
Those who can't leave their bed or have a hard time moving their legs
People who stand all day at work
Athletes
Pregnant women
People who spend long stretches of time on airplanes, like pilots
However, if you're experiencing a condition (chronic or otherwise) that's causing frequent foot pain or discomfort, the first person you should speak with is your doctor. Based on their questioning and testing during your appointment, they should be able to recommend options that will deliver the most bang-for-your-buck.
If they suggest that you proceed, WebMD advises that you'll want to stick with options that go on smoothly, without bunching; aren't too long so that you'll have to fold or roll the tops down, or are so tight that they cause circulation problems or otherwise cut off your blood flow.
Finally, in order for compression socks or another type of garment to be effective, they need to be worn often. While you can take them off to shower or bathe, be sure to ask your doctor during your appointment about how long yours should be worn in order to achieve maximum benefits.
Of course, most of these recommendations involve having the compression sock in your hands. But in the instance of Dr. Sock Soothers or any other online purchase, you obviously won't have this opportunity before handing over your money. Does this mean you should proceed?
Our Final Thoughts About Dr. Sock Soothers Compression Wear
On the upside, Dr. Sock Soothers seems to have priced their compression foot sleeves competitively, as well as to stand behind them with a satisfaction guarantee.
However, other than the fact that they're based out of Hayden, ID, we're told nothing about the manufacturer themselves—even on the socks' website, there's no mention of the company. We also couldn't find anything about them on third-party sites during our research.
On top of this, it appears that these socks are only one size fits all (again, we're awaiting a response from the company to learn more). And as if you didn't already have enough to consider, these products are popular enough that you'll almost certainly be able to find a handful of local options, which could save initial (and return) S&H charges and make the refund process as easy as driving back to the retailer.
Socks don't fit.

By Diana F.

,

Australia

,

Apr 4, 2020
Verified Reviewer

I brought these socks hoping that they would help, however, I cannot even get them on, they are so tight. One size does not fit all, don't believe what they say. What a waste of money.

Bottom Line: No, I would not recommend this to a friend

---

Ripped off

By Leslie M.

,

Antrim, Ireland

,

Apr 2, 2020
Verified Reviewer

I would defy anyone with size eight broad fitting feet to put these socks on. I have tried, I have osteoarthritis in both hands and got nowhere with them. I pulled one sock onto my arm with great difficulty and could hardly get it off again! My carer came in later that evening and couldn't get a sock started on my foot. I didn't get an invoice with the socks so I don't have a return address to get my money back, what a nice way to treat a housebound pensioner. The government should come down on these trash selling scum and stop them trading. They are non-compassionate thieving people.

Bottom Line: No, I would not recommend this to a friend

---

Advertisement

---

This one got me

By Dineshwar P.

,

Auckland, New Zealand

,

Mar 18, 2020
Verified Reviewer

Absolute rip off. I bought four pairs and none of them fit me. I spent more than 10 minutes trying to put them on. They are not "one size fits all" as claimed. I would like my money back. I will not recommend this product to anyone.

Bottom Line: No, I would not recommend this to a friend

---

Help for Neuropathy

By Ida M I.

,

Raleigh, NC

,

Mar 12, 2020
Verified Reviewer

For discomfort from neuropathy and restless legs, I tried these compression socks to find relief. For about a month of wearing them only at night, I was greatly relieved from aching and restless legs that kept me awake. I wear size 8-10 women's shoes and these socks were not too tight.

However, about a month after purchasing 3 pairs and wearing one every night, I also developed edema from congestive heart failure. With this new diagnosis, the swelling that developed in my feet and lower legs caused too much compression and pitting in the swelling. So I had to stop using the socks. Disappointed! I would like to return the two unopened socks, but I no longer have the original mailer they came in. Don't know if I can get a credit or not.

Bottom Line: Yes, I would recommend this to a friend

---

Advertisement

---

Costly BS

By Eamonn O.

,

Drogheda, Ireland

,

Mar 11, 2020
Verified Reviewer

I bought this product thinking they would help my sore feet. Can't even get them on without a massive struggle, got one on had no will to try for the second one, "one size fits all" my butt! BIG rip off, even had to pay extra vat at 23% and extra to AN POST for delivery total of €22.85. Want my money back and the extra cost as well! ANGRY CUSTOMER.

Don't buy this product, keep your money!

Would not rate this product.

Bottom Line: No, I would not recommend this to a friend

---

Definitely not worth it!

By Debbie B.

,

Leeds, West Yorks, United Kingdom

,

Mar 9, 2020
Verified Reviewer

I received 3 pairs of the compression socks paying £32. Very disappointed with them, they are tiny and have no compression in them. Very poorly made and just basically cheap rubbish. Total waste of money and time waiting for them. I emailed to see where I could return my product and this is the only reason, why they get 1 star, the response was very quick. They must be used to complaints as it was suggested they give me a partial refund, rather than me pay to return to send them back. Apparently, that's "what most people do". Got a refund of £18, processed quickly.

Just a shame their product isn't anywhere near as goods as the customer service!

Bottom Line: No, I would not recommend this to a friend

---

Be aware

By Alan M.

,

Sheffield, United Kingdom

,

Feb 20, 2020
Verified Reviewer

I ordered the socks not realizing that despite the advert that they were going to be shipped from the USA. I was charged £9.25 for one pair then 2 pairs plus 1 free for £32.40. That was pricey enough with the cost of postage but then when delivered from the USA I had to pay a customs levy of £11.65. The seller did not make this clear as part of the purchase cost. Take my advice, buy from Amazon or eBay, they can be bought from within the UK for around £7.00 per pair with minimal postage/ shipping cost. I feel that I've been ripped off totally. The product is absolutely average to top it all.

Bottom Line: No, I would not recommend this to a friend

---

Not big enough

By Laurie H.

,

Queensland, Australia

,

Feb 19, 2020
Verified Reviewer

My compression socks arrived after nearly 3 weeks, tried to put them on my feet and they are far too small for my feet. I take a size 9 and there is no way they will fit. So would I recommend them to anyone? No way.

Bottom Line: No, I would not recommend this to a friend

---

Utter rubbish

By Y B.

,

East Midlands, United Kingdom

,

Feb 6, 2020
Verified Reviewer

I have size 10 men's shoes and I could not manage to fit a sock on either foot without extreme effort and then they were so tight that it was painful. It was harder to remove them and so I threw them in the waste bin with 2 other unopened pairs. I would rate them zero out of 10.

Bottom Line: No, I would not recommend this to a friend

---

Not received

By Brenda O.

,

Halton, Cheshire, United Kingdom

,

Jan 30, 2020
Verified Reviewer

I have been informed by Royal Mail that they will not deliver the items until I have paid them Customs Duty.

I am not paying and have been told after 21 days that they will be returned back to the Supplier.

Bottom Line: No, I would not recommend this to a friend

---

Did nothing for me

By Denise M.

,

Springfield, IL

,

Jan 27, 2020
Verified Reviewer

Socks are tight, so yes there is compression, however, after an hour with them on, the bones in my feet began to ache from the compression. I got them because I have plantar fasciitis; they didnt do anything for my plantar fasciitis except make my feet ache in different places. After spending hundreds, I have finally found what helps me and that is VIONIC brand shoes. You need to correctly realign your foot, which then corrects your ankle, knee, hips and lower back. Don't waste your money on these socks.

Bottom Line: No, I would not recommend this to a friend

---