DraftKings Reviews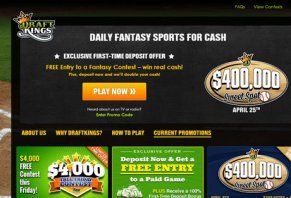 DraftKings is an online fantasy sports league that provides short-duration contests for all major sports, including football, basketball, hockey, and more.
About DraftKings
Based out of Boston, MA and operated by Rotowire, Inc., DraftKings is a website that allows users from all over the world to enter into daily and weekly fantasy sports contests. The company claims that everything they offer is 100% legal, and their primary marketing angle is that they provide "rapid-fire," short-term contests when compared to other seasonal leagues. In fact, even though they've only been in business since 2012, they're widely considered one of the most reputable online fantasy sports destinations.
DraftKings has been featured in a wide variety of media, including the Wall Street Journal, the Boston Globe, Forbes, and TechCrunch, and has a solid social media presence with over 6,000 Facebook likes, and 4,100 Twitter followers. DraftKings has an A- rating with the Better Business Bureau, and based on our research, has very positive customer and industry reviews.
How DraftKings Works
DraftKings offers fantasy leagues for football, baseball, basketball, hockey, college football, and college basketball, and according to their website, the process can be completed in five easy steps:
Sign Up: To begin, you'll only need to choose a username and enter your email address. Signing up is completely free, and you'll be credited with $50,000 to apply toward your team's salary. However, remember that fantasy sports leagues are technically gambling, so you'll need to be at least 18 years old.

Pick Your Contest: You can play free or paid contests, including guaranteed, qualifiers, head-to-head, 50/50, multipliers, and more (see below for specifics).

Create Your Lineup: Choose your sport, and then draft a complete team in just a few minutes. Each player's salary is based on their overall skill level, and will be deducted from you overall credits. DraftKings is unique in that each user only has $50,000 to spend on player salaries, which levels the playing field.

Watch: DraftKings offers you the ability to monitor your teams live on your computer, tablet, or smartphone.

Win: Once your chosen contest ends, your accounted will be credited. Once you decide to withdraw your winnings, your request will be processed within two business days.
DraftKings Contests
DraftKings offers several different kinds of contests, including:
Freeroll: Completely free to enter, and winnings are paid using Entry Tickets or DraftKings dollars, which can then be redeemed for other contests.

Guaranteed Prize Pool (GPP): Highlighted in orange in the DraftKings lobby, GPP contests payout the entire prize pool, regardless of whether or not a contest was filled to capacity.

Sit N' Go: Unlike GPP, Sit N' Go contests are closed if they don't completely fill. If this occurs, your account will automatically be refunded.

Double Up: Places are double your original entry fee, and all players are paid the same amount.

Qualifiers: Instead of paying cash, Qualifier contests pay out in tickets that can be redeemed for use in paid contests.

Winner Takes All: Only the first place player wins, who will take the entire prize pool.

Multi-Entry: You'll be allowed to enter multiple teams into a single contest. Payouts vary by game.
Once you've begun, you'll be able to monitor your lineup's status as well as your contests in real time. Your My Contests page will also include any upcoming contests, as well as those you've already completed.
DraftKings Pricing & Refund Policy
Signing up for DraftKings is completely free. However, if you choose to participate in some of the paid contests, you'll need to add credits to your account using a credit card, PayPal, or Dwolla. As a first time user, you'll receive a free $2 credit to apply to the paid game of your choice, in addition to a bonus equal to the amount of your deposit. In other words, if you deposit $250 into your DraftKings account, you'll receive an additional $250 in bonus credits. DraftKings does not offer refunds of any kind once your funds have been applied to a contest, so keep this in mind before entering.
From an earnings perspective, DraftKings also gives you the opportunity to earn up to 40% commission for referring up to five friends.
Pros:
A reputation as one of the best online fantasy sports sites.
Free to sign up, and easy to use.
"Rapid-fire" contests on a daily and weekly basis (depending on the sport).
100% bonus on your first deposit.
Numerous types of contests, and immediate winnings payout.
Great user experience, whether on your PC or mobile device.
Cons:
They're a bunch of liars!

Their customer support is terrible. I showed them proof that they were offering me a cash-out and I hit the button over and over again, showed them snapshots and all they can tell me is if I had proof of it saying successful cash out they would help me out, therefore, calling me a liar. Their bet bought back 152 and they offered me 135 off a 60-dollar bet, who wouldn't take that deal! These guys are terrible with no generosity at all. I highly recommend not placing a wager with these people!

Bottom Line: No, I would not recommend this to a friend

---

WARNING

By Robert C.

,

New Jersey

,

Dec 30, 2019
Verified Reviewer

Do NOT play any casino games online. Rigged. You will LOSE money. No matter any system attempted your cash will lose, lose, and lose again. Please, any winning reviews are from DK. Just try if you want, come, make a $20 deposit, play roulette, blackjack, your choice of any boardgames casino game and your $20 will fly out the window just like your poop did away.

Bottom Line: No, I would not recommend this to a friend

---

Advertisement

---

I believe they aren't paying massive amounts of winners.

By Shawn H.

,

California

,

Dec 30, 2019
Verified Reviewer

DraftKings has me generally just outside the win zone. Over and over this happens. Even when my scores are terrific (1/1000 my guess), they will have me just make the bottom tier of winners who win just a little more than they wagered. Most of the bets will be lost and it won't even be close. I don't believe DraftKings is properly monitored or they own the monitoring firm, because...and it's almost systematic, you will spend a hundred and you will get back $30. On a good day you will get half, on a bad day you will lose it all. But, you will almost never win more than you spent. Super rare. I believe it's rigged. I'm pretty sure of it! I have been playing for years and it has always been the same routine. Many other things that prove customer theft beyond a reasonable doubt, but not enough room to give examples. Save your money. You will be glad you didn't play in the end.

Bottom Line: No, I would not recommend this to a friend

---

Watch out

By Michael S.

,

Maryland

,

Nov 12, 2019
Verified Reviewer

I had played in 3 golf contests this past week and there were 2 players that weren't even playing but DraftKings had them in the lineup and you guessed it, I had the 2 players that didn't even play. I wrote them about it but to no prevail. So that's lost money.

So beware!

Bottom Line: No, I would not recommend this to a friend

---

Advertisement

---

Scam, rigged, no fair chance of winning

By Canes N.

,

New Jersey

,

Nov 11, 2019
Verified Reviewer

No matter how good of a lineup you have, by the end of the contest, like 50-100 lineups pop up out of no where with the perfect lineup with a player who hasn't done anything all season, all of a sudden, the blow-up with 20+ fantasy point, owed by 0.1% and just magically happen to be in that perfect lineup, I scream BS. For instance, last week I had like 197 points with two players left in the 4 pm NFL games. I believe I was like in 97th place. After the contest end, I finished with 227 points, and out of nowhere, there were like over 100 lineups with over 230 points and 1st place winner had like 260 points. Again BS, the winnings stay insides, and have a computer generation perfect lineups as the game progresses. I'm not buying that one bit. I read and watch so-called experts who were sure of players to have monster games and end up laying an egg, but yet somehow still end up with the perfect lineup. Unless you're Jesus or a psychic, no way in hell you got the perfect lineup with players how have done nothing all season but sudden blew up in 1 game. I really hope the FBI starts investigating DraftKings, FanDuel and go undercover.

Bottom Line: No, I would not recommend this to a friend

---

Will lock your account and steal your money

By Nathan W.

,

Akron, OH

,

Oct 24, 2019
Verified Reviewer

Played this loyally for over two years. Then I moved states. They asked to reverify my identity because I was showing up in a different location. Ok, fine. Spent two hours trying to get my phone to take a clear enough picture for their scanner app to be satisfied. It said ok, you are verified, go ahead and play. Deposited money. Went to enter some contests two days later...my account had suddenly been locked from playing any contests, or withdrawing money. Called customer service 18 times over a week period, never got anything but an answering machine telling me to leave my number. This company is HORRIBLE, and I am SO GLAD I never won anything major, because I am certain from reading some of these other reviews that my account would have been locked for one reason or another, and I would have never seen my winnings. As it stands they stole $20 from me, and kept me frustrated long enough that I finally decided it was not worth it, and switched to FanDuel. $20 is not a large amount I know but if this guy that apparently runs the DraftKings App from his grandma's basement (IT HAS TO BE SOMETHING LIKE THIS, OR ELSE, WHERE ARE THE CUSTOMER SERVICE REPS ANSWERING THE PHONES?) manages to steal $20 from 1000 people every week, he has a pretty decent income coming in. Probably has to steal from customers to cover all the money he spends on pizza, lube, and other inappropriate things. Ok I'm done. Don't use DraftKings, it's a scam. Period.

Bottom Line: No, I would not recommend this to a friend

---

Bots and points rigged

By Bryan H.

,

Destin, FL

,

Oct 21, 2019
Verified Reviewer

Caught them today, yes, today, 10/20/2019. I chose Jacksonville as a defense. I have a very good lineup as well. By the time all games are over, I was free-fall drop all way down 20,795th place, won $2 from 73rd $15 prize...I decided to look at the winner lineup and caught them, he has Jacksonville as a defense, the point is 17.0 and I have my Jacksonville defense too and my point is 0.90 with a hot fire icon on this 0.90 the DraftKing was hope I don't notice it because of fire icon next to 0.90. But I'm not stupid. I did a screenshot and sent them. Haven't heard from them.

Bottom Line: No, I would not recommend this to a friend

---

Lockout from winning

By Anna R.

,

Oklahoma

,

Oct 11, 2019
Verified Reviewer

I have been playing DraftKings for several years and I started winning. I went into my account and all my money was gone and they locked me out. I thought at first I was hacked until I chat with DraftKings and said they took it because I showed two people on my account, which wasn't true, and different devices, which isn't true. They said they needed my driver's license, passport, or government papers. I went to the blogs and found out the excuse they gave me is the same excuse they are giving to everyone. They cannot retrieve their winnings. DraftKings is keeping the winning money. I cannot get mine nether. This has been an ongoing issues for several years I guess to people. I am the only one on my account, no one else. The credit card I used to deposit my account is strictly mine, not even my husband. I heard people are sending the identification and still haven't gotten anywhere so I decided I will no longer support DraftKings for their actions and not taking care of people but ripping them off.

Bottom Line: No, I would not recommend this to a friend

---

Abysmal customer service

By Martin W.

,

Ewing, NJ

,

Sep 26, 2019
Verified Reviewer

I've been a member of DraftKings for over a month. Recently I made some wagers and deposits with no difficulty. Today I had an opinion on several College Football games. I attempted to get into my account with bad results. I was able to send in a PayPal transfer of funds which they did not acknowledge. Every time I tried to log in to make wagers, I was told that my location was not recognized. I sent several emails to Customer Service. I found their phone number in Massachusetts and attempted to talk to someone and only got a recording telling me to leave my number. I did leave my number and 6 hours later no one has called me back. I now will attempt to withdraw my transfer of funds from the account and will never do business with them again. Recently when I was watching several sporting events, I noticed that they had a lot of TV advertisements promoting their site. If they got the money for those advertisements, they should spend some on their customer service.

Bottom Line: No, I would not recommend this to a friend

---

DraftKings keeps your personal info forever

By Ed M.

,

Millburn, NJ

,

Apr 5, 2019
Verified Reviewer

WARNING - Even if you close your DraftKings account they permanently retain ALL personal info you gave them.

BE SAFE: Do NOT open a DraftKings account.

I repeatedly asked them to delete the information and they repeatedly refused.

Bottom Line: No, I would not recommend this to a friend

---

Love it

By Zack P.

,

Texas

,

Mar 27, 2019
Verified Reviewer

I have been playing on DraftKings for about three years and I love it. I have one a couple of hundred dollars here and there, but nothing crazy. Reading some of the other reviews, I feel like they are inaccurate. In a 100,000 person tournament, the difference of 10 points can be hundreds of thousands of dollars. The negative is that the same players do consistently place high, but that is mainly because they devote all of their time to playing. I follow many of these players websites and strategies. Also, they have computer systems that help them generate line-ups. Bottom line is, you most likely won't get rich playing, but it makes watching sports more enjoyable and entertaining.

Bottom Line: Yes, I would recommend this to a friend

---