Dreampad Pillow Reviews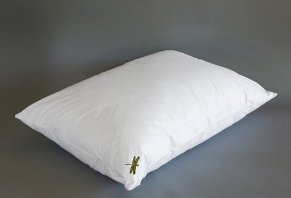 Originated on Kickstarter and featured on the Shark Tank TV show, the Dreampad Pillow uses bone conduction technology and music to help you improve your sleep.
What Is Dreampad Pillow?
Pairing scientifically proven, patented sleep technology with the body's natural bone conduction process, the Dreampad Pillow looks and feels just like a regular pillow, but promises to help signal your internal relaxation response faster, leading to a better night's sleep.
After downloading the iOS or Android app, you'll just connect your smart device to the pillow, select your song, set the volume, adjust the timer, and get to sleep. In fact, the website emphasizes this process works so well that Dreampad is "guaranteed to help you power down for a great sleep."
Once you have it in your home, can you reasonably expect the pillow to be like a spa massage for your brain, as claimed in the promo video? Will it really help you de-stress and fall asleep faster than ever before? We'll help you find some answers here.
But before we dive into the Dreampad specifically, there are a couple of important topics to quickly discuss.
Is There a Link Between Music, Relaxation, & Improved Sleep?
We've discussed before that stress triggers the body's fight or flight response, which can be useful when we're in danger. However, our body doesn't understand the difference between an actual threat to our lives, and the threat of losing your job if you don't get that project completed tomorrow that your boss handed you at the last minute.
And if we're in a chronically stressed, fight or flight response, it can have a very real negative impact on our health, leading to things like poor sleep, high blood pressure, anxiety, weight gain, heart disease and heart attack, and stroke (to name just a few).
The good news is that the body's relaxation response can help counter the side effects of stress, which can be triggered as easily as "sitting in a relaxed position, eyes closed, and repeating a word or sound as you breathe." In other words; meditation.
But does robust clinic evidence exist linking music—whether delivered by Dreampad or another method—with the relaxation response typically provided by mindful breathing exercises?
Using third-party tools like the National Institutes of Health's PubMed, we found more than 1,000 clinical studies that looked at the ability of music to reduce stress. Many of these also studied the relationship between reduced stress induced by music, and its propensity to help participants sleep better.
However, as Jane Collinwood wrote for PsychCentral, "Musical preference varies widely between individuals, so only you can decide what you like and what is suitable for each mood." In other words, there's no single piece of music that will elicit the same response in everyone, so it may take some time to find just the right tracks for you.
Next, let's take a close look at the unique technology used by the Dreampad Pillow to deliver these potentially de-stressing tunes.
How Does the Bone Conduction Technology in Dreampad Pillow Work?
Have you ever cringed at the sound of your voice in a recording, and wondered why it sounds so different than when you speak? In a nutshell, this is due to a phenomenon known as bone conduction, which causes our voice to sound warmer and deeper when speaking.
While it might sound complicated (no pun intended), How Stuff Works explains that bone conduction simply involves using sound waves to vibrate the bones in your head, which are then transmitted to the cochlea in your ear and translated into sound. Whether through your eardrum or head bones, though, they emphasize that it "results in the same sort of nerve impulses being transmitted to your brain." In other words, the sound is heard in the exact same way.
Compared to sound waves through your eardrum, however, the vibrations involved in bone conduction can't be heard by anyone else. This way, Dreampad's manufacturer reports that you won't have to worry about disturbing your partner.
All you have to do it download the app, put your phone on Airplane mode, plug it directly into the 3.5mm jack in your Pillow (or, use the optional Bluetooth receiver), place your phone in the built-in pocket, and enjoy your own music.
According to their site, it also comes with "ten songs specifically engineered for deep sleeping."
Is There Clinical Support for Dreampad's Intrasound Technology?
In addition to the potential soothing power of music in general, the company emphasizes that the vibrations related to this bone conduction delivery system can help stimulate the vagus nerve, "which in turn activates the parasympathetic nervous system (PNS)." This is the "part of our nervous system which brings us down to a calmer place where we can relax and fall asleep."
To support this claim, the Research section of the Dreampad website references a 2014 HRV pilot study that found "significant improvement in HFC [High-Frequency Coupling], which may equate to improved autonomic function and balance."
And "because HFC has been associated with vagal tone, improved HFC (from baseline to treatment or in the present study, before Dreampad use and during) may indicate parasympathetic dominance, which will promote a more favorable internal environment for resting/sleeping."
They also reference a 2016 Columbia University Medical Center study involving 30 adults with reported sleep problems. In the end, a statistically significant difference was found between the Dreampad and control group related to the length of time asleep and number of nighttime awakenings.
Several other preliminary and user studies were listed, including:
A 2012 study showing that Dreampad decreased sleep problems in eight children with ADHD and helped maintain improvements for up to three weeks afterward.

A 2017 study involving 15 children, who "showed a decrease in sleep problems as noted in response to the sleep diary."

A 2014 study measuring Dreampad's effect on veterans with post-traumatic stress disorder, indicating it helped all 10 participants improve sleep and reduce (or eliminate) nightmares.

A user study involving 10 families with children between the ages of four and 14. According to the summary, "most families saw reductions in the amount of time it took to fall asleep, with six of them cutting that time in half when using the Dreampad. All ten families had very positive experiences and would recommend the product to others. Eight of the ten felt the Dreampad made a huge change in their own and/or their child's life."
Does this mean you'll experience any of the same? Not to sound like a broken record, but sleep (and music's specific effect on sleep) can be different for everyone. Even the Dreampad website notes that hearing this way can be different, so it might take a couple of nights to become accustomed to it, during which time it could involve some trial and error.
Could the Dreampad Pillow Cause Side Effects?
Everyday Hearing notes that, like normal headphones or speakers, listening to music too loud using bone conduction technology can still damage your hearing.
Outside of this, the manufacturer notes that there are "two health-related caveats" when it comes to using the Dreampad Pillow. First, if you're prone to motion sickness, you'll want to start off with short 5-10 minute sessions to ensure the "vibrational music does not trigger a reaction similar to that of motion sickness."
Additionally, the pillow shouldn't be used inside the crib of a child under one-year-old due to the risk of SIDS. They also note, "children and adults with medical conditions should consult their doctor before using."
Which Bone Conduction Pillows Does Dreampad Offer?
In total, there are four different Dreampad Pillow models, all of which include a zippered mini-pocket and implement the company's patented Intrasound Technology:
Medium Support
This 20" x 28" model features hypoallergenic poly fill down alternative and a 100 percent cotton shell, and is said to be the company's most popular, since it delivers a "perfect combination of comfort and support."
Promoted as soft, lush, and flexible enough for those who like sleeping in all positions, with a 2.25 lb weight.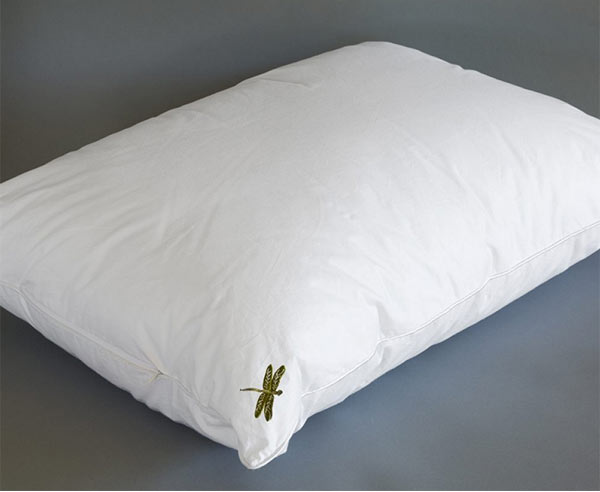 Dreampad's Medium Support pillow. Credit: Dreampad
Memory Support
Contains all of the same features as the Medium Support model, but filled with memory foam that's softer on the side for gentle give, and that allows your head to sink into the pillow's contour (no weight listed).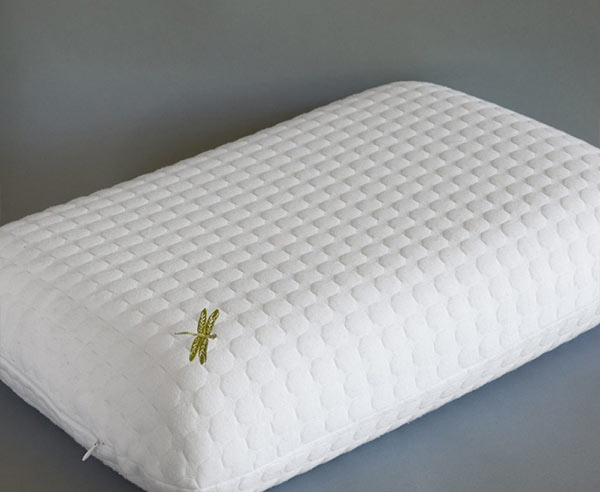 Dreampad's Memory Support model, which is only one of two pillows that don't use poly fill. Credit: Dreampad
Firm Support
Again, all of the same features as the previous two models, only with a denser poly fill and slightly higher loft, while still offering plenty of give whether you're a side or back sleeper. Weight comes in at 2.88 lbs.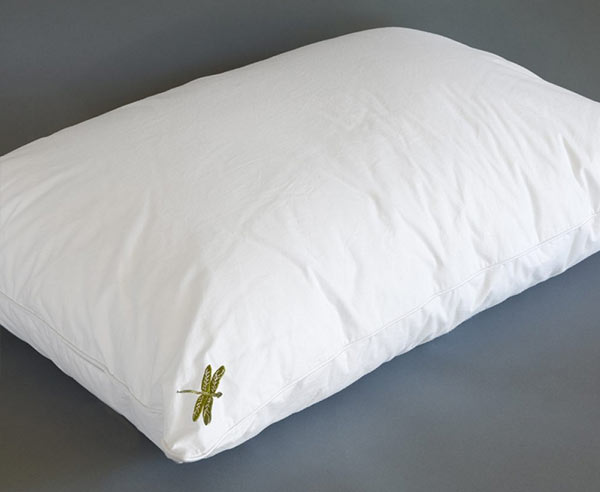 The Firm Support Dreampad pillow. Credit: Dreampad
Slim Support
Marketed toward those who prefer a thin, low-loft pillow, this foam-filled model can be used by itself—or, at just 13" x 18.5" and 1.54 lbs, you can also slide it under your current pillow and still enjoy the music. And because it fits into carry-on luggage, it's even ideal for travel.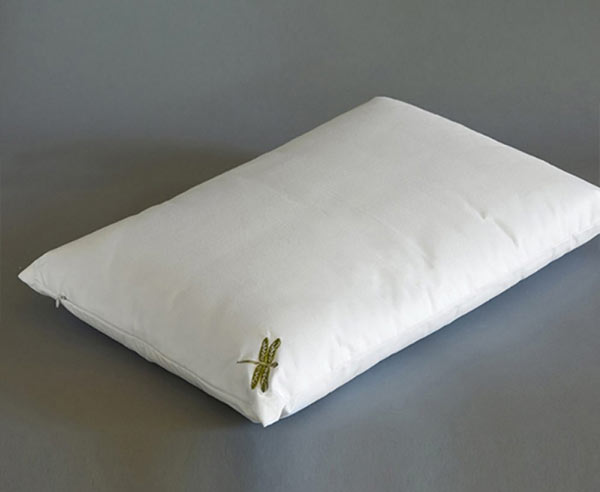 The Dreampad Slim Support model can be used by itself, in conjunction with your other pillows, or while you're on the go. Credit: Dreampad
Taking a Closer Look at Dreampad Pillow's App
While Dreampad's bone conduction technology delivers the music, its iOS and Android app acts as the Pillow's central hub.
Despite this, the screenshots on iTunes and Google Play make the app look simple and easy to use, with clear-cut menus that provide access to the device's functionality.
This is also where users will gain access to the company's 10 songs, which were developed in-house "based on the latest sleep research findings, including the core aspects of tempo, frequency, nature sounds and brain wave activity during sleep."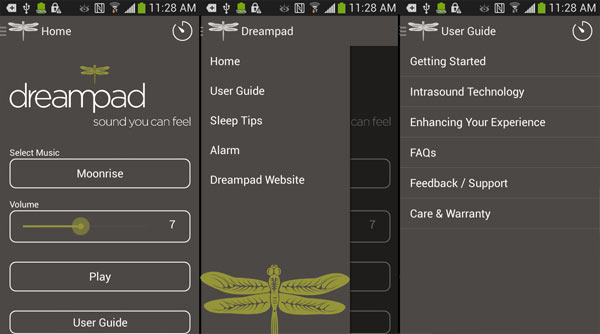 The Dreampad Pillow free iOS and Android apps allow users to select music, volume, and alarm parameters, as well as view guides and FAQs.
How Much Does Dreampad Pillow Cost?
DreamPad's products are priced as follows:
Medium Support: $159
Memory Support: $179
Firm Support: $159
Slim Support: $149
Bluetooth Receiver: $19
All orders come with free shipping within the continental U.S. and a six-foot extension cable, as well as a 30-day hassle-free return policy. This even includes a return shipping label, which is a rarity among consumer products.
They also feature a one-year warranty (from the date of purchase) against manufacturer defects.
In order to request one, you'll need to reach out to the company at 720-410-2420, 303-732-6840, info@dreampadsleep.com, or via their site's contact form.
What Are Customers Saying About the Dreampad Pillow in Their Reviews?
In addition to the product's website, we encountered 38 Amazon customer reviews for the Dreampad Pillow at the time of our research, who had collectively given it an average rating of 2.9 stars.
There, common compliments referenced improved sleep (for both children and adults) and ease of use. Complaints often revolved around no results, uncomfortable feel, less-than-stellar functionality, and high price.
Pro tip: If you own a newer smartphone without a headphone jack, be sure to add the $19 cost of the Bluetooth adapter to your budget.
Across iTunes and Google Play, Dreampad's app had 130+ reviews and an average rating of about four stars. Many of the same compliments and complaints were referenced.
The Dreampad Pillow got its start via a 2016 Kickstarter campaign that went on to raise more than $190K. The product also appeared on season 9, episode 8 of the Shark Tank TV series, although none of the Sharks decided to invest.
The company is based out of Aurora, CO, has been in business since 2007, and is headed by CEO and co-founder Randall Redfield.
Are There Other Bone Conducting Pillows Like Dreampad?
While we encountered a handful of Bluetooth speaker pillows during our research, along with hundreds of different bone-conducting headphones, we didn't come across any other products like the Dreampad Pillow that used bone conduction technology in conjunction with an app, aimed specifically at helping individuals achieve better sleep.
So, if this is among your criteria, it appears to currently be the only game in town. But should a pillow that plays music be your primary factor when looking for improved slumber?
A pillow's primary purpose is to help your head maintain a neutral position, thereby providing optimum support and spinal alignment. However, while sleep is a complicated process and it can be difficult to diagnose all potential problems, the right pillow for you often starts with your preferred sleeping position. For example:
Back sleepers often report best results with pillows that are medium firmness ("fluffy yet squishy") and provide extra loft or height in the bottom third to cradle the neck.

Side sleepers might want to focus on a thick, maximally firm pillow with a "center cavity" design that cradles the head.

Stomach sleepers might prefer a very thin pillow (or none at all) that offers "Total softness and malleability."
Where does all of this leave you when it comes to the Dreampad Pillow?
Our Final Thoughts About Dreampad Pillow
Again, sleep (along with any related problem, and its solution) is a very personal matter, so it's something you should start by discussing with your doctor. They'll be able to ask the appropriate questions and order tests that can help you make a science-backed decision about which path is best to proceed.
If they recommend moving forward with the Dreampad Pillow, the company seems to stand behind it with a 30-day refund policy—including a return S&H label. As such, you really might not have much more to lose than a bit of time by giving the device a try.