Drexel University Reviews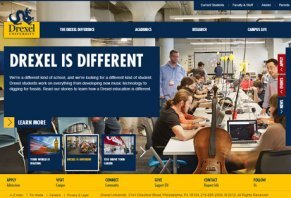 About Drexel University
A pioneer in online learning, Drexel University offers more than 100 online degree programs, using the same accredited curricula as their on-campus equivalents. These areas of study include:
Business (BS, MBS, MS, Graduate Certificate)
Communications (BS)
Clinical Research (MS, Graduate Certificate)
Criminal Justice (BS)
Education (BS, MS, Ed.D., Graduate Certificate)
Engineering (MS, Graduate Certificate)
General Studies (BS)
Information Science/Systems (BS, MS, Graduate Certificate)
Nursing & Health Professions (BS, RN-BSN, MHS, MSN, RN-MSN, Graduate Certificate)
Professional Studies (BS, MS, Graduate Certificate)
Psychology (BS)
Technology (BS, Graduate Certificate)
Drexel University was originally founded in 1891, and launched their distance education program in 1996. Over 90% of Drexel faculty holds PhDs, and have achieved wide-ranging accomplishments in their respective fields, including several members of the National Academies of Science and Engineering. In fact, Drexel was awarded the prestigious Sloan-C award for excellence for its online education program in 2010, and claims that their students have a 60% higher employment rate than their peers at graduation.
Drexel University's online programs are accredited by the Middle States Association of Colleges and Schools, as well as the highest professional accreditation authority in each field (i.e., AACSB, NLN , ALA, etc.). The University allows students to transfer credits earned at other institutions, though the specific requirements vary by degree and program.
Drexel University Online Partnership
In order to help working students earn their online degrees at reduced rates and/or with deferred billing, Drexel University has partnered with more than 350 employers to help educate their respective workforces, while increasing retention and professional development.
As a result, partnership members and their employees can benefit from 10-30% tuition reductions. To find out if your employer or professional association is a member of the Drexel University partner network, click here.
The Drexel University Online Experience
Just like with any other online university, Drexel students are given access to their own student portal, where all course materials, assignments, syllabuses, video lectures, resources, and announcements are available. While students can learn on their own schedules, assignments, quizzes, and tests are due on specific dates. In addition, students must actively participate in discussions, which Drexel claims simulates on-campus learning.
For a three-credit undergraduate course, students should plan to spend six to nine hours per week studying. Each online course is broken into 10 weeklong units, and all class material is available on-the-go via podcasts.
Drexel University's on-campus library is entirely available online, which gives students the ability to research when and where they want. Students are given ample opportunity to network with other students via an online community, and live technical support is available 24/7 via phone and online chat.
Drexel University Pricing & Financial Aid
Drexel's online tuition rates can vary widely by the program (anywhere from $700 to $1,100 per credit hour). For detailed pricing information, click here. Like most other universities, Drexel students are eligible for grants, scholarships, student loans, deferred billing options, and other aid programs, including reduced Alumni rates.
Additionally, service members and their spouses can take advantage of the Post-9/11 GI Bill's Yellow Ribbon program, and Drexel Pro Partnership program members are eligible for a 10-30% reduction in tuition costs.
» Read Next: Is It Still Worth It to Go to College? The Experts Say, Yes!