Drinkfinity Reviews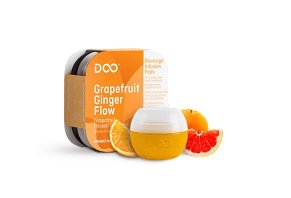 Drinkfinity is a brand of personalized drinks from PepsiCo that allows users to "Peel, Pop and Shake" their water bottle to transform plastic flavor pods into over a dozen flavors.
What is Drinkfinity?
Drinkfinity is a new brand of wellness drinks that promise to provide personalized beverage choices for today's busy consumers. The company sells packs of pods through their website that are designed to fit on top of individual Drinkfinity water 'vessels.'
This way, customers can "Peel, Pop and Shake" the pod's contents to combine both liquid and dry ingredients into the water for a variety of flavor options.
If the idea behind Drinkfinity sounds familiar to you, that's because it's the newest installment in the rise of individualized beverage choices.
About the Rise of Individual, Portable Water Systems
Adage.com told us that Drinkfinity is a high-profile example of an increasingly common trend in the beverage industry: customizable, made at home drinks.
Companies like Kraft Foods have been experimenting with "liquid water enhancers" like Mio since 2011, and Coca-Cola followed suit with Dasani Drops in 2012. Likewise, the increasing popularity of carbonation machines like Soda Stream shows that customers appreciate gaining control over what they sip.
This trend extends to the wellness industry. PR News reports that the reusable bottle industry is expected to reach over 10 billion by 2024, providing evidence that customers are increasingly looking for alternatives to prepackaged drinks. In fact, Reuter's shares PepsiCo's soda profits aren't keeping pace with their healthier options like baked chips and low-sugar juices.
How does Drinkfinity fit in? As a venture of PepsiCo, Drinkfinity is considered to be a brand developed 'intrapreneurially' within the parent company.
This means that Drinkfinity is acting similarly to an independent startup, though still supported by the Pepsi brand. While Drinkfinity pods were first released in 2014 in a Brazil test market, the product came to the United States in late February 2018.
Drinkfinity's Vice President Hernan Marina states in the company's press release that the product is designed to do more than hydrate, but to "connect the dots between wellness and versatility…to balance the needs of both people and the planet."
As consumers increasingly look for ways to personalize their lives and make healthier diet choices, PepsiCo's Drinkfinity seems poised to make a profit. But does the drink deliver on its promises to be healthy, environmentally friendly, and convenient? Let's look at the facts.
How Does Drinkfinity Work?
The Drinkfinity website promises to provide you with "a new way to drink" with single-use pods and a reusable BPA-free 20-oz water bottle.
Each pod consists of dry and liquid ingredients that can be "popped" into the water bottle together by puncturing the duel chambers on the pod on the top of the bottle. A quick shake mixes everything together, providing an instant drink.
At the time of writing, Drinkfinity promises to donate $1 to Water.org for every U.S. purchase in 2018, totaling up to $100,000.
About the Drinkfinity Vessel
Drinkfinity pods are specially designed to work with the Drinkfinity vessel, a specialized water bottle that is sold separately. At the time of writing, this bottle is available for $20 on the company website.
The website states that the bottle is made from high-quality, impact resistant material that is BPA free and fully reusable and recyclable. This container includes a magnetized top to keep the cap in place, and it is top rack dishwasher safe.
The bottle's distinctive feature is a custom-fitted piercer designed to pop and disperse Drinkfinity pods into the water, creating an almost instant beverage.
Is Drinkfinity Better for the Environment?
A significant selling point for the Drinkfinity brand is that their beverages are better for the planet than standard soft drinks. According to the product website, Drinkfinity pods contain up to 65% less plastic than single-use 20-ounce beverage bottles, making them more efficient to ship and store.
They also note that their vision is to create the pods with the smallest environmental footprint possible, which means that they are investing in technology that will make the them easier to recycle and allow them to be made from 100% post-consumer plastic.
At the time of writing, recycling is possible for the pods if customers are willing to ship them back. When you complete your purchase, you have the option to join the Loop recycle program. This allows you to mail up to 30 used pods at no charge to Loop Industries where they are broken down and reformed into FDA-approved PET plastic.
In the future, the company hopes to use this process to create new pods.
What Drinkfinity Flavors are Available?
At the time of writing, Drinkfinity pod flavors fall into four categories, which include:
Charge: Enhanced with green coffee extract, these pods contain as much caffeine as a single cup of coffee.
Flow: These pods contain vitamin C and E to keep you going strong.
Renew: Designed to replenish electrolyte levels, these pods are best used after a workout.
Chill: The botanical ingredients in these pods are designed to make them an excellent option for relaxing whenever you need it.
Within each mode are multiple varieties, including Elderflower, Coconut Water Watermelon, and Oatberry Flow. The brand website states that the pods are free of artificial sweeteners and flavors and that each flavor contains between 30-80 calories per 20 ounces.
Ingredients in Drinkfinity
Drinkfinity's website lists a number of ingredients used in different flavors of their pods, including:
acai fruit extract, spirulina, chamomile extract, chia seeds, concentrated coconut water, ginger root extract, Panax ginseng root extract, green bean coffee extract, guarana seed extract, concentrated lemon juice, lemon balm leaf extract, concentrated orange juice, passionflower extract, lemongrass extract, dried spinach, and whole oat flour.
Each flavor also contains a variety of other ingredients. For example, Watermelon Coconut contains:
Water, Organic Cane Sugar, Coconut Water Concentrate, Natural Flavor, Salt, Sodium Citrate, Citric Acid, Monopotassium Phosphate, Panax Ginseng Root Extract, Maltodextrin, Black Carrot Juice Concentrate (color), Hibiscus Juice Concentrate (color).
Oatberry Flow contains:
Water, Maltodextrin (fibersol ®-2), Concentrated Pear Juice, Whole Oat Flour, Organic Cane Sugar, Citric Acid, Natural Flavor, Concentrated Black Carrot Juice (color), Purified Stevia Leaf Extract, Concentrated Hibiscus Juice (color), Enzyme.
Are Drinkfinity Ingredients Healthy?
There's a lot to unpack in Drinkfinity's ingredients, so let's start at the beginning.
The company website lists a number of nutrient-filled fruits in their flavors such as acai berries, guarana seed, orange juice, and many others. While this sounds healthy, the website doesn't list the amount of these ingredients in each pod.
Will you still get nutrition from these pod-formulated ingredients? The Mayo Clinic tells us that eating fruit fresh is significantly better than consuming it in concentrated juice form, as the healthy fiber is otherwise lost. Fiber is what fills you up and slows down how quickly you metabolize sugar, leaving you feeling fuller longer without a sugar crash.
Speaking of sugar, the sweet stuff is listed as a top-three ingredient for the majority of Drinkfinity flavors. From our research, the drinks ranged from about 6 to 18 grams of sugar per 20-ounce serving, roughly half of which is added sugar. (In contrast, a 20-ounce Pepsi contains 69 grams).
Despite containing between a tenth to a quarter of the amount of sugar in many sodas, this level still might be bad news for your health. The American Heart Association recommends that adults consume just 25-36 grams of added sugar per day, and avoiding sugar in liquid form because it leads to empty calories.
Some Drinkfinity drinks are also sweetened with Stevia, which Livestrong notes is a plant-derived, zero-calorie sweetener which is 200 times sweeter than cane sugar. When it's included on the ingredient's list, it's usually listed near the end, revealing that its levels are relatively insignificant compared to organic cane sugar.
Maltodextrin, another common ingredient, is considered by Healthline to be a white powder made from starchy crops like corn, rice, potatoes or wheat. This highly processed white powder is water-soluble and used to thicken dishes. The FDA classifies it as safe at levels found in most foods, though its carbohydrate content can cause your blood sugar levels to spike if you are sensitive to it.
The other ingredients like citric acid, black carrot juice concentrate, and monopotassium phosphate are predominately used as preservation agents, coloring sources, and filler ingredients. Our research didn't identify any adverse effects from them.
From this information, is it possible to discern whether Drinkfinity drinks are healthy?
Our research shows us that these pods seem better for you than a standard soda, but it might be stretching things to consider them healthy. Most drinks still contain significant amounts of added sugars, and the concentrated ingredients aren't nearly as beneficial as eating them fresh and whole.
When we contacted the company directly about the ingredients, they told us that they were listed in the products by weight. So with watermelon coconut, for instance, ginseng extract comes long after organic cane sugar (which is listed as the second ingredient).
That being said, switching from a soda habit to Drinkfinity will save you significant amounts of empty calories and added sugars, making it an improvement for your health.
How Much Does Drinkfinity Cost?
At the time of writing, Drinkfinity pods and the brand's water bottle are only available on the company website. Over a dozen flavors are currently listed, and they retail for between $5.95- $6.50 for four pods. This comes to $1.50-$1.75 for a 20-ounce drink, which is reasonably comparable to most 20-ounce soft drinks.
It's also possible to sign up for a subscription and save 10 percent on all purchases. With this service, you can select the frequency of your delivery from every two to eight weeks.
The product website also offers bundles of pods and the beverage vessel for between $20-90.
What are Some Similar Products to Drinkfinity?
As previously mentioned, Drinkfinity is entering a well-established personalized drinks market. On two ends of that spectrum is the Soda Stream carbonator and Dasani Drops. We chose to look at these two products to see how their offerings differ from Drinkfinity.
The Soda Stream is a personal soda maker that uses compressed carbon dioxide to carbonate water. Users can then drink the water as is or mix in a variety of flavors that range from root beer to wellness drinks with ginseng and coconut.
On Amazon, the Soda Stream retails for about $80, and flavor pricing varies significantly. Because it's possible to mix in your own flavors (like fresh fruit juice), the Soda Stream offers more personalization than Drinkfinity.
However, the device lacks the convenience of a single pod, as the entire machine is needed to carbonate water.
Similar in its portability to Drinkfinity, Dasani Drops are advertised as an easy way to enhance water with flavor, electrolytes, and even caffeine without any calories. Unlike the pods, Dasani Drops last for more than one use (the company doesn't recommend any standard amount per serving), and there aren't any solid ingredients to blend in.
They also rely on artificial sweeteners like sucralose and acesulfame potassium (Ace-K) to maintain their zero-calorie status.
While many reviewers complain that the drops have an artificial taste, others state that they are a convenient way to remember to drink more water. On Amazon, a pack of three containers retails for about $19, making them significantly more affordable per serving than Drinkfinity.
Understanding Customer Reviews of Drinkfinity
At the time of writing, Drinkfinity is new to the U.S. market and we weren't able to find any individually published reviews of the product online.
The company's U.S. Facebook page features a few reviews, though. Customers mentioned that they appreciated having an alternative to carbonated beverages that provided exciting flavors like elderberry and mango.
Customers gave mixed views about the sweetness of the product as well. Some stated that the flavors they tried were light and unsweet, while others thought that they weren't a smart idea for those trying to avoid sugar since sugar is the second ingredient in many flavors.
The Brazilian Facebook page for Drinkfinity gives the product 3.8 stars out of five overall. Many reviewers complained that the pods didn't disperse well into the vessel and that they left ingredients inside and wasted. Other frustrations included slow shipping time and limited customer support.
However, five-star reviewers raved about the flavor options, the non-overpowering taste, and the fact that the product was encouraging them to drink more water during the day. Many people mentioned frustration with the high price point per pod, though they acknowledged that buying a beverage from a vending machine would be more expensive.
What's the takeaway for you? Customers who've tried Drinkfinity have mixed opinions on whether they like its sweetness and think it's easy to use. There does seem to be a consensus that they appreciate the wide variety of flavor options and think Drinkfinity pods are a viable substitute for standard soft drinks.
So, Who Should Try Drinkfinity?
You aren't alone if the idea of Drinkfinity intrigues you. The PepsiCo company is marketing the product line heavily in anticipation that it will be a hit. But are Drinkfinity drinks actually healthy for you?
Drinkfinity's list of ingredients indicate significant amounts of added sugars, which the American Heart Association recommends limiting. And, since we learned that ingredients are listed based on the weight in the pods, it's clear that added sugars are one of the top ingredients for almost every flavor.
Is Drinkfinity healthier for you than regular water? Probably not. However, is it better than most drink options like juice and soda? Our research says yes.
Alternatively, Drinkfinity might be a good substitute for drinking diet soda. WebMD tells us that drinking diet soda has been linked to numerous health conditions like dementia, strokes, type 2 diabetes and even weight gain. This means that some users might find Drinkfinity to be a viable substitute for diet soda as a healthy drink choice, though it contains more sugar than plain water.
If you're looking for a convenient way to encourage yourself to stay hydrated, Drinkfinity pods seem to offer an innovative solution. Initial customer reviews are positive about the flavor options, and you'll save some money (but not a lot) compared to the cost of standard 20-ounce drinks.
Please leave a review if you do try Drinkfinity. We'd love to hear your experience.
Drinkfinity

By Tenzin Namdol

,

Exeter, United Kingdom

,

May 13, 2018
Verified Reviewer

I bought the pack a week ago, and it came just yesterday. The packaging is solid; it is very pleasing as the set up was quite nice. The bottle is of good quality and the pods are well preserved, but the only drawback is the drink. The first place I bought it, the drink tasted watery, and I can only taste the smell of the flavor. Through this, I want to say that please improve the drink as the bottle is nice, and I would definitely recommend it to my friends.

Bottom Line: Yes, I would recommend this to a friend

---

My new drinking buddy

By Cedric M.

,

Miami, FL

,

Jun 24, 2018
Verified Reviewer

This is a great product. Slightly flavored beverages you can make depending on your needs/mood. I love the fact that you can recycle the pods, and that all have very few calories. Also, I end up drinking a lot more water than before, which is exactly what I wanted!

Bottom Line: Yes, I would recommend this to a friend

---

Advertisement

---

Not bad

By Sinem K.

,

Arlington, VA

,

Sep 12, 2018
Verified Reviewer

The packaging was fabulous as it was very cute and well put together. Drinking water plain has been difficult for me so this helped me drink way more water. I enjoyed the chai mango flavor and want to try out the other flavors. I really like the container and the magnetic cap. It doesn't hit me in the face as I drink. A lot of the chia seeds did get caught inside the pod when I punctured it. I had to stick my finger in there and fish the rest of the ingredients out. I have also been drinking about half and then adding more water, and it's nice to be able to do that. I really like it though!

Bottom Line: Yes, I would recommend this to a friend

---

Overall - very good

By Andre C.

,

Los Angeles, CA

,

Sep 15, 2018
Verified Reviewer

The product is awesome and like one person stated, the bottle is very good. The best, in my opinion, is the Acai. The flavor is on point. However, the new flavor, coffee, OMG, it has the strangest taste. I tried the cinnamon and Americano coffee. Not at all something I will ever try again. BUT all the other flavors are good and like one person said a bit watery.

Thank you.

Bottom Line: Yes, I would recommend this to a friend

---

Advertisement

---

Yum

By Susan C.

,

Roswell, GA

,

Sep 27, 2018
Verified Reviewer

I like the drinking vessel; it's not too large to hang onto easily, but big enough to give you a good amount of water to drink. I just tried my first pod, the Mango Chia, and it is very delicious, so I will be trying more.

Bottom Line: Yes, I would recommend this to a friend

---

Updated review

Terrible customer service

By Shirley H.

,

Nashville, TN

,

Oct 15, 2018
Verified Reviewer

I previously left a review stating that the vessel I received was defective and subsequently realized that it was a user error. However, I still would not recommend the company and most likely will not make an additional purchase once I finish the pods I bought. Instead of helping customers determine what went wrong, their customer service rep just acted like I must be intentionally lying to try to cheat them to get a new vessel that just cost a few dollars.

Bottom Line: No, I would not recommend this to a friend

Previous review
Oct 13, 2018

Defective vessel, terrible customer service, awful company

I got tricked into buying the starter kit. Unfortunately, I ordered more than $35 worth of pods before finishing the 4th pod in the sample. After 3 uses, the piercer not longer sits in the right place; it keeps sinking further into the bottle when the pod is pressed onto it. So basically the pod cannot be pierced open. When I contacted customer service, the rep insisted that their vessel was not defective and claimed that the vessel is out of stock when they are still selling the starter kit online. She also refused to let me return pods that were just delivered. So I just wasted all the money for the starter kit and the pods and was left with a bottle that's going to trash when I could have used that to buy lots and lots of soft drinks or bottled water.

(

read more

read less

...)

---

Great product, even better customer service

By Susan R.

,

South Carolina

,

Feb 19, 2019
Verified Reviewer

I found Drinkfinity through a Facebook ad and was curious enough to try it. I started with the subscription, but quickly canceled it in favor of picking my own flavors at more frequent intervals. Since receiving the bottle, I've ordered three times now, and while I originally wasn't happy with the processing time for the orders (not the actual shipping - that was fine), the turnaround has greatly improved.

Every flavor I've tried has been phenomenal. They're not very sweet, but the flavors are rich. The intensity level is more along the lines of flavored water than Kool-Aid. So far the product has done wonders to help me limit both sugary drink and junk food intake. It was a good investment.

On my last order (received yesterday), I discovered a mix-up. Two of the flavors I ordered were not in the box, and I'd received two other flavors. One I'd already tried, and the other I'm not able to drink due to an allergy. I contacted Customer Service using the chat feature on the Drinkfinity website, and within three minutes I had an order number for the replacement pods. Vanessa, the customer service representative, was extremely helpful. I was told to keep the pods sent by mistake and share them with friends. I am extremely satisfied with the way their customer service was handled, and I will definitely be ordering again once I exhaust all of my new flavor options.

Bottom Line: Yes, I would recommend this to a friend

---

I like everything about this drink bottle and pods.

By April M.

,

North Carolina

,

Feb 20, 2019
Verified Reviewer

I got my Drinkfinity on Valentines Day 2019. I was excited to try it and put the vessel top together quickly (you have to remove the top and rubber piercer piece to put ice inside the bottle). I put ice in, filled the vessel to the line with water, and replaced the piercer. I then pressed the pod onto the piercer and POW, shake and make. I got the bundle that came with 4 flavors and vessel so I tried the berry lemonade first and it was YUMMY! I was surprised at how good it tasted and I have drunk 3 pods a day since. Now, I don't recommend the ginger pomegranate because the ginger is the powder part of pod and it's tart! But I'm trying the coffee next, but all the flavors are yummy so far, cause I only got 3 with this first order, but I would definitely recommend it.

Bottom Line: Yes, I would recommend this to a friend

---

An environmental disgrace!

By Colin F.

,

London, England

,

Mar 23, 2019
Verified Reviewer

This product purports to be environmentally sound - how can it possibly be? I have just been given a free sample that consists of four plastic pods with very little content. The weight of plastic is many times that of the product. It is a complete falsehood to pretend this is an environmentally aware product.

Bottom Line: No, I would not recommend this to a friend

---