Drizly Reviews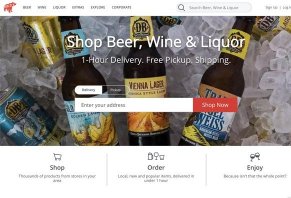 Drizly is an alcohol delivery service through which you can order beer, wine, spirits, mixers and other items related to drinking. Deliveries are same-day or one hour and typically require a $5 fee.
About Drizly
Drizly is an alcohol delivery service that claims to be able to ship liquor and beer to your address in less than an hour via local liquor and grocery stores.
The company is based in the Boston area and was founded in 2012 by Justin Robinson, Cory Rellas and Nicholas Rellas. Robinson and Nicholas are Boston College grads, while Cory graduated from Notre Dame.
Cory Rellas worked as an associate at Bain Capital before helping start Drizly, while Nicholas Rellas had a short stint at New England Coffee Company before Drizly.
The company is one of several in an ever-growing market of Uber-style delivery services that bring alcohol to your door.
Is Drizly a good app for on-demand alcohol delivery? How exactly does it work and what's the selection like? Where do they offer their services and how do they compare to similar alcohol-delivery companies?
We'll answer these questions throughout the course of this review, finishing up with a quick section on the pros and cons of the service.
How Drizly Works
There are basically three steps you go through in order to get an alcohol delivery from Drizly:
Enter your zip code
Choose your alcohol
Choose your shipping
Entering your zip code is easy enough, but remember that Drizly's services are limited to the following 26 states (at the time of publishing): Arizona, California, Colorado, Connecticut, Florida, Hawaii, Illinois, Indiana, Kentucky, Louisiana, Maine, Maryland, Massachusetts, Minnesota, Missouri, New Jersey, New York, North Carolina, Ohio, Oregon, Rhode Island, Texas, Tennessee, Virginia, Washington and Wyoming.
If Drizly services your area, then you'll have the chance to choose from hundreds of different beer, wine, and spirits, as well as a few extras like soda, mixers, ice and party supplies. You essentially have everything you need for your favorite cocktail, and, if you need it, a party.
We wanted to see how the website worked, so we entered a San Diego address and chose a bottle of Tito's Handmade Vodka. The price was a little higher than normal: $24.99. In this case, no one-hour delivery was available.
Drizly did offer same-day shipping, though, and offered us one-hour delivery windows ranging from 1 p.m. - 2 p.m. to 10 p.m. - 11 p.m.
So, while you can't get a delivery in an hour, you do have some flexibility as to when the delivery arrives. This flexibility can be a huge help if you're at work all day and need the delivery to arrive after you get home, which is important considering that an adult will have to sign for the delivery.
Drizly's Order Minimums and Fees
One of the things we found a bit frustrating about our order is that the two stores we had to choose from had delivery minimums of $25 and $30. A 750ml bottle of Tito's from the first store was $24.99 and $25.99 from the second store, which means we had to buy something else to hit the minimum.
It's important to keep in mind, though, that the store sets the delivery fee, not Drizly. In some cases, their website notes, delivery may be free, as was the case in a search we did in New York City, or may be higher than $5.
We went with the first store and threw in a bottle of club soda in order to surpass the minimum. Here's how the final bill looked: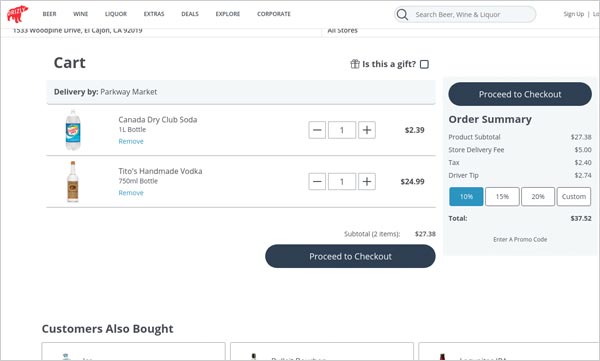 There are three additional fees involved: delivery fee, tax and driver tip. In this case, the delivery fee was $5. Drizly automatically adds in a 10% tip for the driver but you can choose whichever amount you want, even $0.
In our opinion, the delivery fee is relatively reasonable depending on what kind of situation. For example, if you're planning a party and realize that you're missing a bottle of vodka, Drizly can solve the problem with ease because you can choose to have the bottle delivered after you get home. No frantic shopping trips on the way home during rush-hour traffic.
We tried to find out how much a one-hour delivery fee is. At the time of publishing, we could not find an address in Boston, New York or San Diego that offered one-hour delivery.
Based on this experience, we'd advise you to view Drizly as a same-day delivery service as opposed to a one-hour delivery service. Keep this in mind as you go to the site. You'll found out pretty quickly if one-hour is available in your city.
Drizly also offers ground shipping if you don't need your alcohol the same day. We did a quick check of delivery prices and found that we'd pay $10 to ship a bottle of alcohol. If possible, try Drizly's same-day delivery, as you'll avoid a shipping middle-man and get a cheaper delivery directly from a store in your area.
Pro tip: Drizly offers gift options at no additional charge. Just make sure the delivery arrives when someone is home or you could be subject to restocking fees (more on that later).
Drizly's Return Policy
According to Drizly's website, the store from which you bought your alcohol dictates the return policy. If you need to return something you bought, you'll get a refund for the alcohol or accessory but not the delivery fee or driver tip.
In the event that they deliver the wrong product or the product you get is spoiled, you have up to have five business days to schedule a return. In this case, the store will send a delivery driver to your home to pick up your product.
Drizly's Pricing: Is It Competitive?
Based on our research of the site and Drizly's own FAQ section, we've found that their prices are equivalent to what you'd pay at a grocery or liquor store. There is no markup on pricing, Drizly says.
While some stores may have prices that seem high, there's a good chance that the price you see on Drizly is the price you'd see in the store.
Drizly's Fine Print
We read through some of Drizly's fine print and found that each state has its own rules for deliveries. For example, their fine print for California notes that, if a delivery that can't be completed because nobody is home or there's nobody old enough to sign, it will cost you a $20 restocking fee.
Be sure to read the fine print for your state to make sure you're clear on the fees you could be charged if the delivery can't be made.
How Drizly Compares to Other Alcohol Delivery Services
A few of Drizly's competitors are Minibar and Saucey, as well as grocery delivery service Instacart.
To compare the sites, we searched for one bottle of Tito's in San Diego, delivered to the same address.
Minibar charged us $26.99 for the bottle of vodka. Their delivery fee was $5, putting the total at $37.08. Their delivery windows are two-hour chunks instead of Drizly's more precise one-hour time slots. Also, their fine print notes that, in the event that an adult isn't home to sign for the delivery, you'll be charged a $20 restocking fee. At the time of publishing, Minibar did not do one-hour delivery.
Saucey charged us $24.39 for a bottle of Tito's. This site's main drawback is that you can't get same-day delivery. The options started at $15.99, pushing the total price to $42.27. While the shipping price sounds high, the total price is only $5 more than Drizly and Minibar.
The final competitor, Instacart, isn't a direct competitor in the sense that they're not an alcohol delivery service. Rather, they're a competitor in the sense that, as a grocery delivery service, you can add in alcohol to your grocery purchases.
Instacart provides free same-day delivery and even provides deliveries from chain liquor stores like ABC Fine Wine & Spirits. However, you'll have to pay a monthly fee of $14.99 a month or $149 a year. Your deliveries will be free if you have a membership and your order is more than $35.
Also, one-hour delivery will cost you $7.99 with your membership and $11.99 without.
In our opinion, Drizly is the best choice if you're the kind of person who wants alcohol within the hour and you live in a Drizly one-hour delivery area. If you don't live in a one-hour delivery area, then the site that's best for you is really a matter of pricing and availability: Minibar or Drizly could work.
We don't see Saucey as being an economical choice, especially if you live near a liquor store or a grocery store that offers beer, wine and spirits.
Now, if you're more of a planner and you're already an Instacart customer, then their service may be a good choice for you if you don't need one-hour delivery.
The Final Word: Pros and Cons of Drizly
Drizly is a novel service for someone who likes the idea of beer, wine and spirits delivered to their door for reasonable fees.
While it's more economical to head to a grocery or liquor store (assuming parking is free) and buy a bottle yourself, Drizly can certainly get you out of a jam if you don't have time to stop by the store on the way home.
It's an excellent choice for those who want to send a gift to someone who enjoys beer, wine and/or spirits. The fees are lower than you'd pay for shipping with a liquor store like BevMo.
The downside to Drizly is that it's not available in all states and one-hour delivery isn't available in many of the cities in which they do same-day delivery. The lack of one-hour delivery isn't such a big deal, in our opinion, because, in the event that you have an emergency, you can drive to the nearest store and solve the problem.
If you don't think that alcohol delivery services are the right fit for you, you can always consider packaging your beer, wine or spirits purchases into your grocery deliveries.