DUO Laptop Monitor Reviews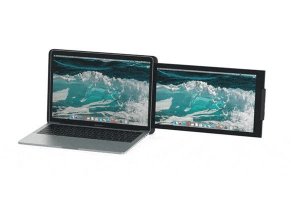 After quickly setting up wherever you are, the DUO Laptop Monitor claims to help double your screen 'real estate,' increase your productivity, and flip 180° to get others involved.
What Is DUO Laptop Monitor?
Developed by Mobile Pixels, the DUO Laptop Monitor is a portable, dual-screen accessory that promises to help you affordably boost your productivity and multitasking efficiency.
In fact, the website reports that every five minutes, we lose about 10 seconds of working time toggling between different tabs, windows, and applications. As a result, they advertise this dual-screen solution could help boost your productivity by up to 50%, all in a sleek, lightweight, and simple-to-use design.
Additional features include energy efficiency, affordability, plug and play functionality, the ability to rotate 180° in Presentation Mode, and compatibility across any operating system. To use, the process works like this:
Place the included magnetic adhesives on your laptop.
Place DUO on the magnets in whichever direction you prefer.
Plug the USB cable into your computer and into DUO.
Slide DUO's screen out.
Rotate the DUO back for presentation/collaboration mode.
Whether self-employed or otherwise, an increasing number of Americans are working from home, often on small screens that can meaningfully impact productivity. But, does the DUO Laptop Monitor represent a viable solution for increasing your screen 'real estate' and thereby boosting your productivity?
These are just a couple of the critical questions we'll help you answer for yourself in this article.
DUO Laptop Monitor's Specifications
The DUO Monitor is constructed from ABS plastic and other high-quality materials that the company claims will withstand the wear and tear inherent in transporting your laptop around. Despite its ruggedness, the 12.8" x 8.6" x 0.48" only weighs in at 1.5 lbs.
As mentioned above, DUO is plug-and-play and only requires attaching it to the included magnets in the direction of your choice, plugging in the USB cable, and getting to work. Because of this connection, it's compatible with any laptop, operating system, and browser, whether Mac, Windows, Linux, Android (Lollipop and later), or Chrome.
Note: The Kickstarter FAQ reports that DUO's brightness can't be adjusted on Macs, "due to the current driver software from the display link." All other models feature fully adjustable brightness.
This connection also allows you to run multiple DUOs together since they each have their own drivers.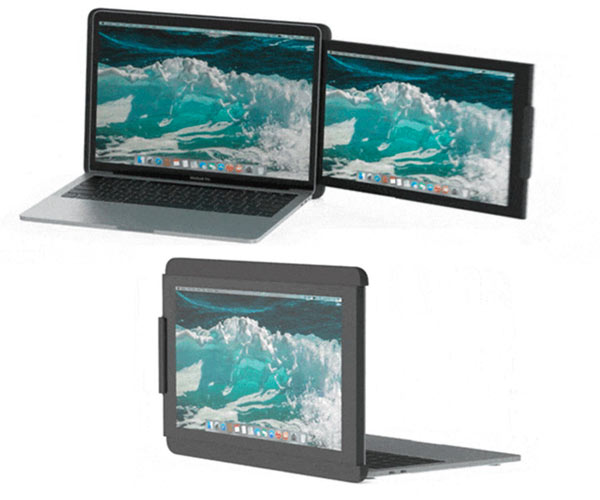 By attaching to any laptop, working with any operating system, and using a screen that can rotate 270° and even flip into Presentation Mode (bottom image), the lightweight DUO Laptop Monitor claims to help you boost productivity from anywhere. Credit: Mobile Pixels
Furthermore, although Mobile Pixels boasts that DUO's IPS screen delivers crisp, clear 1080p HD resolution and 300 nit brightness, its video driver also comes with an energy-star rating, which can help minimize battery drain. While a matte screen coating could be available in the future, initial models will feature glossy screens.
In normal mode, DUO's display can rotate 270° for an optimum viewing angle, while flipping it 180° enters it into presentation mode for sharing your screen with others.
How Much Does the DUO Laptop Monitor Cost?
The DUO Laptop Monitor is currently undergoing crowdfunding via Kickstarter and is priced as follows (depending on pledge option availability):
1 Screen: $159 - $220
2 Screens: $169 - $375
3 Screens: $529
4 Screens: $720
10 Screens: $1,549
Each screen comes with a USB-C cable, USB-C to A adapters, and enough magnetic adhesives for two laptops. A hard clear plastic case (allows you to avoid placing the magnets directly on your laptop) is an additional $8. Estimated delivery is currently January 2019.
Additional magnets will eventually be available on the company's online store.
Just keep in mind that Kickstarter does not issue refunds, so any grievances will have to be handled directly with the company behind DUO.
Are There Other Portable Laptop Monitors Like DUO?
Considering DUO is undergoing a hugely successful crowdfunding campaign and hasn't reached the production phase yet, it's probably no surprise there's nothing exactly like it currently on the market. As a result, if it matches all of your must-haves, you'll have to wait until 2019 to get your hands on one.
However, if you have a bit of flexibility in your needs, you might be able to achieve much of the same functionality by purchasing a third-party USB-powered portable HD monitor and pairing it with an inexpensive mount (MountEra ($20), as but one popular example).
Functionally, most of these options boast many of the same benefits as DUO, including cross-platform compatibility, high-definition resolution, independent drivers, and glossy screens. However, they don't come with 270° screen rotation or 180° Presentation Mode, or necessarily with energy star ratings to help minimize the drain on your laptop's battery.
From a design perspective, this setup might not be quite as clean-looking as DUO.
On the other hand, DUO's currently available in just one size (a little smaller than 13"), while many third-party portable monitors are available in a variety of sizes, which could better match your current setup if you have anything other than a 13" screen.
Finally, many of these third-party portable monitors can be found for well under $100, which (in a best-case scenario) could allow you to buy two for the cost of just one DUO.
Which way should you go? Let's pull all of these details together to come to a conclusion.
Our Final Thoughts About the DUO Laptop Monitor
Before you back any campaign, you should ensure you can do without the money. Even if a project's released on time, many months could have passed.
From there, you'll want to take an in-depth look at the company to make sure they have the team and business plan in place to potentially deliver on their promises—including their timeline. Are they open about the unique risks and challenges their specific project faces? Are they providing backers with frequent updates?
While there are minor differences depending on the platform (e.g., Kickstarter, Indiegogo, etc.), keep in mind that each offers specific advice in their respective FAQs. Be sure to familiarize yourself with these high-level details before deciding to back any campaign.
With these essential details in mind, DUO is clearly a popular project, since it exceeded its original $35K goal within several hours, and has raised more than $500K as of this writing. Furthermore, the creators—Jack Yao and Stephen Ng—are engineers with several years of experience in their respective fields, including manufacturing and supply chain management.
We think it's also positive that the company is upfront about their unique potential challenges, and is already communicative with backers.
Together, while this doesn't eliminate possible delays with the DUO Laptop Monitor, based on our experience writing about dozens of crowdfunding campaigns, it could certainly help minimize them.