Dutch Glow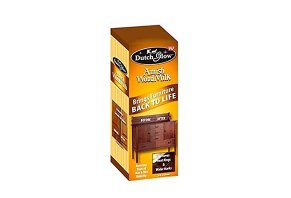 Summary
Dutch Glow is a wood polish, cleaner, and restorer that's claimed to remove waxy buildup and bring out a long-lasting shine in your home's woodwork. We tried this product to determine if it works.
Our Dutch Glow Review
We purchased Dutch Glow ourselves from Bed, Bath & Beyond for $9.99 plus tax.
The first issue we noticed was the fact that the sprayer didn't work. To address this, we took the nozzle off, cut the tube shorter, and screwed it back into the bottle, which seemed to solve the problem.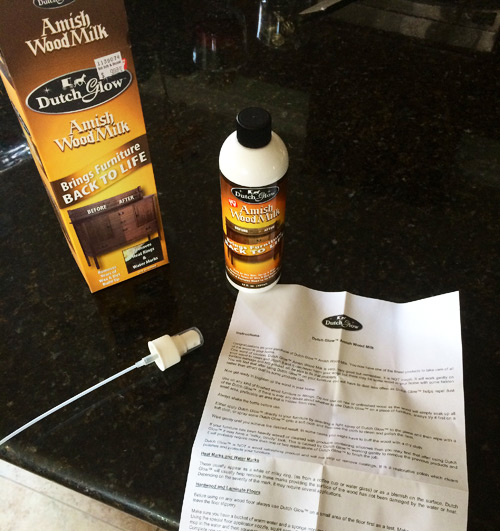 Next, as the instructions indicated, we sprayed Dutch Glow onto a wooden table surface and kitchen cabinets, wiping with a clean dry cloth.
Dutch Glow was not gooey, messy, nor oily and it did not leave any streaks.
While thick liquid that came out of the bottle did indeed clean the table and cabinets reasonably well, we think it's more of the elbow grease and dry cloth that did the trick.
It's our opinion that almost any other cleaning solution—including water—would do the same thing.
To prove this point, we asked an unbiased observer to take a look at a kitchen cabinet sprayed and cleaned with Dutch Glow and one simply wiped down with a cloth. The result? She couldn't tell the difference.
Customer Reviews
Posted on May 22, 2020
This product is AMAZING!
A friend sent me several boxes of this product as a gift. My stove is almost brand new. I used it on some specks of burned-on oil (carbon) and it did a really good job. I then took it to another friend's house. She had just moved into an apartment with a stove that looked like it hadn't been cleaned in years. Completely greasy, burned-on grease and oil everywhere. I mixed a stronger concentration of cleaner (2 oz). I let it sit for about 1/2 an hour. No fumes, no smell, nothing. Then I went to work with the included scouring pad. The carbon came off with minimal effort. When I was done. The stovetop looked brand new. I did the inside of the oven next...Same results. I can't tell you how impressed I am. You have a customer for as long as you make this product.
Bottom Line: Yes, I would recommend this to a friend
Posted on Nov 4, 2019
Amish wood milk
Way overpriced and very disappointed, no difference, and my cabinets looked no different. I clean my kitchen cabinets all the time and I felt as though I wasted my time. I will never buy this again, a lot of work for nothing. I will keep the product I have been using.
Bottom Line: No, I would not recommend this to a friend
Posted on Feb 16, 2019
Dutch Glow Amish Wood Milk
I purchased my first bottle of Dutch Glow Amish Wood Milk from my local Bed Bath & Beyond. I never really had a chance to use it, because the sprayer was defective. When I had the chance, I returned to the place of purchase (in another town) and the cashier gladly exchanged it. However, the second bottle had the same defective sprayer. Perhaps, it would have worked if I had the opportunity to use it. I'll return it when I can, but I won't be purchasing this item again.
Bottom Line: No, I would not recommend this to a friend
Posted on Jan 17, 2019
Product is very good, but don't order form dutchglow.com
I like Dutch Glow cleaner very much. Unfortunately, I ordered two bottles from Dutchglow.com. They charged me $53.80 for two bottles (included two nozzles and two caps, which come in the boxes I ordered from Amazon.com). When I returned the products to Dutchglow.com, they would only refund me $20.00 per order. They said the shipping and handling charges were not refundable. It cost me $13.95 to return the products. I will never order from this online concern ever again. When I emailed the corporate site of which this site is part of after a very unsatisfactory telephone call to the website, I emailed The SAS Group in Tarrytown, New York. I received an email from their customer rep saying they do not charge $30.80 for shipping and handling.
Bottom Line: Yes, I would recommend this to a friend
Posted on Mar 10, 2018
Like cleaning with water
Do not buy this product. It cleans nothing no matter the strength. It's just like trying to clean cooked-on oil with water. Doesn't work! I've tried it all kinds of ways, just hoping it would work. You won't get your money back either.
Do not waste your money. I held on to it for past the return days, just to see if it would work on something, anything that I needed cleaning. So when I requested my money back, they refused.
Bottom Line: No, I would not recommend this to a friend
Posted on Feb 21, 2018
Bought Dutch Glow Amish Wood Milk
My elderly mother bought Dutch Glow Amish Wood Milk over a year ago. If you bought one, you got two free. Being elderly, she got confused about how to order and she got nine. I called the company to try and straighten it out. Bottom line, they had the money and you're stuck with a product that does not live up to what they claimed. Mom is gone but is still stuck with nine bottles of the useless stuff. I am disgusted not only with the product but with the company. Still upset. After a year.
Bottom Line: No, I would not recommend this to a friend
Posted on Jun 22, 2017
Dutch Glow cleaning tonic
I purchased this product at TJ Maxx only because it was on clearance and I wanted to just try something that would be better than or equal to Easy-Off to clean my stove top. Their fumes are caustic! So I got it, and I was skeptical at first because the liquid was colorless and then you add water to it.
Well, to my surprise I sparked it first on the bottom of my pot that had years of built of crap on the bottom and sides, and like a miracle, it worked! I immediately sprayed my stove top, waited 20 minutes and it cleaned it like new! Better than Easy-Off, but now I can't find it in any store here. Help!
Bottom Line: Yes, I would recommend this to a friend
Posted on Apr 11, 2017
Doesn't work
It doesn't work at all. Tried it on superficial scratches on my dining room table and living room side table, and it did absolutely nothing. Don't waste your money, and don't waste your time.
Bottom Line: No, I would not recommend this to a friend
Posted on Apr 6, 2017
Dutch Glow cleaning tonic
Do not purchase!
I purchased the cleaning tonic, and it did not work as instructed, neither half strength nor full strength. When I called corporate (1-914-333-7414), I spoke to Glenda, who was not only rude, but hung up on me. This is POOR customer service. Her comment was, "what do you expect me to do about it?"
Bottom Line: No, I would not recommend this to a friend
Posted on Feb 22, 2017
Scam
Both myself and a friend tried it on our furniture. We followed the directions. What a scam. It didn't work for either of us. Do not buy this product.
Bottom Line: No, I would not recommend this to a friend
Posted on Feb 9, 2017
It worked for me
I purchased both the Milk and the Polish in an "As Seen on TV" mall store, so I didn't have to experience all the sales hype from the Dutch Glow site (I noticed that the "bonus" bottle required it's OWN $7.95 shipping and handling, and that was a huge red flag for me).
I have to say, the product worked VERY well on the wood furniture I tried it on in my home. I have a breakfront that has suffered from polish build-up to the point of darkening the mahogany to almost black. Nothing I've used has been able to strip that off until I used the Amish Wood Milk. Yes, it took a little "elbow grease," but there was a lot of build-up to remove. The directions said it might take a few applications to get through heavy build-up, so I wasn't surprised. I also wasn't expecting it to get rid of scratches or scuffs, which the directions also said it wasn't formulated for.
What I DID get was a glass-smooth finish and the wood grain shining through like it hasn't in decades! I will continue to use both products, but will look for them in brick-and-mortar stores, not on-line.
Bottom Line: Yes, I would recommend this to a friend
Our Promise to You
In order to safeguard you and ensure helpfulness and relevance, our compliance team manually assess every customer review before it goes live.
We have a zero-tolerance policy for fake reviews, and companies cannot control or alter any reviews at any time.