Dutch Glow Reviews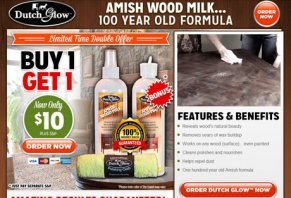 Dutch Glow is a amish wood polish, cleaner, and restorer that's claimed to remove waxy buildup and bring out a long-lasting shine in all your home's woodwork.
About Dutch Glow
Dutch Glow claims to be a wood restorer derived from a 100-year-old Amish formula that cleans, polishes, and nourishes for a long-lasting shine. They boast it reveals the wood's natural beauty, works on painted surfaces, and removes waxy buildup.
Dutch Glow is brought to you by SAS Group, a direct marketing company based in New Berlin, WI. At the time of our research, the company has a D+ with the Better Business Bureau and 48 closed complaints (as of 7/6/15), most of which appeared to reference unwanted products/charges added to orders, both online and off.
How Dutch Glow Works
Dutch Glow also goes under the moniker Amish Wood Milk, ostensibly because it was invented by Amish woodworkers and has a white color. They state its "simple" ingredients break down years of wax buildup from using other polishes, revealing the furniture's natural glow. However, we've accumulated numerous Dutch Glow Reviews that contradict that claim (more about this shortly).
To use Dutch Glow, the company claims you'll need to apply it to any wood surface and wipe with a cloth. They brag it's like a magician on cabinets, making grease, smoke stains, and fingerprints disappear, and also claim that you can restore wood antiques and get rid of crayon marks left by the kids in a similar fashion. In fact, viewing the before-and-afters in their commercial, you'll see a variety of wood products that appear to be dramatically brought back to life with a stroke of Dutch Glow. Again, numerous complaints state otherwise.
Dutch Wood Glow's suggested use is on oak, cherry, pine, maple, or teak wood furniture, and implore you to join the generations of sportsmen who trust Dutch Glow on their wood (which appears to adorn shotgun handles and duck decoys).
Each Dutch Glow Order includes:
One 12 oz bottle Dutch Glow Amish Wood Milk
1 bottle with floor nozzle "free" (extra S & P)
Jumbo Microfiber Polishing Cloth
Dutch Glow Pricing, Shipping, and Returns
Dutch Glow retails for $10 plus $7.95 S & P, although they manufacturer automatically doubles your order at checkout (and throws in a floor nozzle and microfiber cloth) "free," but charge you an additional $7.95 processing.
In addition, there is a $2 "web surcharge fee" on all orders, bringing the total to $27.90 for 2 bottles of Dutch Glow. (By clicking "process order" you are also signing an arbitration agreement.)
Dutch Glow comes with a 30-day refund policy, so if you find that dust (or down pillows) is still building up on your furniture (or any other reason), they claim you can return it for a refund. However, you have to pay to ship it back, and the $17.90 in processing fees will not be returned.
Our Dutch Glow Review: We've tried it!
After all the brouhaha from our readers, we at HighYa decided to try out Dutch Glow ourselves. It was purchased from Bed, Bath & Beyond for $9.99 plus tax, so luckily we didn't have to deal with the excessive shipping fees and up-selling tactics mentioned in the next section.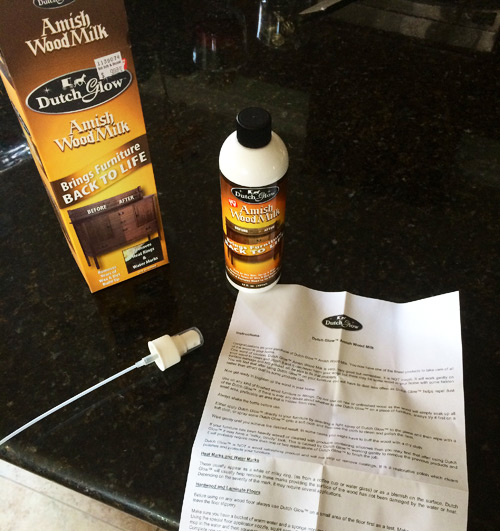 The first issue we noticed was the fact that the sprayer didn't work, which was something another reviewer also experienced. To address this, we took the nozzle off, cut the tube shorter and screwed it back into the Dutch Glow bottle, which seemed to solve the problem.
Next, as the instructions indicated, we sprayed Dutch Glow onto a wooden table surface and kitchen cabinets, wiping with a clean dry cloth.
While thick liquid that came out of the bottle did indeed clean the table and cabinets reasonably well, we think it's more of the elbow grease and dry cloth that did the trick. In other words, it's our opinion that almost any other cleaning solution—including water—would do the same thing.
To prove this point, we asked an unbiased observer (OK, it was my wife) to take a look at a kitchen cabinet sprayed and cleaned with Dutch Glow and one simply wiped down with a cloth. The result? She couldn't tell the difference.
Dutch Glow is not gooey, messy, nor oily. In fact, it did not leave any streaks, which are all pluses. Dutch Glow doesn't seem to be as horrible a product as some of the reviewers have indicated, but is it GREAT and lives up to the HYPE? Well, not really.
And, if you want to read about some negative experiences Dutch Glow customers claim to have experienced, keep scrolling.
Bottom Line: Is Dutch Glow a Scam?
First of all, there are some unsupported claims by this product. There is no evidence that it is a century-old formula invented by the Amish (an old-fashioned Christian sect known for their rejection of technology and, apparently, their glowing furniture). In fact, they don't even list its ingredients at all.
Secondly, if you were planning on going the route of ordering Dutch Glow through the website or telephone, think again. The shipping and processing fees are more expensive than the product itself, a "red flag" for us at Highya. That means, even if you do not like the product you will be in the hole for your initial fees, plus what it costs to ship back. And let's not forget that you are also signing an arbitration agreement when you buy, preventing you from traditional legal recourse such as a trial by jury or joining a class action lawsuit.
What Highya's Customer Reviews Say about Dutch Glow
Many of the 290+ Dutch Glow reviews here on HighYa complain of long delivery times, horrible customer service, a TON of additional up-selling during the purchasing process, telemarketers bombarding you, and stories of getting charged much more than expected tell us that it's probably better to not buy online from their website or over the phone.
If you still want to try Dutch Glow, we recommend going the route of purchasing directly from a local retailer (like we did at Bed, Bath & Beyond).
Next, as a friendly suggestion, don't set high expectations for this product. As we mentioned, it will do some cleaning—about the same as any ordinary cleaning solution applied with a dry cloth—but it's certainly not "magic!" If your furniture has scratches and other stains, it will be quite difficult to remove them with Dutch Glow alone, despite what the commercial promises.
Readers have given Dutch Glow an average rating of 1.5 stars, but the vast majority of them are frustrated with the customer service, extremely high shipping charges, and absurd refund policies. If Dutch Glow was being evaluated on the product alone, we would say it deserves at least 2.5 stars, if not 3.
What do you think? Agree or disagree? Let us know below!
READ NEXT: Super Simple, Natural, & Cheap Cleaning Solutions Already In Your Kitchen
---
Dutch Glow Scam

By Susan Coons

,

Oregon

,

Jan 25, 2014

Overall Experience:

I tried to order one bottle of Dutch Glo and their automatic voice mail would not let me do that. It insisted that I had ordered the second bottle at zero cost with the Shipping & Handling of $7.95. However, the electronic voice mail would not let me stop and had added an extra bottle to the order and I could not talk to anyone to get that order cancelled. Then I wanted to cancel the whole deal , but the number I used to call them had no person on the other end of the line. This was a 45 minute nightmate to get it corrected. I would never recommend this to a friend. I will send this back without even trying the product due to my own crazy experience with the company.

Bottom Line: No, I would not recommend this to a friend

---

Dishonest ordering and processing system

By N Hawley

,

California

,

Jan 27, 2014

Overall Experience:

Same experience as above. I ordered one bottle and should have been charged maximum $21.90 with ship & handling. My order is showing $51.80 and I cannot cancel the order with customer service even with the order number. DO NOT ORDER FROM THIS COMPANY

Bottom Line: No, I would not recommend this to a friend

---

Advertisement

---

I tried to order but...

By Larry

,

indiana

,

Aug 7, 2015

Overall Experience:

I tried to order but after 15 minutes hung up. By then, they had done everything but sell me an elephant. Two of these, more of that, double this or that, plus more shipping and no way to just cancel. And no one to talk to. They have not tried to bill my card yet but I will have to watch very close and monitor my email they now have and cc numbers.

Stay away.

Bottom Line: No, I would not recommend this to a friend

---

SCAM! Don't Fall for It!

By MJ Guidry

,

Pacific Northwest

,

Feb 1, 2014

Overall Experience:

I had the same awful experience as everyone else here. I had to call my bank and do a chargeback as there was no way to cancel the deal. It was "too good to be true" on the TV ad. I should have known better. Don't get sucked in!

Bottom Line: No, I would not recommend this to a friend

---

Advertisement

---

Unbelievable

By Wayne

,

York, PA

,

Feb 7, 2014

Overall Experience:

What the hell is wrong with us? The Amish are great people and they did nothing to deserve this associations! This company "Dutch Glow" has no right using the Amish to promote this scam. When you call to order or get on line to order and get looped around until the bill is more than expected. I pray that the lord is merciful when judgment day comes to whomever did this scam.

Bottom Line: No, I would not recommend this to a friend

---

Skeptical and Frustrated

By Chris

,

Summerville, SC

,

Feb 15, 2014

Overall Experience:

I considered ordering Dutch Glow and began filling out the order information. Before hitting the "process" button, I checked the amount they were going to charge my account & realized they were adding products I was not interested in ordering. I did not continue or hit the process key. Within 2 minutes, they sent a confirmation for my order, totaling $25.90 instead of the $17.95 that was offered. I tried to contact the company on line and by phone but was unsuccessful because this transaction occurred on a Saturday. I will try to reach the company on Monday because I do not want to be out $15.90 for shipping of products I did not order. I am not confident that I will be satisfied with the customer service, however.

Bottom Line: No, I would not recommend this to a friend

---

Do not spend your hard earned money on this.

By Kerri

,

Alabama

,

Jun 24, 2015

Overall Experience:

Ordered product, had no choice but to receive second bottle and be charged s&h which was $7.95 plus a $2 hidden fee, so total was $9.95 for extra bottle. Was charged almost $45 for product and didn't receive it until six weeks after my card was charged. Product does not work at all. I don't know why I thought this product would be any different than all of the other "As seen on TV" products.

They are using the Amish name however you can plainly see that the Amish do not promote this product. There are many products that are a lot less that works just fine. Lessons learned. I just wish it wasn't such a costly lesson but being able to post this does make it better so that nobody else loses their hard earned money.

Bottom Line: No, I would not recommend this to a friend

---

Shipping for 4 bottles was 27.80

By Glenn Dusablon

,

Rhode Island

,

Feb 23, 2014

Overall Experience:

I got a 4 bottle deal - buy one get one free. They charged me 5.95 for shipping on one bottle, an additional 5.95 for second bottle, and then additional 7.95 for each of the free bottles. Total shipping was 27.80. A complete rip off and the product have no listing of contents.

Bottom Line: No, I would not recommend this to a friend

---

SCAM I ordered this in November

By Linda J Arnold

,

Tennessee

,

Jun 24, 2015

Overall Experience:

Eight weeks go by and I get a note saying they are out of the product. Today on February 24th, I get another note from dutch glow and it said they are still out and should be getting a shipment in soon. Call if I want to cancel my order. It's now February and I'm fed up.

Bottom Line: No, I would not recommend this to a friend

---

Don't fall for it.

By Christopher Mcmillan

,

Osterville, MA

,

Aug 7, 2015

Overall Experience:

I ordered this product in early Jan., three weeks later I received a call saying it was on the way and that I had been signed up for a money-saving offer that I would be charged for after 30 days unless I called and canceled. I am an attorney, so I immediately questioned who they were to sign me up for anything given that I only contracted to purchase wood polish.

At any rate, I was I wrote two weeks later saying that I had not received my order and I believed that it was a result of me declining their "money saving offer." The reply was they were sold out, give them sometime. Well, I receive a card saying I could cancel or do nothing and it would be shipped. I did nothing and sure enough a refund came last week.

I believe this is nothing more than a ploy to get people to sign up for a monthly scam and if you decline, they are "out of the product." Has anyone else declined their offer and been told they are out? If so, I believe we should raise this issue with our states attorney generals office.

Bottom Line: No, I would not recommend this to a friend

---

A trap--don't do it

By CS Potter

,

New Jersey

,

Feb 22, 2014

Overall Experience:

The ads sounded wonderful, however when I went on line to order all of a sudden there are multiple offers and it was confusing. I got out, but my account at my bank notes a $71 payment to these clowns and I have no product, which when I get it I will return in registered mail. Obviously a giant-sized scam.

Bottom Line: No, I would not recommend this to a friend

---