DXN Code Strike Reviews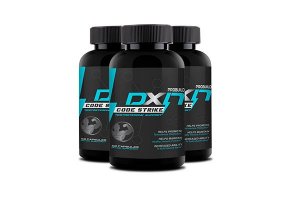 DXN Code Strike is a supplement allegedly contains a blend of ingredients they claim will boost t-levels and improve your sex life.
What Is DXN Code Strike?
Featuring a T365 Complex, the DXN Code Strike dietary supplement promises to represent a safe way of supporting your body's natural production of testosterone.
And with elevated testosterone levels, the supplement's website reports you could experience increased muscle mass, sex drive, and strength, along with further improved hormone production.
Even if DXN Code Strike, which is manufactured in a U.S.-based GMP certified facility, really can improve your testosterone levels, can you expect this to reinvent your body, as advertised? For the money, will it leave you with boosted confidence, vitality, and swagger?
In just a few quick minutes, we'll help you make a more informed decision. First, just what is testosterone, anyway?
Testosterone 101
Testosterone is a hormone responsible for sexual development in men, and in women to a much lesser degree. For men, it helps impact sperm production, boost sex drive, along with "bone density, muscle mass, red blood cell production, how the body stores and uses fat, and even overall mood."
While testosterone production is high beginning in puberty and lasts through most of the 20s, after a man enters his 30s, these levels begin dropping at about 1% per year. Once these levels drop low enough (often, by the time a man reaches his 50s), unwanted side effects can manifest, including decreased sex drive and energy levels, depression and moodiness, weight gain, and thinner, weaker bones.
To help offset this loss and the potential related side effects, some men undergo prescription-based, doctor-supervised testosterone replacement therapy (TRT). In the instance of DXN Code Strike, though, can you expect similar results, not to mention all of the benefits advertised on their website?
Taking a Closer Look at DXN Code Strike's Ingredients
The company does not disclose the supplement's active ingredients on its website.
However, we called customer support and learned that it contains a 742 mg proprietary blend comprised of:
Tongkat ali
sarsaparilla
boron
horny goat weedtribulus terrestris.
According to the clinical evidence summaries provided by sites like the Natural Medicines Database, WebMD, and Examine.com, Tongkat ali (formally known as Eurycoma longifolia) is possibly effective for improving sperm quality and concentration in infertile men. No dosage is listed.
Outside of this, these sites list DXN Code Strike's remaining ingredients as having insufficient clinical evidence to support the manufacturer's claims.
Potential DXN Code Strike Side Effects
WebMD, Examine.com, and the Natural Medicines Database indicate that most individuals—if they encounter anything at all—won't experience side effects worse than mild, temporary stomach irritation and digestive upset when it comes to DXN Code Strike's ingredients.
When taken in doses greater than 20 mg per day of boron, which is the upper limit for adults, it's reported there's some concern it could negatively impact a man's ability to father a child.
Also, in some instances (no dosages or other circumstances noted), WebMD reports that tribulus terrestris could lead to "constipation, excitation, difficulty sleeping, or heavy menstrual bleeding."
It's important to reemphasize that since all of DXN Code Strike's ingredients are part of a proprietary blend, we can't know their individual dosages, or how these line up with reported side effects.
To help avoid them, as well as any potential medication interactions, make sure that you talk with your physician before starting any new dietary supplement regimen.
How Much Does DXN Code Strike Cost?
The manufacturer offers three purchasing packages for DXN Code Strike:
1 Bottle (60 capsules): $59.94
3 Bottles: $99 ($33 per bottle)
5 Bottles: $148 ($29.60 per bottle)
Important: According to a disclaimer at the bottom of the ordering page, "by submitting information on this page, you give consent for us to send promotions via SMS to your phone number provided."
All DXN Code Strike orders come with a 30-day satisfaction guarantee, less S&H, which you can request by calling 855-825-1026 or sending an email to support@dxncodestrike.com.
How to Choose Between DXN Code Strike and Competing Testosterone Supplements
It doesn't take much more than a quick online search to understand that DXN Code Strike is just one of perhaps thousands of dietary supplements promising to boost testosterone levels. Not only do they claim to deliver many of the same results, most include many of the same ingredients.
Given all of these similarities, how can you decide whether to pay $20 for a bottle, or $100—or nothing at all?
None of the ingredients commonly found in these products "have sufficient clinical evidence that they can meaningfully boost testosterone levels or impact the hormone's function."
Given this, we'd strongly recommend maintaining realistic expectations about the results you'll achieve with one of these supplements. And it (again) almost goes without saying that you should closely involve your physician.
However, these same sites indicate that some of these ingredients could help address common symptoms caused by low testosterone.
For example, in addition to tribulus' potential for improving sperm count and quality in infertile men, Panax ginseng may help improve erectile dysfunction and sexual arousal, and even reduce premature ejaculation, while l-arginine may help improve sexual function in men with ED. Granted, neither of these additional ingredients are found in DXN Code Strike.
Based on our experience writing about dozens of testosterone supplements, in addition to providing clinical support for the claims surrounding their ingredients, you'll also want only to do business with supplements companies who:
Feature mostly positive online customer reviews
Price their products competitively, including reasonable S&H charges
Offer at least 30-day refund policies, with no restocking fees
Bottom Line
It's important to balance this by reiterating that, other than Tongkat ali's reported (according to sites like WebMD and Examine.com) ability to potentially improve sperm quality and concentration in infertile men, all of DXN Code Strike's are listed as having insufficient clinical evidence to support the manufacturer's advertising claims.
Furthermore, since all of these ingredients are part of a proprietary blend, we can't know if DXN contains the same levels found in supporting clinical studies (or, for any reported potential side effects).
Finally, at about $60 per bottle (unless you choose to purchase multiple simultaneously), we've written about many other testosterone supplements containing similar ingredients, but at meaningfully lower prices.
Still, Quickbox Fulfillment stands behind DXN Code Strike with a 30-day satisfaction guarantee if you find it doesn't deliver what you expected. Just keep in mind that you're responsible for return shipping, so it's not a completely risk-free transaction.
Company not delivering

By Claude B.

,

Belgium

,

Apr 3, 2020
Verified Reviewer

My review for DXN Code Strike:

Ordered in the summer of 2019, until now (3/31/2020) received nothing, only messages from the company saying TO have patience, paid $200 for air. I would suggest not buying from these people and get your boost from some other company!

These people are not truly customer care persons, only money is important.

I WOULD NOT RECOMMEND THIS TO ANYBODY.

Bottom Line: No, I would not recommend this to a friend

---

Disappointed

By Shaheem A.

,

South Africa

,

Feb 25, 2020
Verified Reviewer

Hi, I'm from South Africa, been waiting for my order for 3 months and still has not been delivered. After spending $3k purchasing this product online I'm very disappointed for not receiving my order, even after lots of emails all I get is a "sorry many customers have received their order." What BS.

Bottom Line: No, I would not recommend this to a friend

---

Scammer...beware.

By Sola T.

,

Tonga

,

Feb 13, 2020
Verified Reviewer

Full of crap...it's almost 2 months that I placed my order and not only did they overcharge me, but they kept on lying all the time. And I haven't received my order. You are wasting hard-earning money. I have been asking for a refund and never get a reply back. I will never recommend this to a friend or anyone. Please beware, it's a scam...

Bottom Line: No, I would not recommend this to a friend

---

Fake

By Andre U.

,

Vanuatu

,

Dec 29, 2019
Verified Reviewer

Fake, I have order AlphaTesto Boost X and instead they send me this DXN Code Strike. What happens to AlphaTesto?

I don't understand what going on!

Bottom Line: No, I would not recommend this to a friend

---

Advertisement

---

Beware, they try to get out of refunding you

By Ross L.

,

United Kingdom

,

Nov 22, 2019
Verified Reviewer

It is now the middle of November 2019, I bought DXN Code Strike in June and it took 2 weeks to be delivered to me, no problems with that.

What I did have a problem with initially was that it was advertised at three bottles for the price of two at $49.99 per bottle, so I was surprised to see that they had charged me $130. I enquired why and it wasn't due to shipping. They did give a complicated explanation which I struggled to understand and I'm pretty intelligent!

When the package was delivered at the beginning of July it was held back by the post office as I had to pay a customs charge on it of £17. That took the cost of the package up to around £150. At this point, I decided it was too much and was advised I could refuse to pay the charge and the package would be returned to the sender.

As previously mentioned, the package was returned at the beginning of July and now it is the middle of November and despite multiple emails to their support team, they tell me they cannot process a refund until the package has been identified. Surely it can't take 4 months to identify a package with my name and address on it (as it's unopened) and with my invoice inside!

Apparently they reckon it can and now I'm having to go down the route of legal proceedings which is a headache I could do without.

So my advice would be to save yourself all the hassle and buy something else instead. The whole process strikes me as being a big con and once they have your money, you're not getting it back, even if you return the product as you are entitled to do writhing 30 days. This has to be the longest 30 days of my life!

Bottom Line: No, I would not recommend this to a friend

---

DXN Code Strike - beware! They are scammers and petty thieves!

By Dennis O.

,

Masqat, Oman

,

Nov 19, 2019
Verified Reviewer

The manufacturers and suppliers of the product DXN Code Strike are scammers and online thieves! Please beware of them! If I had heeded the warnings of several victims like me who had been swindled and defrauded by these criminals, I wouldn't have fallen victim myself!

Not only did they debited far more than the price indicated online from my MASTERCARD for the so-called DXN Code Strike, but till date I have not received my product. (I would advise Mastercard to protect your customers by not allowing your credit card to be used for the purchase of this product!)

I have sent several emails complaining about the incident to Beach slim Nutrition, yet to no avail! They kept telling me that my product is on the way, but yet not trackable online.

This kind of attitude is very unacceptable, especially for a company that claims to be in the US. I therefore call upon the authorities in the US responsible for tracking down hoodlums like these to take necessary actions to stem this evil tide!

And to all, please support to spread this news to prevent others from falling victim.

Bottom Line: No, I would not recommend this to a friend

---

This company is a scam

By Hameed D.

,

Dundee, South Africa

,

Nov 7, 2019
Verified Reviewer

I ordered this product in July 2019 and we are now in November 2019 and I have not received my order. They keep on telling me that it's on the way but nothing comes. I requested a refund but I still haven't received my money back. This company is scamming people and they are not legit.

Bottom Line: No, I would not recommend this to a friend

---

Delivery date

By Ahmed R.

,

Salalah, Oman

,

Nov 7, 2019
Verified Reviewer

Hi.

When will I receive my package? I attached my order number.

In addition, when I order an offer, the website charged me for another offer without showing me the cost. Also, during the payment, they did not show me the total amount before payment.

Bottom Line: No, I would not recommend this to a friend

---

Got charged for Alpha Testo

I chose package 1 for 3 bottles with 2 free but I got charged for Alpha Testo? I immediately emailed support but was just getting an auto-response. I look forward to having this fixed. I look forward to receiving the product but I hope you cancel Alpha Testo as I didn't order it. If you will insist on sending it, that will be a scam.

Bottom Line: No, I would not recommend this to a friend

---

I am also frustrated. It's a scam.

By Dumisani S.

,

KwaZulu-Natal, South Africa

,

Nov 1, 2019
Verified Reviewer

I am also very frustrated, I ordered 1 item and was charged for more items that I never ordered.

I never received my order and asked for a refund after 2 months of waiting and I an still waiting.

It's a scam, avoid at all costs.

Bottom Line: No, I would not recommend this to a friend

---

Additional charges

By Haans J.

,

Singapore

,

Sep 27, 2019
Verified Reviewer

On the 22nd of September 2019 I have purchased online DXN Code Strike package of 3 bottles, stated free 2 bottles if I buy 3 bottles that cost $29.60 each - 3 bottles will cost $88.80 plus 2 bottles FREE. But when they charged me, the 2 bottles were not FREE. It cost another $29.60 each.

One more issue is, I did not order the Alpha Boost supplement. How come it was added in my billed?

Please cancel the Alpha Boost which cost $59.85 as I did not order and know about this item quality and what it's for.

Possible to refund my money back for the full amount of $59.85.

Thank you.

Bottom Line: Yes, I would recommend this to a friend

---