Dynamic Biotics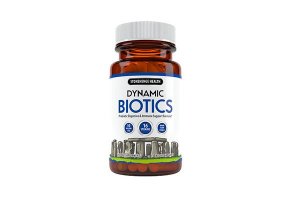 Dynamics Biotics, a probiotic supplement, features 16 different strains of probiotics that may be able to help with a variety of health conditions and boost your immune system.
Dynamic Biotics Review - Great For Your Digestion?
Dynamic Biotics is a probiotic supplement from Stonehenge Health that combines 16 different strains of probiotics and a proprietary prebiotic the company's website is "the most potent and pure probiotic and prebiotic blend available."
While the company makes no specific claims about what this specific supplement can do for your health, they do says that probiotics are able to, in general, "help with digestive issues, improve mood and increase your energy."
According to their website, Stonehenge Health is based in Newport Beach, CA. Their website features the profile of Dr. Jeffrey Sherman, a board-certified gastroenterologist who, according to the site, has a practice in Beverly Hills. However, the site does not say Sherman is a founder or has any role within Stonehenge.
In this review of Dynamic Biotics, we will examine what the company tells us about the product. We'll go over how the product works and how to use it, possible side effects you could experience and how to be a safe user of the supplement, as well as how long it would take to see results.
We'll then discuss the ingredients and their dosage, and talk about what evidence there is to suggest those ingredients might help you.
Finally, we'll help you understand the pricing for this supplement as well as the return policy Stonehenge provides.
Dynamic Biotics: How It Works, How to Use It & Side Effects and Safety
"Probiotics" is a term given to bacteria in your stomach and intestines that help your digestive system. We tend to think of bacteria as a bad thing but, in the case of probiotics, the bacteria are helpful.
The official definition of probiotics, according to the World Gastroenterology Organisation's Global Guidelines, is: "Live microorganisms that confer a health benefit on the host when administered in adequate amounts."
The WGO goes on to say that the specific way that probiotics benefit you is that the presence of probiotics help your body produce little organisms that that search out sickness-causing microorganisms (pathogens) and kill them.
Dr. Andrea Arikawa, an assistant professor of nutrition and dietetics at the University of North Florida, told us that probiotics also help with producing cells to provide energy to the large intestine and therefore protecting the large intestine from damaging substances.
Mayo Clinic points out that there are many different "strains" of probiotics – Dynamic Biotics has 16 – and that each strain provides a specific benefit to the body. No two strains do exactly the same thing.
Here is a list of the 16 strains included in one Dynamic Biotics pill:
Bifidobacterium lactis
Bifidobacterium bifidum
Bifidobacterium breve
Bifidobacterium animalis
Bifidobacterium longum
Lactobacillus acidophilus
Lactobacillus brevis
Lactobacillus plantarum
Lactobacillus reuteri
Lactobacillus fermentum
Lactobacillus rhamnosus
Lactobacillus gasseri
Lactobacillus casei
Lactobacillus salivarius
Lactobacillus paracasei
Streptococcus thermophilus
Each one of these strains serves a specific purpose, which we'll cover in the next section.
Among the important takeaways from the information we've presented in this section is that you have to have adequate doses of probiotics and they have to be "live", meaning that they're still alive and kicking when you ingest them (more on this later).
Now, while probiotics are helpful they also have side effects that can vary with every person. However, Mayo Clinic points out that side effects are "uncommon."
"Most healthy adults can safely add probiotics to their diet without having problems," Mayo Clinic's Dr. Brent Bauer wrote in 2014.
Though side effects are uncommon, WebMD points out that you may experience one or some of the following symptoms while taking probiotics:
Allergic reaction
Upset stomach
Gas
Diarrhea
Both WebMD and Mayo Clinic point out that probiotics could be dangerous for people with weakened immune systems, are "critically ill" or have had a recent surgery.
In other words, probiotics are beneficial for many people, various expert websites say, but should be avoided if you have a compromised immune system either through sickness or a recent surgery.
Pro tip: One bottle of Dynamic Biotics includes enough pills for one month at one pill a day.
Dynamic Biotics Ingredients and Dosage
One of the things we've learned during research of dozens of supplements –- probiotics included – is that you have to pay attention to the ingredients and to how much of each ingredient is in one serving – one pill, in this case.
As we mentioned earlier, Dynamic Biotics includes 16 strains of probiotics. These strains fall into three main types:
Bifidobacterium
Lactobacillus
Streptococcus
To find out the effect all these different strains can have on your body, we read through the WGO's 2017 Global Guidelines. Here's a breakdown of how Dynamic Biotics can help you, according to the WGO:
Multiple strains can aid with diarrhea associated with antibiotics
One of the strains may help with adults with acute diarrhea
Multiple strains may prevent C-diff infections
Multiple strains may help with H. pylori (can cause ulcers and cancer)
Multiple strains can improve IBS symptoms
Multiple strains can help relieve constipation
In general, the WGO guidelines indicate that the ingredients included in Dynamic Biotics have the potential to help with various conditions.
However, the supplement's effectiveness has a lot to do with the dosage you get in each pill. According to the label phot that Stonehenge Health provides, each pill has approximately 51 billion colony forming units (CFU's).
While many sites will note that you want between 1 billion and 10 billion CFU's in your probiotics, WGO's guidelines note that nobody really knows how many you need to be effective since each probiotic strain is unique.
"The dose needed for probiotics varies greatly depending on the strain and product. Although many over-the-counter products deliver in the range of 1–10 billion CFU/dose, some products have been shown to be efficacious at lower levels, while some require substantially more," their guidelines say. "It is not possible to state a general dose that is needed for probiotics."
This quote is important because Dynamic Biotics' ingredients label only shows the total number of strains in each pill. It does not indicate how much of each strain is included in your daily pill. So, it's hard to tell if there's one strain that accounts for most of the CFU's or if that 51 billion is spread evenly among all strains.
Therefore, it's hard for us to say, based on the information the Dynamic Biotics site provides, how quickly this supplement can help you. The positive, though, is that the possibility of side effects is low for healthy adults, so trying the supplement for a month doesn't present many downsides.
The supplement also contains pre-biotics, which is the "food" that probiotics need to grow. In theory, prebiotics would help the supplement maintain its potency.
Pro tip: The WGO notes in their guidelines that probiotics can die during manufacturing and shipping, so the actual number of live CFU's in your pills may be lower than 51 billion.
Dynamic Biotics' Pricing and Return Policy
Stonehenge Health gives you three options for your first purchase with them:
One bottle for $43.95 ($6.95 for shipping)
Three bottles for $118.95 (free shipping)
Six bottles for $199.98 (free shipping
Your purchase is covered by a 90-day guarantee in which, according to the fine print, you can return your probiotics for a full refund. However, in order to make the refund work, you have to return all your bottles and remaining pills.
You'll have to contact the company to initiate the return using either their customer service email address (support@stonehengehealth.com) or phone number (1-800-930-5965). They'll provide you with a specific return number you need to include in your return shipment in order for the refund to process.
One other thing to keep in mind is that they'll only refund you for the pills you haven't used. So, if you ordered three bottles and used one, you'll get a refund for the two remaining bottles.
Also, you'll need to send your returned bottles within two weeks of getting your return number from Stonehenge Health.
Pro tip: A Stonehenge Health phone rep told us they will not automatically send you more pills after your bottles run out. If you want more, you have to call them or go to their website to order more.
The Final Word About Dynamic Biotics
The ingredients in this supplement may have a positive effect for a variety of people since there is a wide spectrum of probiotic strains in each pill.
However, based on our research of the World Gastroenterology Organisation's Global Guidelines, it's really hard to say exactly how well this supplement will work because every person who takes it is different and there's no way to pinpoint how many CFU's of each ingredient there are in your Dynamic Biotics pills.
What we do know is that, despite no guarantees about the effectiveness of the supplement, the downsides are so limited in their scope for healthy people that, aside from the money you spend on your order, you won't lose out on much if you decide you want to try the product.
So, if you're interested in using this supplement, we suggest trying it for three months to allow time for any side effects to pass and to let the various strains do their work.
Also, three months of bottles are cheaper, per-bottle, than a single bottle. Remember, too, that you can return your supplements if you aren't happy with them.