Dynamic Virtual Viewer Reviews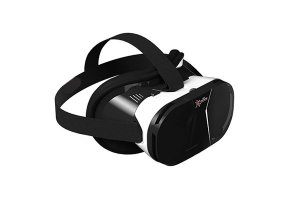 Dynamic Virtual Viewer is a smartphone VR headset that claims to provide core features like a comfortable head strap and eye rest cushion, but at a lower price.
About Dynamic Virtual Viewer
Dynamic Virtual Viewer is an affordable virtual reality headset that promises to work with most smartphones and deliver a lightweight, 360-degree, completely wireless viewing experience.
Despite its affordability, Dynamic Virtual Viewer claims to include many of the essential features you'll find on higher-priced models, including a lock-in smartphone holder, comfort stretch head strap, cushion fit eye rest, and HD dual-focus lenses.
It even comes with noise-isolating viewer ear buds and gives you access to thousands of free VR apps.
If you're on the hunt for a new pair of virtual reality goggles, you know that it's possible to spend hundreds of dollars. But can you achieve the same experience with Dynamic Virtual Viewer for much less, or will it be a waste of your hard-earned money?
Stick with us, and we'll help you explore the facts and make an informed, empowered decision—starting with price.
How Much Does the Dynamic Virtual Viewer Cost?
Dynamic Virtual Viewer is priced at $19.99, although we were notified that the device was currently sold out when we attempted to check out.
After calling customer service and speaking with a couple of friendly reps, we learned that it should be available in 2-3 weeks (keep this in mind if it's sold out when you check, too) and that S&H will cost $9.99.
With your order, you'll receive a pair of noise-canceling ear buds and two viewer optimizers. The reps let us know that the optimizers are interchangeable, depending on the size of your screen (iPhone 7 vs. 7 Plus, for example).
You can also order a Bluetooth game controller for $9.99.
Pro tip: While many virtual reality apps are free, keep in mind some of the most popular are not, which could obviously increase your overall expenses.
All Dynamic Virtual Viewers come with a 30-day money back guarantee (beginning from the date it's received), which you can request by calling 877-330-5107.
The reps let us know that DVV is also frequently available at Toys R Us, and we found it for sale on Amazon.com and Target.com during our research.
How does this price compare?
Dynamic Virtual Viewer vs. Other VR Headsets: Your Quick Buying Guide
How Do Smartphone VR Headsets Work?
When it comes down to it, there are two different classes of virtual reality headset: console-based devices and smartphone-based devices.
Remember the $500+ price mentioned in the DVV commercial? This relates to console-based devices like the Oculus Rift, Sony Playstation VR, and HTC Vive, which utilize much more powerful systems to deliver a generally more immersive experience.
This also means each console's controller can be used to direct gameplay, further expanding your options and immersing you in the experience. In fact, some models even track your eye movement and respond accordingly.
On the other hand, devices like Dynamic Virtual Viewer require a smartphone to work, which will use specialized apps that display a split screen—one for each eye—and will tilt each of these images slightly to mimic how we view the real world.
You'll carefully align the screen inside at the front and close the flap, which locks it in place. Then, in between the screen and your eyes is a set of lenses that magnifies and reshapes these independent images and widens the viewing angle.
As you move your head, the sensors inside your phone track orientation and change what you see, giving you the sensation that you're actually inside this virtual world.
Are There Any Direct Virtual Viewer Apps?
Just like with other smartphone-based VR headsets, the apps you can use with Direct Virtual Viewer depends on your specific smartphone model.
However, the customer service rep we spoke with let us know that DVV will work with all phones with screens that are 4"-6" in size.
Important note: Near the top of the device's website, the manufacturer indicates that Dynamic Virtual Viewer comes with "free VR apps."
But according to the rep, it doesn't come with any. In other words, you'll be required to log on to iTunes, Google Play, or the Microsoft Store, browse the VR app selection, and download whatever meets your needs. Only then will you be able to use the DVV device itself.
What About a Direct Virtual Viewer Controller?
Another important consideration when purchasing any VR headset is controller compatibility, which will wholly depend on your phone model. Otherwise, you won't be able to interact directly with your VR app (other than the built-in motion sensors).
While we learned that DVV's model costs about $10, keep in mind that there are dozens (perhaps even hundreds) of other models from third-party manufacturers priced anywhere between $10 and $30+.
In fact, we found what appears to be DVV's identical Bluetooth controller on sale through Wish.com for $3.
How Do Direct Virtual Viewer's Features & Price Compare?
While it's positive that Dynamic Virtual Viewer comes with a stretchy head strap, works with phones between 4"-6" in size, and features a front-loading design, two lenses, and cushioned eye rest, these traits can be found in just about every other smartphone-based VR headset out there.
Pro tip: Keep in mind that Dynamic Virtual Viewer's lenses only work to enhance the image displayed on your phone; not improve it. In other words, if the image displayed on your smartphone isn't high-definition, these lenses won't magically turn it into HD.
Nonetheless, to see exactly what we mean about options, you only have to type the phrase "smartphone virtual reality headset" into your favorite search engine and watch as hundreds of relevant results pull up.
Are all of these designed exactly like Dynamic Virtual Viewer? Certainly not. But as mentioned above, you'll find the vast majority delivers these same core features.
A couple of features that might differentiate DVV from some (but certainly not all) of these competitors are its two viewer optimizers and the fact that the knobs on top can adjust the lenses while you're viewing. You'll also get a pair of earbuds with your order.
On the other hand, a potential drawback is that Dynamic Virtual Viewer's head strap isn't adjustable, which could be problematic if you have an especially small or large head.
As far as price? Many functionally identical models to DVV could be purchased for between $20 and $40 at the time of our research, putting it at the lower end of the spectrum.
But are Dynamic Virtual Viewer's customers necessarily getting a lot of value for the competitive price?
Are There Any Reviews (Video or Otherwise) For Dynamic Virtual Viewer?
We found a limited amount of online feedback for Dynamic Virtual Viewer on Amazon and Target.com, where the device came with a combined total of 20 customer reviews and an average rating of about 3.5 stars.
Common compliments seemed related to ease of use, good value for the price, and comfortable fit, while the most common complaint was that it didn't come with a controller. Also, one reviewer noted that DVV let in a lot of light through the sides and didn't fit well with the iPhone 6.
YouTuber Technology Forbidden shot an unboxing video that can provide some insight into what you'll get for your money with Direct Virtual Viewer, and Neil the TV Guy offers some guidance on properly lining up the phone with each lens.
From a company perspective, Dynamic Virtual Viewer is manufactured by Jay at Play, based out of NY, NY, who specializes in plush toys. Popular products include HideAway Pets and Tummy Stuffers.
Jay at Play had a C+ Better Business Bureau rating and 29 closed complaints as of 2/15/17, most of which appeared to reference high S&H charges and higher order totals than expected.
Who Might Dynamic Virtual Viewer Work Best For?
Based on what we learned during our research, including feedback, it seems that Dynamic Virtual Viewer delivers on its main promise for most customers. That is, it provides many of the essential features found in the competition, but at a lower price than most.
As a result, it came with mostly positive—although limited—reviews. Specifically, more than one customer claimed that it's ideal for someone who's just getting into the virtual reality scene and doesn't want to spend a lot of money.
After getting your feet wet, if you find out that you want to take things to the next level, you can then splurge on higher-end models with additional features.
And if it doesn't work out for you, Dynamic Virtual Viewer comes with a 30-day refund policy. Just note that you'll immediately lose your original $10 in shipping, plus whatever it'll cost to send it back to the manufacturer.