Dynatrap Flylight Reviews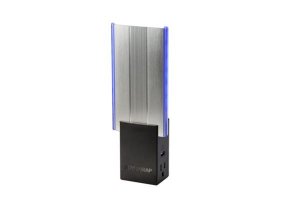 Dynatrap's indoor Flylight uses a combination of carbon dioxide and heat to attract flying insects and non-toxic sticky cards to keep them where they land and prevent them from becoming a nuisance.
About Dynatrap Flylight
After plugging the Dynatrap Flylight into any standard outlet, the company advertises it will simply, silently, and safely protect your home against disease-carrying insects like flies, mosquitoes, gnats, fleas, moths, and earwigs.
First, the AtraktaGlo UV bulb—which is housed behind a fit-any-décor aluminum panel—attracts flying insects within 600 square feet. Then, these insects become caught in the easily replaceable StickyTech glue card, which kills them without the use of potentially harmful pesticides or chemicals.
In addition, some Flylight models provide access to pass-through power outlets and USB ports for added functionality.
These certainly sound like useful features, but can you expect this plug-in device to help you never have to worry about flying insects in your home again? Is it the most advanced flying insect control technology available, as advertised in the commercial?
Let's help you find some actionable answers by starting with the basics.
How Does the Dynatrap Flylight Work?
The National Institutes of Health reports that between their ability to smell human skin and their "cpA neurons that have a receptor to detect" plumes of carbon dioxide we exhale, female mosquitoes "have an amazing ability to zero in on us from afar and head straight for our bare skin."
Because of the itchy bites they cause, not to mention the serious diseases they can carry, common methods of keeping them at bay (or killing them outright) include chemical repellents like DEET and citronella candles, as well as manual electric bug zappers.
However, many consumers are concerned about frequently exposing their body to these chemicals, while WebMD points out that mosquitoes largely ignore the latter, which can also kill a lot of beneficial insects.
Similar to the Dynatrap Flylight (about 3.5" x 9.5" in size), they report more recent products act as "portable traps that emit carbon dioxide and a chemical called octenol. They're supposed to lure mosquitoes away from people and into the trap."
According to Renee Anderson, Ph.D., a medical entomologist at Cornell University in Ithaca, N.Y, who was interviewed for the article, "They do collect lots and lots of mosquitoes." However, "it's not yet known whether they really reduce the number of bites for people nearby. Right now the jury is still out."
Specifically, Dynatrap advertises that Flylight's combination of warmth, AktraktaGlo UV lightbulb, and carbon dioxide mimics our breath and attracts flying insects. Then, they become trapped on the non-toxic StickyTech glue board, which is concealed behind the aluminum panel.
Note: If used outside (such as a small patio), the website emphasizes that since butterflies, honeybees, and bumblebees aren't attracted to CO2, they will not be attracted to DynaTrap. However, the device will still attract yellow jackets, hornets, and wasps.
According to the customer service representative we spoke with, Flylight's UV bulb requires replacement about every 3,000 hours. Or, roughly every four months of continuous use.
Flylight DT3009W vs. Other Dynatrap Products
However, it appears that Flylight is Dynatrap's newest offering, with dozens of previous outdoor models available, all of which using the same AtraktaGlo UV technology and a built-in fan to draw in insects and naturally dehydrate them for easy removal:
DT600, 1200 Series – Covers up to ¼ acre. $129 MSRP
DT1000, 1100 Series – Covers up to ½ acre. $129 - $149 MSRP
DT1700, 2000 Series – Covers up to 1 acre. $189 - $224 MSRP
In addition to Flylight (600 square feet of coverage), other indoor models include:
DT100 Series – Covers up to 300 square feet with the need for a replacement bulb. $39 - $44 MSRP
DT200 Series – Covers up to 1,000 square feet. $99 MSRP
DT300 Series – Covers up to 1,250 square feet $109 MSRP
DT0500 – A wall-mounted unit that covers up to 1,290 square feet. $129 MSRP
DT300 Series – Tabletop units that cover between 300 and 600 square feet. $79 - $119
Next, let's find out what you'll pay for Flylight.
How Much Does the Dynatrap Flylight Cost and Where Can You Buy?
If purchased directly from the company, each Flylight is available in black or white, priced as follows:
Basic (DT3009): $19.95
With 2 AC outlets (DT3019): $24.95
With 2 AC outlets and 2 USB ports (DT3039): $34.95
If ordered via their TV-direct offer, these models are available in two different bundles:
Home Bundle – 1 AC pass-through outlet w/bulb, two basic units w/bulbs, 9 replaceable StickyTech boards: $64.95
Large Home Bundle – 1 AC and USB pass-through outlet w/bulb, 2 AC pass-through outlets w/bulbs, 2 basic units w/bulbs, 15 replaceable StickyTech boards: $99.95
A 6-count of replacement StickyTech boards will cost you $7.99, while replacement bulbs are $9.99 each. All orders come with free shipping.
Keep in mind that Dynatrap products, including Flylight, are available from a wide variety of third-party retailers, such as Amazon, Ace Hardware, The Home Depot, True Value, Sam's Club, QVC, Costco, and Bed Bath and Beyond, to name just a handful.
All direct purchases come with a 30-day money back guarantee, less S&H. Per their website, "We ask that you use the product 24/7, for at least 3 weeks before returning the product." Dynatrap also provides a 1-year standard warranty free from defective materials and workmanship
Customer support can be reached at (877) 403-8727 or customercare@dsw-llc.com.
What Can We Learn from Customer Reviews for the Dynatrap Flylight?
We came across 40+ reviews for Flylight on HomeDepot.com, who had given the device an average rating of about a 4.6-star average rating.
There, common compliments referenced ease of use, stylish design, effectiveness at catching flying insects, and calming ambient light. On the other hand, the relatively few complaints frequently revolved around less-than-stellar effectiveness.
As a company, Dynamic Solutions Worldwide, LLC is based out of Milwaukee, WI and has been in business since 2006. They held an A+ rating with the Better Business Bureau, based on one customer review and no closed complaints, as of 6/5/18.
Are There Other Chemical-Free Flying Insect Traps Like Dynatrap?
Searching online for variations of phrases like "CO2 flying insect trap" and "chemical free mosquito trap," we encountered a handful of options similar in design and purpose as many of Dynatrap's models (i.e., use heat, CO2, and a built-in fan to attract and trap flying insects non-chemically), including:
Gardner Fly Web ($32) – No square footage listed.
GreenStrike Indoor/Outdoor ($45) – No square footage listed.
KATCHY Electric Insect Trap ($40) – Covers about 300 square feet.
Hoont Indoor Outdoor 3-Way Mosquito and Fly Trap Killer with Stand ($65) – Covers about 1,000 square feet.
However, we didn't encounter anything exactly like Flylight, with it's specially designed aluminum plate. So, if you're looking for something exactly like it, it's currently the only game in town.
Our Final Thoughts About the Dynatrap Flylight
At between $20 and $35, it comes with a competitive price from an established manufacturer who stands behind the device with a 30-day refund policy. It's also available from a wide variety of national third-party retailers and comes with a mostly positive—if not somewhat limited—online customer reputation.
Together, you might not have much more to lose than a bit of your time (and perhaps return S&H, if you ordered online) for giving Flylight a try and find it doesn't meet your flying insect-eradication needs.
Just keep in mind that because its protection area is limited to 300 square feet, you'd likely need several to provide the whole-home coverage advertised on the website.
Finally, to maximize its effectiveness, you might also want to implement free methods such as removing any standing water from your property, including old tires, tarps, old trash, and kid's buckets and pools.
» See Also: Natural & Safe Pest Control Solutions to Get Rid of Roaches, Ants & Bugs
Unhappy

By Robert A.

,

West Virginia

,

Aug 9, 2019
Verified Reviewer

Overall Experience:

Light dries out the adhesive. Collects some around the perimeter. Need to come up with something better. Was buying another. Not now. Not able to come up 180 characters for this review. Can't come up with more.

Bottom Line: No, I would not recommend this to a friend

---

Advertisement

---