Dyson 360 Eye Reviews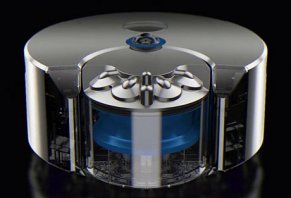 About Dyson 360 Eye
If you're thinking about purchasing a robotic vacuum, you may want to wait until the Dyson 360 Eye is released in 2015. Why? According to Dyson, the new 360 Eye represents the epitome of robotic vacuum technology, which features a proprietary panoramic lens and 8 infrared sensors that provides it with a 360-degree view of each room it cleans. Because of this, the Dyson 360 Eye is claimed to be able to find the center of each room, and then to begin cleaning in a spiral motion from there.
Dyson claims that they spent 16 years and $47 million developing the 360 Eye, and that the navigation system alone has undergone over 100,000 hours of R&D. Ultimately, the company claims that they've created the first intelligent robot vacuum capable of "high-performance" cleaning. In fact, the Dyson 360 Eye is claimed to be able to clean as well as a human.
Although the Dyson 360 Eye isn't set for release until 2015, let's take a look at some of its key components and what they mean for you.
How the Dyson 360 Eye Works
According to Dyson, the company invested a whopping $8 million in a robotics lab at Imperial College London in order to fully develop the 360 Eye, so let's delve into some of the unique features this investment has resulted in.
360 Degree Vision System
The Dyson 360 Eye gets its name from its unique 360-degree vision system, which the company claims is the future of robot navigation technology. This "eye" is capable of identifying key features in a room, and then using these features to continuously triangulate its position, allowing it to always know where it is and where it's already cleaned.
In order to accomplish this, the Dyson 360 Eye's camera is claimed to "see" a bandwidth of light beyond what human eyes are capable of seeing, while taking 30 pictures per second of key features in a room (walls, pictures, etc.). Once the images are taken, the Dyson 360 Eye then uses simultaneous localization and mapping software (SLAM – a combination of complex mathematics, probability theory, geometry and trigonometry) to create a 360-degree panoramic view of the room, which it will then use to navigate while it cleans.
Radial Root Cyclone Technology
As with Dyson's full-size machines, the 360 Eye is claimed to use Radial Root Technology, which the company claims they had to completely redesign in order to fit into the smaller space provided by the robotic vacuum. Despite this, the Eye 360 will still feature a total of 8 cyclones that spin up to 50,000G each in order to capture dirt and microscopic dust. In addition, it will also feature high centrifugal forces that are capable of capturing particles as small as pollen and mold (0.5 microns).
On top of this, the 360 Eye will use special gaskets to maintain high pressure differentials, as well as the same polycarbonate clear bin featured in the company's full-size vacuums.
Digital Motor V2
Unlike the company's other vacuums though, the Dyson 360 Eye will feature a newly developed motor that is small, yet lightweight and powerful, which is powered by a 100W lithium-ion battery. In fact, Dyson claims that the 360 Eye will use digital pulse technology to generate the highest suction of any robot vacuum—up to 78,000 RPM.
Continuous Tank Tracks
When compared to other robotic vacuums that use wheels, the Dyson 360 Eye is claimed to use continuous tank tracks made of corrugated rubber, which will provide precise steering and traction on all surfaces, as well as the ability to accurately maneuver wherever it goes.
Dyson claims that the 360 Eye's tank tracks have undergone more than 1,000 km in testing, and that its stiff soleplate helps maintain direction when traveling over different surfaces.
Full-Width Brush Bar
While all these other features help the Dyson 360 Eye maneuver better, the company claims that if it doesn't clean as well as a traditional vacuum, then all the other technology is moot. As such, the robotic vacuum is claimed to use a full-width brush bar that provides suction across the full width of the machine. In addition, it's also claimed to feature carbon fiber filaments and two types of bristles, one for hard floors and another for carpets, in order to provide the ultimate in cleaning power.
Dyson Link App
In order to bring all this technology together into one interface, Dyson has created iOS and Android apps that allow you to control how and when your 360 Eye cleans, including the ability to view maps of its cleaning progress. In addition, these apps also work to activate your 2 year guarantee, while allowing you to troubleshoot should the need arise.
Dyson 360 Eye Pricing & Refund Policy
The Dyson 360 Eye is scheduled to launch in Japan in the spring of 2015, and later (likely fall) in the U.S. With this said, Dyson hasn't officially released an MSRP for the 360 Eye, although it's expected to be around $1,000-$1,500.
If you'd like to be notified when the 360 Eye is released in your country, you can sign up to be notified via email. Alternately, you can contact the company directly at 844-679-1647.
Should You Keep Your Eye on the Dyson 360 Eye?
With all of this in mind, should you consider purchasing the Dyson 360 Eye? The answer: it depends.
First, as we mentioned above, the 360 Eye isn't scheduled for release in the U.S. for about another year, which is a fairly significant amount of time, especially if you're itching to purchase your next robotic vacuum. However, Dyson has a well-earned reputation for creating vacuums that perform as well as (or even better) than they claim, so the 360 Eye may be worth the long wait.
With this said, the Dyson 360 Eye will come with a fairly steep price, one that's probably justified by early adopters who enjoy remaining on the forefront of technology. On the other hand, if you're just an "average Joe" with small children or dogs who might be inclined to damage the Dyson 360 Eye, it's definitely worth thinking twice about whether this robotic vacuum will be right for your household.
Finally, although the Dyson 360 Eye is claimed to clean better than the competition, it doesn't come without its caveats. For example, Dyson has specifically stated that the 360 Eye can only operate for 20-30 minutes before needing to return to its docking station for a recharge, and that it won't be able to reach dirt in the very corners of rooms. This means that no matter how much technology it contains, you'll still need to break out a broom or standard vacuum to get every inch of your home clean.
Bottom line: With its high price and release date more than a year away, the Dyson 360 Eye robotic eye might be an attractive option for early adopters, although it certainly won't be suitable for all households.
» For Further Reading: Best Robotic Vacuum Cleaners Buying Guide