Dyson DC65 Reviews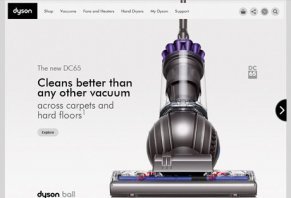 About Dyson DC65
Whether you're looking to clean your hardwoods, carpets, or other flooring surface, the new Dyson DC65 is claimed to clean better than the competition by providing twice the suction, 25% more power, a newly configured brush bar, and more. On top of this, it's even claimed to be constructed of durable materials that can last as long as 10 years.
In the past, Dyson vacuums have proven to be highly regarded, but does this hold true for the DC65? Let's clean house and take a closer look.
Quick Facts About the Dyson DC65
Released in January 2014, the DC65 is the newest product in the Dyson lineup, and uses the same proprietary Ball technology that allows you to effortlessly vacuum around all the obstacles in your home with just the turn of your wrist. Unlike other models though, the DC65 is claimed to include several new features:
Twice the suction of any other vacuum.
A newly configured brush bar that loosens and agitates dirt, while the clean head's suction pulls the dirt and debris away.
A self-adjusting base plate that automatically raises or lowers depending on flooring material.
A motor that delivers 25% more power than comparable models.
A high efficiency separation system that features 12 Radial Root Cyclones. These Cyclones are claimed to spin air very quickly, which allow the DC65 to pick up very small particles that other brands may leave behind.
Edge-to-edge cleaning that allows you to get right up against floorboards.
Extensively tested for 10-year durability.
In addition, the DC65 also features hygienic bin emptying, extra tools, and washable lifetime filters. However, it does come in three different models, which include varying accessories:
DC65 Animal Complete – Includes 4 extra cleaning tools for pet hair and ground-in dirt, in addition to a case.
DC65 Animal – Includes soft dusting brush.
DC65 Multi-Floor – Basic model, without additional accessories.
Dyson DC65 Pricing & Refund Policy
Dyson DC65 vacuums are available through Best Buy, Amazon, QVC, Target, Home Depot, JCPenney, and many more, and are priced as follows:
DC65 Animal Complete: $649.99
DC65 Animal: $599.99
DC65 Multi-Floor: $499.99
If purchased directly through Dyson, your DC65 will include free delivery. Regardless of where it is purchased though, all Dyson DC65s include a 5-year warranty.
All products purchased through Dyson come with a 30-day money back guarantee. Refund policies will vary for third-party retailers.
What Do Other Consumers Have to Say About the Dyson DC65?
As a company, Dyson holds an A+ rating with the Better Business Bureau, although the company does have nearly 150 closed complaints over the past three years. Most of these complaints appear to reference customer service-related issues, such as difficulty replacing items under warranty.
Regarding the DC65 specifically, online customer reviews appear to be overwhelmingly positive, though we did encounter several complaints that cited difficulty bending and maneuvering the vacuum's hose and attachments. Also, if you have a lot of long pet hair to clean, it appears that the DC65's brush bar may have a propensity to become tangled.
Our Dyson DC65 Review – The Bottom Line
Since the DC65's release in January 2014, it appears to have garnered a lot of fanfare. As can be expected, many customers expressed their concern about its high price, although many online reviews expressly stated that the DC65 is worth it. In fact, some of our staff members at HighYa have used various Dyson models over the past few years, and they're reported to work amazingly and to be extremely durable.
In short, based on our research, it appears that when it comes to the Dyson DC65, you get what you pay for, we can comfortably recommend them as reliable vacuums.
What's your experience with the Dyson DC65? Does it really work as well as it claims? Tell the world all about it by writing a review!
If you are older with arthritis, not the vacuum for you

By Diane O.

,

Washington

,

Nov 4, 2018
Verified Reviewer

To say this vacuum has suction is putting it mildly...that feature is great! But, if you have area rugs with a "nap," you cannot break the suction without literally turning it off. It will not move on a rug with a nap, and there is no adjustment on the head to raise it the 1/4" or so needed. This vacuum is also heavy. If you have sore wrists due to arthritis, you will fight this vacuum the entire time you are vacuuming. It does not like uneven surfaces...My old Panasonic is lookin' pretty good right now, even though you have to purchase bags (another one of the really nice features of this Dyson). But I just finished vacuuming, not my area rugs, and the sweat is running down my front. I am 72 years young and in pretty good shape as I exercise, but, now I have to vacuum AGAIN with a smaller machine and shake my area rugs. Grrrrrrrrrrr.

Bottom Line: No, I would not recommend this to a friend

---

Sucks as good as my Filter Queen, but much easier

By Anonymous

,

Florida

,

Aug 12, 2015

My sister had told me how happy she was with her DC65. Then, months later, an old friend went on and on about his excitement over his new DC65 that it's become his favorite tool/toy. A guy with motorcycles, boats, etc, excited about a vacuum. Wow. He said his allergies to his wife's five cats no longer bother him. He's impressed with how much cat hair it picks up despite the room already looking clean.

So, I got one on Black Friday. My husband and I were equally impressed that an easy to use upright is as powerful as my old reliable Filter Queen. I'll keep my Filter Queen as a backup because the Dyson is all plastic, and I'm prone to break things. So, at the store, I made sure to figure out the attachments and such so I'd break the store model and not the one I'm about to purchase. Turns out, I was able to figure it all without breaking it (there were no pictures on the box to show how you slide the brush up to get to the narrow nozzle).

The best part is the immediate feedback of seeing what has been sucked up. It's an easy reminder to dump it, compared to the Filter Queen--only after it started acting sluggish would I remember to empty it because it's such a hassle in comparison.

Bottom Line: Yes, I would recommend this to a friend

---

Advertisement

---

Great vacuum. Highly recommend.

By Sharon Lesly

,

Jul 9, 2015

:) I have three dogs. Every vacuum has choked and died. The Dyson 65 has done fantastic. Great suction.

Bottom Line: Yes, I would recommend this to a friend

---