Dyson V8 Reviews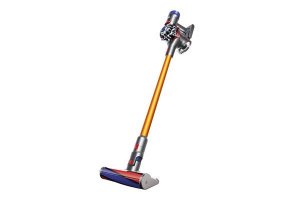 The Dyson V8 is a top-of-the-line cordless stick vacuum that also converts to a handheld with just one click of the button. In addition, it combines with different accessories and interchangeable powered brush rolls.
What Is Dyson V8?
The Dyson V8 is a lightweight, versatile, cordless stick vacuum with a digital motor that spins up to 110,000 RPM, which the manufacturer advertises will deliver hassle-free, powerful suction across every floor type, along with up to 40 minutes of fade-free runtime.
And when the need arises, the vacuum transforms into a handheld in just one click, which provides the ability to rid your home of dust, dirt, and microscopic particles from floor-to-ceiling—even in your car—and everywhere in between.
As a brand, Dyson has built a well-earned reputation for years when it comes to pushing the technological envelope related to vacuums. And their high prices certainly reflect this emphasis on cutting-edge innovation.
But, compared to other stick vacuums, will the V8 deliver meaningfully more value for your money? Ultimately, this is a question only you can answer.
By combining publically available online information with our extensive hands-on testing, though, we'll help you make the most informed decision possible.
How Does the Dyson V8 Work?
Powering the V8 is a six-cell, lithium-ion battery with nickel-cobalt-aluminum (NCA) chemistry, which Dyson advertises discharges high-volume energy that delivers up to 40 minutes of fade-free power. This decreases to 25 minutes then using the motorized cleaner-head, and a mere seven minutes in Max mode.
Despite the reduction in runtime, this battery directly drives a soft roller cleaner head that's engineered to pick up fine dust on hard flooring. This can be switched out with a brush bar covered in stiff, anti-static carbon fiber filaments, which helps effectively capture and deep-down dirt in carpeting.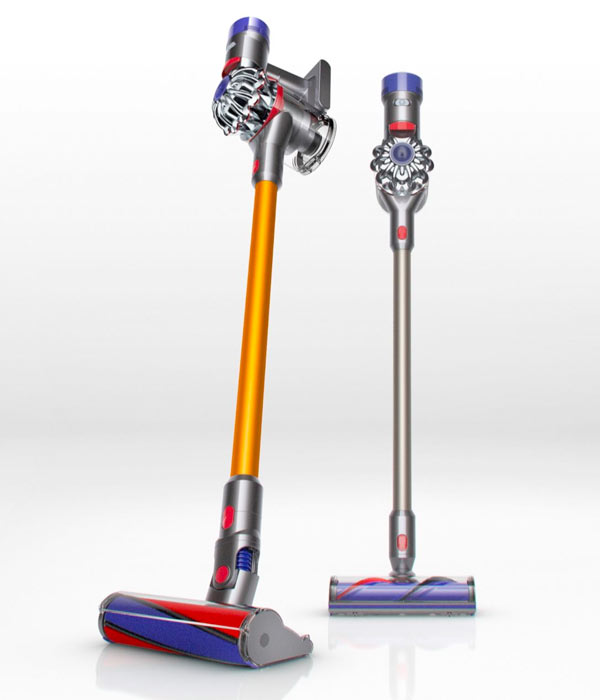 Based on 500,000 hours of testing and weighing in at 5 lbs, the Dyson V8 features an interchangeable soft roller cleaner head (left) and a brush bar covered in stiff, anti-static carbon fiber filaments (right)—along with one-click handheld transformability, to help clean your home from top to bottom. Credit: Dyson Direct Inc.
This battery is housed inside the upper handle portion of the V8, as is the 225W motor, on which Dyson claims to have spent more than 155,000 of man-hours in development. With this placement, the company adds that "Archimedes' principle of the lever" makes it "easy to lift [and] to clean high places."
The V8 website indicates this digital motor spins up to 110K RPM, which is "five times faster than a Formula One car engine," and produces up to 115 air watts. During suction, its "15 small cyclones each generate powerful g-forces to fling dust into the bin," while the porous post-motor filter captures 99.97% of microscopic dirt particles as small as 0.3 microns.
Note: You'll need to wash the V8's filters with cold water at least every month. Make sure they're completely dry before refitting.
During suction, the website advertises that V8's streamlined airways, fluted back tunnel, and acoustic baffling reduce noisy turbulence and sound, making it 50% quieter than the company's V6 model.
When the time comes, the V8's hygienic ejection mechanism uses a silicon collar to push dirt down a chemically-etched stainless steel shroud, which helps everything remain hygienic, while you can avoid touching the debris.
As with many competing models (more soon), the Dyson V8 changes between a stick to a handheld vacuum cleaner and back again in just one click, providing the ability to clean spills quickly, hard-to-reach places, and even your car's interior.
When the time comes, the Dyson V8 comes with a wall-mounted dock that conveniently stores and recharges your vacuum off the floor, so it's ready to go whenever you need.
How Much Does the Dyson V8 Cost and Where Can You Buy?
If purchased directly from Dyson, the V8 Iron version is priced at $412, while the Yellow finish comes in at $499. However, we found some models available on Amazon for as little as $440 at the time of our research, which were also eligible for free Prime shipping.
With this said, Dyson offers a price match promise and free shipping as well.
In addition to the cordless stick vacuum itself, each Dyson V8 order includes:
Soft roller cleaner head
Mini Soft Dusting Brush
Docking Station
Crevice tool
Mini Motorhead
Combination tool
Motorhead
Replacement parts and tools for the V8 range between $1.99 and $111.99, if ordered directly from Dyson. Filters, specifically, are $11.99 (for the pre-filter) and $22.99 (post filter).
All Dyson-direct orders come with a 30-day money back guarantee, with free shipping on returns. Just keep in mind that you'll have to send your V8 back in the original Dyson packaging, so you'll want to keep it around until you've made a decision.
Dyson also offers a two-year limited warranty from the date of purchase against original defects in materials and workmanship, when used for ordinary domestic purposes in accordance with the manual.
To request a refund or file a warranty claim for your V8, Dyson's customer support department can be reached at 866-693-9766.
Our Long-Term Feedback About the Dyson V8 Stick Vacuum
One HighYa staff member has had the opportunity to test the Dyson V8 in their home over a period of 18+ months. Previously, they owned models from Eureka and Shark, both of which were purchased from Costco for under $100.
Here's what they report:
Suction on Different Surfaces: We use the V8 on carpet, hardwood, and tile, and on regular power, its suction is sufficient for most maintenance tasks. When necessary, Max mode offers more than enough to get the job done.
Battery Life: We typically get 20-25 minutes of battery life on regular power with the motorized brush head, which is enough for most maintenance jobs. When using the Max suction, this time drops to about 5 minutes.
If we were to name one potential drawback related to the Dyson V8 (but certainly not a deal breaker), it's that the battery life is brief, especially on Max power.
Even taking this into account, we think the benefits of having a cordless vacuum like the V8 overpowers the rare occasion when we run out of battery life.
Noise Level: On regular power, the V8 is not noisy. On Max power, however, it's considerably louder. But man, using it on the Max setting is fun, and definitely gets the job done fast!
If we know we have a small job that doesn't require extended battery life, we'll usually just use it on Max, because it's quicker and somehow feels cleaner afterward.
Tools and Attachments: In our opinion, the V8's tools and attachments provide a great deal of versatility when it comes to cleaning up around the house. Connecting and switching between the tools is very easy and has a solid, confident feel to it.
Dustbin Emptying: To be honest, emptying the dustbin is not always a completely clean process since hair sometimes gets stuck and you'll need to remove it by hand. But overall, we think the V8's emptying process is quick and mostly sanitary.
Recharging Using the Docking Station: We've found that the V8's docking station is easy to install and is a convenient way to store the vacuum. You don't need to use it if you don't want to, but keep in mind that the V8 doesn't feature self-standing ability, so it might be awkward to store otherwise.
Our Overall Impressions About the Dyson V8: This feels like a quality vacuum, which we enjoy using and have really grown to like, without any real weaknesses (limited battery life and lower suction power are givens when it comes to stick vacuums).
At less than six pounds, we feel that the vacuum is lightweight and easy to operate, features excellent maneuverability and handling, and its cordless functionality makes it very convenient for cleaning any area of the home—just grab it and go.
Its clearance also allows access under most of our furniture, and since we have a two-story house, we've found its quick handheld conversion is very convenient for cleaning stairs.
Plus, its light weight allows for our kids to be involved in house chores, which helps give them a real sense of accomplishment.
With these benefits in mind, based on our extensive experience, the Dyson V8 is great for quick pickups and daily maintenance. However, due to its limited suction and battery life, we don't feel that it's an adequate replacement for a full-sized upright or canister vacuum, especially when used in larger homes.
What Can We Learn from Consumer Reviews for the Dyson V8 Cordless Stick Vacuum?
In addition to our firsthand experience, pretty much wherever we looked online, we found that the Dyson V8 seemed to come with mostly positive feedback, whether from professionals or customers.
In fact, Consumer Reports called it the best vacuum they'd ever tested, and more than 1,800 Amazon reviewers had given the high-end vacuum an average rating of 4.4 stars at the time of our research.
Common compliments revolved around ease of use and effective cleaning (especially given its size and cordless functionality). On the other hand, the relatively few complaints frequently referenced high price, less-than-stellar customer support (often related to warranty and replacement part concerns), and limited battery life.
Dyson V8 vs. Other Stick Vacuums
Combining our firsthand experience, online professional and customer feedback, and in-depth research on third-party websites, despite its relatively steep price, the Dyson V8 earned the top overall spot in our Best Stick Vacuums Buying Guide. Here's what we concluded:
"Yes, you'll pay more for the Dyson V8 than any other stick vacuum currently on the market. For the price, though, you'll get top-of-the-line features like an industry-leading 40 minutes of runtime, the ability to transform into a handheld in one click (which also boasts a motorized head), whole-machine HEPA filtration, Dyson's patented radial cyclonic action, and a handy docking station. And after registering your V8, they'll also ship you three free tools of your choice."
Just keep in mind that the Dyson V8 certainly isn't your only option when it comes to convertible stick vacuums, and that paying more won't always necessarily deliver equally greater value. Factors you'll want to carefully consider include:
Whether or not you need HEPA filtration (such as allergy sufferers in the home)
The presence of pets (including the type and the length of their hair)
The flooring types (and percentages) in your home
The number of attachments (if any) you require
Real-world functionality factors like weight, maneuverability, ease of emptying dustbins, self-standing functionality, noise level, clearance, and overall durability
Is the Dyson V8 Cordless Stick Vacuum Worth the High Price?
Returning to our Stick Vacuum Buying Guide, we learned during our research that price doesn't necessarily translate into a better overall experience.
Yes, the $400+ Dyson V8 ranked at the top of our list. Although, the Hoover Linx Cordless—which comes in at less than 25% of the V8's price—earned a close second, due to its robust 15-20 minute battery life, fade-free battery, and powered front brush roll.
So, if you don't necessarily require the extra cleaning time, HEPA filtration, or different attachments and tools, a meaningfully lower-priced model like the Linx could deliver better overall value for the price.
With these caveats in mind, based on our firsthand experience, we think the Dyson V8's $400+ price tag can deliver meaningfully more value than other stick vacuums; kind of like purchasing a luxury car. But if you're just looking for a second vacuum for quick and easy cleanup, the extra money might not be worthwhile.
Dyson stands behind all direct V8 purchases with a 30-day money back guarantee, though, which should be more than enough time to decide if it's an ideal fit for your home and specific cleaning needs.
Just keep in mind that you'll have to pay return S&H to Dyson (or a third-party retailer), which—given the vacuum's weight and overall dimensions—might not be exactly inexpensive. As such, it might not be considered it a completely risk-free purchase.
» Read next: Vacuum Cleaners Buying Guide: How to Get the Best Vacuum for Your House