Ear Basics Sound Amplifier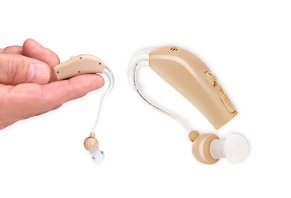 The Ear Basics Sound Amplifier has a batter that lasts up to 20 hours and can amplify sound up to 30 times, making it an all-day solution for those shopping for a sound amplifier.
Ear Basics Sound Amplifier Review: Is It Right for Your Hearing Needs?
The Ear Basics Sound Amplifier is an As Seen on TV sound amplifier that claims to amplify sound up to 30 times what you'd normally hear it at.
The device's main claim is that It's a "discreet sound amplifier that is lightweight and comfortable." Aside from that, the sound amplifier's website doesn't reveal much about how this device works.
We dug through the fine print to find information about the company selling the device and we couldn't unearth anything. This isn't quite out of the ordinary for online-only sales of products, as we've reviewed other websites like this that don't reveal much.
In our review, we'll extrapolate as much information we can to help you understand what this sound amplifier does, how much it costs and how it compares to other products.
How the Ear Basics Sound Amplifier Works
The Ear Basics is a behind-the-ear sound amplifier, which means the main sound processing device sits behind your ear and a tube leads from the sound processor into an earbud that sits in your year.
According to the National Institute on Deafness and Other Communication Disorders (NIDCD), these types of amplifiers are good for people of all ages and all levels of hearing loss.
No matter which type of amplifiers it is, sound travels into it, the device amplifies the sound and then sends it into your ear canal.
The type of sound the sound amplifier sends will either be analog or digital. Digital amplifiers produce better sound than analog amplifiers. The Ear Basics website didn't indicate if the device is digital or analog. We called the customer service line to check and discovered something interesting. The automated phone message thanked us for calling MSA 30X customer service.
We googled that phrase and discovered that the MSA 30X is an amplifier that looks identical to the Ear Basics.
In our research of hundreds of products like these, we've found that sometimes companies sell the same product but rebrand it several different times to make it look like something different.
In the context of this product, we'll assume that it is the Ear Basics and the MSA 30X are the same product, not only because of our past experience but because the two amplifiers share the feature of amplifying sound up to 30 times.
We'll refer to the 30X later in this review when we discuss the types of feedback users of that model had. For now, we want to point out that we were not able to reach a representative to tell us whether the amplifier is digital or analog.
For summary's sake, we'll reiterate that the Ear Basics is a behind-the-ear amplifier that's good for all ages and hearing levels but whose analog or digital capacity is unknown. The device ships with three pairs of silicone earbuds, a charging base, an AC adapter and a cleaning brush.
According to the website, the battery in the amplifier can last up to 20 hours with one full charge.
Hearing Aids vs. Sound Amplifiers
One thing we want to point out is that sound amplifiers like Ear Basics are different than hearing aids.
Hearing-aid retailer Listen 2 Life notes that sound amplifiers make all sounds it picks up sound louder and are, in most cases, not FDA-cleared or approved.
"These devices, called personal sound amplifiers, help you hear low-volume sounds or sounds that are far away. The ads are compelling, and sometimes misleading," the site says.
Hearing aids, on the other hand, are much more advanced because, as the site notes, they "can differentiate between sounds and amplify them based on the characteristics of that sound."
The site goes on to point out that hearing aids tend to be custom fit to your ear and hearing deficiencies, whereas sound amplifiers are one-size-fits-all.
Ear Basics Sound Amplifier Pricing
At the time of publishing, you could buy the Ear Basics for $24.99 plus $7.95 for shipping. The fine print says that your hearing aid will ship via UPS within 30 days of your order.
If you need to make a return, then you'll have to call Ear Basics' customer service line to start the process. The number to call is (877)362-4585 between 9 a.m. and 5 p.m. EST. Once you walk with them and put the return in motion, you'll need to include the following information when you send your hearing aid back
Name
Address
Phone number
Email address
The mailing address for returns is Ear Basics™, PO Box 8104, Van Nuys, CA 91409.
Customer Reviews of Products Similar to Ear Basics Sound Amplifier
At the time of publishing, the Ear Basics had no customer reviews that we could find. However, the MSA 30X had multiple reviews on Walmart.com.
The average rating from the 10 most recent reviews was 2.8 out of 5 stars. Complaints about the sound amplifier focused on weird noises that popped up when the customer was using the device. One reviewer with the username "willdee90" left the following review on Jan. 24, 2019:
"Terrible! Mine pops and buzzed in my ear so badly and when it was not doing that, and I have to keep tapping it to make any other sounds come in like music or voices. Most of the time its just dead air in my ear. I was not expecting top of the line at that price but this is just a terrible product and does not do what it's supposed to do. I regret buying this. Very disappointing."
The device received three five-star reviews, too, with users saying it helped them hear and that it was more affordable than other options. A user named "Pam" left the following review on Sept. 7, 2018:
"I can hear so much better with this and it is rechargable with its own plug in charger. This keeps me from having to replace batteries and if it quicks working it is cheaper than buying the actual hearing aide. Also the charge last all day. I don't have to turn the TV up any more."
Overall, we'd say that people who are actually using this amplifier have either good or bad things to say about it, as there were 12 five-star reviews, 13 one-star reviews and 10 reviews that gave it two, three or four stars.
We'll come back to this data in our conclusion.
How the Ear Basics Sound Amplifier's Cost Compares to Other Amplifiers
On Walmart.com we found multiple over-the-ear devices that were comparable to the Ear Basics. For example, the MEDca digital hearing amplifier comes with a charging dock, has a battery that it claims can last two days on one charge and has three sets of earbuds.
This particular sound amplifier was $20.99 and came with free shipping, making it about $12 cheaper than the Ear Basics after shipping costs.
Also, the MEDca device had nine customer reviews for an average of 4.1 stars.
The Final Word: Pros and Cons of the Ear Basics Sound Amplifier
Though the Ear Basics website doesn't provide much information about the product, what we do know from the site and from a similar sound amplifier is enough, we believe, to form some solid opinions about the device.
First, we think the sound amplifier's ability to stay charged for up to 20 hours is a great benefit, as you can have the confidence that the will get you through the day, whether your day entails basic chores and tasks or something significant like attending a family birthday party or holiday get-together.
However, remember that the drawback of the device's rechargeable battery is that the site doesn't tell you how long it takes to charge the Ear Basics before it's full. If you forget to charge your device, you could find yourself without hearing help while you wait for it to charge.
Sound amplifiers that use non-rechargeable batteries give you the peace of mind of knowing that, if the batteries die, you can head to the local drug store, Target or Walmart and pick up new batteries within minutes.
Another downside with the Ear Basics is that the MSA 30X, a device our research shows may be identical to the Ear Basics, gets poor reviews from people who've used it. Common complaints were that the sound amplifiers produced loud and distracting noises.
If you're in a tough financial situation and don't have the money to spend no a more expensive hearing aid, then we can see how you'd be drawn to a device like this. That being said, we suggest a few things as you do a search for the right sound amplifier:
Look for a device that has digital sound
If you're forgetful, find a device that doesn't use rechargeable batteries
Go to a retailer where you can test the devices before buying
Talk with friends about their recommendations
Ask your doctor if he/she has recommendations for affordable sound amplifiers
» Recommended Reading: Personal Sound Amplification Products (PSAPs): A Comprehensive Buying Guide