Eargo Plus
Claimed This company has claimed this profile, is getting alerted on any new customer reviews entering this page, and may engage in dialogue with its customers to address their matters.

Companies cannot pay money or provide goods in order to remove or alter customer reviews.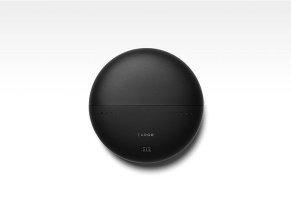 Invented by Florent Michel, MD, the FDA-registered, Class I Invisible-in-the-Canal hearing aid Eargo Plus uses proprietary technology to comfortably improve speech clarity.
Eargo Plus Review: How It Works, Side Effects, Cost
Compared to the original revolutionary hearing device, the updated Eargo Plus hearing aid features improved speech clarity and the ability to detect higher-range frequencies, along with patented, replaceable Flexi Fibers made from medical-grade silicone and wax guards to prevent wax from damaging the electronics.
Both versions are intended for mild to moderate, high-frequency hearing loss (i.e., they won't restore normal hearing, so be sure maintain realistic expectations), fit inside the ear canal perfectly, so they're virtually invisible, are easy to use, incredibly comfortable, and deliver crisp natural sound.
Even directly from the box, wearers only have to give the devices a tap, adjust the preset settings if necessary, and insert in their ear canals. And if you need any help, the company offers a team of licensed hearing professionals and personal hearing guides for assistance on your schedule.
If you're experiencing mild to moderate high-frequency hearing loss, but don't want to pay a high price for (often bulky) behind-the-ear (BTE), prescription hearing aids, should you choose a direct-to-consumer option instead? And if so, is Eargo Plus necessarily your best choice? Here, we'll help you decide.
What Causes Hearing Loss?
Like other conditions such as vision loss, hair loss, and weight loss (to name just a few), the American Speech-Language-Hearing Association reports there can be many different causes of hearing loss, including diseases like Ménière's and otosclerosis, some medications, excessively loud noises, and traumatic brain injury.
One of the most common causes is age-related hearing loss, formally known as presbycusis, which affects approximately one in three people in the United States between the ages of 65 and 74, and nearly half of those older than 75. Here, the accumulated damage over the years can reach a point where the hair cells in the inner ear no longer function properly, leading to diminished sound.
Regardless of the underlying cause, once an individual's hearing loss reaches a certain point, their doctor may prescribe hearing aids. The National Institute of Deafness and Other Communication Disorders (NIDCD) tells us these have three basic parts:
"A microphone, amplifier, and speaker. The hearing aid receives sound through a microphone, which converts the sound waves to electrical signals and sends them to an amplifier. The amplifier increases the power of the signals and then sends them to the ear through a speaker."
With these details in mind, let's compare Eargo Plus' functionality.
How Does Eargo Plus Work?
From a functional perspective, like any hearing aid, each Eargo Plus unit features a microphone at one end that picks up sounds from your surroundings and amplifies them, while the speaker at the other end broadcasts these enhanced sounds to your eardrum.
Unlike many traditional models that feature behind-the-ear microphones, though, these patented, class 1 medical devices fit into the ear canal and amplify sound within your range of sight, just like your natural hearing.
Important note: Despite this, the company emphasizes that Eargo Plus devices will not restore normal hearing, and are only intended for those experiencing mild to moderate high-frequency hearing loss.
Another big distinction between Eargo and traditional, BTE hearing aids are Eargo's patented Flexi Fibers, which are made from medical-grade silicone and suspend the devices in the ear for a natural feeling that doesn't block the canal, while keeping them firmly in place and allowing for plenty of airflow. Furthermore, the angle of these fibers is said to help keep the canal clean, since they can remove earwax every time you take them out.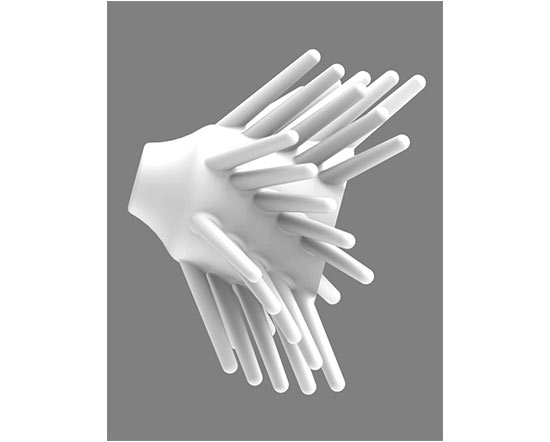 Shown here are Eargo Plus' patented and removable Flexi-Fibers, which are said to maximize comfort, air flow, and sound quality. Image credit: Eargo, Inc.
From a sound perspective, these Flexi Fibers can allow some ambient low (bass) sounds to pass through, which means that Eargo hearing aids mainly amplify the mid and high (treble) sounds.
In addition, each Eargo Plus unit features four sound profiles (or SPs); low, medium, high, and max, which are designed to work for the majority of people with mild to moderate hearing high-frequency loss.
They also feature an acoustic switch, which allows you to change the volume and sound profiles by holding your hand flat with your fingers together, and then gently and rapidly double-tapping your ear. Once this occurs, you'll hear the number of beeps correspond to the current sound profile.
Finally, Eargo Plus devices offer layered noise reduction technology for "cleanly amplified sound and an extended frequency range up to 7750 Hz;" greatly reduced background noise, as well as active feedback cancellation technology and a special equalization curve designed for phone calls.
When fully powered, the website indicates your Eargo Plus device will hold a charge for up to 16 hours and can be recharged in about six hours using the included portable carrying case charger (which itself will hold a charge for about a week). All you have to do is slide each device into its port and the case's six indicator lights will tell you how much charge remains, while beginning the re-charging process.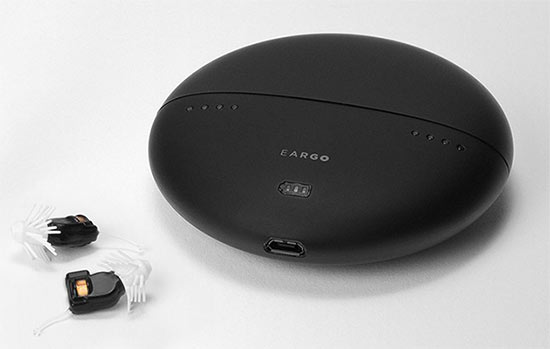 Each Eargo Plus device has its own port inside the portable charging case, which features six indicator lights, a micro USB port, and the ability to fully recharge your devices in about six hours. Image credit: Eargo, Inc.
Could Eargo Plus Cause Any Side Effects?
Per Eargo's user manual, it's possible to experience minor itchiness, redness, and irritation as your ear becomes accustomed to having an object in it. If this occurs, you should reach out to the company.
However, if an allergic reaction occurs or "you experience inflammation, discharge from the ear, excessive wax or other unusual conditions," you should contact a physician.
Finally, keep in mind that Eargo Plus is only intended for those with mild to moderate high-frequency hearing loss, and is not designed to address symptoms related to tinnitus.
How Much Does Eargo Plus Cost?
Note: Eargo devices come in two sizes: 12 and 15. The company reports that size 12 is going to be the right fit for about 90 percent of ears. To ensure proper fit and feel, those interested in these comfortable, invisible devices can try the company's free, non-working sample kit for fit and feel by requesting one from try.eargo.com.
Once a sample kit has been requested, a personal hearing guide will also reach out to the client to discuss their level of hearing loss, since these devices are designed for adults with mild to moderate high-frequency hearing loss.
There are two ways to pay for Eargo Plus hearing devices:
Financing options from as low as $93/month for 24 months
Single payment of $1,999
Each order includes two Eargo Plus devices, charger, replacement patented Flexi Fibers (six regular and six large sizes), which are made from medical-grade silicone, along with a cleaning brush, shower stickers, micro USB cord, and USB plug.
Standard shipping (3-5 business days) is free, while accelerated shipping (1-2 business days) is available for an additional $25 fee.
According to the website, Eargo Plus' Flexi Fibers will need to be replaced once every two to three months, although it could be more frequent if your ears produce an above average amount of wax. These were available for $39.99.
Wax guards ($24.99 for a set of 15) will need to be replaced every 3-5 months.
All Eargo Plus orders come with a 45-day money back guarantee and a 12-month warranty against manufacturing defects, which you can request by contacting customer support at 800-481-1302.
Is Eargo Plus Covered by Insurance?
Eargo's FAQ emphasizes that the company "does not handle any insurance reimbursements. Please check with your insurance provider to see if your plan offers any coverage for hearing aids."
However, a company representative reached out to let us know they "work with providers to help make the device more affordable for our clients."
A Look at Eargo Plus Customer Reviews
Eargo Plus had 168 customer reviews and five-star average rating on the manufacturer's website at the time of our research. There, most comments appeared to revolve around improved hearing, ease of use, comfort, invisibility, and helpful customer support.
What few complaints there were (no reviews were rated lower than three stars) frequently referenced less noticeable results than expected.
Outside of these, the only other direct feedback we encountered was on HearingAidKnow.com, where the author noted they were well packaged, featured quality manufacturing, and fit nicely in his ears (i.e., they were hidden and didn't feel like they'd fall out). He also appreciated the lack of sound feedback.
In the end, he summarized: "I wear a set of top of the range hearing aids every day. While I am aware that the sound of the Eargos aren't exactly right for me, they perform pretty well in non-difficult sound situations as compared to my usual set."
From a company perspective, Eargo Inc. held an A+ Better Business Bureau rating, with one positive review and eight closed complaints, as of 11/7/17. Most of these revolved around warranty/refund concerns, and a company representative responded in each instance with a solution.
The hearing aids were invented by Dr. Florent Michel, an ENT surgeon who claims the idea for Eargo sparked during a fishing trip where he wondered if "a hearing aid could be modeled after the shape of a fishing fly."
What's the Difference Between a Personal Sound Amplification Product and a Hearing Aid?
As computing power grows and processor size shrinks, the line between medical devices like hearing aids and personal hearing devices (also commonly referred to as personal sound amplification products, or PSAPs, as well as hearing amplifiers) such as Eargo Plus is becoming increasingly blurred. What's the difference?
Like traditional prescription-only hearing aids, the Federal Drug Administration (FDA) notes that PSAPs can "improve our ability to hear sound," are wearable, and often feature some of the same technology.
But as HearingMojo's David Copithorne noted back in 2010 when much of this technology was beginning to make its way to the market:
"Hearing aids [are defined] as any devices whose specific purpose is to rectify medically diagnosed hearing impairments, whereas PSAPs, or personal sound amplification products, are devices used to amplify hard-to-hear environmental sounds for people with perfectly normal hearing."
In layman's terms and as mentioned on the product's FAQ, PSAPs like Lucid and Kleersound are intended for individuals with normal hearing, while hearing aids like Eargo Plus are intended for individuals with mild to moderate high-frequency hearing loss.
Eargo Plus vs. the Competition
As a hearing aid, Eargo Plus is potentially up against thousands of available options, priced anywhere from a couple of hundred dollars per ear, to several thousand for a complete set. Even if you're only shopping for completely in the canal (CIC) devices like Eargo Plus, the sheer number of options can seem intimidating. How can you decide?
As with anything intended to address a medical condition, the first person you'll want to speak with regarding a new hearing aid is your doctor, who can perhaps make recommendations based on your diagnosis and personal preferences.
If they recommend a CIC hearing aid like Eargo Plus, the Mayo Clinic reports that they're generally the smallest and least visible and are less likely to pick up wind noise, but that they often don't "contain extra features, such as volume control or a directional microphone," and their speakers can become clogged with earwax.
The AARP adds that "their tiny size can be a real disadvantage in handling," and that since they're "closest to your eardrum, they need less power and take a smaller battery. They are [also] the most expensive ITEs because of their miniaturized circuitry, and they often need more frequent maintenance and cleaning than larger aids because of their placement in the canal."
» For Further Reading: Which Hearing Aid Is the Best? A Comprehensive Buying Guide
Our Final Thoughts About Eargo Plus
As an FDA registered Class I hearing aid, Eargo Plus certainly seems like it could help improve mild to moderate high-frequency hearing loss.
In the end, choosing a hearing aid is a personal decision. As such, no single device will meet everyone's needs. But, if invisibility, comfort, and ease of use are important to you, and you've also been diagnosed with mild to moderate high-frequency hearing loss, then the fact that Eargo Plus is an FDA-registered, Class I hearing aid means that it just might be the right option to address your hearing needs.
And if it doesn't work out, the company stands behind its device with a 45-day money back guarantee. Just keep in mind that you'll lose your original shipping charges (if you chose the accelerated option), plus whatever it will cost to ship the hearing aid back to the manufacturer.
But whether or not a CIC model is your right option—and whether the product in question's $2,000 price tag will deliver the most bang for your buck—could largely depend on the diagnosis provided by your hearing care professional. As such, we'd strongly recommend scheduling an appointment or discussing your level of loss with Eargo's personal hearing guides before placing an order.
Editor's Note: Eargo Plus Article last revised on January 23, 2018
Pretty good

By Mike H.

,

Olympic Peninsula, WA

,

Sep 28, 2019
Verified Reviewer

I've had these since April and now it's September. It was not that easy getting used to them, mainly due to irritation in the ear canals. You do get used to it though. The boost for me was the ability to keep track of conversations in crowded, echoey meeting rooms. One on one, my hearing isn't that bad yet. Interesting finds: the ear pieces do not always take a charge in the same amount. Many times I've had one dead one and one nearly so. A cleaning (important) and a recharge solve that. The ear pieces and the charger are a work of art. I've also discovered that a retracted mechanical drafting pencil (I use 0.9 mm) tip is exactly the right size to lightly scrape out earwax from the mesh input.

Bottom Line: Yes, I would recommend this to a friend

Sep 30, 2019

We're happy you're hearing life to the fullest with Eargo, Mike! Please get in touch with your hearing professional at 1-800-375-8058 if there's anything we can do to provide support.

---

Still waiting on a call back. No money back for trial.

By Karen C.

,

Columbus, OH

,

Mar 17, 2019
Verified Reviewer

The Eargo didn't perform for my spouse as well as expected. Made several calls to return the item. Finally got the return package sent the Eargo back on 1/25/2018. Had not received any monies or contact from CSR. The product may work for some but just not for me.

Bottom Line: No, I would not recommend this to a friend

Mar 18, 2019

Karen, thank you for your comment. We'd like to look into your husband's Eargo experience to see whether there's anything we can do to help. Could you please respond with a message here or by sending an email to social@eargo.com with the contact information used at his time of purchase? Thank you for your help, and we hope your husband finds a hearing solution that meets his needs.

---

Advertisement

---

They really do work

By Darrell Y.

,

Amarillo, TX

,

Jan 6, 2019
Verified Reviewer

First off, if you have significant hearing loss, consider speaking to an audiologist and getting a set of programmed hearing aids like Beltone or other variety.

If you have mild hearing loss or are just beginning to not hear things in your surroundings or need the television turned up, these might be for you.

The first thing to do is determine if you can handle the in-ear canal hearing aids. Ask for a demo and wear them. If the demo (non-functioning) don't irritate your ear canal too badly, then you are a candidate. It does take a little wear time to get used to them, and the Flexi Fibers (bristles that hold the hearing aids in place) are adjustable (large or small).

Changing volume is strange, but works, simply gently tap your ear while wearing one and the volume changes (a woman's voice says "program 1." Each swat of your ear changes the program from 1 to 4 and then back to 1). I have had people ask me if I'm okay!

These really do work and again, if your hearing is not practically gone, these volume adjusters will work for you. If you have specialty hearing (high end or low-end loss), these might not work, but if you generally need to hear better, these are a good answer.

The charger is great and really holds a charge for quite a while. When the aids battery runs low, you simply pop them into the charger that is conveniently oval and round and fits nicely in a pocket.

Your Eargos are not waterproof so you will need to develop habits that include never washing a pair of pants until you check for your Eargo charger or before you get in the shower, removing the aids first!

They are worth the $2000 price tag. I love mine.

Bottom Line: Yes, I would recommend this to a friend

Jun 26, 2019

Thank you for sharing your excellent Eargo experience, Darrell. Happy hearing!

---

Great start, now not so great!

By Charles B.

,

Pennsylvania

,

Dec 27, 2018
Verified Reviewer

I have had my hearing devices for a little more than a year. They have needed to be replaced three times after they just stopped working. I paid $2000.00 up front. Now they are telling me they want $400.00 to replace the one that has stopped working once again. I spoke with Chris in customer service and he seemed irritated and condescending to me. He said I was not cleaning them properly. I have been cleaning them per instructions for the time I have had them. I think perhaps they are designed to make it difficult to maintain in proper working order and they want to blame me and charge me more money. When I bought them I did not know they should have been labeled disposable. So, I am out my money and have one working unit. I am not paying another $400.00 for a disposable hearing device. Think down the road before you buy these units. They are NOT what they are promised to be.

Bottom Line: No, I would not recommend this to a friend

Jan 15, 2019

Hi Charles, thank you for your comment. We appreciate you sharing your experience and would like to see if there's anything we can do to help you and improve ourselves. Could you please confirm the email address used at the time of your request so we can look into your Eargo experience?

---

Advertisement

---

Great technology

I have tried other hearing aids and hearing devices. The Eargo units are the best so far. I experimented with sizing the flexible tips and found that, just like the directions indicate, the non-large size tips fit just fine.

I am now wearing the Eargo units all day and have to say that I don't even notice them in my ears. Additionally, I want to compliment the Eargo marketing department on the narrative in the owners manual. I have never read an owners manual that is so humorous. It's actually fun to read!

Finally, while congratulating Eargo on its technology, e.g., rechargeable batteries, charging case, flexible tips, miniature size, etc., I want to encourage Eargo to program the Eargo units to reduce more background noise.

Bottom Line: Yes, I would recommend this to a friend

Jan 15, 2019

We're happy to hear Eargo is helping you hear life to the fullest, David!

---

Save your money

By Paul D. Bray

,

West Memphis, AR

,

Feb 17, 2018
Verified Reviewer

I bought this product and had them replaced twice because they quit working. BIG problem. When you hit something with a hammer it will adjust. Not good. I tried to get some help with it and they wanted me to pay $500.00 to replace them for the third time. They just stopped working.

Save your money, buy something else! This is not good, short of a scam! I am NOT a happy customer.

Bottom Line: No, I would not recommend this to a friend

Feb 19, 2019

Hi Paul, thank you for taking the time to comment. We honored our one-year warranty and replaced your devices when needed during the time of your 2015 purchase. We have since worked hard to improve on our devices in the past three years. We no longer service our original devices, but can offer a very discounted price for an upgrade to devices we do continue to service. If you're interested, your Personal Hearing Professional can help at 1-800-375-8058.

---

Advertisement

---