Earnest Reviews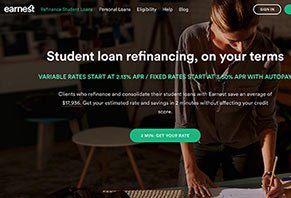 Earnest is a non-traditional lender that provides student loan refinancing, as well as personal loans, which can be customized in order to help you save money.
About Earnest
You knew college wasn't exactly cheap, but you had no idea how difficult it would to repay your loans after graduation. Despite the hardships, you've scrimped and saved and made your payments on time each month, ensuring a solid credit score. Now though, it's just too much; you need to refinance.
The problem is that, while you have a great score, you have little credit history. You're between a rock and a hard place, but where do you turn?
Earnest is a relatively new lender that provides clients with low-cost, merit-based loans that can be customized to fit their needs and help them save money.
Compared to traditional lenders though, Earnest claims to use a software-based approach to underwriting their loans, a process that isn't based on just your credit score. Earnest's Precision Pricing feature also means you'll be able to personalize your terms, dial in your exact minimum monthly payment, skip payments (or make extra ones), pay off your loan faster, and save on interest in the process.
Taken together, Earnest claims to provide "the latest technology, better data, and a clear understanding of the financial needs of our clients." Customers are even serviced by their in-house Client Happiness team for the life of their loan!
You're here because you want to know what you can realistically achieve through Earnest, and whether or not they can help relieve some of this weight on your shoulders.
To answer this, you'll need to know if you meet their definition of "financially responsible"; if you really can save $17K on your loan; and if there are better options. Let's move you one step closer to an answer by looking at some key points you should keep in mind during the process.
Refinancing Student Loans 101: Your Mini-Guide
Admittedly, this is a huge topic and not something we couldn't even hope to fully cover here. However, like any big financial decision, there are some core understandings that can help keep you on the right track:
Understand What You Might Lose
First, by refinancing, remember that you're taking out a new private loan to pay off your current school loans, which likely come from a mix of both private and government (federal) loans.
Although it might all just seem like money, the stipulations attached to this cash can be very different. For example, many federal loans come with income-based repayment (you only pay what you can afford), forgiveness options, as well as the ability to defer payments if you fall on especially hard times—much of which will be lost after refinancing.
Understand the Finances
Next, with all the information in front of you, sit down and do the math. Yes, we know you've done the math a million times, and you already know you can't afford your monthly payments, but that's not what we're talking about here. Instead, let's use an example to drive home the point:
Imagine your current payment is $500 per month, with an estimated payoff date 10 years from now. When it's finished, you will have paid $60,000 in total.
After being approved for a refinance loan, you learn that you scored a lower APR and your payment will drop to $400 per month. However, instead of a 10-year term, it's now been extended to 12, bringing your grand total to $57,600.
Sounds like a good deal, right? Maybe not, since some lenders could tack additional fees on top of this amount, such as origination fees (up to 2% of the loan amount), especially steep late fees, and more. You'll also want to find out if your APR is fixed or variable, since the latter might cause your payments to skyrocket a couple years from now.
Understand That Each Lender Is Different
In the instance of Earnest, it appears they specialize in lending to individuals who have a solid credit score, but a somewhat limited credit history. However, this doesn't necessarily mean that they're right for you, as others could offer additional perks, a product that's more suited to your needs, and more. As such, it's best to apply to at least a couple to make sure you're making the most informed decision.
Worried about your credit score after applying to so many lenders? Don't be. This is because lenders only make "soft" credit inquiries during your preliminary application, which don't affect score. Only once you decide to finalize the loan will they make a "hard" inquiry.
Still, NerdWallet recommends "shopping around within a short window of time, say one month, so the credit bureaus recognize that you (and your co-signer, if you have one) are comparing offers and not attempting to take out multiple new lines of credit."
With this firmly in mind, let's move on and see what Earnest has to offer.
What is a "Merit-Based" Earnest Loan?
Not only does Earnest claim that their software system helps streamline the application process and keep their costs low, but they also go beyond the traditional underwriting criteria to get a better picture of your financial situation. This is something they call "merit-based lending." Here's how the company puts it:
"The information in each person's profile is run through a series of predictive analytics and algorithms to find people who show great financial responsibility and potential."
In layman's terms, instead of focusing on your credit score and assigning you to a tier accordingly, Earnest takes into consideration additional factors related to earning potential, such as "savings, education, employment history, and financial picture in parallel with your credit history."
Earnest claims their application process is also much more comprehensive than the competition, which allows them to look at thousands of data points outside of credit rating.
What Are Earnest's Underwriting Criteria?
At minimum, in order to qualify for an Earnest student refinance or personal loan, you'll need to be:
At least 18 years old
A US citizen or permanent resident alien
In debt from a Title IV accredited school. The debt also must be yours or your child's.
This debt must be for a completed degree or one that will be completed by the end of this semester.
You're employed or have a written offer
You have enough savings to "cover a month or more of normal expenses"
A history of making timely payments
Carry positive bank account balances
Your income is high enough to repay the loan with enough left over for everyday living expense
You're not requesting new loans for future schooling.
You don't live in NV, ID, MT, ND, SD, IA, LA, MS, AL, KY, or VT
As far as the loans themselves, Earnest can provide personal loans between $2K and $50K, with a $5K minimum for refinancing student loans. Personal loans can be repaid over 1, 2, or 3 years, while refinanced student loans can be repaid over as much as 20 years.
Let's continue talking about finances in the next section.
Earnest Loans Rates & Fees
Earnest's variable interest rates for student loan refinancing ranged between 3.50% and 7.30% (with autopay) at the time of our research, while variable rates were between 2.13% and 5.60% (again, with autopay). Variable rates were capped at 8.95%, 9.95% or 11.95%, depending on the length of the loan.
On the other hand, personal loans ranged between 5.25% and 12%.
Want a more specific rate based on your circumstances? Unlike some of the competition (more about this soon), you can't obtain a rate estimate without completing a 10-20-minute application. Even then, your rate is subject to change until your application has been finalized.
If you get cold feet, you can decline your Earnest loan at no cost. Their credit check will also count as a "soft" inquiry, so it won't affect your score.
Finally, Earnest charges no origination, prepayment, or hidden fees on their loans.
What Is Earnest's Precision Pricing?
Once your Earnest loan is approved, you'll have access to a personal dashboard where you can increase or decrease your payments, change payment date, and even switch back and forth between a fixed and variable APR. This way, you'll be able to customize your loan to meet your needs, and even pay it off faster. Here's how the company puts it:
"Once you are approved, we will provide a broad range of monthly payment amounts. Within that range, you have total control over the exact amount of your monthly payment. Other lenders force you to pick between a small number of off-the-shelf options, which is convenient for them but not necessarily best for you. Even better, as your life and budget change in the future, you can take advantage of our flexible payment features to adjust your loan to every new situation."
After making 6 months of on-time payments, you'll be eligible to skip a payment once every 12 months. You'll also be able to suspend payments for up to 3 months at a time (up to 12 months total over the life of your loan). Keep in mind that interest will continue to accrue, which will increase the amount of your your following payments.
In order to speak with someone on Earnest's Client Happiness team, you can call (888) 601-2801 or send an email to hello@earnest.com.
Do Earnest's Loans Get Good Reviews From Customers?
Pretty much any direction you look, Earnest seems to score well with customers and industry professionals alike.
For example, the lender had between 3 and 4-star average ratings among hundreds of reviews on sites like CreditKarma, SuperMoney, and StudentLoanSherpa.com. Most seemed to find the application and approval process easy, along with competitive rates.
However, many claimed that Earnest also has strict eligibility requirements (generally related to high income to debt ratios), long processing times, and intrusive underwriting processes. To this extent, it appears Earnest may require links to all your financial institutions (such as banks, 401(k), IRA, and so forth), and even social media accounts like LinkedIn!
StudentLoanSherpa framed it this way:
"The big advantage of Earnest, the big picture approach, could also become a big issue during the application and loan consolidation process. Because Earnest examines more financial information, it means that Earnest will need access to more financial information. It means more records to verify, and paperwork to put into place.

Ultimately, if sending in a little bit of extra information lowers your interest rate, it is time well spent, but it does increase the odds of headaches along the way."
Is Earnest the Right Lender For You?
Whether you're applying for a credit card, an auto loan, a mortgage, or any other kind of major financial transaction, there can be thousands of individual factors that might make one company better for you than another—everything from your personal preferences to the business's underwriting criteria.
Based on what we read from hundreds of customers during our research, it seems like Earnest does offer non-traditional eligibility guidelines, some of which are not rooted in credit score. However, it seems like Earnest specializes in individuals with "thin" credit profiles, moreso than they do on those with less-than-stellar scores.
In other words, if you're looking for an Earnest loan, you might not need a perfect score, but it'll almost certainly need to be good-to-great. Also, remember that Earnest's $17K savings claim is based on $100K in debt, so if you owe less, this figure might not be relevant.
Finally, be sure to explore all your student loan refinancing options before signing on the dotted line with Earnest, such as SoFi and LendKey!
More on Student Loans & Paying Off Debt: