Easy Glutes Reviews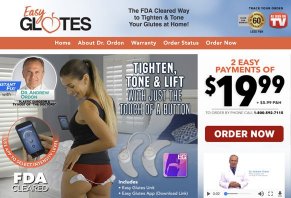 Easy Glutes is an electrical muscle stimulation (EMS) device the manufacturer claims can give you the derriere of your dreams, without going to the gym.
About Easy Glutes
Easy Glutes is an FDA cleared device that promises to help you strengthen the muscles in your derriere, improve muscle tone and fitness, and give you the natural lift you've always wanted, without setting foot in a gym, doing squats, or struggling with lunges.
To use, the commercial tells us you simply have to place one electrode on each glute, open the app, select your desired intensity level, and press a button. Using Bluetooth technology that works with any smartphone, Easy Glutes sends electrical impulses to these electrodes that cause soft, controlled muscle contractions.
Together, the manufacturer advertises that the device can help anyone, at any fitness level, achieve tighter, more toned glutes in the comfort of their home, whether getting ready, doing your housework, enjoying your morning walk.
Especially at this time of year, many of us are looking to achieve a variety of fitness goals. But can you realistically expect Easy Glutes to help get you there? To provide you with some actionable answers, let's start by taking a look at the underlying technology it uses.
How Do Electrical Muscle Stimulation Devices Like Easy Glutes Work?
While Craig Freudenrich, Ph.D. explains that the molecular process behind muscle contraction is fairly complex, at a macro level, the chain reaction is set off by simple electrical impulses originating in the brain and traveling to the muscle via nerve cells.
However, he goes on to explain that these impulses can also be artificially generated, whether from internal devices like pacemakers or external devices like electrical muscle stimulators (EMS).
With the latter, a central device generates electrical impulses, whose intensity can often be adjusted, which then travel along wires to electrodes that are temporarily adhered to the skin. Upon reaching the skin, these impulses mimic those generated by the central nervous system, causing the muscle directly underneath to contract.
Because of their intended use, the Food and Drug Administration regulates the sale of electrical muscle stimulators, and therefore requires that "firms must comply with appropriate premarket regulatory requirements" in advance. Long story short: If a company wants to legally sell an EMS device in the U.S.—Easy Glutes or otherwise—they must obtain FDA clearance.
Regulatory requirements aside, though, are EMS devices effective? As it turns out, it largely depends on what's meant by the term 'effective.'
For example, this same FDA article reports that EMS devices are often used by doctors to treat patients "who require muscle re-education, relaxation of muscle spasms, increased range of motion, prevention of muscle atrophy, and for treating other medical conditions which usually result from a stroke, a serious injury, or major surgery." In other words, "to help a patient recover from impaired muscle function due to a medical condition."
However, they're also careful to emphasize that, while "stimulating muscles repeatedly with electricity may eventually result in muscles that are strengthened and toned to some extent," it will not, "based on currently available data, create a major change in your appearance without the addition of diet and regular exercise."
Keep this thought in mind, as we'll return to it shortly. In the meantime, let's find out about potential side effects.
Can Devices Like Easy Glutes Cause Side Effects?
Just like with overall effectiveness, the side effects caused by EMS technology can vary depending on the patient's condition, electrode placement, impulse intensity, and the individual's pain perception.
With these caveats in mind, among more than 600 neuromuscular electrical stimulation treatment reports on PatientsLikeMe.com, the majority reported no side effects, and most of those who did often cited mild to moderate ones, such as temporary skin redness, rash, or itchiness, as well as muscle aches.
As with any EMS device, Easy Glutes or otherwise, it's always a good idea to speak with your doctor in advance to potentially help avoid any side effects, based on your specific diagnosis.
How Much Does Easy Glutes Cost?
Easy Glutes is priced at two payments of $19.99, plus $5.99 S&H, bringing your total to $45.97. For this price, you'll receive one device, as well as a download link for the app.
All orders come with a 60-day money back guarantee, less S&H, which you can request by reaching out to Tristar Products' customer support at 973-287-5131.
What Do We Know About the Company Behind Easy Glutes?
In business since 1992, Tristar has grown to become the second largest company in the As Seen on TV industry, with hundreds of popular releases over the years.
As a company, Tristar held an A+ Better Business Bureau rating, based on 18 customer reviews (all negative) and more than 700 closed complaints, as of 1/2/18. Most of these appeared to reference difficulty obtaining refunds or processing warranty claims, although a representative responded in each instance.
Are There Other EMS Devices Like Easy Glutes?
Whether advertised as electrical muscle stimulators (EMS), neuromuscular electrical stimulators (NMES), or transcutaneous electrical nerve stimulators (TENS), there are perhaps thousands of devices that implement the same fundamental technology as Easy Glutes. But are any of these designed specifically to address the butt?
In reality, the electrodes included with most consumer-oriented EMS devices are generic and can be placed on just about any major muscle group in the body. So, while most aren't specifically marketed for glutes, you might be able to use them as such. Here again is where your doctor's expertise can help you make a more informed purchase.
With this said, outside of one-off devices sold on marketplaces like eBay (which almost certainly aren't FDA cleared), we only encountered one derriere-specific device during our research; the Slendertone Bottom. Comparatively, Slendertone features a spandex shorts design, with four electrodes built into the fabric.
Functionally, the Slendertone features four training plans, and like Easy Glutes, promises to address all the relevant muscles (maximus, medius, and minimus). However, Slendertone also comes with up to 99 intensity levels, four training programs (Beginner, Intermediate, Advanced, and Expert) that last between 20 and 30 minutes each, a rechargeable controller, and patented electrical impulse technology.
In an effort to better understand how Easy Glutes compares, we spoke to three different Tristar customer support representatives looking for answers to questions like:
How do the electrodes attach to the skin – using an adhesive? How long will the electrodes last? Can replacements be purchased through the company? If so, how much do they cost?
How is it powered? How long will it work after each charge? If rechargeable, how long does it take to recharge?
How many intensity levels are there?
Does it feature any automatic programs?
Does the app really work with any smartphone operating system (iOS, Android, Windows, Blackberry, Palm, etc.)?
Unfortunately, none were able to provide this information. Where does all of this leave you as a consumer?
Our Final Thoughts About Easy Glutes
Returning to the FDA article cited earlier, they emphasize that at this time, they're "not aware of scientific information to support many of the promotional claims being made for numerous devices being widely promoted on television, infomercials, newspapers, and magazines."
What about Easy Glutes' specific claims that it could help you "improve muscle tone, improve fitness, and strengthen muscles"?
In a rehabilitation setting, the FDA tells us that EMS devices can be used to re-educate and relax muscles, prevent atrophy, increase range of motion, and treat other major issues, such as recovery from a car accident. And during this process, they tell us these muscles can be strengthened and toned to some extent, but they likely won't "create a major change in your appearance without the addition of diet and regular exercise."
Bottom line: If you think any EMS device is going to deliver results similar to going to the gym—but without actually going to the gym, this data indicates you'll want to maintain more realistic expectations.
And as the FDA outlines, even if EMS technology always lived up to every manufacturer's marketing claims, you wouldn't be able to see your newly toned muscles if they're covered in a layer of fat, which is where a balanced diet and regular exercise come in.
And speaking of realistic expectations: To varying degrees, the contractions caused by an EMS device can make using the muscle difficult, depending on their intensity. As such, it might not always be comfortable or easy to use Easy Glutes around the house, as shown in their commercial.
In the end, while Easy Glutes is promoted by Dr. Andrew Ordon of the TV's "The Doctors," this doesn't mean that you should forego speaking with your family physician before making a purchase. They'll help you decide if an EMS device will deliver meaningful value based on your goals, and if so, different features (number of intensity levels/programs, etc.) that you should consider.