Ebates Reviews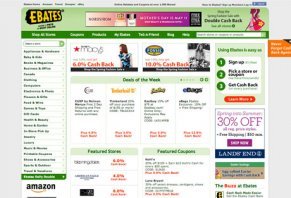 About Ebates
Founded in 1998 and based out of San Francisco, CA, Ebates is an online shopping site where users can earn up to 25% rebates for shopping at specific stores. According to the company's website, they work with more than 1,600 retailers, and have helped members earn more than $250 million in rebates.
Ebates has been featured in a wide variety of media outlets, including CNN, CBS, NBC, TIME, the New York Times, CNET, and the Wall Street Journal. From a customer satisfaction standpoint, the company holds an A+ rating with the Better Business Bureau, which is based on a total of 179 closed complaints within the past three years. Online customer reviews seem to be overall positive, with the most common complaint being that an account was not credited for certain transactions.
How Ebates Works
Ebates provides you with three primary ways to save when you shop:
Rebates – Earn up to 25% for shopping at specific stores. Ebates is paid a commission for referring you to a retailer, which is then passed along to you in the form of rebate checks.
Coupons – Additional savings that can include anything from free shipping to a fixed percentage off your order, to free shipping.
Exclusive Deals – Ebates partners with retailers to provide even more savings, such as double cash back.
Ebates claims that, unlike their competition, you can actually "layer" these deals (e.g. receive cash back, coupons, and/or deals all in the same transaction), which allows you to save even more. What's more, Ebates is completely free to sign up and use, and the only thing they'll require is your email address.
After logging in, you can begin shopping in a number of ways:
Category – Select the category of items you'd like to view, which include everything from appliances and hardware, to travel and vacations.
Shop All Stores – Here, you'll be able to see which stores Ebates works with, as well as the cash back percentage you'll receive by buying through them.
Coupons – This page will show you which stores have available coupons, what the coupon codes are, what discounts apply, and if cash back is applicable. Can be listed alphabetically, by date, or by those that are about to expire.
Products – You'll be able to search for a specific product, view top search keywords, and even view "Items you may not know we have." This last section can be humorous, including items such as boat anchors, fairy wings, and mosquito vacuums.
Once you find an item you'd like to purchase, simply click on the Ebates link to the store, and then check out as you would normally. If you don't like having to visit Ebates prior to shopping, the company also offers a browser toolbar to help you bypass this step, in addition to iOS apps and a Cash Back Button. It's important to keep in mind that if you purchase something from a retailer without first clicking on the Ebates link, your account will not be credited.
After your purchase is complete, it will then appear in your "My Ebates" section, which will display how much cash you've been paid, how much cash you have pending, your total cash back, when you're next cash back will post, and how your money will be sent. You'll also be able to view your favorite stores, and even a suggested list of coupons you might be interested in. Based on a number of customer reviews we found, you may want to keep close tabs on any rebates you're due using the Tracking Tickets section on this page, as some have complained they never received all the rebates they earned.
Speaking of rebates: Ebates issues four checks per year, and can be sent to you via a paper check, deposited into a PayPal account, or event donated to the charity of your choice.
Ebates Pricing & Return Policy
Ebates is completely free to use, and does not require any of your personal information other than your name and email address.
If you purchase an item through an Ebates sponsored store and later decide to return it, the corresponding rebates will be backed out as well. If you decide to exchange an item, the retailer will typically cancel the original transaction, and then start a fresh one for the new item. As a result, the retailer will likely not refer to your Ebates account when processing, resulting in no new credits to your account.
Pros:
The ability to earn up to 25% cash back for items purchased through specific retailers, in addition to "layering" savings with coupons and exclusive offers.
Works with more than 1,600 retailers to help you save money.
In business since 1998, with an A+ Better Business Bureau rating.
Mostly positive online customer reviews.
Cons:
Some customers have complained that their purchases were not tracked properly, leading to smaller rebate checks.
Money back, oh yes.

By Rebecca Isett

,

Amarillo, TX

,

Aug 7, 2015

Was a little unsure at first, but I promise you it's totally legit. There is no risk to you at all. Go to the site, click on store you want to shop with, check out and you get the cash. Some stores offer a bigger percentage then others. Like Walmart I think its up to 3%, Macy's like 6% cash back, Depending on the store you could get more. You have nothing to lose.

Bottom Line: Yes, I would recommend this to a friend

---

I could not believe this was legit until I got my first check!

By Lucia

,

Jackson, WY

,

Aug 23, 2017
Verified Reviewer

I love Ebates! I earned $187 so far for shopping online. Easy to use on a computer or smart phone. You just need to sign up and start shopping, and they literally have a database of thousands of the most popular online stores. Sometimes the cash back is as high as 15%, but the average is around 3-5%. It always pays for my shipping back when I order something that does not fit!

Bottom Line: Yes, I would recommend this to a friend

---

Advertisement

---

Legit, Been Using This For Years.

By Robert Jerger

,

Martinsburg, WV

,

Aug 18, 2015

Years ago, when I heard about Ebates, I was skeptical: Yeah, sure, you're going to pay me when I purchase things on the internet w/o some sort of hassle or intrusive software. I decided to give it a try in 2008 and was amazed when I actually received my first check in the mail after a few months went by. Now I've seen their recent commercials on TV with people claiming to get hundreds or even thousands of dollars in rebates. Let's get real. You have to buy a lot of expensive items from online stores to get rebate checks like this. I don't go crazy buying stuff online so my checks usually are around $10 or less, buy hey, it's free money. Using the site is very quick and easy, too. What I usually do is wait until I've put items in my online shopping cart from whatever store I plan to purchase from, then open up another tab on my computer browser and go to the Ebates site and find the store on their drop-down list, then click through on their site and it will automatically register you and take you to your store. You then just check out and pay as you normally would, that's it! I just checked my Ebates account writing this review and I have so far accumulated a total of $69.78 in rebates as of 6/9/14. There are other cash-back rebate sites like Fat Wallet, Mr. Rebates, Big Crumbs and I've tried all of these, too. FW I found cumbersome and the other two didn't really seem to work well, if at all, for me, so I'm sticking with Ebates.

Bottom Line: Yes, I would recommend this to a friend

---

Stay away

By Sonia V.

,

Connecticut

,

Mar 31, 2019
Verified Reviewer

I have a very bad experience! Very disappointed!

I spent hundreds of dollars and received $4.

They will promise a lot in the beginning, but they just lie a lot!

Bottom Line: No, I would not recommend this to a friend

---

Advertisement

---