EchoBeat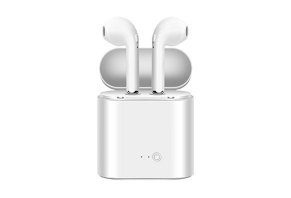 EchoBeat is a pair of wireless Bluetooth earbuds that resemble Apple AirPods and, according to the company, provide crystal-clear audio quality and long-lasting battery life.
EchoBeat Review – Legit or Hype?
EchoBeat earbuds are Bluetooth-enabled and feature a portable charger that can provide up to 14 hours of battery life. The earbuds' Bluetooth 4.2 technology gives them a range of up to 200 feet.
This device isn't nearly as expensive as Apple and Samsung offerings and is compatible with Apple and Android phones.
"Wired headphones are SO 1990," the earbuds' promo video states. "These latest-generation ear buds offer amazing quality an don't cost a fortune to own."
The company selling these headphones is called Megadeals Ltd. From what we can tell in the fine print included on the site, the company ships their earbuds from Guangzhou, China.
Megadeals sells hundreds of different products on their main website, including portable A/C units, aroma diffusers, camera accessories and more.
In this review, we'll take a look at how EchoBeat work, how much they cost and how they stack up against similar products available through Amazon.
How EchoBeat Earbuds Work
The first thing you'll notice about these earbuds is that they look very similar to Apple AirPods. They are white, wireless and settle into your ears in what seems to be a pretty comfortable way.
They connect to your device via Bluetooth 4.2, a technology that's a few years but still works with Apple, Android and other Bluetooth-enabled devices, the site says.
EchoBeat's website says that the earbuds feature noise-canceling technology that "filters out unwanted external noise" and that the sound flowing out of the earbuds is an "exceptional HD stereo sound."
The earbuds come with a portable charger you can take with you on the go. Your EchoBeat earbuds should last 14 hours on one charge, the site says.
Basically, these earbuds claim to give you all the features you'd need for a good audio experience that lasts nearly all day.
EchoBeat Pricing and Return Policy
The price of these earbuds is significantly lower than competing earbuds from Samsung and Apple, which we'll talk about in a few minutes:
One set of EchoBeat: $59.99
Three sets of EchoBeat: $99.99
Five sets of EchoBeat: $149.99
As you can see, the value goes up the more sets of these earbuds you buy. You'll pay around $30 per pair if you buy five instead of the $59.99 you pay for buying just one pair.
The one thing we think could make this purchase a little tenuous is that Megadeals Ltd. has a really strict return policy.
You have 30 days from the date of delivery to make a return. However, you can only do the return if the earbuds are unused, in pristine condition and in the original condition.
You'll have to send the earbuds to an address in Estonia where the company will approve or deny your request for a refund.
What's important to note is that you have to pay the return shipping. Since you're sending the earbuds to Europe, it will cost you around $15.00 for shipping via the United States Postal Service. The shipping address to which you send your return is Pallasti 28, 10001, Tallinn, Estonia.
To start your return, you'll need to email support@megadeals.ltd or call (351)888-2241.
After 30 days, you will not be able to get a refund or exchange.
How EchoBeat Compares to Apple AirPods, Samsung Galaxy Buds and the Top Wireless Earbuds on Amazon
If you think about these earbuds in the context of price, then they seem to provide pretty good value compared to the wireless Bluetooth earbuds you'd get from Apple ($159) and Samsung ($129.99).
However, the top-rated Bluetooth wireless earbuds on Amazon, TNSO's wireless Bluetooth earbuds, are $37.69.
Taken purely at their price point, these earbuds would seem to be on the better end of the value spectrum. However, buying earbuds is more than just finding the cheapest pair. The following chart compares the three earbuds we just mentioned along with EchoBeat earbuds:
| | | | | |
| --- | --- | --- | --- | --- |
| | EchoBeat | Apple AirPods | Samsung Galaxy Buds | TNSO wireless Bluetooth earbuds |
| Price | $59.99 | $159 | $129.99 | $37.69 |
| Bluetooth version | 4.2 | 5.0 | 5.0 | 4.2 |
| Battery life | Up to 14 hours | Up to 24 hours | Up to 13 hours | Up to 4 hours |
Based on our observations, we believe that EchoBeat offers better value than the TINSO earbuds simply because they have a battery life that's claimed to last more than three times as long.
The other factor here is range. Bluetooth 4.2 devices are believed to have ranges of about 200 feet, whereas Bluetooth 5.0 devices are believed to have an 800-foot range, according to Apple devotee site 9to5Mac.
This represents a huge difference, as the range on your AirPods or Galaxy buds means you could take your phone and earbuds to a track, for example, set your phone down at the start line and run laps without losing connection.
Of course, the range is all relative depending on how far you move away from the device to which your earbuds are connected. If you're never more than 10 feet from your phone, then range won't make much of a difference.
In general, we'd say that EchoBeat offers the advantage of longer battery life than the TNSO earbuds and a price point that's well below what you'd get from Apple and Samsung. Also, these earbuds can work on Apple and Android phones, whereas the Apple product only works with Apple products and the Samsung earbuds only work with Android devices.
However, if you rely on name brands for your electronics, it may be worth it to you to buy from Apple or Samsung. Just keep in mind that you'll be paying at least twice as much.
The Final Word: EchoBeat Pros and Cons
Based on all the information we presented in this review, we believe there are some pretty clear pros and cons to using these earbuds.
First, the price is somewhat reasonable when you compare it to similar off-brand wireless Bluetooth earbuds on Amazon. Second, we like how the headphones come with a convenient charging case.
The downside to the earbuds, in our opinion, is that they employ older Bluetooth technology. While this won't affect compatibility for the time being, it doesn't affect the earbuds' range. Say, for example, you work in a warehouse and you want to listen to music but have to keep your phone in a locker or in your car.
Your EchoBeat earbuds may not have the range you need to be hundreds of feet from your phone, whereas the Apple and Samsung earbuds do because of their Bluetooth 5.0 technology.
Also, the return policy on these earbuds is pretty restrictive and return shipping can be expensive if you live in the United States.
If you aren't convinced these earbuds are right for you, take a minute to look through Amazon's top-rated wireless earbuds. There are several options that offer 5.0 technology along with an affordable price tag.
---
Crap, total waste of money, scam

By Elizabeth Z.

,

Amsterdam, Netherlands

,

Feb 14, 2020
Verified Reviewer

Overall Experience:

I bought two pairs of these so-called Echo Beat EarPods - one for my husband and one for myself as a gift!

The box remained unopened for six weeks! My husband used his ear pods for less than a month at the gym three times a week and they stopped working and wouldn't recharge!

I contacted the company to report the problem and they are not willing to do anything as over 30 days old. The EarPods have barely been used!

I paid out of pocket for purchasing an item that doesn't meet the needs it was designed for! My husband can't use the gift I bought him with good intention! The company is not willing to do anything about it! Notwithstanding, I'm so annoyed and feel a fool at their clever marketing tactics in making me purchase a second pair for €20!

Bottom Line: No, I would not recommend this to a friend

---

Junk

By John F.

,

Illinois

,

Dec 12, 2019
Verified Reviewer

Overall Experience:

I had these earbuds for less than a month and they just fell apart. I contacted the company, and they asked for pictures. I sent them the pictures and never heard back from them again. This was in June. Came across my email and thought about giving them a lousy review. I paid $69.00. Guess you get what you pay for. Lesson learned.

Bottom Line: No, I would not recommend this to a friend

---

Authenticity of the product

By Paul P.

,

Hong Kong

,

Nov 23, 2019
Verified Reviewer

Overall Experience:

I have ordered and purchased the EchoBeat airpod and waited for 33 calendar days to received, quite disappointing. However, what most disappointing is, I have doubted the authenticity of the product. From packing itself is not so genuine, no labeling of EchoBeat, and other such detailed information. Based on your website display, the shape of the charging case has a bottom rounded corner, while the one you send is not.

I don't feel the item I have will last longer, it seems like it could only be used in a short period of time.

Bottom Line: No, I would not recommend this to a friend

---

Scam?

By David R.

,

Crewe, England

,

Aug 14, 2019
Verified Reviewer

Overall Experience:

Paid £59.99, received I7S TWS earbuds which are sold on eBay for £7.99, you do the maths. Requested a refund but the reply did not address this point.

"We are sorry that you have had a negative experience with one of our products. Please accept our sincere apologies for any inconvenience caused.

The product you bought is the one we sent you. There is no other product in our store.

We are deeply sorry if this represents any inconvenience for you."

Bottom Line: No, I would not recommend this to a friend

---

Advertisement

---

Disappointed

By Armando H.

,

Dallas, TX

,

Jul 20, 2019
Verified Reviewer

Overall Experience:

I bought the EchoBeat with the expectation that this was the real deal since there was a mention in their website that there were "cheap imitations" - since the price was almost $70.00 US, I thought this meant it was the "real deal". A few months ago I get another pair at $29.99 US that soon enough the main battery died and would not recharge, and I could only recharge the earbuds by plugging them to the power source. To my disappointment, the moment I got the EchoBeat, I realized that they were exactly the same as the previous one! I wrote to Help Support and they told me I could send them back, but the product has to be shipped by US Registered mail and which would cost me $30, plus US! I have to send it to China, so, I don't think it's worth the cost of the product or the shipping cost, so I am stuck with it! I would not recommend this to anybody!

Bottom Line: No, I would not recommend this to a friend

---

Really a rip off

By Wolf C.

,

Antwerp, Belgium

,

Jul 1, 2019
Verified Reviewer

Overall Experience:

After paying 69,99€ and waiting for 10 days I got a low-end pair of bt earbuds - i7s tws - which currently go online for an average of 15€.

Wrote to support asking on how to return and no answer.

Tried using them but after about 30 minutes of use, the right piece works no more. The product is of very unclassified quality.

DO NOT BUY the so-called EchoBeat.

Bottom Line: No, I would not recommend this to a friend

---

Product review

By Tai Seck W.

,

Singapore

,

Jun 21, 2019
Verified Reviewer

Overall Experience:

Purchase my TWS recently, less than 3 months, find the product as advertised, clarity, ease of usage, etc. BUT the only shortcoming, which is essential for the continued use of the product, is the Android charging port. It seems fragile and in my case lost its functionality when I could not recharge as the slot has no "grip" when the UBS is inserted into the port. I think some parts in the UBS port have fallen off.

In this regard, I hope your company could kindly replace my charging port.

I would recommend it to my friend provided my the issue I mentioned is corrected ref bottom line.

Bottom Line: No, I would not recommend this to a friend

---

Disappointed

By Lyn Z.

,

Vienna, Austria

,

Jun 20, 2019
Verified Reviewer

Overall Experience:

They are quite a bit larger than the Apple Earpods but are still reasonably comfortable in the ear. However, the sound does not compare with the Apple Earpods and I can only wear them for a very short period because they cause a thumping sound in my ears. This may be because I do suffer from tinnitus, but the Apple Earpods do not have that effect on me.

Bottom Line: No, I would not recommend this to a friend

---

Meh

By Randall L.

,

Eden, UT

,

Jun 20, 2019
Verified Reviewer

Overall Experience:

Since I am a loyal "Crapple" customer and pay way too much for these products, I am trapped and will continue using them. With that said, I should have continued with the "Crapple" air buds because of 2 reasons. First, the EchoBeat only work with the phone and not my series 4 watch, I have to have my phone with me. Next, I understand the air buds have a find feature these do not. So for the $100 difference in price for me, I should have paid for other customers maybe not so much. I will say the sound is great for my music. Haven't had a call on them yet but I'm sure that will be fine too. Oh, grab a magnifying glass if you need to read the manual. I guess a penny saved is a penny earned. There is a power button on the case, which serves no purpose that I can figure out.

Bottom Line: No, I would not recommend this to a friend

---