EcoHeat S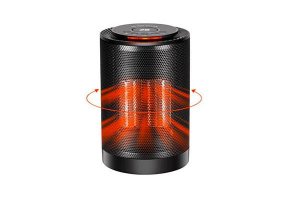 The EcoHeat S utilizes a ceramic heating element, a fan and a thermostat to provide-climate controlled heating for rooms of up to 120 square feet.
About EcoHeat S
EcoHeat S is a cylinder-style heater with an adjustable thermostat and oscillation that can heat an area to a maximum of 98 degrees.
The heater uses ceramic heating elements and an internal fan to push hot air out into the room in which it stands. According to the heater's website it can produce heat in as little as three seconds.
During the winter months, heaters like these can be a lifesaver for homeowners and renters who want to save on electricity bills by heating one room and not the whole dwelling.
The heater is part of the product lineup of Hyperstech, a company who sells items we've reviewed like the DroneX Pro.
In this review, we'll analyze how the heater works, how much it costs and talk about whether or not a heater of this size can heat a standard 100-square foot room. We'll also compare it to other heaters we've reviewed.
How the EcoHeat S Works and Its Features
The EcoHeat S is made up of three key parts: the heater, the fan and the control panel.
According to the company, the EcoHeat's heating module has a certain amount of ceramic in it. The fact that the heating element has ceramic in it is a testament to ceramic's popularity with small heaters of this type.
The reason ceramic is popular among these small heaters is that ceramic is excellent at absorbing and releasing heat, which means they can push a lot of heat out into a room pretty quickly and, when you turn off the heater, it will cool down quickly.
Here's how DoItYourself.com describes it:
"Ceramic heaters have a number of ceramic plates attached to some coils of metal that heat up in the same way as a coil heater, but the plates absorb the heat and release it into the air. They are quicker than coil heaters and they take less time to cool down once they are switched off."
The site goes on to mention ceramic heaters are between 85- and 90-percent efficient, which means they don't waste a lot of energy.
The EcoHeat S has two wattage settings: 1,220 and 600. It takes 10 watts to warm a 10-square-foot room, which means this heater can heat rooms between 60 and 120 square feet.
The heater's fan is what blows the heat into the room. You have the option of making the fan oscillate 70 degrees (35 degrees to the left, 35 degrees to the right) so that the heat is spread evenly over the space in front of the heater.
The control panel located on top of the heater is where you'll set the thermostat, turn on the oscillation and change the heat intensity of the unit. For example, you can choose to use high heat, low heat or just use the fan.
You can also set the thermostat to temperatures of up to 98 degrees. A small screen on top of the heater displays the current temperature and, when you're adjusting the thermostat, it will show your heat setting.
As we mentioned a few seconds ago, you can press a button to turn on the oscillation, too.
The heater stands at 8.3 inches tall and 5.5 inches wide.
The EcoHeat S's Cost, Return Policy and Warranty
At the time of publishing, the EcoHeat S was listed at $89. This price included a 50% discount as well as free shipping.
The following deals were available for those who want to buy multiple heaters:
Five heaters for $277
Four heaters for $229
Three heaters for $187
Two heaters for $149
The good news is that your price drops drastically when you buy these heaters in bulk. At $227 for five heaters, you're paying around $55 instead of $89.
According to the heater's website, delivery of the item or items will take between five and seven days.
Your heater comes with a pair of protections in the event that you're not happy with your heater or it breaks under normal use.
First, you have 30 days to return your item if you aren't happy with it. According to the fine print, you can only return the heater if it is damaged or defective.
To do so, email support@hyperstech.com, to obtain a return material authorization number. You'll have to write this on the shipping box itself and the paperwork you include inside the box. They will not process a return without this number. Also, you'll have to pay for shipping.
Also, remember that you have to send the heater back in its original packaging.
As for the warranty, you'll get three years of coverage on "defects in materials or workmanship". Should any of the original parts break down under normal use, the manufacturer will repair or replace the parts that went bad.
How the EcoHeat S Compares to Handy Heater and Sunshine Blade Instant Heater
Understanding how good of a deal a product is can be tough if you don't know what competing items cost.
At HighYa, we've had the chance to review other compact heaters including, Handy Heater.
In our video review of Handy Heater, we point out that the device costs $38.98 after shipping and handling. It puts out a maximum wattage of 349, which means it can heat a room up to about 35 square feet, or less than 1 square foot per dollar you spend on it.
The EcoHeat S, as we pointed out earlier, can heat a room of up to 120 square feet, or about 1.3 square feet per dollar spent on it.
Our Final Thoughts About the EcoHeat S
Based on our research, we believe that the EcoHeat could be a good option for you if you're looking for a small heater to warm up a room.
That being said, we believe that there are better values out there on heaters that can do the same job. For example, a Mainstays 1500W fan heater from Walmart can warm a 150-square-foot room and cost $12.86 at the time of publishing.
Based on the calculations we talked about earlier, that's more than 10 heated square feet per dollar spent on the heater. The drawback to this heater, though, is that there is no thermostat. So, if you want to use the heater in a baby's room and make sure the room doesn't get too hot, then a heater with a thermostat would be the right choice.
This scenario reveals one of the key values of the EcoHeat S: the thermostat. However, there are plenty of cheaper heaters with thermostats on the Walmart website for less than $50.
In general, we think that all the features the EcoHeat S offers are excellent and necessary if you want a versatile heater. That being said, we think that, unless you buy five heaters to get the deeper discount, there may be better values out there.
---
EcoHeat ceramic space heaters

By Delores W.

,

Comanche, TX

,

Mar 5, 2020
Verified Reviewer

Overall Experience:

I bought and received 3 heaters and they came with European plugs. My electrician stated they cannot be used in the US even with adapter plugs. They came from China, it looks like, and with no return address or return information in any of the packaging. Does not show my order number anywhere, only my ship to address along with FROM: MOXINGLONG GZ.no 65, GARDEN MIDDLE STREET YUNCHENG WEST ROAD, GUANGZHOU, GUANG DONG 510000 CHINA. Anything else is in Chinese. Is this a scam? I want a return and a refund! My credit card statement shows from Hyperstech.com 4950998 ETBRUXELLRS. Please help.

Bottom Line: No, I would not recommend this to a friend

---

It's a scam in the US

By Kelly W.

,

New Mexico

,

Jan 19, 2020
Verified Reviewer

Overall Experience:

After doing a fair amount of research, I decided that this was a good product and bought one. It took over a month for it to arrive (from China) and when it did arrive, I saw that it had a European plug. I figured I hadn't read the listing well so I went to ACE and bought a converter/adapter ($36). The unit proved to be completely dead. No lights, sounds, nothing. THEN, I dug deeper into the company and concluded that ALL the positive review pages I had read were fake - generated by the company itself. I filed a complaint with PayPal and the EcoHeat company offered a refund but at my expense for shipping back to China. I refused to accept the refund without a prepaid shipping label from the company. My last PayPal correspondence required a response from me but it only allowed me to respond with my shipping/tracking info. I had to use that screen to write "none" when it asked for the shipper and so on. Today I received a notice from PayPal that my money had been refunded. So beware! And if you already got taken, hang tough with PayPal until you get your refund from them.

Bottom Line: No, I would not recommend this to a friend

---

Advertisement

---

Junk heater

By Yvonne D.

,

Indiana

,

Jan 17, 2020
Verified Reviewer

Overall Experience:

We purchased an EcoHeat ceiling mount from Menards 3 years ago. The system is absolute junk. We have replaced two circuit boards in it in 2 years. The unit is junk and scary. We will not be replacing another board in it. We are researching a different brand unit. Do not purchase this unit. Not only is it junk, but I think dangerous!

Bottom Line: No, I would not recommend this to a friend

---

Works perfect

By Lee L.

,

Buena Park, CA

,

Jan 11, 2020
Verified Reviewer

Overall Experience:

So far I have one heater working in my warehouse office and it keeps me warm. A warning though, if you set the thermostat up all the way it tricked my circuit breaker. Setting it at 16, very warm, it works very well. My 4 stars were because of the confusion of the tracking number. I did not receive the correct tracking number until the day I physically received all 3 heaters.

Bottom Line: Yes, I would recommend this to a friend

---

Advertisement

---

Run away - DO NOT BUY

By Gail G.

,

Cobble Hill, British Columbia, Canada

,

Jan 9, 2020
Verified Reviewer

Overall Experience:

After a long wait, they sent me a heater with a European plug, then suggested I buy a converter ($100 to accommodate their wattage!) so I sent it back and they are refusing to reimburse me for the return shipping!

Bottom Line: No, I would not recommend this to a friend

---

Unlisted electrical plug and voltage

By Glenn Z.

,

Pennsylvania

,

Dec 17, 2019
Verified Reviewer

Overall Experience:

I am going to contact my credit card company, just received today and Euro Style rounded 2 prong plugs. Instructions say 220v, I emailed the company 2 times today and no response yet. I did email them after ordering and said if it didnt keep up or compare with my other heaters I'd return. They said there's a 30-day return policy, we shall see what happens. I also told them I don't like that I saw it's directly shipped from China post and not USA sellers. And as for this stupid review, did I write 180 characters yet? Bunch of BS, I wish I had read the reviews before ordering because now I see a mess with this all and a big hassle.

Bottom Line: No, I would not recommend this to a friend

---

Power cord solved but does not work

By Jean L.

,

Montana

,

Dec 17, 2019
Verified Reviewer

Overall Experience:

I have the same issue as other reviewers; I live in the USA and the power cord is type E/F (European). I found an inexpensive adapter here: 220converters.com the item number is MFV13 for North American outlets.

The adapter arrived very quickly and my unit powers on...fan, display, and all controls work BUT it does not heat up at all! Defeats the purpose of a heater, I'd say.

I'm waiting for a response from the company (doesn't sound like I'll get one) before I take the thing apart as an experiment to see if I can fix it. If you're stuck with this product just because of the plug, I'd say it's worth trying the adapter to see if yours works. It's only $2.89 + $3.82 shipping to find out if yours is a working unit.

If I'm able to fix it, I'll post again with a how-to. It's frustrating to throw money away. Live and learn.

Bottom Line: No, I would not recommend this to a friend

---

Advertising is fake news

By Peter H.

,

Ontario, Canada

,

Dec 4, 2019
Verified Reviewer

Overall Experience:

I received 3 of these yesterday. I opened only one. Much to my dismay, the only power source is a 220-volt plug with 2 round prongs. That makes it useless, not only with our North American 110/115 volt system, but it's even the wrong design of plug for our 220 volts sources (such as arc welding). I have been through a large number of advertisements and supposed reviews online, and NEVER ONCE is this fact mentioned. I am sure that some places in Europe may find this heater a great relief to them in their winter, but if you live in Canada or the United States, avoid this product like the plague. I can hardly credit that that much advertising could be launched and pushed with such high-pressure energy without noticing that all these heaters being snapped up by Canadians and Americans were never told of the power supply problem. It looks to me to be purposeful, and thus (a) a scam and (b) fake news. I would not recommend this to my worst enemy.

Bottom Line: No, I would not recommend this to a friend

---

Not properly described

By Irene R.

,

Scotland

,

Nov 27, 2019
Verified Reviewer

Overall Experience:

I would not have purchased this had I known the plug attached was illegal to use in the UK. This info is not given in the seller's details. As the other reviewers before me, I have spent several days trying to get in contact with the seller to get an appropriate refund i.e. including return cost and trying to get PayPal to help. It has made me think twice about purchasing ANYTHING from the internet that has to possibly be sent back and that I don't know enough about to make an informed choice. If I do make a similar purchase I will contact the seller first and find out how easy it is to communicate with them. I will NEVER, however, purchase from this crap company again. Life is just too short! I just noticed I had to give a rating. I chose one star which was the smallest but in reality, I would be giving it a huge minus.

Bottom Line: No, I would not recommend this to a friend

---

Updated review

EcoHeat S

By Thomas W.

,

Nanaimo, British Columbia, Canada

,

Apr 10, 2019
Verified Reviewer

Overall Experience:

Has anyone solved this problem?

Bottom Line: No, I would not recommend this to a friend

Previous review
Mar 12, 2019

Wrong plug and voltage.

I purchased two heaters as advertised on the M.S.N. webpage.

On opening the box, I saw that the voltage was 220 volts and the power plug was the type as used in U.K. Two round pins.

I have tried to find a suitable converter to use with this item with no success.

I am wondering how many people are having this problem and what they are doing to solve it?

(

read more

read less

...)

---

Totally unacceptable

By Michael T.

,

United Kingdom

,

Mar 20, 2019
Verified Reviewer

Overall Experience:

These heaters are being sold into the UK with 2 prong Euro plugs. Adapters are not supplied and you are told to "go buy one locally."

This is unacceptable. Do not buy one if you live in the UK. They are not suitable.

Bottom Line: No, I would not recommend this to a friend

---