eCornell Reviews
Claimed This company has claimed this profile, is getting alerted on any new customer reviews entering this page, and may engage in dialogue with its customers to address their matters.

Companies cannot pay money or provide goods in order to remove or alter customer reviews.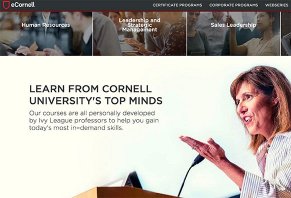 eCornell offers 40+ online certificate programs that last anywhere between two and nine months, cost between $1,260 and $9,800, and focus on in-demand skills.
About eCornell
Established by Cornell University, eCornell is an online learning company that offers more than 40 MBA-quality professional development certificate programs, corporate programs, and WebSeries that can help you gain today's most in-demand skills.
ECornell certificates take between two and nine months to complete and consist of between four and 18 courses.
Each of these courses is authored by Cornell faculty members, designed in collaboration with eCornell's instructional designers, and staffed by industry expert instructors.
The eCornell website notes that their coursework is "expressly designed to fit the lives of insanely busy professionals," so 100% of your coursework is completed online through their learning management system.
Here, you'll find modules that require you to discuss ideas with other learners, along with video and text lectures, quizzes, case studies, and a variety of other tools.
Together, eCornell tells us they offer more than 120 courses across their certificate programs, and serve 130,000+ students and 2,500+ companies across 180+ countries.
As far as universities go, Cornell certainly has a lofty reputation. But does that necessarily mean a certificate from eCornell will help you learn what you need? Will it set you apart in the eyes of a prospective employer?
Let's start by outlining the different programs available through eCornell.
Which Certificates, WebSeries, and On-Demand Training Does eCornell Offer?
Marketing – Developed by the Johnson Graduate School of Management: Digital Marketing, Marketing Strategy, Data-Driven Marketing, New Media Marketing for the Hospitality Professional, Hospitality Marketing
Finance and Managerial Accounting – Financial Management, Measuring and Improving Business Performance
Healthcare – Developed by the College of Human Ecology: Executive Leadership for Healthcare Professionals, Healthcare Facilities Planning and Design, Healthcare Leadership
Corporate certificates also available in: Healthcare Facilities Planning and Design: Focus on Facility Planning and Focus on Project Leadership; Healthcare Leadership: Focus on Change Leadership and Focus on Facilities Design
Hospitality and Foodservice Management – Developed by the School of Hotel Administration: Advanced Hospitality Revenue Management: Pricing and Demand Strategies, Foodservice Management, Hospitality Management, Strategic Hospitality Leadership, Hospitality Marketing, Hotel Real Estate Investments and Asset Management, Master Cert. in Hospitality Management, Restaurant Revenue Management, Master Cert. in Revenue Management, New Media Marketing for the Hospitality Professional
Human Resources – Developed by the ILR School: Compensation Studies, Human Resources Essentials, Human Resources Management, Strategic Human Resources Leadership, Social Media in HR: From Policy to Practice
Leadership and Strategic Management – Business Strategy: Achieving Competitive Advantage, Executive Leadership for Healthcare Professionals, Leadership, Psychology of Leadership, Strategic Hospitality Leadership, Strategic Human Resources Leadership, Women in Leadership, Change Leadership, Leadership Essentials, Executive Leadership, Healthcare Leadership, Measuring and Improving Business Performance
Corporate certificate also available in: Leadership Essentials
Sales Leadership – Developed by the Johnson Graduate School of Management: Sales Growth
Project Leadership and Systems Design – Developed by the College of Engineering: Customer-Focused Product and Service Design, Master Certificate in Systems Design and Project Leadership, Project Leadership
Plant-Based Nutrition – Developed by the T. Colin Campbell Center for Nutrition Studies: Promises to "help you understand the importance of diet and nutrition for your life."
Veterinary Medicine – Developed by the College of Veterinary Medicine: CPR Package: Basic and Advanced Life Support for Veterinary Technicians and Students, CPR Package: Basic and Advanced Life Support for Veterinarians
Master Beekeeping: Developed by the College of Agriculture and Life Sciences: "By the end of this series of courses you will have the skills and knowledge needed to keep colonies healthy and productive year after year."
In addition to these certificate programs, eCornell currently offers on-demand training in Service Excellence, where an organization's team members can learn tools that can be used in any interactive situation involving customers.
WebSeries Channels
eCornell's WebSeries involve live, one-hour interactive sessions led by faculty and alumni that can help participants ask questions while earning continuing education units (CEUs). There are five different channels:
Women in Leadership – Real-world expertise that promises to help organizations overcome imbalanced power and influence in the workplace.
Human Resources – Emerging best practices in HR leadership, including technology, analytics, conflict resolution, cross-team collaboration, and employee engagement.
Entrepreneurship – Promises to help turn your idea into a successful start-up business with the help of Cornell faculty, entrepreneurs, venture capitalists, and financiers.
Hospitality – Utilizes faculty experience and leading edge research to instruct students about hotel and restaurant operations, real estate and finance, entrepreneurship, and labor and employment relations.
Expanding Nutrition Frontiers – This WebSeries promises to help you expand your nutrition knowledge and skills to "navigate global nutrition challenges."
What will you pay for one of these eCornell programs?
How Much Does an eCornell Certificate & WebSeries Subscription Cost?
eCornell's certificate programs range in price between $1,260 and $9,800. You can choose to pay in full using a credit card or PayPal (lowest priced option), or you can opt to make monthly installments through the Pay As You Go program.
Corporate programs are completely customizable, although you'll pay a flat $39 per month or $279 per year for WebSeries access.
Because these are certificate-only programs, eCornell's programs are not eligible for financial aid or federal Pell Grants.
However, the company does offer a 30% discount to U.S. military and veterans, along with a 25% discount to Cornell University alumni, eCornell alumni, and Cornell University faculty and staff.
According to the Drop/Transfer page on eCornell's website:
"You may request to drop out of your prepaid certificate program and receive a full refund if your drop request is received within 30 days of registration. No refund will be given after 30 days for a prepaid certificate program."
You may request to drop out of your prepaid certificate program and receive a full refund if your drop request is received within 30 days of registration. No refund will be given after 30 days for a prepaid certificate program.
If you have additional questions, a representative can be reached at 866-eCornell (326-7635).
Do eCornell programs come with the same strict eligibility criteria as Cornell University?
What Are eCornell's Eligibility Criteria and Accreditation Details?
Because eCornell is a certificate-only company focused on professional development, there are no prerequisites or formal admission processes required for enrollment.
All you'll need is a late model computer for access to the online learning management system. Courses normally start every two weeks.
However, eCornell's website indicates that all of their programs count toward continuing education units, and many count towards professional credits, including re-certifications for the HR Certification Institute, Project Management Institute, and Continuing Medical Education.
eCornell is a Human Resource Certification Institute (HRCI) Approved Provider, a designated Global Registered Education Provider (REP), and approved by the Foundation for Care Management and the Commission on Dietetic Registration (CDR).
eCornell University Reviews: Is a Certificate Worth It?
Once they spent between $1,260 and $9,800 of their hard-earned money, along with several months of their time, are eCornell's certificate holders pleased with what they learned? Did they feel it was worth having this certificate on their resume?
Although eCornell has existed since 2000, we didn't find a whole lot of online customer feedback during our research.
One in-depth reviewer on Quora discussed their experience obtaining a certificate in Financial Management, stating that they felt it was well done, that work flowed at a steady pace, and that courses (taught by professors, not adjuncts) were built around a series of problems that students needed to solve.
Most problems were presented in easily understandable picture illustrations and videos. They liked that they could navigate back and continue reviewing anything they didn't understand.
Courses weren't graded, but you'll have to participate in forums and provide answers to problems in order to pass.
The only real downside the reviewer noted was that they received a lot of promotional advertising once they completed.
On EduInReview.com, we found several more pieces of eCornell customer feedback. There, many compliments referenced enjoyable content, helpful advisors, and great value for the money.
On the other hand, several felt there wasn't enough staff feedback involved and that they could have received the same education elsewhere, but for less.
Finally, Power Innovative Learning Solutions Inc (aka eCornell) held an A+ Better Business Bureau rating and one closed complaint as of 3/22/17, which referenced a refund request.
How Does eCornell Compare to Other Online Universities?
Although eCornell is associated with Cornell University, it's strictly a professional development company. As a result, it's not an online university like University of Phoenix or Full Sail University
However, you'll find that many of these online universities also offer certificate programs. In fact, it's rare to find one that doesn't.
Given this level of competition, how can you choose the company or institution that's right for you?
Choosing an online certificate program is a lot like choosing an online degree program: Accreditation won't come into play, but you can still take a look at the program's coursework to make sure that what you'll learn aligns with your goals.
Are you also looking to earn CU credits? If so, make sure your program qualifies.
Also, does the company offer robust support services? Are they responsive to students' needs?
When searching online, what are former students saying? Are there any common themes among compliments and complaints? Are previous students expressing that their certificate improved their employability?
Finally, can you find any statistics about completion rates (i.e. the number of students who enroll in certificate programs, vs. the number who pass)? If so and you learn that many who started their certificate program didn't finish, this could indicate a concern.
What's the Bottom Line About eCornell?
With 17 years in business, a direct link to Cornell University (including courses taught by Cornell staff), competitive pricing, and the ability to earn continuing education units, it certainly seems like eCornell's certificates could learn skills and information that might help you get ahead at work.
Just make sure that, whether it's with eCornell or another online certificate program, you fully investigate the curriculum and online feedback before making a decision.
If you sign up for a certificate program that ultimately doesn't meet your needs, though, eCornell allows you to drop the program and obtain a full refund within 30 days of registration.
---
Food & Beverage Management Certification

By Sasha L.

,

Tennessee

,

Aug 14, 2019
Verified Reviewer

Overall Experience:

The F&B Management Certification is A+++++++. A MUST if you are developing a management career in hospitality. It's a fantastic, methodical program and filled with immediate on the job application steps and worksheets. Be careful though, once you take the one certification program, you'll get hooked and want to keep on taking more because these programs are sooooo good.

Bottom Line: Yes, I would recommend this to a friend

---

Completed two certificate programs through eCornell: Data Analytics and Blockchain for Business

By Ben L.

,

Seattle, WA

,

Jun 21, 2019
Verified Reviewer

Overall Experience:

My experiences have been fantastic and am looking for more relevant technology subjects. As a long time professional with a BS and MS degrees technology, I was not looking for any additional degrees. Rather, I wanted to get the latest knowledge in subjects that are applicable today and the future for professional growth. I also wanted to find a well-known and respected school for my resume and Linkedin profile. eCornell was one that I decided to go with after many hours of research. I really enjoyed the flexibility in consuming the short videos, articles, and class discussions per my availability after work. The weekly module drop and assignment due date kept me on track. The teachers (very qualified but different person from the videos) from related industries are very supportive when I reached out via email. The user interface of the website is good enough and all the class materials are available during the course. You can also download the entire course materials (without the video) in PDF for future reference. I now know enough about Blockchain technologies to suggest use cases with my company.

Overall, I am very pleased with my experience and would definitely enroll in more subjects that are of interest. Another plus is this course is administered by eCornell, which is part of Cornell and not a third party. My company doesn't recognize third-party admin on billing and providing a transcript.

Bottom Line: Yes, I would recommend this to a friend

---

Excellent professional education opportunity

By Sunnie S.

,

Connecticut

,

Jun 19, 2019
Verified Reviewer

Overall Experience:

I originally searched for a program like this because as a Department Head at a mid-sized Public Library I felt that the financial piece of running a non-profit was a skill I would need to move to the next level in my career. I had just started thinking about my next steps and wanted to have the confidence that I could excel in this aspect of running a library before seeking a promotional opportunity. As it turns out the perfect opportunity came up a little sooner than expected and I was offered a position heading up my own library when I was halfway through the certificate program. I know having the courses on my resume and talking about them during the interview process gave the hiring committee assurance that I have a solid working knowledge of financial matters to guide our organization forward.

On a practical note I love that the courses are self-paced, but with a recommended timeline for assignments. This gave me the best of both worlds - knowing that if I completed assignments according to schedule I'd be finished on time, but also allowing me the flexibility to work ahead or play catch up when my work/life schedule got busy.

I expect that I'll refer back to my notes and the resources I received in my classes quite often in my new role and I recommend the online certificate programs that Cornell offers to all my colleagues and associates.

Bottom Line: Yes, I would recommend this to a friend

---

Excellent course to prepare for the PHR Exam!

By Heather D.

,

Marion, OH

,

Jun 14, 2019
Verified Reviewer

Overall Experience:

Thanks to the PHR prep course through eCornell, I passed my exam on the first try. This course thoroughly covers the HR body of knowledge while giving you practical concepts that can be transferred to your career. The knowledge gained was very valuable to my application of the concepts on the exam. The instructor was top-notch and truly cares about the success of her students.

Bottom Line: Yes, I would recommend this to a friend

---

Advertisement

---

Great variety of courses in several industry sectors with excellent professors

By Nimesh P.

,

Tampa, FL

,

Jun 14, 2019
Verified Reviewer

Overall Experience:

Excellent availability of esteem faculty of Cornell Business School Faculty. Great real life cases to learn and apply the knowledge from the exercises to write a final report that is reviewed by world-renowned professors and their recommendations. I have taken 2 courses thus far and currently enrolled in a third one. I have earned a promotion and plan on taking a few more courses. I highly recommend eCornell for any professionals looking to boost their skill sets, from newly graduate to executives.

Bottom Line: Yes, I would recommend this to a friend

---

Great Certificate Program

By Jennifer E.

,

Denver, CO

,

Jun 11, 2019
Verified Reviewer

Overall Experience:

I recently competed eCornell's Marketing 360 program and am extremely pleased with my experience. What I learned easily translates to real-world applications that I face daily.

The program is well laid out and executed. You register for each two-week class as you would like, with only a handful that required a prerequisite class prior to entry. I did mine as concurrently as possible and completed the program in a little over eight months.

The course material is thoughtfully created. Challenging but approachable. Appropriate for those with little background in marketing to those that are professionals looking to get up to date on the ever-evolving new technologies we are facing. eCornell's certificate program allows you to gain a great understanding, in some cases a relevant introduction to new ideas, and skills to help take your career and/or organization to the next level. You're granted easy access to additional tools to help you along the way, as well as to your instructors. The instructors are very helpful and often host an office hour to answer questions with other classmates or expand upon a topic(s) that you're covering in that particular class.

In many of the classes, I was able to complete my course work and have it translate directly to our organization. Often times, a project or program we were looking to implement was brought to a new level because of those learnings.

I highly recommend the Marketing 360 Certificate program! My employer is extremely happy with the results as well.

Bottom Line: Yes, I would recommend this to a friend

---

Invest in yourself

By Yvonne P.

,

Washington DC

,

Jun 4, 2019
Verified Reviewer

Overall Experience:

As a marketing professional the industry is rapidly changing due to the inclusion of technology, analytics, and evolution of social media. I was looking for a way to grow in my career without the sometimes costly commitment of an MBA. eCornell's Marketing Strategy certificate was a great fit for me and a great way to continue building my knowledge. Over the course of 5 months (you go at your own pace), I built my critical thinking skills and learned about how to approach branding from a smart and forward-thinking way. A few months later I received a great job offer.

Bottom Line: Yes, I would recommend this to a friend

---

Immediately applicable

By Lauren C.

,

New York, NY

,

Jun 4, 2019
Verified Reviewer

Overall Experience:

I just completed the 4 courses required for the Strategic Hospitality Marketing Certificate from eCornell. It took 2 months to finish, during which time the course material was immediately applicable and useful. In each course, I used the homework assignments (all part of a course-long project) as brainstorming activities to create action plans for projects that I am working on.

As part of a decision making entity, it is important for me to be able to use the right lingo to communicate effectively with those in the marketing functions of the organizations that I work with. It is also important that I know what the critical considerations are, what questions I need to ask, and what elements of the business need to be monitored, which were all very well addressed by the lectures.

I particularly appreciated that I was able to download the transcripts of the lectures, so that I am able to refer back to the notes I made in the margins which are a direct applications of the material to my work activities.

Bottom Line: Yes, I would recommend this to a friend

---

Best investment you can make!

Overall Experience:

Participating in eCornell's Women in Leadership program was one of the smartest decisions I could have made as a business professional. The eCornell platform delivers top-rate Ivy League instruction from the comfort of your own home, while your professors are as accessible as if you were actually in Ithaca! Everyone, from admissions to tech support to faculty, is fully invested in your success as a student. Plus, what you learn stays with you as you advance through your career. The entire experience is not only pleasurable, but it is also life changing!

Bottom Line: Yes, I would recommend this to a friend

---

Wonderful program!

By Amber S.

,

Los Angeles, CA

,

May 31, 2019
Verified Reviewer

Overall Experience:

The team at eCornell is efficient and helpful. The content is eye-opening and helpful to the best degree. I am so grateful for the support I received while working on each part of the certificate. Upon completion, I felt confident in my enhanced skill set and expertise. Thank you so much for providing this incredible service! I am looking forward to completing the master certificate next!

Bottom Line: Yes, I would recommend this to a friend

---

Very helpful

By Ryan H.

,

Atlanta, GA

,

May 22, 2019
Verified Reviewer

Overall Experience:

This course is accredited for the accumulation of PDU's for those seeking a PMP/PMI etc. I took a data analytics course and found it helpful. It was company-paid. This is not an online college, this is a professional development curriculum. For professionals that are seeking certification or seeking to renew certification.

You do need to be at the very least remedial in computer skills. I can see some individuals struggled in the reviews below.

Bottom Line: Yes, I would recommend this to a friend

---