eCredable Reviews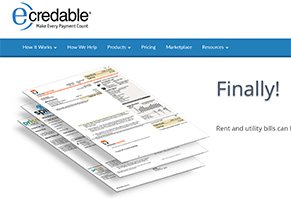 eCredable is a monthly service that generates a credit score for people without credit based on payments to utility companies, mobile companies and more.
About eCredable
Are you having a hard time finding a loan or credit card because you don't have a credit score? eCredable claims to help through their own scoring system.
eCredable, a company based in Alpharetta, Ga., claims to help you by assessing your "alternative credit", the payments you make to utilities, landlords, and phone/internet that don't show up on your normal credit report. eCredable uses up to 24 months these payments to create a letter grade and number score, and that information is passed on to lenders who make offers to you.
We researched their site and other sources to figure out if what they're offering is really helpful to those with no credit. After poring over their website, reading their FAQ's and research "alternative credit", we're ready to help you decide if this service is right for you.
In the next few sections of this article, we're going to cover who eCredable is and how they, whether or not alternative credit is legitimate and what people are saying about eCredable.
Life can be tough for people with no credit – about 45 million of us.
Who Is eCredable? eCredable started in 2009 under the leadership of entrepreneur Cutch Moore and tech expert Terron Lindholme.
Current Leadership: CEO is a Consumer Credit Expert
Moore is now the company's president and COO, while Lindholme is eCredable's CTO. The company's CEO is Steve Ely, a former boss at Equifax who is, according to his profile, "passionate about helping consumers who aren't part of the traditional credit system get the credit they deserve."
Clean BBB Record
The business has been BBB-accredited since May 2012 and currently has an A+ ranking. Consumers have yet to file to the BBB a complaint about eCredable.
How They Work: Using Your Payment History to Create a Score
The eCredable system is very simple. Your payment information from accounts that don't show up on your credit report generates an "AMP Score".
They get this information through their $19.95 per year automated services that gather your payment data every month and report it to lenders.
If for some reason, a certain bill isn't paid online, you'll have to pay a $19.95 fee every month to have eCredable track down and verify the payment info for you. You can also manually input all your bill payments; if you choose this option, it's free.
Your AMP Score is then passed along to lenders across several different types of loans or credit:
Credit cards
Home loans
Secure credit card
Small business loans
According to eCredable's website, customers will soon be able to get personal loans and car loans from the site as well. In addition to loans, the company has a partnership with auto insurer The General and credit giant FICO.
Companies Use Your AMP Score to Offer Loans or Credit
Once one of the lenders we mentioned above receives your score, they determine the amount and terms of the loan you can get.
Credit Card: One Option 22-29% APR
We wanted to know what kind of APR's customers can expect when they use eCredable, so we talked with CEO Steve Ely. We specifically asked him about how the APR on eCredable's BBVA Compass American Express NBA card differs from what a customer could get on their own.
Here's what he said:
"If our customers went to a provider of credit cards for subprime and deep subprime consumers, they would pay an APR greater than 36%, and pay an annual fee that is sometimes as high as $100. The BBVA Card has no annual fee, and an APR between 22-29% depending upon your AMP credit score and other factors."
Normally, we'd discourage you from getting a card with an APR of 22-29% -- that's really high! But you have to remember that these offers are going to consumers with low or no credit. In that context, we think a card with a sub-30 interest rate and no annual fee is a pretty good deal compared to other options you have.
One last thing: If you are accepted for the BBVA credit card, your balance will be between $500 and $2000.
Mortgage: 4-8% APR
eCredable works with three different mortgage lenders: Fairway Independent Mortgage Corporation, South Pacific Mortgage Corporation, and Churchill Mortgage. According to the site, you need at least a B- AMP grade to be considered for Fairway and Churchill, while South Pacific requires an A-.
Fairway's customer rating on LendingTree.com is 4.9 out of 5 from 140 reviews. South Pacific received 17 people on Yelp gave the company 4 stars. Churchill Mortgage gets 1.5 stars on their Yelp page.
You might be wondering why they've chosen these three mortgage lenders. According to Steve Ely, most mortgage companies who set up a loan with you sell it to Fannie Mae and Freddie Mac, two companies who rely solely on your FICO score.
A few companies don't sell their mortgages to Fannie and Freddy; Fairway, South Pacific, and Churchill are three of those companies. Since they aren't passing your mortgage along but manage it themselves, they're open to considering alternative credit.
Up to this point, eCredable's services seem pretty legit. But we wanted to know how much clout an "alternative credit score" has. Is it just a marketing tool, or does it provide real value to consumers?
Alternative Credit: Does It Really Help You?
eCredable's whole system is based on alternative credit: accounts like utilities, internet and rent payments that don't show up on a traditional credit report.
Most of these payments don't show up on your report because:
Utility companies can shut off your gas, water or power if you pay late; they don't need the threat of a lowered credit score to convince you to pay.
Mobile companies can turn off your service if you pay late…they don't need credit bureaus, either.
Private landlords make up 70% of the renting market, so they don't want to fork over the time or money it takes to regularly report payments to the credit bureaus.
While eCredable markets themselves as a pathway for consumers to get loans and credit, Steve says they're really a credit bureau just like Experian, Equifax or the TransUnion, but on a smaller scale.
"What we're trying to be is the middleman between mainstream credit providers the consumer that doesn't have any credit but needs access to mainstream providers," Steve told us.
Why Your Alternative Payments Can Help
In a way, Steve's company is recapturing the old-school way to check someone's creditworthiness. Back before big credit bureaus ruled the world, you'd go to your local bank to ask for a loan. The banker would then call around to your landlord and utility companies to see if you were a dependable person, then base their decision on that information.
The same thing is happening today, except that you don't have to meet with a banker and eCredable tracks your payments so that your lenders don't have to.
And, Steve says, they've crunched the numbers enough to figure out that an A rating on eCredable is equivalent to a 700 FICO score. Now, a 700 isn't great, but it's really good for someone who doesn't have any traditional credit.
Steve says students and immigrants are the company's main client base: both groups are thin on credit. Students tend to get their grades quicker because they've probably been paying rent and utilities, whereas an immigrant who arrived here a couple of months ago doesn't have much of a payment history and will have to build up 18-24 months of payments to get a grade.
Once you have your grade, eCredable passes on your score to its small network of lenders, an act made possible by Regulation B, a part of the Equal Opportunity Act that gives consumers the right to have their payments taken into consideration no matter how thin or poor their credit history is.
And, according to a 2015 article from Forbes, more and more new lenders are open to handing out credit based on your otherwise unnoticed payments to your landlord and utility/internet/phone companies.
Our conclusions? Alternative credit is a legitimate space in the credit world, and eCredable provides you a way of turning that payment history into a credit card or home loan.
What Are Other People Saying About eCredable?
The BBB has not registered any complaints against eCredable over the past four years. Aside from that, there is little information out there in the way of customer reviews.
We found on personal finance sites several articles about the company. Each article we looked at noted that eCredable was a good company, but that using their service could become expensive if you've got multiple accounts you pay that aren't online (rent is a common one).
Our Conclusions on eCredable: Alternative Credit Can Help
Imagine yourself as a new college graduate who's never owned a credit card, or perhaps an immigrant who just came to the U.S. and has never had any sort of monthly payment account here. In both situations, getting funding either through a loan or credit card can be tough.
Many times "no credit" means "no service", which often means people will turn to payday loan companies to borrow money at high-interest rates and crazy fees. LendUp is a good example of a payday lender. These companies want to keep you in a cycle of debt, not get you out of it.
eCredable is a viable alternative to payday lenders because the interest rates on the credit cards they're offering are below 30%, which is good news for people who would pay above 36% for payday loans, Steve Ely says.
The $19.95 yearly fee is reasonable if you want automatic tracking and updating of your accounts, but remember that you'll have to pay a monthly fee of $19.95 if some of the companies you pay aren't online.
All in all, we think eCredable could be helpful for you if you need funding from a reputable lender but don't have a credit score.
Nothing works

By James H.

,

Waco, TX

,

Oct 31, 2019
Verified Reviewer

Thought this was a way to improve my credit score. This is ONLY for people who have established credit. I do not. I was told I had a free upgrade. Nothing came of that. Never given any useful info. Tried to log in and couldn't. Tried to reset password and never received an email so I could reset it. What do these people actually do?

Bottom Line: No, I would not recommend this to a friend

---

Advertisement

---