edX Reviews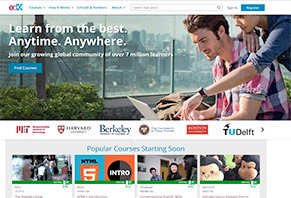 Backed by Harvard University and MIT, edX is a MOOC offering a variety of online coursework that could help you learn something new and advance your career.
About edX
Founded in 2012 by scientists from Harvard University and MIT with a "mission to provide quality education to everyone around the world," edX offers hundreds of rigorous courses spanning dozens of subjects, all of which feature real classes, from real universities, taught by real professors. In addition to these top-tier universities, edX has partnered with 90 other global institutions, such as Berkeley, Arizona State University, and more.
As a MOOC (massive open online courses) provider, edX features more than 650 courses, 1,700+ faculty and staff, 580,000+ certificates awarded, along with 7 million+ learners around the world. Here, you'll gain access to a virtual classroom that's available on your schedule, the latest in peer-to-peer social learning tools, along with cool learning tools, videos, and game-like labs.
To become an edX student, the process works over four steps:
Browse through the course list (or search for a specific topic, subject, start time, or class type).
Learn what to expect by reading through the descriptions and prerequisites.
Click "Register Now" to become an edX student. After registration, the course should be reflected on your personal dashboard.
Start studying and connecting with others online.
Even if you're familiar with more traditional online learning environments, such as distance education courses and online universities, the concept (and benefits) of a massive open online course provider like edX might seem confusing. In this review, we'll help you clear up any confusion, answer some of your most important questions, and help you decide if an edX course is worth the time and effort.
To begin, let's look at edX's different courses.
EdX's Courses
Overall, edX offers their students five different types of courses:
EdX Verified Courses
Verified courses are ideal for those looking to receive a certificate of completion to satisfy the requirements of an employer, school, or other institution. As the name implies, verified courses require you to verify your identity. How? According to edX, "You will be asked to submit your photo and a photo of an official ID through the use of a webcam. As your course progresses, you may be asked to re-verify your identity."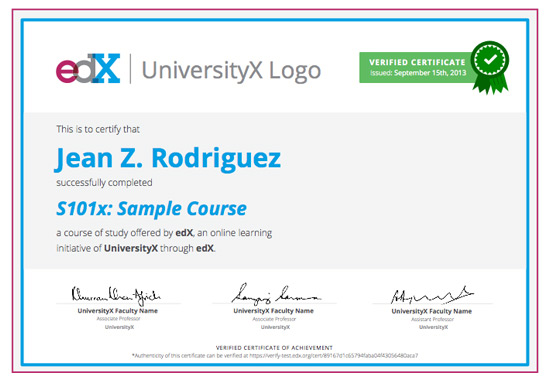 An example of edX's Verified completion certificates.
XSeries Programs
XSeries programs implement a series of courses that are also verified, and students who successfully complete them will receive a certificate. These courses feature easy enrollment, expert instruction, and high-level classwork from "world-renowned experts and top universities" like MIT, Harvard, and more.
High School Courses
Still in high school but looking to get "college ready"? If so, edX's high school courses feature introductory classes and test prep in subjects ranging from English to biology. In addition, teachers will be able to integrate much of this content into their classroom.
Credit Eligible Courses
As the name implies, these courses partner with a variety of institutions to help you earn college credits at your own pace.
Professional Education Courses
With an emphasis on hands-on learning scenarios, these courses are geared toward working professionals looking to learn a new skill set or add to their resume. All students will receive a personalized Professional Certificate of Achievement, and some courses may also be eligible for continuing education units.
Who Can Enroll In an EdX Course? How Do You Enroll?
Each edX course will have its own unique set of prerequisites, requirements, and expectations.
To locate your next edX course, simply visit the Courses section of their website and click on the subject you're interested in. Alternately, you can use the search bar to manually search for a specific term.
Once you find an appropriate course, click on it and you'll be taken to the home page. There, you'll find out which institution it's offered through, the start date, amount of effort required (time range), level, an overview of what you'll learn, instructors, and more.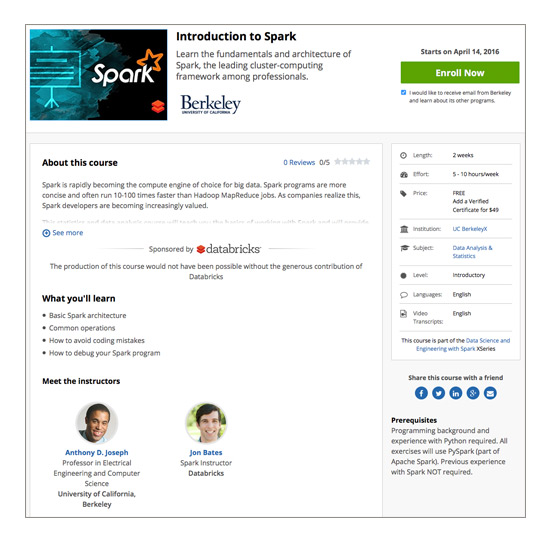 An example of what you'll see after landing on a course's home page, including start date, length, required time commitment, price, and more.
Ready to sign up? Just click the green "Enroll Now" button in the upper right-hand corner and follow the prompts.
As you can see in the image above, this course is free. Is this the case with all edX courses, though?
How Much Do EdX Courses Cost?
Most non-Verified edX courses are completely free of charge, although you might be asked to donate whatever you see fit on a couple occasions (read: advertising). On the other hand, Verified courses start at $50 and come with a two-week refund policy. In order to request a refund, you'll need to send an email to billing@edx.org.
If you need to take a Verified course and can prove that paying for it would cause an undue financial burden, you may qualify for financial assistance equal to a 90% discount.
Want to test out the edX system without committing to a course? Be sure to check out a demo course.
How does edX's price—and coursework—compare to other MOOCs?
Are There Other MOOCs Out There?
Although they're big, MOOCs (or, massive open online courses) have only been around since 2008 and didn't become a popular learning option until roughly four years later. Despite this relatively short timeframe though, you'll find a lot of other popular MOOCs to satisfy just about any of your learning needs, such as Coursera, Udacity, NovoEd, Kadenze, and more.
How do these compare to edX? Just like online universities, each of these MOOCs features their own flavor of coursework (different professors from different universities with different teaching styles ), unique learning environments, requirements and fees, and so on. In short, which of these is right for you depends on a wide variety of factors and personal preferences, which we'll talk more about in the final section. What are edX's students saying about their experience?
What's Everyone Saying About edX?
PC Mag gave edX an excellent rating of 4.5 stars based on their broad catalog, although they noted that courses are science-heavy, so if you're not interested in science, your options might be more limited. They also appreciated Open edX, the open source platform that allows others to build and share assessment modules, as well as "specialized [learning] tools such as circuit simulators and chemical bond simulators."
One Quora user provided an in-depth review about their experience with an edX course, and claimed that while they learned a ton during the process, the amount of time required was the biggest issue (20 hours per week for the material alone, plus several more hours for assignments). Perhaps because of this, they wrote, of "150,349 that registered only 1,388 (less than 1%) actually received a Certificate of Completion from Harvardx."
Based on 6,400+ student reviews on CourseTalk, edX's courses had an average rating of 4.5 stars, where many complimented the engaging coursework, the easy accessibility, and the solid instruction and supplementary materials (videos, etc.).
Is an edX Certificate Valuable?
Right now, since they're less than 10 years old and backed by some high-level higher learning institutions though, it's easy to foresee MOOCs having staying power and finding their own niche over the next several years. Until that happens though, they seem occupy a fuzzy middle ground between valuable educational materials that can advance your career, and nothing more than a way to learn about a subject you're interested in.
Why? NoPayMBA puts it this way:
"I'm skeptical that course certificates themselves are valuable. I can hardly imagine that I'll present my course certificates to future employers for the same reason that I don't list my individual courses from undergrad on my resume. The totality of the program of study is much more important than any individual class. That said, some type of proof of course completion is probably worth something, especially if you can aggregate individual certificates into something bigger."
In other words, if you're interested in obtaining a programming position at a local company (for example), completing a set of edX courses might boost your employability. But in the eyes of an employer, each individual course might not weigh much in your favor.
Let's carry this thought over into the final section.
Should You Sign up for an EdX Course?
We already alluded to it above, but it's important enough to reiterate here: Whether or not you'll get any value out of your edX coursework depends on a wide variety of factors and personal preferences, such as:
How rigorous would you like the coursework to be? Based on online student feedback, edX's coursework comes from top-notch higher learning institutions, so it'll probably require a lot of time and effort. Looking for an easy A? If so, edX might not be your first choice.
Are you interested in science-focused coursework? By all appearances, edX's coursework is science-heavy, so if this is your focus, they might be a decent choice. If not, you might want to explore other options, too.
Are you doing this for work or pleasure? Like online degrees well over a decade ago, there's currently some debate about the overall value of MOOC coursework like edX; at least from an employability standpoint. So, unless you're going through your current employer to complete continuing education credits, or you're just taking a course for fun, you might strongly consider whether the time and monetary (if applicable) commitment will really pay off.
If you're already sure you want to take a MOOC class though, since they're backed by two of the most prestigious higher learning institutions in the nation—not to mention the fact that much of their coursework is free!—it might be difficult to beat edX.
---
Awful "service"

By Ela S.

,

Nov 28, 2019
Verified Reviewer

Overall Experience:

Really disappointed with the platform.

For the course I took, the course content was poorly delivered, but that's not on them.

The third-party platform they use for grading didn't accept correct responses but that's also not on them.

What is on them is having arbitrary deadlines to complete paid for, self-paced online work, giving no warning when the time is about to expire, and then forcing students to pay for the course again to complete them. Not cheap either when compared to the same types of courses offered on other platforms ($99 for a SQL course, when a higher caliber one is available through Udemy for $10).

No phone number to contact so you have to go back and forth via email to discuss issues, and each response takes at least a day if not more.

Overall, I'll complete the current courses I'm enrolled in, never spend money on them again, and will tell anyone who asks to avoid. To say the behavior is unacceptable is a gross understatement.

Bottom Line: No, I would not recommend this to a friend

---

Everything is not clear

By Khaled A.

,

LA

,

Jul 25, 2019
Verified Reviewer

Overall Experience:

No online chat available on the page. The program has unordered dates and is not based on the syllabus. Confusing. Every time I send a message to the support they reply with the auto-reply message. no customer support is available.

Bottom Line: No, I would not recommend this to a friend

---

Advertisement

---

Great site to learn online

By Jason G.

,

Boston, MA

,

Jun 21, 2019
Verified Reviewer

Overall Experience:

edX offers lots of online courses from universities like Harvard and MIT. There are over 2000 courses so it's easy to find something you like. The courses are free to try and you pay if you want a certificate showing you completed the course. It's an easy site to use.

Bottom Line: Yes, I would recommend this to a friend

---

Excellent

By B A.

,

Trophy Club, TX

,

Jun 20, 2019
Verified Reviewer

Overall Experience:

Just started, very well taught. Impressive. Need to further your education - jump on board.

Bottom Line: Yes, I would recommend this to a friend

---

Advertisement

---

So abstract

By Jium J.

,

New Jersey

,

Jun 11, 2019
Verified Reviewer

Overall Experience:

This website is horrible. No detail explanation, so abstract. When you watch the video, you will be discouraged a lot...that is not only you. Even I go to Harvard, I really don't understand and have a difficult time to understand the lectures. Even 1 star is a greatest compliment. I want to give -100 (minus 100).

Bottom Line: No, I would not recommend this to a friend

---

It's brilliant!

By Jose S.

,

Abu Dhabi, United Arab Emirates

,

Dec 15, 2018
Verified Reviewer

Overall Experience:

I really don't understand these negative comments, but maybe that's confined to the courses these people have taken. I'm currently undergoing a course on Future Cities Laboratory by ETH Zurich (one of the top architectural institutions in the world) which would I believe, on top of educating me of course, will enhance my CV when I apply for my Master's program in any Architectural program.

I'm pretty sure you can put it under additional educational certifications obtained in your CV.

Plus, it's free and just $50 for a verified certificate.

Bottom Line: Yes, I would recommend this to a friend

---

They charge money after showing that the course is free

By Paulami S.

,

Karnataka, India

,

Dec 10, 2018
Verified Reviewer

Overall Experience:

I wanted to take up a MOOC course as my elective module. It showed that it's self-paced and free unless you want a verified certificate from the University. When I was in the middle of the course, it showed the contents are blocked and I have to verify (pay for the verified certificate) to continue the course. I just wasted my time in this. Why do you even claim "free" when in actuality, it's not free? Bad business!

Bottom Line: No, I would not recommend this to a friend

---

Waste of money and time

By Zahir K.

,

Boston, MA

,

Nov 15, 2018
Verified Reviewer

Overall Experience:

I paid for their Micromaster program. After receiving money, they basically dumped on me. The self-paced program had strange timelines reverting them to archived courses. I had to take so much stress to fight these timelines. There is nobody you could contact for help. The emails get returned with copy/paste material.

Do a favor to your family and don't waste money on getting a worthless certificate and customer service.

Bottom Line: No, I would not recommend this to a friend

---

Waste of money

By Andris V.

,

Riga, Latvia

,

Sep 15, 2018
Verified Reviewer

Overall Experience:

Hello!

I tried the course "Microsoft Professional Program for Front-End Web Development track." I was having an impression that Microsoft allowed to complete courses without a paywall but, my god, I was not expecting this.

The first course was a complete joke, there was barely any effort needed to finish it (the introduction) and guess what, to mark it as complete, they want me to pay $99 for "official proof" that I have finished it, really? $99 for a course this bad? And guess what? EACH course in this whole track has a paywall to continue.

I have completed Mobile Web Specialist Nanodegree in Udacity, and it was 10 times more engaging, and the quality of materials felt great.

Even Udemy courses have more merit than this scam.

I do not recommend any of the courses this EDX site provides!

Best regards.

Bottom Line: No, I would not recommend this to a friend

---

I'm taking a JavaScript course

By Leo R.

,

Florida

,

Aug 2, 2018
Verified Reviewer

Overall Experience:

I must say that I'm very happy and the best part is that it's free. I think that better is impossible, but I'm sure there may be better ways, where you'll surely have to pay. For now, I will stay here, and I will take other topics.

Bottom Line: Yes, I would recommend this to a friend

---

Angular Fundamentals first lab failed miserably

By Daniel C.

,

Georgia

,

Jun 12, 2018
Verified Reviewer

Overall Experience:

I took the Angular Fundamentals course on an audit basis, thank goodness. I followed all the steps (install node.js/npm), got your first lab and something was fundamentally missing. I posted to the discussion board, and staff (not instructors) replied. Their guess did nothing. Even worse, they were not even legitimate commands to run. I posted to the help desk but their response was to continue contacting the instructors (who didn't respond). I waited and after repeated posts finally got staff to respond with another half-brained attempt. All requests to show code/setup were ignored.

I do not recommend.

Bottom Line: No, I would not recommend this to a friend

---