eero Reviews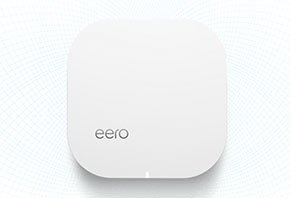 Eero uses a mesh network and plug-and-play setup to help you achieve a strong Wi-Fi signal in any part of your home, without cables or a network administrator.
About eero
In a very real way, the internet powers our lives—not just while we're surfing the web, but also for the increasing number of smart devices scattered throughout our homes, like thermostats, light bulbs, kitchen appliances, washers and dryers, home automation devices, and much more.
The problem? Technology hasn't kept up to ensure that our Wi-Fi signals can handle this increased load, leading to weak reception, dead spots throughout our homes, and just general frustration.
Enter eero. These small, easy to use devices use a mesh network to create multiple access points that "blanket your home in fast, reliable Wi-Fi," without buffering or dead zones, even in hard-to-reach areas. This way, you can achieve whole-home Wi-Fi without expensive Ethernet cables, limiting signal extenders, painful setup processes, or a network engineer.
With eero, all you have to do is plug one device into your modem, turn it on, and the eero app will walk you through the remaining process (more about this next). Need more coverage? Simply add additional eeros until your whole home is covered!
Compared to other options, there's little doubt that eero could simplify the process of achieving the Wi-Fi signal strength you need, while eliminating buffering and dead spots. But is it necessarily the best option for you? Are there any important considerations to keep in mind? We'll explore it all in this review, beginning with the basics.
What Are eero's Technical Specs?
Each eero device is about 4.75" wide, 4.75" deep, and 1.3" high. According to the company, it was "engineered from the ground up to achieve the best performance with the smallest footprint possible," so inside, you'll find a dual-core 1 GHz CPU, two state-of-the-art 802.11ac Wi-Fi radios, along with 7 antennas.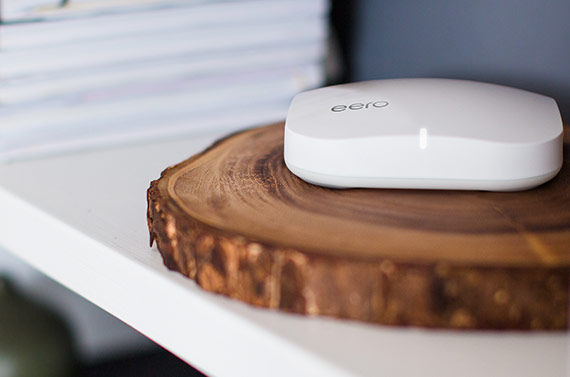 Image credit: eero inc.
Not only this, but the company claims your eero network is super easy to set up:
Download the eero app from Apple's App Store or Google Play.
Grab the eero marked 'Start,' connect it to your modem/router (you may need to disable the routing function, depending on model) using the Ethernet cable included in the box, and power on the device.
The app will automatically detect your eero and help you set up your Wi-Fi network. You'll also need to name each eero (such as Office, Kitchen, etc.) and create a password. Note: Some ISPs may require special configurations.
Tap 'Add Another eero' in the app, which will guide you through ideal placement (the company recommends one eero device per 1,000 square feet). Once you've found a good spot, plug it in and the app will again help you set it up.
Repeat for any other eeros.
Once your eero network is set up, everything can be controlled through the simple, intuitive iOS and Android apps, including advanced settings like DHCP, NAT, DNS, UPnP, and Port Forwarding, along with everyday information like the number of connected devices and internet speed.
From a hardware perspective, each eero can support up to 128 devices, although you'll probably achieve best results by connecting no more than 30. If you want to hardwire your devices, they can easily connect to eero's Ethernet ports, which could be especially useful for "connecting streaming players, speakers, and additional storage devices to your network."
Eero's Security & Updates
All eero devices are protected with WPA2 encryption, making sure you're always secure. What's more, eero runs automatic updates to ensure you always have the latest features in place, without you having to lift a finger. And because eero devices come with more memory and power than needed, adding features and improving performance is as simple as pushing an update from the cloud.
Similarly, eero also regularly runs checkups to make sure there aren't any issues. And if they are detected, your system can automatically reboot itself to address the problem.
Finally, granting access to your Wi-Fi network no longer requires having friends and family enter a long password. Instead, you can set everything up directly through the app with the push of a button.
What's the Different Between eero Wi-Fi System & a Range Extender?
Also known as Wi-Fi boosters and repeaters, these devices might sound like they could improve the signal in your home, but this always comes at a cost. How?
Primarily because repeaters use the same antenna to receive and broadcast data, which means that although your signal might extend farther, its power is reduced by about half. So, although a signal booster could help you finally be able to work in your living room, your signal strength might not be a whole lot better than what you originally had.
On top of this, many Wi-Fi boosters require that each device is connected to its own network. This means that if you're moving from your office to your living room, you might need to sign on to different networks, which could certainly be a pain.
Instead, eero uses something called a mesh network. Without going into unnecessary detail, this setup allows each node (in our case, each eero device) to connect directly with one another, versus connecting to an internet service provider (ISP). In layman's terms, each device acts as its own router and works as a team with other devices/routers in the network, delivering a faster, more powerful Wi-Fi signal.
With all this advanced technology, is eero expensive?
How Much Does​ eero Cost?
At the time of our research, eero devices were only available through Amazon, at the following prices:
1-Pack: $199
3-Pack: $499
Each unit will include a power cord and Ethernet cable.
All eero devices come with a 30-day refund policy (it even includes a prepaid shipping label!), along with a 1-year limited warranty against defects in materials and workmanship under normal use.
In order to request a refund or file a warranty claim, you'll need to call customer service at (877) 659-2347.
What's everyone saying about eero?
Does eero Wi-Fi System Come With Positive Customer Feedback?
Eero had 400+ Amazon customer reviews and an average rating of 4.3 stars at the time of our research, with most compliments referencing easy setup, increased signal strength and coverage area, and attractive design. On the other hand, some of the most common complaints referenced frequent disconnections (whether between computers connected to the network, other home automation devices, or UPnP devices like gaming consoles), and high price. It should be noted that customer support seemed to be responsive, and in a lot of instances, was able to solve the problem at hand.
CNET and PC Mag both gave eero a 3-star rating, noting that the network was easy to set up, provided good coverage (removed dead spots), and decent speed (some traditional setups seemed to offer faster speeds). However, both outlets complained about eero's high price, as well as its lack of any real customization options.
Given these pros and cons, PC Mag concluded, "Eero's focus is squarely aimed at eliminating dead spots in Wi-Fi coverage, even at the expense of everything else." CNET also concluded: "While super convenient and reliable for Internet sharing, you're better off going with a more powerful and less expensive single router."
From a company perspective, eero was founded by Amos Schallich, Nick Weaver, and Nate Hardison, and is based out of San Francisco, CA with 70 current employees. Wondering where the company's unusual name comes from? It's named after Eero Saarinen, a Finnish American architect and industrial designer responsible for popular furniture (especially the "Womb" and "Pedestal" designs) from the 1940s, as well as the Gateway Arch in St. Louis.
Who Is an eero Network Best For?
Based on what we learned during our research, an eero network might be ideal for someone experiencing dead spots or slow Wi-Fi speed, and who wants plug-and-play functionality. In other words, if your primary goal is ease of use—to the detriment of other things, like customization—then eero might be right up your alley, as long as you can handle the steep price.
On the other hand, if you're passionate about new tech and enjoy tweaking different things to your heart's delight, eero might not be the best option; at least, until they add some more functionality through updates. Until then, if you're experiencing dead spots and frequent buffering, you might be better served by a traditional—and much less expensive—range extender.