Effy Jewelry Reviews
Claimed This company has claimed this profile, is getting alerted on any new customer reviews entering this page, and may engage in dialogue with its customers to address their matters.

Companies cannot pay money or provide goods in order to remove or alter customer reviews.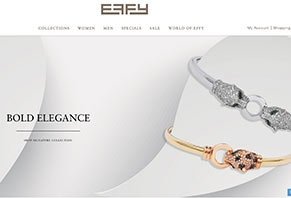 Effy Jewelry is a manufacturer that claims to offer world-class collections of fine jewelry inspired from sources around the globe with bold, stylish looks.
---
New valuations less than purchase price

By Jane N.

,

Auckland, New Zealand

,

Feb 4, 2019
Verified Reviewer

I recently purchased a yellow diamond necklace and earrings while aboard the Sea Princess on its 2018 world cruise. I was assured that I was being given a 40% discount off of the listed price of the pieces. However, on getting a valuation (which was advised by the store person), I find that the new valuations are much less than the actual price I paid for them. Not happy about this and this will be the first and last time I purchase any jewelry from Effy.

Bottom Line: No, I would not recommend this to a friend

Feb 4, 2019

Hi Jane,

Would you kindly reach out to me directly at andream@effyjewelry.com so that we may discuss this further? I am looking forward to assisting you.

---

Fraudulent

By Lynn S.

,

St. Paul, MN

,

Jan 23, 2019
Verified Reviewer

I bought a ruby ring at a going out of business sale at a department store. I was assured that the ruby was genuine, and it was grouped away from the display of fake rubies. When I got my paperwork from the company, my ruby was described as a "lead/glass filled ruby."

I was lied to by both the salesperson and by Effy Jewelry. Unfortunately, because it was sold, no exchange or refund, they are not standing by their jewelry and have not replied to my emails when I sent them to complain. Since I trusted the store that I had shopped at for decades, I never dreamt this could happen. This is a misrepresentation and is illegal. I don't know of any recourse at this point except for a class action lawsuit, and I am hoping that with all the complaints this will happen.

Bottom Line: No, I would not recommend this to a friend

Jan 23, 2019

Hi Lynn,

Would you kindly call me directly at 212-730-8889 x 251 so that we may discuss this? I'd like to know which store this ring was purchased from and I'd like to see a copy of the paperwork that was given to you. I look forward to assisting you.

---

Advertisement

---

Stones falling out

By Pamela H.

,

Derry, NH

,

Jan 20, 2019
Verified Reviewer

I purchased a blue diamond flip top ring a few years ago in the Bahamas. I wore it a few times and a diamond fell out of the top flip portion. I was lucky enough to find the diamond and had it reset. I received the ring back, and a short while later a diamond fell out of the side. I really like the ring, but the setting doesn't seem to hold the stones. I don't really wear it that often and am not rough on it. So disappointed because I love the designs, but I will not buy any other pieces from Effy.

Bottom Line: No, I would not recommend this to a friend

Jan 21, 2019

Hi Pamela,

Sorry to hear that your ring is in need of repair but rest assured this is covered under your lifetime warranty from Effy Jewelry. Please fill out our online form at customercare@effyjewelry .com and one of our guest care agents will handle your request. I may also be reached at 212-730-8889 X 251. We look forward to assisting you.

---

Complain about watch band

By P V.

,

Amsterdam, the Netherlands

,

Jan 14, 2019
Verified Reviewer

I have a beautiful Effy watch - the Columbus circle diamond. But the stingray leather band has broken.

So I contacted Effy Watch to buy a new band and they just simply said no, we don't sell bands anymore. And they did not even try any solution. So now I have a $3500 watch without the accessory band. This is not the way a big company should work with their customers.

Bottom Line: No, I would not recommend this to a friend

Jan 21, 2019

First, let me apologize for the response you received when reaching out to guest services. Would you kindly provide information on the watch that was purchased so that I may assist you? I will need the receipt information as well as a photo of your watch. Please reach out to me at Andream@effyjewelry.com so that I may help obtain a replacement watch band for your watch. I look forward to assisting you.

---

Advertisement

---

I couldn't be happier

By Deborah S.

,

East Setauket, NY

,

Dec 6, 2018
Verified Reviewer

I purchased a multi-stone ring I had admired from Macy's last December, and was very dismayed to find that one of the side stones fell out. I called Effy and was delighted to hear from their customer service rep, Rosita, that Effy would replace the stone free of charge...Kudos to Effy for standing behind their product.

Bottom Line: Yes, I would recommend this to a friend

---

Wonderful pieces.

By Noel K.

,

Melbourne, Australia

,

Dec 4, 2018
Verified Reviewer

I bought an Effy Panther ring and an Effy Panther pendant about a year ago and am extremely pleased with both. They both look dynamic in sunlight or bright light and have been admired by friends in the jewelry trade. Beautiful jewelry.

Bottom Line: Yes, I would recommend this to a friend

---

Paid way too much

By Hillary G.

,

New Mexico

,

Nov 27, 2018
Verified Reviewer

I purchased a beautiful cross pendant in the Baker Building, Bay St. Nassau, Bahamas last Christmas and came home to find that the "great price" "best possible price, bottom line" was thousands more than the same piece in the US. I took my cross and receipt to a local jeweler who I trust and have purchased from for years only to feel like a fool. She had the same Effy piece for significantly less. I have several pieces from Effy that I've purchased over the years and have always been happy, until now. I will never ever buy from them again, and I'll make sure to tell everyone around me on my cruise this season too. I am embarrassed that I was taken advantage of.

Bottom Line: No, I would not recommend this to a friend

Dec 4, 2018

Thank you for your email. Please know that we have many items in our collection that may look similar. Would you kindly call me at 1 888-ASK-EFFY x 251 so that we can discuss your purchase? I'm looking forward to helping you!

---

Diamond bracelet with faulty clasp

By Rosemary N.

,

RUBY PRINCESS

,

Nov 19, 2018
Verified Reviewer

On November 4, 2018 on the Ruby Princess, I purchased a diamond bracelet at Effy. The clasp would not stay fastened and I took it back to the manager. He fooled with it and put it back on my wrist. It remained on my wrist for the rest of the cruise. I discovered it missing when I arrived at my car in Honolulu. I reported it missing to the Sheriff's deputy in Honolulu as well as lost and found. When I called Effy, they offered to sell me a replacement at a good price. I do not consider this a good enough response to my loss due to a faulty clasp.

Bottom Line: No, I would not recommend this to a friend

Dec 4, 2018

Thank you for your email. As we discussed on the phone, Effy offers a lifetime warranty on items purchased from us, however, the warranty cannot cover the loss of an item. We can offer a significant discount on future purchases for your trouble.

---

Cheap junk at high prices

By Jay R.

,

United Kingdom

,

Nov 2, 2018
Verified Reviewer

My husband purchased me a necklace and earring set at Amber Cove in the Caribbean. I have worn the jewelry twice in the last year. The magnet fell out from the necklace and cannot be replaced. £1,000 was what he paid. Please do not buy this brand.

Bottom Line: No, I would not recommend this to a friend

Nov 2, 2018

I am sorry to hear that your purchase from Effy is in need of repair. Please know that ALL Effy Jewelry purchased from us comes with a lifetime warranty, which guarantees repairs at no charge. Please contact us at 1-888-ASK-EFFY and we will advise you on how to send your item back to us in New York for repair, at no cost to you. Looking forward to assisting you!

---

Effy Jewelry represents the worst quality gems

By Justyna C.

,

Pennsylvania

,

Oct 31, 2018
Verified Reviewer

I recently purchased an emerald ring branded Effy. This is absolutely the worst emerald I have ever seen! It is extremely cloudy. And the green is a light green, not a rich green as I would have expected. I think the Effy brand name should be consistent with "crap jewelry." I hope you don't lose your money as I did. I waited too long to be able to return it.

Bottom Line: No, I would not recommend this to a friend

Nov 1, 2018

Hi Justyna, I'm sorry you are unhappy with your recent purchase. Would you reach out to me so that I may assist you? 1-888-ASK-EFFY x251.

---

Updated review

Update

By Lisa H.

,

South Carolina

,

Oct 21, 2018
Verified Reviewer

So, I read Effy's response and it is the same party line when I complained to Effy on the ship. But here's the thing. I told the saleswoman the price I got online from their own website and she said, "Wow, you got a really good price." So I said, "So how much would it be if I bought it here in your store?" She told me $3500. She did not even mention the matching.

Then I complained to the ship and they had the store manager call me. She said she called home office and told her to tell me the party line in Effy's response below. So here's what I'm very angry over.

First, she checked all their sales from the cruise for me and confirmed all were sold at the discounted price on the web. Then two days later on our last day at sea they announced a sale of 50% off. So I went in and asked to see a different necklace that she said was part of the sale. It was discounted to the same price on the web. That necklaces had been on sale on their website for many weeks at 50% off ($895). So if you do the math here, half off the current price would be about $450. But no, it was $895. So these people for the first day of the cruise were already being charged 50% off as they were matching the website's price. By posting a sign 8 days later about the sale was false advertising. Further price matching is usually against another retailer. I would have fully expected the jewelry to be the same price as their website.

So again, false advertising that they were having a big 50% off sale because it was the last day at sea when in fact the prices were unchanged from the first day at sea. Most people on the ship were elderly. They live on fixed incomes and are trying to enjoy the last years of their lives. Shame on you Effy for trying to deceive them out of their money!

Bottom Line: No, I would not recommend this to a friend

Previous review
Oct 19, 2018

Questionable sales processes

I bought a piece directly from Effy for $1900. I was on a cruise a few weeks later that had an Effy store onboard. The same piece I was told was $3500. I called their management to complain that I felt they were cheating elderly retired people. They gave me a lame excuse and assured me they sold all pieces onboard for the same online price. But I was told $3500 not $1900 for the same piece. Then two days later they announced a sale for 50% off. But it wasn't. They didn't change their prices. They were the same as the website, which were on sale for many weeks already. Shady company if you ask me.

Oct 19, 2018

Hi Lisa, thank you for your comments. Please note that retail pricing is shown on all of our price tags, and we offer sales in our Effy boutiques and on our website. We also offer a price match guarantee on all purchases as is clearly stated on our receipts and we have a lifetime warranty on all of our jewelry as well.

(

read more

read less

...)

---