Egg Sitter Reviews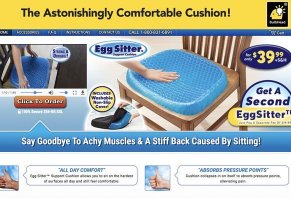 Egg Sitter is a seat cushion that delivers several unique features to help relieve sitting-related lower back pain, including an Elasta-Core ultra-flex polymer and a flex grid design.
About Egg Sitter
Constructed of Elasta-Core ultra-flex polymer, the 17" x 15" Egg Sitter seat cushion features a honeycomb design that collapses in on itself when you sit, thereby absorbing pressure points and providing optimal support to the lumbar portion of your backside and spine.
In addition, the website tells us the cushion's flex grid remains cool to the touch while circulating air underneath for all-day comfort. It also provides the strength and durability needed to always restore its shape, even in the hardest of seats, whether at home, at the office, or in the car.
Once you have Egg Sitter in your home, will you find it astonishingly comfortable, as claimed on the website? Will it really help you say goodbye to achy muscles and a stiff back caused by sitting? Let's explore each of these claims in detail.
What Causes Lumbar Pain & Discomfort While Sitting?
In order to fully understand the condition Egg Sitter promises to address, let's briefly break everything down in a step-by-step manner:
Pain Is a Broad Topic
We've written about the topic of pain relief on dozens of occasions over the years, so we frequently emphasize the fact that pain is only a symptom; not a diagnosis. In other words, it only indicates that something's wrong, but not specifically what is wrong. As such, this pain can stem from thousands of different causes.
So, if you're experiencing chronic pain or discomfort in any area of your body, it's a good idea to get your doctor involved, who can recommend products that could deliver the most value based on your diagnosis.
Zooming In on Back Pain
With this caveat in mind, the American Chiropractic Association reports that "back pain is the second most common reason for visits to the doctor's office, outnumbered only by upper-respiratory infections." Also, that "as much as 80% of the population will experience a back problem at some time in their lives," with "one-half of all working Americans admitting to having back pain symptoms each year."
WebMD tells us that common causes of this back pain include "accidents, muscle strains, and sports injuries," while Spine-Health adds torn/pulled ligaments, herniated discs, degenerative disc disease, osteoarthritis, and deformity, to name just a few.
» RELATED: Winning the Battle Against Sciatica & Chronic Back Pain
Why Sitting Can Cause Pain
Regardless of the underlying cause, sitting can often exacerbate lower (lumbar) back pain, since the position can compress spinal discs and cause pressure to build up on and around the tailbone. Other common reasons are poor posture while sitting, where many people tend to slump, as well as hard, uncomfortable sitting surfaces, which don't form to the body's curves (especially the tailbone area) and consequently build up pressure points.
This last problem is the one that seat cushions like Egg Sitter promise to address by conforming to the body, alleviating pressure points, cradling the tailbone, and softening otherwise uncomfortable surfaces.
How Much Does Egg Sitter Cost?
Egg Sitter includes a standard washable non-slip cover is priced as follows:
Single offer: $39.99
Double offer: $59.98
Each option also includes a $9.99 S&H fee. During checkout, customers can add a second Egg Sitter cushion for an additional $19.99 fee, and upgrade to a Deluxe cover (which, according to the website, is charcoal-infused to help eliminate odors) for an additional $20.
All Egg Sitters come with a 30-day refund policy, less S&H charges and any fees associated with the BOGO offer. In order to request one, you'll need to call Bulbhead's, a division of Telebrands, customer support at 844-863-0166.
What Do We Know About Egg Sitter's Manufacturer?
Telebrands is the largest company in the As Seen on TV industry, with 35 years in business and hundreds of product releases in that time. Recent popular examples (chosen at random) include Hurricane Spin Scrubber, Air Dragon, Pocket Hose Ultra, and Red Copper Pan.
They held a C+ rating with the Better Business Bureau, based on 28 customer reviews and more than 330 closed complaints, as of 1/25/18. Most of these complaints referenced difficulty obtaining a refund and less-than-stellar support, although a company representative provided a solution in each instance.
Are There Other Gel Honeycomb Seat Cushions Like Egg Sitter?
Browsing Google Shopping and online marketplaces like Amazon and Walmart.com, we encountered dozens of gel seat cushions during our research, including those marketed at reducing lower back pain. These ran the gamut as far as shape, size, and material, and pricing; from generic to coccyx-specific, and from memory foam to gel and cotton batting. Price-wise, they ranged from less than $10 to well over $100.
Even only focusing on only gel models that implemented some type of column design, we encountered several options competing for many of the same customers as Egg Sitter. To give you an idea of just how many, here are a handful of matches (chosen at random):
| Product | Dimensions | Weight | Price |
| --- | --- | --- | --- |
| Egg Sitter | 17" x 15" x 1" | Unknown | $39.99 |
| WonderGel Support Cushion | 18" x 14" x 2" | 3 lbs | $89 |
| FOMI Orthopedic Seat Cushion | 17" x 15" x 1"" | 4.6 lbs | $59.99 |
| Miracle Cushion OPTIMA | 16" x 18" x 1.25" | 3 lbs | $54.99 |
| Miracle Cushion Traveller | 15" x 13" x 1" | 2.5 lbs | $42.99 |
| Miracle Cushion Supreme | 17.5" x 15.5" x 2" | 5.4 lbs | $79.99 |
| Tektrum Orthopedic Elastic Non-Liquid Gel Seat | 15.5" x 15.5' x 1.7" | 4.4 lbs | $43 |
| The Simply Purple No-Pressure Seat Cushion | 38.7" x 43.8" x 3.2" | 1.36 lbs | $55 |
| The Royal Purple No-Pressure Seat Cushion | 38.7' x 43.8" x 5" | 2.63 lbs | $79.99 |
| The Portable Purple No-Pressure Seat Cushion | 13" x 15" x 1" | 1 lb | $40 |
Egg Sitter appeared identical to the WonderGel Support Cushion, but at more than half the cost. Given all these design and pricing options, what's a solid first step to point you in the right direction?
If you're experiencing recurring pain in your lower back, regardless of the surface you're sitting on, the first person you should consult with is your physician. They can help you identify the root cause of this discomfort, and then recommend the most appropriate treatment or product to address it.
If they advise that you continue looking at these cushions, how can you select the best model for your needs?
Lee Ann Hoffman, O.T., MSc. Rehabilitation, recommends you focus on models that feature "a combination of off-loading, immersion and envelopment" pressure redistributing capabilities, in order to deliver the most stability and balance. Also, you'll want to make sure the cushion has a cover to reduce friction and minimize potential chafing.
Speaking of which, she recommends looking for a fabric that promotes airflow, "a cushion composition that is not influenced by environmental temperature," and one that features "special anti-microbial properties to help control odor."
Other considerations include weight, if you plan to use your cushion in several places; height, which could impact your ability to fit underneath desks, as well as whether or not it requires periodic maintenance.
What does all of this mean in regard to your future with Egg Sitter?
Our Final Thoughts About the Egg Sitter Seat Cushion
The Egg Sitter Seat Cushion could help relieve pressure points when sitting, reduce pain and discomfort caused by hard surfaces, alleviate chafing and odors, and maximize airflow.
On top of this, among all the close competitors listed above, it was the least expensive, although none of the customer support reps we spoke with during our research could provide details about its weight.
However, at just one inch thick, it was among the thinnest options above, so it might not be an ideal choice if you're looking to maximize the level of cushioning available. On the other hand, this thinness could be a benefit if you just want a little extra cushioning at work, while making sure that you're not sitting too high to fit underneath your desk.
Pro tip: Per the instructions posted on the Egg Sitter website, you shouldn't "leave in direct sunlight or hot environments," shouldn't "use with your vehicle's heated seat function," and should avoid exposing it to temperatures of 105° or greater (can permanently distort). Keep this in mind if you're planning to use the cushion in your car.
As mentioned earlier, it ultimately all comes down to your specific needs, which is why it's positive that Telebrands gives customers the ability to try Egg Sitter for 30 days, and then request a refund if it doesn't match their preferences. Just remember that you'll lose your initial $9.99 S&H, any fees associated with the BOGO offer, as well as return shipping fees to the manufacturer.
Don't bother. It caused me more pain.

By Lynn M.

,

Missouri

,

Jun 19, 2019
Verified Reviewer

I ordered two of these. I tried several different chairs at different times and the pain in my lower back was worse. I was so disappointed because I expected a better outcome.

The person using the other sitter did not like it. I believe I am owed a $59 refund but I am certain I will never get it.

I would never recommend this to a friend.

Bottom Line: No, I would not recommend this to a friend

---

Love my Egg Sitter

By Anthony K.

,

California

,

Feb 27, 2019
Verified Reviewer

I got my Egg Sitter because I thought the honeycomb design would provide good support and allow airflow. Added bonus, the cushion came with a washable cushion cover that has a non-slip texture on the surface side that keeps it in place. The gel cushion stays cool and holds its shape nicely. I'm going to buy another one soon for work.

Bottom Line: Yes, I would recommend this to a friend

---

Advertisement

---

Not happy

By Norman S.

,

Ontario, Canada

,

Oct 10, 2018
Verified Reviewer

It literally makes my butt hurt. I only use it because the chair it's on is even worse.

I do have comfortable chairs, but they are all too high for the little desk I keep my laptop on.

Bottom Line: No, I would not recommend this to a friend

---

Bad quality

By Cristina C.

,

Apex, NC

,

Sep 27, 2018
Verified Reviewer

I brought it from a store to use it in my car. It lost its shape, and it shanked. I could not return it since I did not keep the box package. It is too expensive, not comfortable and material quality is very poor.

Bottom Line: No, I would not recommend this to a friend

---

Advertisement

---

Forget the Egg Sitter

By Deborah F.

,

Parkersburg, IA

,

Sep 24, 2018
Verified Reviewer

I bought the Egg Sitter about a month ago. I used it for a week and no more. No support, it wiggles underneath you and after back surgery 18 months ago, I need support. I was going to pass it along, but my husband now uses it as a kitchen chair seat cushion. Seems to work well for that, but not for the price. Any seat cushion from Walmart gives more actual support.

Bottom Line: No, I would not recommend this to a friend

---

Back pains, product after several months use looks like blob from a movie

By Tom B.

,

St. Louis, MO

,

Jul 17, 2018
Verified Reviewer

I have had this product for 30 days now, and after I pulled it out of its provided cover, the cushion looks nothing like what it did when I put it in. It looks more like something from the blob. It no longer looks like the cover of the box it came from. If I could send a picture of it, I would, and if I can find an attorney to sue them, I will. DO NOT BUY. It will cause you backaches. It may be safe for an egg but not for the human body.

Bottom Line: No, I would not recommend this to a friend

---

Bait and switch

I watched the ad on TV and my wife is wheelchair bound. I thought this would be great for her. The picture in the ad looked great for her sitting all day in a wheelchair. Nowhere was the thickness stated. The picture looked like it was 3" to 4" thick, so I ordered it.

When I received it, I opened the package and lo and behold, it was only 1" thick. Hardly thick enough to sit on for hours at a time. I could have returned it for a credit but $12 postage and time, didn't seem worth it. Credit was some more of the junk they sell.

Isn't there any more truth in advertising? I guess there isn't.

Bottom Line: No, I would not recommend this to a friend

---