Egg Sleeper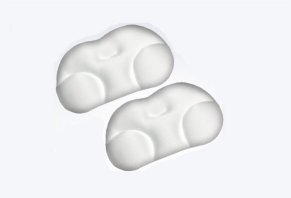 Using eight million microbeads to provide support for your neck and shoulders, the Egg Sleeper claims to help alleviate sleep-related aches and pains in your neck and back.
Egg Sleeper Review – Get the Comfort for a Good Night's Sleep?
The Egg Sleeper is an As Seen on TV pillow that claims to provide the comfort and support you need to get a good night's sleep.
The secret to the pillow's comfort and support, the website says, is 8 million small "micro-comfort" spheres that work together to support your head and neck.
The company who sells the pillow is Telebrands, a well-known As Seen on TV company who sends products out to market that include brands like Atomic Beam, Red Copper, Bavarian Edge, Crank Chop and Brass Bullet.
In this review, we'll provide you an analysis of how this pillow works, talk about the cost and return policy, then compare it to other similar pillows. At the end of our review, we'll give you our general thoughts about its strengths and weaknesses.
How the Egg Sleeper Works
As we mentioned a few seconds ago, the Egg Sleeper contains within its cover 8 million small spheres that provide cushioning for your head and neck. For this reason, we'd classify this pillow as a "microbead" pillow, as it's filled with millions of small beads.
In the company's commercial, they claim that you can put a flat of eggs in between two of the pillows, run them over with a car and the eggs won't break.
To illustrate this, the show an actual car running over a flat of eggs sandwiched between two Egg Sleepers and, as promised, the eggs don't break.
The commercial goes on to show another example of the pillow's supportive powers by placing a glass of red wine on one side of the pillow and then dropping a bowling ball on the other side. The glass gently bobbles after the ball drops but is nowhere close to tipping over.
Based on our observations, the commercial shows these two situations to prove that the pillow has more than enough support to provide a stable surface for your head. In fact, they say that the pillow is comfortable and supportive enough that it's ideal for "arthritis, neck pain, back pain, migraines and more." We'll discuss these claims in the next section.
In addition to the support it claims to offer, the pillow is machine-washable, hypo-allergenic and helps you sleep cool via good circulation of air through the pillow's millions of tiny spheres.
Can the Egg Sleeper Help With Arthritis, Neck Pain, Back Pain and Migraines?
One of the key claims the pillow makes is that it can help with a variety of painful conditions. We wanted to know if it was possible for a pillow to provide the type of pain relief this one claims to offer, so we did a little research on trusted medical and sleep sites.
The National Sleep Foundation (NSF) says that headaches can be the result of a variety of conditions but that, in some cases, you can wake up with tension headaches because your neck and head aren't in a neutral position while you sleep. "Neutral" refers to the regular alignment of your neck when you're standing.
However, their site doesn't mention migraines, which is important because, as WebMD points out, migraines and tension headaches are two different things.
Based on this, we believe that the Egg Sleeper may be able to help with headaches but that, according to the NSF, a pillow is more likely to cure a tension headache than it is a migraine.
As for neck and back pain, our extensive research into mattresses and pillows reveals that there's a chance this pillow could help relieve pain resulting from poor neck alignment but that, just like any other pillow, there's no guarantee that the Egg Sleeper will take away all your pain.
As for arthritis and your pillow, Verywell Health points out, via advice from medical professionals, that a pillow can help with arthritis as long as it provides ample support for your neck and shoulders and can mold to the shape of your head.
Another tip from Verywell Health is that, if you're a side sleeper, you'll want to find a pillow that is "tall enough to fill in the space between your mattress and your ear."
Egg Sleeper's Cost and Return Policy
At the time of publishing, you could buy one pillow for $29.99 with free shipping and add another pillow for a $14.99 fee.
According to the pillow's FAQ page, shipping could take between 3-6 weeks.
You have 30 days to return the pillow if you aren't happy with it. The site's fine print notes that you don't have to go through a pre-authorization process to make a return. All you have to do is send the pillow back along with a document in the box that includes:
Your order number or your name, billing address and phone number
A "detailed explanation" of why you're returning it
Whether you want a refund or replacement
We find this return policy refreshing, as many As Seen on TV products require that you contact customer service first to get an authorization number before you're allowed to send the item back.
Keep in mind, though, that you'll be responsible for return shipping.
How Egg Sleeper Compares to Other Pillows
What is quite interesting about this pillow is that the microbead method it uses is something that we most often see with travel pillows. The main reason this is the case, we believe, is that a bead-filled pillow is easier to compress and carry with you than a memory foam pillow or pillows that use other fillings.
Despite this, we did find a couple of microbead pillows on Amazon that had several hundred reviews and decent customer ratings.
The Remedy Microbead Pillow was one such product. AT the time of publishing, it had 306 reviews for an average rating of 3.5 stars. One pillow was $13.57 and two pillows were $39.85.
Another option was the Sobakawa Cloud Pillow, which had more than 600 reviews for an average rating of 3.8 stars. This pillow was $24.95 at the time of publishing.
When comparing the Egg Sleeper to these two pillows, the only real difference we could see was in the shape of the pillows, and even then, there wasn't enough of a difference between them to note anything significant.
And, considering the fact that the Egg Sleeper's main feature is the microbeads that are also found in these other pillows, we'd say there isn't much separating the three pillows aside from price. Both the Remedy and Sobakawa pillows are cheaper than the Egg Sleeper.
The Final Word: Our Thoughts About Who the Egg Sleeper is Good For
In our opinion, this pillow doesn't employ any new technology, as microbead pillows have been around for a while. What's interesting is that, instead of implementing this technology in a travel-sized pillow, they use it for a full-size pillow intended for nighttime use.
With this in mind, we think that the pillow is a good fit for someone who experiences sleep-related pain including headaches and pain in the neck and back. We found evidence that using a pillow that supports your head and neck has the potential to relieve sleep-related pain.
Now, this doesn't mean the Egg Sleeper is guaranteed to relieve your pain any better or worse than other microbead pillows we found. So, if your goal is to find the cheapest microbead pillow you can find, we believe there are better values on Amazon.