Egglettes Reviews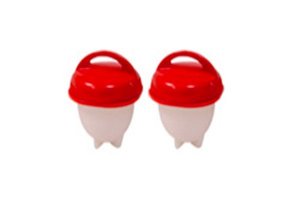 After cracking an egg, twisting on the lid, and boiling, the Egglettes device claims to make cooking hard boiled eggs as easy as popping them onto a plate and enjoying.
About Egglettes
Using a two-piece design, Egglettes promises to help you make perfect hard-boiled, soft-boiled, and mini-omelet eggs in minutes, without worrying about messy shells and broken egg whites. Just crack the egg into the nonstick silicone pod, twist on the lid, boil on the stovetop, and pop them out when done.
Then, when you're finished cooking, their dishwasher safe design promises to make cleanup super easy.
The basic idea behind Egglettes seems fairly straightforward. But does that necessarily mean that they'll deliver on the manufacturer's claims? Even then, are they the only option available? Let's start answering your questions by going through a quick cooking lesson.
How Do Eggs Boil?
According to Nature.com's Scitable, eggs are made up of a lot of protein. And when exposed to heat from boiling water, the molecular bonds of the amino acids inside these proteins change shape. Then, they "clump together and solidify, causing the egg white and yolk to harden."
In a nutshell (or eggshell, as the case may be), this is the 'thermodynamic' process referenced on the Egglettes website and in their commercial.
As anyone who's ever boiled an egg understands, though, this chemical change can cause the egg white to stick to the inside of the shell, making it tough to remove without spending precious time and creating a mess in the process.
And while there's no foolproof method, the article goes on to explain that adding table salt or vinegar could help make peeling a bit easier. Epicurious adds a few more methods:
Cracking the top and bottom, and then blowing
Putting a plate over the pot (or even a plastic container) and shaking
Placing a spoon underneath the egg's shell, and then rotating
Rolling the egg on the counter, submerging in cold water, and peeling the shell
Compared to these—often free—methods, let's find out what you'll pay for Egglettes.
How Much Do Egglettes Cost?
Egglettes are available at the following vendors:
Amazon: $13.66 (6 cups)
Walmart: $14.98 (8 cups)
Target: $9.99 ( 4 cups)
Bed Bath & Beyond: $2.99 (4 cups)
What Do We Know About Egglettes' Manufacturer?
The company behind Egglettes, Idea Village is based out of Wayne, NJ and has been manufacturing As Seen on TV products since 2009.
Idea Village held an A+ rating with the Better Business Bureau, with 48 closed customer complaints, as of 2/27/20. Most of these appeared to revolve around products that didn't meet expectations, along with difficulty obtaining refunds.
Are There Other Devices Like Egglettes?
While we encountered several related products during our research, such as electric steamers and poached egg holders, the only similar option to Egglettes we came across was Eggies.
This four-pack of holders featured a meaningfully different design than Egglettes, although they offered the same core functionality—just crack the egg into the container (and pre-season it, if desired), boil, and then untwist the cap to remove the contents.
Eggies didn't come with a bonus microwave egg sandwich cooker or free recipe booklet like Egglettes, but it did include a free egg white separator. Price-wise, online retailers offered it for between $9 and $25, putting the product in question meaningfully lower, depending on the retailer.
We don't typically include feedback for third-party products in our articles, but given the essentially identical function in this instance, we think it's worth pointing out that many Eggies customers complained that the devices tended to leak their contents into the surrounding water.
Also, due to the elbow grease necessary to clean them after each use, many customers stated they didn't seem to save much time compared to traditional boiling and peeling.
Pro tip: To potentially help alleviate the latter problem, one Amazon reviewer recommended that you oil the inside with some cooking spray prior to use, although your mileage might vary.
We called and spoke with several customer support representatives who confirmed that the plastic used in Egglettes is BPA-free. On the other hand, there was no confirmation of this on the Eggies website at the time of our research,
Our Bottom Line About Egglettes
Based on what we learned during our research and from online customer feedback for functionally identical competitors, it seems that Egglettes could live up to its claim of helping you never have to peel a hard-boiled egg again.
However, you'll still have to crack the egg, which could introduce eggshells into the cup if you're not careful, so it certainly won't eliminate them altogether.
Also, based on the limited online consumer reviews for Egglettes, it might take some practice before perfecting the necessary technique. Together, we think you might want to maintain realistic expectations about what you'll experience as soon as you try them.
Just keep in mind that it's not a completely risk-free transaction if you're not satisfied, since `you'll lose your initial $3.99 S&H. You'll also have to pay to ship your Egglettes back to the manufacturer, which could vary greatly depending on where you live.
---
Great product!

By Mary Cox

,

Fairlawn, VA

,

Feb 26, 2018
Verified Reviewer

I followed the instruction exactly as written. The only thing I experienced was the cooking time. I had to boil them 18 minutes. The flat bottom does not matter to me. If they floated on the side, most likely, they were filled past the fill line. Also, I would think if the lids came off since they were too full. The two most wonderful things about these are: you don't have to peel them, and there is no stink! It is nice not to smell stinking eggs most of the day.

Bottom Line: Yes, I would recommend this to a friend

---

Highly recommended

By Bob Bush

,

Ohio

,

Mar 5, 2018
Verified Reviewer

I've had no problems with this product except that the cooking times were too long. That's not a deal breaker for me. I just cooked them like an egg in the shell. When cooking with eggs, I have always broken them in a separate container to make sure I don't get a piece of eggshell in with my eggs. I figured that a little Pam would make life easier before I got them. Not having to peel the egg is heavenly! HIGHLY RECOMMENDED!

Bottom Line: Yes, I would recommend this to a friend

---

Advertisement

---

Great product

I recently purchased these, and it did take about eight weeks for me to get them. That could be a negative but now that I've gotten them I've changed my mind there.

I used them for the first time today and followed the directions that came with them. I used cooking spray and wiped the excess off with a napkin.

I used a pan of boiling water for the amount of eggs I was doing, so I had no problems with them falling over as others have.

I boiled as directed and when finished I set them in a bowl of cold water, just like when I would hard boil eggs. Once they were cool I just squeezed the outside and they did come right out.

Other than the shape, I personally think they are great. Now I won't have to worry about destroying eggs when I peel them (I am the world's worse egg peeler).

Bottom Line: Yes, I would recommend this to a friend

---

Egg-cellent product

By Donna Brady

,

Staten Island, NY

,

Mar 23, 2018
Verified Reviewer

I am so glad I took a chance and ordered these. Of course, I read a few reviews, and one, in particular, said to follow instructions. Well, I did to T. I greased them with olive oil, used a spoon to separate, and they came out perfect. It's a 5-star for me.

Bottom Line: Yes, I would recommend this to a friend

---

Advertisement

---

They work!

By Deb Tingle

,

Kettle Falls, WA

,

Apr 20, 2018
Verified Reviewer

After reading all of the negative/bad reviews for the Egglettes, I was definitely prepared for the worst and to be let down. I only did two my first time trying them just in case. Well, they came out PERFECT. Nothing stuck to the inside, the eggs were done to perfection, and I couldn't be more thrilled and no more having to peel.

I brought the water to a very rapid bowl, sprayed the inside of the Egglettes with Pam cooking spray (I cracked the eggs into a measuring cup before putting them into the containers to be sure there were no broken eggshell pieces in them), put the lids on tight, and placed in the water for about 13-14 minutes. I removed them and placed them in a bowl of cold water for about ten minutes. I used a spoon to slip them out as the directions stated.

I am so glad that I had already purchased them before I read all of the terrible reviews because I probably wouldn't have bought them!

Bottom Line: Yes, I would recommend this to a friend

---

Egglettes do work!

By Bruce Branz

,

Pennsylvania

,

May 1, 2018
Verified Reviewer

First off, I greased my Egglettes very thoroughly with canola oil. I boiled four of them in a stainless steel pot for 13 minutes and let them cool in a pot of cold water for 15 minutes. Getting them out was a nightmare. They stuck to the inside of the Egglettes, and it was another nightmare to clean the insides for the stuck on eggs.

So this time I smeared the inside of the Egglettes with Crisco. I know it is much stickier than oil, so why not give Crisco a shot? This time I cooked my large eggs for 15 minutes and then put them in an ice water bath for 15 minutes. VOILA! All I did was give the four Egglettes a squeeze and the eggs simply popped out! SUCCESS! I will be making my eggs this way for the future.

Bottom Line: Yes, I would recommend this to a friend

---

Egglettes...I love them!

By Rowan C.

,

Maine

,

May 23, 2018
Verified Reviewer

I received my Egglettes early this morning and read the booklet that came with them. I washed and dried them and then I cooked and crumbled sausage and peeled and diced green pepper and onion. I mixed five eggs and added what I wanted then I put them in boiling water, and after just 10 minutes I checked one, and it looked done. I allowed them to cool a bit then opened plopped them right out! They were delicious. Solid full of flavor! The cleanup was easy as pie. I did use Pam. Three short bursts as recommended. I love them, am making some for breakfast right now!

Bottom Line: Yes, I would recommend this to a friend

---

I love my Egglettes

By Crystal M.

,

Dublin, Ireland

,

Jun 5, 2018
Verified Reviewer

My dad bought these for me as a gift, and I love them. They really are great for making my slimming world breakfasts. I have never had to oil the insides or had them leak or not stand upright. I just use a spoon to scoop them right out, and they come out perfect no oil necessary. If you give them a quick scrub with a baby bottle brush, they are cleaned up super quick. And I never submerge them in water, just have them stand upright in a saucepan of boiling water. Anyway, like a said, I really love mine, and I haven't had any of the issues claimed.

Bottom Line: Yes, I would recommend this to a friend

---

No more peeling!

By Lakin S.

,

Alpena, MI

,

Aug 8, 2018
Verified Reviewer

These things are awesome! We have about 20 chickens. We always have fresh eggs, and I'm terrible at peeling them after being hard-boiled, so I decided to try Egglettes.

For those people whining about having to spray the containers with cooking spray and then clean them out after...what the heck is your problem? What did you expect? It's not a miracle product. It's advertised to help avoid peeling eggs, and that's exactly what it does. I ruined too many eggs by peeling them terrible. Now with my Egglettes, I have saved time and eggs. When the directions are followed, I believe the Egglettes work as advertised. When the silicone is sprayed appropriately, the eggs DO NOT stick, and the container is super easy to clean. I would buy another pack, and I do recommend to other people.

Bottom Line: Yes, I would recommend this to a friend

---

Egglettes are cool

By Robert B.

,

Fredericksburg, VA

,

Oct 7, 2018
Verified Reviewer

These things are pretty neat, and I don't understand all the Egglette-shaming that I read.

The Egglette is vented via a small hole in the plastic top to allow air, repeat, air, to escape during the heating process. If the Egglette tips over during the boiling, then egg material will squirt out the vent into the boiling water. So, don't let the Egglette tip over! Simply put enough water in a small pot to allow the things to sit on the bottom of the pot and up to a level below when they float. Works every time.

My favorite recipe is to put some bacon bits and a small amount of sharp cheddar and the egg into the pre-pammed cup, close it up and then shake vigorously. Boil the cups in a rolling boil for a little under 12 minutes, squeeze the omelets out and enjoy.

These things are the only food I know how to cook.

Bottom Line: Yes, I would recommend this to a friend

---

It's "eggcellent."

By Anthony Y.

,

Arizona

,

Oct 24, 2018
Verified Reviewer

If you mess using these up, don't blame the product. It's too simple of a concept and design to really complain about manufacturing defects.

Will it be perfect every time? Nope. When does anything work perfect every time? Just practice and enjoy shell-free eggs.

Bottom Line: Yes, I would recommend this to a friend

---