EGO Blower Reviews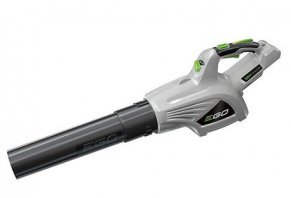 The EGO Electric Blower claims to provide the most power of any electric blower available—even some gas-powered blowers.
About EGO Blower
Using an interchangeable 56V lithium-ion battery that provides 40% more power than the leading 40-volt battery, the EGO Blower is an electric blower claimed to give you the performance of a gas powered motor, but without having to worry about noise, fuss, and fumes. In fact, the EGO Blower specifically claims to be the "first cordless blower to exceed the performance of gas."
Since it's now officially fall, your yard will probably be covered in leaves pretty soon, and you'll be looking for the most effective way to clean them up. But can the EGO Blower help you do this, and is its performance justified by its high price?
How the EGO Blower Claims to Work
At the core of EGO Blower's performance is the 2.0 Ah 56V lithium-ion battery, which is claimed to be the industry's most powerful battery, and to be interchangeable with EGO's other products, including the Power Plus Lawn Mower. This, in combination with the EGO Blower's high efficiency brushless motor and turbine fan engineering, is claimed to provide you with the highest cubic feet per minute (CFM) of any electric blower on the market, including some gas powered blowers.
Despite this, the EGO Blower is claimed to provide up to 1 hour of run time, and to recharge in about 40 minutes (see more about this in the final section). However, this highly depends on the speed you choose for your EGO Blower, which includes:
High Efficiency – Blows at 250 CFM
High Power – Blows at 385 CFM
Turbo Boost – Blows at 480 CFM
When using your EGO Blower, the manufacturer claims that it features low vibration output which can reduce fatigue and extend battery life, and that its design is lightweight and compact. In addition, the EGO Blower features a large diameter blower tube that maximizes air flow, and an intake that's situated on the bottom of the machine, so you won't have to worry about your clothes blocking the air flow.
EGO Blower Pricing & Refund Policy
The EGO Blower is only available through Home Depot, and is priced at $199.
Replacement parts can be purchased directly through EGO or through Home Depot. The 2.0 Ah battery costs $129, while the upgraded 4.0 Ah is priced at $199.00. A standard charger will cost you $69.99 and the 30-minute charger costs $99.99.
All EGO products come with a 5-year warranty (3-year warranty for batteries and chargers) against defects in material or workmanship.
Any products purchased through Home Depot, online of off, come with a 90-day return policy.
What Do Other Consumers Have to Say About the EGO Blower?
Overall, the EGO Blower appears to have a very positive online reputation, with most customers complimenting it on its ease of assembly and use, its powerful yet quiet motor, variable speeds, and its better performance compared to many of the previous electric blowers they've used.
However, this doesn't mean that the EGO Blower hasn't generated some customer complaints. Among these, the most common appear to be related to:
High price compared to the competition.
Because of the unit's power, it may have a tendency to blow debris in all directions. Because of this, more than one reviewer recommended putting a "scoop" at the end to direct the airflow, or narrowing the end of the nozzle for greater control.
That the unit is slightly heavier than some of the competition, which could lead to exhaustion more quickly, and that it should include a shoulder strap.
Defective batteries (stops working after only a couple uses, quits charging, etc.). In instances like these, it appears that the company is quick to replace defective units.
Short battery life. In fact, one review posted on the EGO website claimed that the unit will only run for about 7 minutes on the highest setting, although other reviewers claim the battery lasts for 20-30 minutes on the lowest setting (not an hour like the manufacturer claims). Even on the lowest setting though, the short nozzle with its large opening has a tendency to waste a lot of the battery's power and to make it less efficient.
Is the EGO Blower's Performance Worth the Price?
Sure, your yard may still be green right now, but very soon it will likely be covered in a layer of wet, heavy leaves. And if you want to make cleaning them up as easy as possible, is the EGO Blower the way to go? Perhaps, but consider the following:
Air Speed vs. Cubic Feet per Minute (CFM)
When compared to other electric blowers, priced lower than and competitively with the unit, at 480 CFM, the EGO Blower clearly puts out a larger volume of air than most of the competition. In some instances, more than three times the volume.
However, at 92 mph, the EGO Blower has one of the lowest air speeds of any of the other blowers sold through Home Depot, which is defined as the speed the air is traveling as it exits the end of the nozzle. But what does this mean for you?
Which Should You Choose?
If you're looking to push around a greater volume of material, using MPH as you gauge may not leave you a happy camper. This is because by the time your blower's air reaches the debris, it may have slowed considerably. And considering the fact that most manufacturers increase their air speed by narrowing the end of their nozzles, this means the air exiting the blower will cover a much smaller area.
CFM, on the other hand, is what you'll want to focus on for sheer power, as this is what actually provides greater "force" behind the material you're blowing around, and is much more suitable for large jobs. Click here for a detailed explanation of the difference between MPH and CFM.
Your Battery is the Key
While battery technology has come a very long way over the past few years, it's still far from perfect. As a result, although the manufacturer advertises up to 1 hour of run time, the reality is that you can probably expect about 30-40 minutes of run time on the EGO Blower's lowest setting, about 15 minutes on medium, and 10 minutes or less on the Turbo setting.
Overall, this means that if you have a small to medium-sized yard and light to moderate debris to clean up, the EGO Blower should provide plenty of run time to get the job done. However, if you have a larger lot and/or excessive or heavy debris to pick up, you might find that you'll need two (or more) battery cycles to finish the job.
Battery Life
According to BatteryUniversity.com, you can expect your lithium-ion battery to last between 300 and 4,500 cycles (e.g. charges), which is greatly affected by how low you allow your battery to get before recharging it. Overall, considering the relatively high price of the EGO Blower's battery and the fact that you may need to use more than one charge cycle to completely clean your yard of debris, this means that you may need to purchase more than one battery per season, which can quickly add up.
Bottom line:
The EGO Blower should be able to handle most of your household yard duty chores, but it's not really intended for the heavy stuff (e.g. very large piles of leaves, etc.) that you'd traditionally use a gas-powered blower for. In most other instances though, the EGO Blower's high price might be justified by its high level of performance.
Small business owner

By Michael P.

,

Oregon

,

Feb 17, 2019
Verified Reviewer

First, let me say that I love Stihl gas blowers for commercial work when cleaning around parking lots. They have a proven record durability and power-to-weight awesomeness, but lately, they have not been getting the work out they once got because I have started using a handheld EGO cordless blower for some quick jobs.

I have decided that the EGO blower is often the right tool in the toolbox when my other choice is a gas blower. Their premium models with higher capacity batteries are a great tool for small to medium cleaning projects.

I catch myself lecturing my employees for always grabbing the EGO blower before the gas blower for some tasks because they are getting too lazy to start a gas blower and strap in on.

I have the 7.5 AMP battery in a handheld. Then battery was expensive, and it is heavy. My wife will not use it in the yard unless I buy her a shoulder strap attachment.

Just spend a couple of hundred dollars and get one with the small AMP battery for around the house, use it smartly, and don't expect that you are going to get the same performance as a $600.00 gas blower. I think you should be happy.

Bottom Line: Yes, I would recommend this to a friend

---

Not happy

By Gord G.

,

Alberta, Canada

,

Dec 12, 2018
Verified Reviewer

I used my new 530 blower for the first summer, and on the second, I had one battery that just would not charge. EGO replaced it right away with no problem, but now my two batteries are melting. I tried to contact EGO and the address is not used anymore.

Bottom Line: No, I would not recommend this to a friend

---

Advertisement

---

From pleased to feeling it's a zero.

By David R.

,

Rochester, NY

,

Jun 18, 2018
Verified Reviewer

It's now 6/11/2018. I'm not just a little disappointed that my trimmer's battery started acting up with the green light continually flashing. My wife had just recently purged our banking statements and receipts from the end of 2016, so I guess getting a replacement for that one is a total loss, even if I still have the box and paperwork for it. But now just a month later the battery for my blower is doing the same exact thing. I KNOW I'm not the only one experiencing this issue. The tools are both extremely expensive, and replacement batteries cost more than what I paid for the tool with the battery in this area. It makes me feel rather ripped off, to be frank. I think there should be a no questions asked policy of battery replacement if your product is this lousy.

Bottom Line: No, I would not recommend this to a friend

---

Good for light occasional use

The blower has decent power and is lightweight. My biggest problem is the short life of the batteries. Therefore, one should only consider purchasing this blower for light, occasional use. Battery technology has a long way to go before it can come close to the run times required for professional landscaping. The technology is not quite there, and the prices are too high.

Bottom Line: No, I would not recommend this to a friend

---

Advertisement

---

EGO Blower

By B Walter

,

Vancouver BC

,

Dec 15, 2016
Verified Reviewer

Blower charge lasts less than 10 minutes.

Bottom Line: No, I would not recommend this to a friend

---

Great and I don't smell like gas after using

By John

,

Wake forest

,

Nov 24, 2016
Verified Reviewer

This blower is awesome! I've had for three years and it works like a dream. It's not as powerful as my Stihl gas powered blower but it does 95% of the work that I need it to do. And, I don't smell like gas after use.

Bottom Line: Yes, I would recommend this to a friend

---

Sucks

Used twice and now nothing. Battery pack or charger is completely dead. This is definitely a SCAM of epic proportions. Biggest piece of junk I have ever bought. No one will replace it or help me with it.

Bottom Line: No, I would not recommend this to a friend

---

Not as good as gas.

By Rich

,

Beecher, IL

,

Feb 5, 2016
Verified Reviewer

I bought my cordless EGO Blower over the summer, to replace a corded Black & Decker. It definitely has more power than the corded ones out there, plus it's easier to use. The only problem I encountered was putting in the battery properly. It's a good idea to have the front extension off, and use two hands to push in the battery. If the battery doesn't click in place, it won't work. It takes a lot of force to get it right, and only then can you put the front extension back and start using it. It works great for leaves and twigs along the hedges. I also used it to blow snow off the deck. Doesn't work as well when the snow is wet.

As far as electric blowers go, this one works pretty good. If you want more power, then go for the gas ones. Mine only takes about 20 minutes to charge up, and the charge usually lasts long enough for the job that I do. It's very good for the smaller jobs around the place, with no cords getting in the way.

Bottom Line: Yes, I would recommend this to a friend

---

Battery does not stay charged very long.

By Jim Jackson

,

Manchaca, Texas

,

Jan 9, 2016
Verified Reviewer

My wife loves this blower even though the battery does not stay charged long. I bought her an extra battery but now the charger went out (2 years old). I am not sure what the warranty is on the charger but I will find out when I send it in. Ordered a new one on Amazon for 45 bucks.

Bottom Line: Yes, I would recommend this to a friend

---

The battery life is terrible

By Penny

,

Cypress, TX

,

Dec 3, 2015

I have had my blower a little over a year and I absolutely loved it. I had back surgery a few years ago, and weight is a problem.

I have used a Black and Decker cordless blower for several years, but tried the EGO at a Home Depot and bought it on the spot and was thrilled with it.

Got it out today to blow my driveway and front sidewalks to get ready for family coming over for Thanksgiving dinner, and there is no light on the charger. Instructions indicate the battery is dead. The Black and Decker battery has lasted around 6 years and never died.

Just found out that to replace the EGO battery it is around $120.00. As a senior citizen female, working part-time I can not afford to replace, so I guess I'll have to go back to the Black and Decker which is inferior in output, but at least the battery has lasted much longer.

Bottom Line: No, I would not recommend this to a friend

---

Great!

By Bob Clark

,

Dallas, Texas

,

Nov 27, 2015
Verified Reviewer

Fantastic machine. Light weight, powerful battery, quick charge time and gets the job done. It's nice not to mess with electric cords or the hassle of gasoline motors, that are sometimes hard to start, plus the loud noise.

Bottom Line: Yes, I would recommend this to a friend

---