eHealthInsurance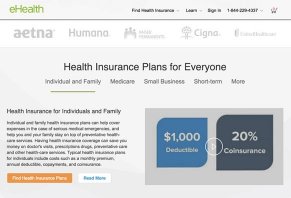 EHealthInsurance.com, a website run by eHealth, is a one-stop-shop for those who want to compare prices of Obamacare health insurance plans as well as other types of insurance policies.
eHealthInsurance Review: Is It a Good Way to Find Health Insurance?
EHealthInsurance.com is an online insurance marketplace where you can go to get quotes on a variety of healthcare plans as well as other insurances like life, GAP, pet and travel.
The company is one of the few to which you can go not only for regular marketplace health plans but also get quotes for Medicaid and Medicare plans.
EHealthInsurance.com is run by the company eHealth, whose founder is Vip Patel. According to their website, Patel started the site after he became sick with food poisoning and didn't have health insurance. This was back in the pre-internet era, so Patel had to flip through a phone book to find health insurance providers and, even then, the ones he found specialized in selling insurance to groups, not individuals.
"A decade later, the birth of the public internet led Patel to create eHealthInsurance.com. He wanted the company to serve as the online marketplace for individuals and families who did not have it. They could visit eHealthInsurance.com and find hundreds of health insurance plans from dozens of different insurance companies," the site says.
In this review, we'll focus on the site's health insurance aspect by using the site ourselves to find a list of health insurance providers. We'll provide you with an analysis of how the site works, talk about how it compares with Healthcare.gov and HealthSherpa, then give you our closing thoughts on the website's pros and cons.
Editor's note: We will use eHealth and eHealthInsurance.com interchangeably from here on out.
How eHealth Health Insurance Plans Work
To find out what the eHealth experience was like, we used their website to get quotes for health insurance. Our parameters for our search were:
Husband, wife, one daughter, one son
$65,000 income
Resident of Duval County, Florida
In addition to income and family size, the site will ask you for each person's birthdate.
Once you move through these questions, eHealth provides you with a list of marketplace health insurance plans that are listed based on their monthly premiums.
Each entry in the list of results contains the following information:
Metal level
Cost of a doctor's office visit
Deductible for individual/family
Monthly premium
For example, the first healthcare plan the site suggested was a Molina Bronze plan – Molina is the healthcare provider and Bronze refers to the metal level of the plan. A Bronze plan covers 60% of your costs, whereas Silver covers 70% and Gold covers 80%.
eHealth said that office visits were $35, the deductible was $6,400 per person and $12,800 for the family and the "estimated monthly cost" of the plan was $45.19.
As a quick refresher, "deductible" refers to the amount you have to pay out of pocket before the plan's benefits kick in. For example, visits to a specialist are 40% of the regular cost after you meet your deductible. So, if your specialist, a heart doctor, normally charges $200 for a visit, you'll pay 40% of that, or $80.
Keep in mind that eHealthInsurance doesn't create these prices, they come directly from the health insurance providers whose plan prices and offerings are based on the Affordable Care Act. If you wanted to, you could go sign up for these plans via Healthcare.gov, the federal website where eHealth will send you to when you make your choice.
Based on our research of this site and other similar sites, we believe there are some important things missing from the entries on the list of results.
First, the results don't automatically show the following prices:
Specialist visits
Generic drugs
ER visits
These bits of information are important because they're the services you'll most likely use over the course of the year.
You can view this information by clicking on "View Details." This might seem like a subtle thing but, considering that both HealthSherpa and Healthcare.gov show these costs, eHealth isn't quite as informative as the competition (more on that later).
Once you choose your healthcare plan, click "Apply." Then, eHealth will ask you to call 1-844-260-4477. According to their site, you can reach their phone representatives from 7 a.m. to 6 p.m. PST Monday-Friday and 10 a.m. to 12 p.m Saturday.
Their representative will fill out your healthcare marketplace for you over the phone and submit it. eHealth claims that the entire over-the-phone application process takes "10 minutes or less."
Our first-hand experience with eHealth revealed a few things about the site. First, we noticed that they didn't allow you to see pricing for all the health care options available.
For example, we were not able to see the pricing and details of Florida Blue plans. Also, you aren't able to sign-up for healthcare marketplace stand-alone dental plans through eHealth.
Finding Short-Term Health Insurance and Other Insurance Types on eHealthInsurance.com
eHealth also provides short-term health insurance plans. These plans range in length from six months to one year and are similar to "catastrophic" plans that existed before the Affordable Care Act.
Basically, these plans are designed to give you savings if you end up in the hospital as the result of a catastrophic injury or illness but, for all other things like doctor's visits, specialist visits and urgent care, you'll pay out of pocket. The idea here is that these plans are great for young, healthy people that never go to the doctor.
You can buy these plans directly from eHealth's website by adding one to your shopping cart and then purchasing it after you fill out an application.
The plans' premiums (what you pay every month) may or may not be cheaper than what you can get through the marketplace plans, so take a few minutes to research pricing. Remember that the cheapest marketplace plans are required to cover at least 60% of medical costs, whereas short-term plans aren't held to the same standard.
You also have the option of buying Medicare (Advantage, Supplement, Part D) and Medicaid, as well as the following types of coverage and discount plans:
Group healthcare plans
Small business health insurance
Life insurance
GAP (for auto loans) insurance
Accident insurance
Critical illness insurance
Medical indemnity
Telemedicine
Pet insurance
Travel insurance
Prescription discount card
How eHealthInsurance.com Compares to HealthSherpa and Healthcare.gov
Based on our first-hand experience using eHealth, HealthSherpa and Healthcare.gov to identify health insurance plans, we believe there are some distinct differences between how the sites work.
As we mentioned earlier, eHealth's search results aren't quite as informative as HealthSherpa and Healthcare.gov. We liked how HealthSherpa and Healthcare.gov provide you information all the necessary information about deductibles, doctor's visits, and ER visits, whereas eHealth provides limited information for their initial search results.
Second, we found it a bit odd that eHealth didn't provide any information about Florida Blue plans for the city for which we searched plans.
This poses a disadvantage if you want to be able to compare plans via the website instead of having to call a customer service phone number. Both HealthSherpa and Healthcare.gov provided information about FloridaBlue.
What we liked about the site is that, when you find a plan you like or want to know more about and you click on "View Details," eHealth provides excellent video explanations of all the jargon that comes with researching health plans.
For example, eHealth provides you with a video that explains how HMO works. We watched the video; it does a good job of talking what "HMO" means and what these types of plans can and can't do for you.
We feel as though this is important because health insurance can be a confusing thing for consumers because there's a lot of language used that the average person just doesn't use in their daily conversations.
In general, we think that eHealth does the best job of educating you as to what different insurance-related words and phrases mean. We believe this is a key for people who need to decide which health insurance plan they're going to buy but are overwhelmed or confused by all the terminology.
How You Can Use eHealthInsurance to Your Advantage
Based on our experience with eHealth, we believe there are certain aspects to the site that you can use to your advantage. For example, this is a great site to use for comparing marketplace health insurance with short-term insurance.
This type of comparison isn't something you can do on HealthSherpa and Healthcare.gov and could be a legitimate way to get insurance for someone who is young, healthy and earns enough money to where the healthcare marketplace won't offer tax subsidies to make your premiums cheaper.
In this case, it may make sense to use a short-term health insurance plan because it's cheaper and eHealth can provide multiple options.
We also see eHealth being a great resource if you've never had to get a plan through the marketplace and you want to go to a site that gives you prices and information about plans as well as informative videos that explain the various terms you'll come across as you're shopping for a plan.