Eight Mattress Reviews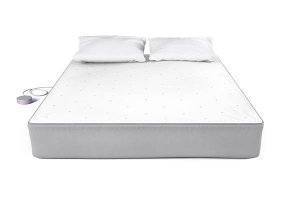 Based on data tracked across 1.8 million hours of sleep, Eight Mattress claims their 4 layers of memory foam can provide better bounce, support, durability, and sleep.
About Eight Mattress
Designed with a unique four-layer blend of premium, high-density foam, Eight Mattress promises to provide no-pressure support, low movement transference, balanced comfort, and even temperature regulation.
According to the company, the Eight Mattress was built after tracking more than 1.8 million hours of sleep data and realizing "exactly what people need in a mattress": bounce, support, durability, and the ability to fit all bases. In short, something that provides better sleep.
Is this what you'll experience with the Eight Mattress? How does it compare to other direct-to-consumer mattresses? In addition to improved sleep, will it also deliver a solid value?
The HighYa team has reviewed nearly 20 of the top bed-in-a-box companies over the years, so we think we have some unique insight into this industry, as well as how to choose an option that best meets your needs. Let's start with the details.
What Types of Foam Are Found in the Eight Mattress?
Overall, Eight Mattresses feature four layers of high-density foam. Here's how their website describes each one:
2" Reactive Latex-Like Foam – Claims to provide the responsiveness of latex, but with improved support and breathability. Hypoallergenic and fire retardant.
2" Contouring Memory Foam – Delivers comfort and "hug-you" support and pressure relief.
2" Supportive Transition Foam – Equally distributes weight and adapts to your sleeping position, regardless of body type.
4" High-Density Support Foam – Firm support for the layers above, helping to also guarantee durability.
Finally, these layers are wrapped in a white polyester encasement that was custom-designed and hand-sewn to prevent moisture retention, while also providing chemical-free fire retardation.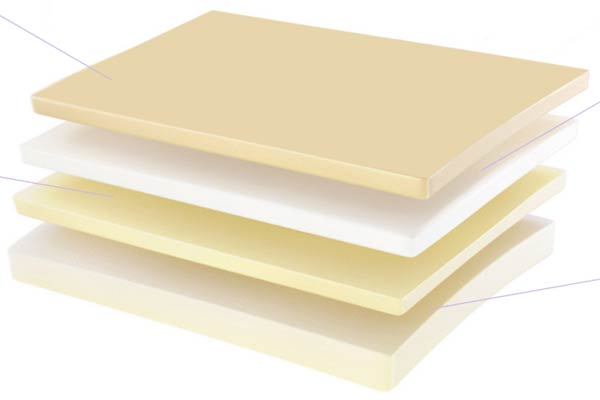 All Eight Mattresses feature four layers of premium, high-density foam that promises to deliver improved comfort and sleep, without heat retention. Image credit: Eight
All foams found in Eight Mattresses are CertiPUR-US certified, which means they're made without ozone depleters; PBDEs, TDCPP or TCEP; mercury, lead, and other heavy metals; formaldehyde, and phthalates. They also emit less than 0.5 parts per million VOC (volatile organic compounds).
From a firmness perspective, Eight describes their mattresses as medium-firm and that they've been "designed to provide the right comfort and firmness for everyone."
What'll you pay for this four-layer design?
How Much Does the Eight Mattress Cost?
Eight Mattresses are priced as follows:
Twin (39" x 75"): $472.50
Twin XL (39" X 80"): $562.50
Full (54" x 75"): $675.00
Queen (60" x 80"): $765.00
King (76" x 80"): $855.00
Cali King (72" x 84"): $855.00
Depending on your credit, you can purchase your Eight Mattress for as low as $84 per month at 0% APR through Affirm.
All U.S. orders come with free shipping, will be made to order at the company's Chicago-based manufacturer, and will be shipped within 7-10 of placing your order. It will arrive at your doorstep compressed and rolled into a 16" x 16" x 46" box (about the size of a golf bag) that weighs an average of 90 pounds.
While you can unbox and use your mattress immediately, Eight recommends allowing 24 hours for your mattress to form fully, during which time any faint odors or smells will dissipate.
Eight Mattress comes with a 100-night trial and free returns (although the company asks that you try yours for at least 30 days) and a 10-year limited warranty against defects in the materials or workmanship developed from normal and reasonable use.
If you have any questions, Eight also has a showroom in downtown Manhattan, or you can reach out to customer support at 888-848-9085 or support@eightsleep.com.
Given these prices, are customers reporting a solid value and better sleep?
Eight Mattress Reviews
At the time of our research, there were 154 customer reviews on the Eight Mattress website, with an average rating of about a 4.5-stars. There, most compliments seemed to revolve around comfort, improved sleep, and competitive price.
Of the relatively few complaints, most referenced preference-related issues, such as comfort and temperature.
On Amazon, Eight's queen mattress had 34 customer reviews and the same 4.5-star average rating found on the company's website, with many of the same compliments and complaints.
Sleepopolis reported that Eight's thin polyester cover provided good breathability and a softer feel for the sleeper, while the mattress itself landed at a 6 out of 10 on the firmness scale.
They also felt it provided a well-rounded, balanced feel that equally supported them in all sleeping positions (stomach, back, and side).
The author noted that Eight wasn't the coolest mattress they had tested, nor did it provide the least amount of motion transfer. In the end, they recommended that "sleepers who wake easily may want to keep this in mind when considering this mattress."
Sleep Sherpa liked Eight's four-layer design, reporting that, "When you lay on the mattress it has a very consistent feel throughout and you don't get the sense that you are hitting a particular layer. This is how a well-designed mattress should feel."
From a company perspective, Eight had D+ Better Business Bureau rating, despite having only one closed complaint as of 4/15/17. No additional details were available.
Eight was co-founded in 2014 by Matteo Franceschetti, Massimo Andreasi Bassi, Andrea Ballarini, and Alexandra Zatarain. Previously, Matteo worked as Co-Chair for FWD.us, Massimo as Senior Software Engineer for Upsight, Andrea as COO of Hyperfair, and Alexandra as Public Relations for CAIS Group.
Eight Mattress vs. Casper, Purple, & Other Direct-to-Consumer Mattresses
We mentioned earlier that the HighYa team had reviewed many popular direct-to-consumer mattress companies. And during this time, we've learned that many of these online-only mattresses are more alike than they are different. For example, most feature:
2-4 layers, usually of foam
10" thicknesses
Medium-firm feels (usually between 6 and 7 on the firmness scale)
Extensive in-home trials
Competitive pricing, especially when compared to retail mattresses
CertiPur-US certified foams
Direct-to-door shipping inside a compact, manageable box
How can you possibly tell which mattress you should go with, especially when you can't test it beforehand?
In How to Buy a Mattress Online, Joe Alexander, Nest Bedding's founder, let us know that your preferences and needs should factor into your decision. For example, if you tend to sleep hot, mattresses that feature cooler designs—like ActiveX and Bear—might be solid options.
Or, if the price is your main concern, some models from Tuft and Needle, Casper, and Lull are among the lowest options. But if built-in sleep tracking is your biggest factor, then Eight is currently your only choice (note: This will cost extra, and can be used with any mattress).
In addition to your preferences, you'll also want to take a look at online customer reviews for each company, which can provide firsthand reports. Then, once you whittled your choices down, you can contact the company to learn more about their focus on customer support.
Given all of this, where does it leave you when it comes to Eight Mattress?
Our Final Thoughts About Eight Mattress
When it comes down to it, Eight Mattress features fairly competitive prices, mostly positive online customer feedback, and even the ability to provide sleep data each morning with the optional tracking cover. So, if these are important factors to you, it certainly seems like Eight could be a viable option.
And just like much of the competition, if you're not satisfied with its performance, you can always return it within 100 days, at no charge to you. Just keep in mind that you might want to keep your old mattress around until you've made a decision, or you could end up sleeping on the floor for a period of time.
Did Eight Mattress work for you, or did you choose one of the competitors? Give us your thoughts by writing a review below!