Ellevest Reviews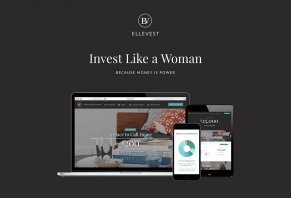 Ellevest's robo-advisor platform promises to help women reach their financial goals, whether saving for retirement, starting a business, or buying a home.
About Ellevest
Combining patent-pending technology and algorithms with decades of Wall Street experience, Ellevest is a digital robo-advisor that helps women increase the likelihood of reaching their financial goals, whether related to purchasing a home, starting a business, saving for retirement, or starting an investment account for kids.
But compared to competitors, they promise to have built a whole new approach by taking women's unique risk preferences, longer lifespans, lifetime salary curve, tendency to take more career breaks, and gender pay gap into account.
Then, they use this data to provide you with a customized, balanced portfolio of diverse, low-cost exchange-traded funds (ETFs) that can better help you achieve your target. In fact, the website reports that Ellevest's recommendations are set up "to help you reach your goal amount, or more, in 70 percent of market scenarios," whereas they state that other advisors only shoot for 50 percent.
And throughout the process, your portfolio is actively monitored on a daily basis. If you fall off track, you'll be notified and your investments will be rebalanced, if necessary.
Based on what's advertised on the Ellevest website, there seems to be a lot to like: They help prioritize your investing goals, plan for the future, financially adapt to life's changes, and give you the tools you need to take control.
But are they really redefining investing for women? Even then, does this mean they're necessarily your best investing partner? Here, we'll walk you through everything we learned during our research, so you can better understand which steps to take next.
How Does Ellevest's Goal-Based Investing Work?
To set up an Ellevest account, you'll start by entering typical details like name, zip code, age, degree level, salary, the industry in which you're employed, role, marital status, number of children, and total household income.
Then, you'll choose between one or more of the following seven goals:
Yes, ME! – Helps you build personal wealth

Retirement on My Terms – Whatever you plan to do after you retire, this plan is created to help you do it

A Place to Call Home – Focuses on saving for a down payment on a home

Kids Are Awesome – Allows parents to save for children-related expenses

Start My Own Business – Just like it sounds, this helps you ensure you're financially covered to succeed

An Emergency Fund – A financial cushion to help cover unexpected expenses

A Once-In-a-Lifetime Splurge – Big ticket items that are worth planning and saving for
After selecting your goals, you'll prioritize them from most to least important and enter your finances and balances for 401(k), IRAs, checking and savings accounts, and other investments.
Based on these details, your Ellevest dashboard will display each of your goals, as well as the amount of money you're estimated to have at your goal date, how long it will take to achieve, your target number, and a progress tracker.
Since each of your goals is unique, they'll get their own investment portfolio, although you'll be able to adjust any of the numbers until the plan feels perfect for you.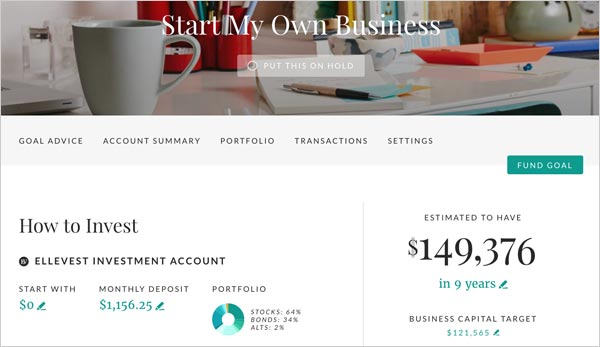 An example of what your Ellevest dashboard will show for the Start My Own Business goal, which can be further refined based on your needs and preferences. Image credit: Ellevest, Inc.
These variables are never static, as you can change your priorities, timeline, recurring contribution, initial deposit, and target for each goal, which will automatically adjust your portfolio and how you get there.
When you're ready to move forward, click the Fund Goal button to complete the registration process, which will also involve linking your bank account and making deposits. This will allow Ellevest to implement a carefully vetted, specifically selected blend of ETFs that can help you achieve your goal(s).
Note: Ellevest is SEC-registered, although your assets are held by Folio, who is a registered broker/dealer, custodian, and member of the SIPC. All data is encrypted and securely stored.
And while you can't change the specific investments in their recommendations, you can change your portfolio to be more aggressive or more conservative.
Along the way, Ellevest will keep track of your progress and alert you if you fall too far off course, and then provide recommendations on how you can get back on track.
There currently isn't an Ellevest app (although the FAQ indicates one is in the works), but you can view your goals directly in your Mint.com account as well.
How Much Do Ellevest's Fees Cost?
According to their FAQ, Ellevest accounts are open to all "adult U.S. citizens (or U.S. Resident Foreign Nationals) with a permanent U.S. address (not a P.O. Box), a U.S. Social Security Number and a checking or savings account with a U.S. bank. In most states, people 18 years and older are considered adults. In AL and NE, the minimum legal age is 19; in Puerto Rico, the minimum legal age is 21."
While there isn't a minimum balance requirement, Ellevest charges a pro-rated 0.50 percent fee for any of your assets under their management, which covers "brokerage, custodial, investment advisory, and other related services." For a $10,000 account, this translates into about $50 per year, although this fee isn't assessed for Emergency Fund goals.
They explain this fee is charged "monthly (in arrears) based upon the market value of the average daily account balance of your accounts with ETFs." Folio will debit this fee from your account.
The company emphasizes that you won't be taxed for transferring your IRA to Ellevest, and that they won't charge any transfer fees. However, they note that you could be assessed transaction and transfer fees by your current IRA provider.
Outside of this, a Self Regulated Organization (SRO) fee of $0.000022 for each dollar of securities sold will be assessed when appropriate, as well as an ETF management fee ranging between zero and 0.16 percent of your account balance.
Ellevest customers can withdraw their money any time without worrying about penalties, and there is no minimum required withdrawal amount.
If you have additional questions, customer service can be reached at 844-ELL-7100 or support@ellevest.com.
What Can We Learn From Ellevest Reviews?
Across several popular investing sites, Ellevest's services seemed to come with mostly positive professional feedback at the time of our research.
For example, NerdWallet's James Royal liked that the company doesn't charge fees in the instance of Emergency Funds, along with their goal-focused approach, the useful tools provided to clients, and the fact that they're taking women's needs into account.
InvestorJunkie also appreciated the fact that one of these goals is real estate, "which historically diversifies investment returns with long-term goals and is a hedge against inflation."
However, both of these outlets, as well as Investopedia, emphasized that Ellevest is one of the more expensive robo-advisors, and that they could have an excessive number of ETF choices if you're investing less than $100K. Chad Tennant also didn't mince words in this regard when writing:
"That Ellevest has "built a whole new approach" isn't true. Had they been the first to launch automated investing or something truly unique, they could make that claim. Instead, they've repackaged robo-advising for the female demographic with some fluffy financial planning nuance."
Other common drawbacks mentioned included no tax-loss harvesting, along with the narrowness of supported accounts (currently only taxable assets and IRAs).
In the end, many recommended Ellevest's service if you're interested in goal-based investing, are a beginner, or want a hands-off approach (from your perspective). This seemed to largely be the conclusion among direct individual feedback from Reddit users as well.
Ellevest was co-founded in 2016 by Sallie Krawcheck, who formerly worked as CEO for Merrill Lynch Wealth Management, Citi Wealth Management, Smith Barney, and Sanford C. Bernstein & Co. Co-founder and president Charlie Kroll previously worked as a founding board member of Venture for America, as well as founder and CEO for Andera.
Since opening their doors, Ellevest was named an Interbrand Breakthrough Brand, among Entrepreneur Magazine's 100 Brilliant Ideas, and CNBC #9 on The Upstart 25 for 2017.
Are There Other Robo-Advisors Like Ellevest?
If you're specifically interested in a women-focused robo-advisor, Ellevest was the only option at the time of our research. The closest competitor we encountered was Women Investing Now, another goal-based investing service, although it involves a combination of online and professional guidance.
However, the financial technology (fintech) industry has exploded over the past several years, with many popular algorithm-based investing services entering the market. How do they stack up to Ellevest? Here's a quick comparison:
| Company | Investing Approach | Fees |
| --- | --- | --- |
| Ellevest | Goals-based | 0.50% (none for Emergency Funds) |
| Betterment | Risk-based | 0.25-0.40% |
| WealthFront | Goals-based | 0.25% |
| WiseBanyan | Risk-based | 0.25%, capped at $20/mo |
| Blooom | Retirement-based (401(k) only) | $10/mo |
As you can see, there are many other robo-advisors competing with Ellevest (although not women-focused) that offer customized portfolios, personalized investment plans, and ongoing investing management and alerts. How to choose the right one?
In our robo-advisors beginner's guide, we note that there are three main differences you'll want to consider among these services:
How much do they charge?
How many ETFs do they offer? What's their track record?
Do they offer additional related services like tax-loss harvesting, rebalancing, etc.?
This is where your needs and preferences come in. For example, if you're looking for the lowest fees possible, SIPs might be a logical choice. If you're only interested in saving for retirement, then Blooom could fit best, while Ellevest seems to offer the broadest range of ETFs.
Where does all of this leave you?
Our Final Thoughts About Ellevest
While Ellevest's goal-based investing approach might work better for some than a risk-based one, what really sets them apart from the competition is their focus on women. Specifically, how their algorithm adjusts for women's unique risk preferences, longer lifespans, lifetime salary curve, tendency to take more career breaks, and gender pay gap, and then helps make up the difference.
Outside of this, though, we encountered several other popular robo-advisors that could work well—again, depending on your needs and preferences. On top of this, Ellevest's fees are meaningfully higher than most of this competition.
The bottom line is that if you feel like giving Ellevest a try but aren't satisfied, you won't be out much more than your time, and perhaps a small amount in management fees.