Ember Mug Reviews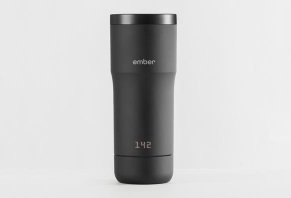 Ember Mug features a stainless steel inner vessel, space-grade thermal insulation, and a patented phase change cooling system to optimize coffee and tea temperature.
What Is Ember Mug?
Using a simple, elegant design, Ember Mug promises to quickly cool your coffee or tea and then keep it at the exact temperature you choose, for hours on end. In fact, with its charging coaster, we're told this preciseness can last all day.
Instead of using a lot of buttons or complicated instructions, the mug's dial, located at the bottom, manually adjusts the temperature based on your input. And with the companion iOS and Android app, you'll be able to remotely change the temperature, give your mug a name, create individualized presets, and personalize your notifications.
If even you're not a coffee or tea expert, you likely understand that temperature can have a big impact on taste. But will Ember Mug really help your beverage maintain a "perfect temperature, perfect taste," as claimed on the product's website? Outside of its obvious cool factor, will it deliver real-world value?
Based on what we learned during our research, we'll help you make decisions on important questions like these—starting with the details.
How Does the Ember Mug Work?
Ember was designed by Ammunition Group (who also designed the Beats by Dre headphones), so the 12oz mug features a sleek, minimalistic look.
Tapping the logo turns it on, and a hidden TIL-lit display will show messages related to current temperature (one tap), your mug's name (two taps), and remaining battery life (three taps).
The rotating temperature dial at the bottom connects to a patented microprocessor controlled heating system, giving you the ability to set the temperature you prefer between 120°F and 145°F. Once there, it will remain for hours.
Functionally, Ember's leak-proof lid implements a push-to-open mechanism for ease of use and was designed to feel like you're drinking from a ceramic mug. The lid is engineered with an open design to allow for easy cleaning, and the mug itself uses a contoured shoulder to deliver easy grip.
The lid is top rack dishwasher safe, although the body must be hand washed only. Pro tip: Some customers indicated that a dish brush might work best for easiest results.
Inside, the mug features a stainless steel inner vessel and "space-grade" thermal insulation, along with the company's patented phase change cooling system, which promises to allow scorching hot liquids to cool at a faster rate.
Ember Mug's ability to maintain the perfect temperature comes from a high-capacity lithium ion battery. To maximize battery life, it will automatically shut off if the logo isn't pressed or the accelerometer isn't moved for two hours. Recharge time is approximately two hours as well.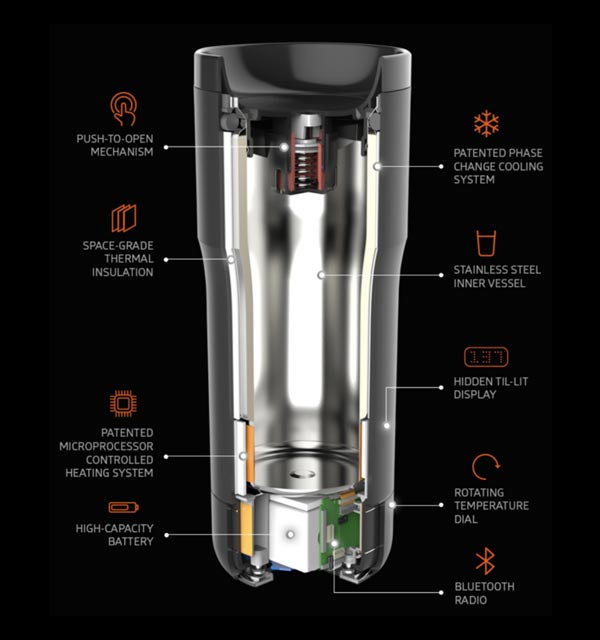 At 1.1 pounds, the Ember Mug packs a lot of technology in a small space and uses it to help keep your coffee and tea at the perfect temperature. Image credit: Ember Technologies
How Does Ember's App Work?
Also built into Ember is a Bluetooth radio, which allows it to connect with any iOS or Android device equipped with v4.0 or later (including many smart watches).
Inside the app, you'll be able to view temperature and remotely adjust it, give your mug a name, adjust and save presets for different types of drinks, switch between Celsius and Fahrenheit, and select notification frequency and type.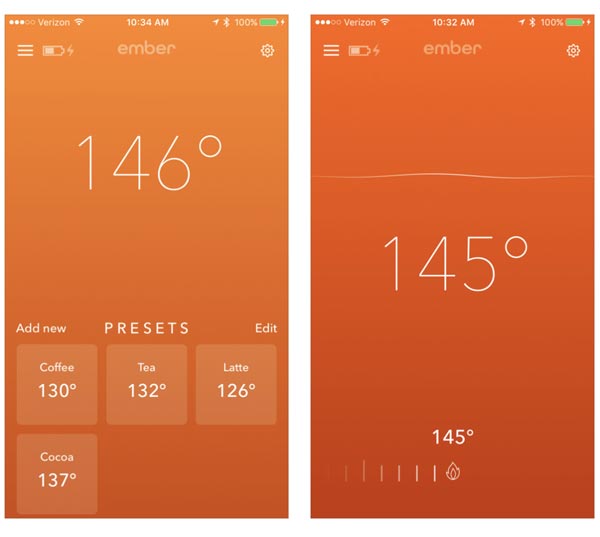 Using Ember's iOS and Android apps, you'll be able to monitor temperature, add/edit presets, see your liquid level (including when your mug is empty), and update the firmware. Image credit: Apple Corporation
As you can see, Ember's app certainly adds some functionality to their mug, but it isn't required in order to use the device.
How Much Does the Ember Mug Cost?
Ember Mug is priced at $149.95, with free standard shipping within the U.S. and additional options available for more money. You'll also find them for about the same price at select Starbucks locations, as well as Amazon.com.
Each mug comes with one charging coaster. Extra chargers can be purchased directly from the manufacturer for $39.95 each.
All direct orders come with a 30-day refund policy, less S&H, which begins on the date your order is shipped (keep in mind that per Ember's FAQ, you'll need a copy of a valid receipt in order to be eligible). The company also offers a one year warranty against manufacturing defects.
In order to request a refund or process a warranty claim, you'll need to reach out to customer service at support@embertech.com or via their site's contact form.
What Are Ember Mug's Customers Saying In Their Reviews?
Ember got its start in a 2015 Indiegogo campaign where the mug raised nearly $360K. According to one press release we encountered during our research, it began shipping to consumers in April 2016.
As a result, we encountered 90 customer reviews on Amazon, where the mug had an average rating of 3.8 stars. There, common compliments seemed related to its ability to maintain a perfect temperature, its strong battery life, and its attractive design.
On the other hand, frequent complaints referenced short battery life (much less than the two-hour time advertised)—sometimes even while on the charging coaster. And once the battery died, more than one customer reported that it's no more effective at maintaining a specific temperature than a much less expensive thermos.
Ember app had 3-star and 3.4-star average customer reviews on iTunes and Google Play, respectively. Many compliments related to its ease of use and solid user interface, although several complained about the GPS/location requirement in order to pair, the short battery life, and an inability to connect.
From a company perspective, Ember Mug is based out of Westlake Village, CA and was founded in 2012 by CEO Clay Alexander. According to one press release, Clay noted he started the company because he was "inspired to change the way people experience eating and drinking."
Clay holds more than 80 patents worldwide and previously worked as founder and CEO of companies like Journee Lighting and Radiance Lightworks.
Are There Other Temperature Controlled Mugs Like Ember?
We didn't come across any other temperature controlled mugs exactly like Ember during our research. We did find the Nano Wireless Heated Mug, which originally launched in early 2015 (before Ember), although it doesn't appear to have moved past its limited crowdfunding production run.
We also found the GoJoe Smart Coffee Mug, although this model actually brews coffee, along with the TOMTOP rechargeable USB powered mug for about $25, which didn't feature app connectivity or allow users to set a specific temperature.
A similar model was the Tech Tools Heated Smart Travel Mug ($35), which allows you to set a specific temp between 85°F and 160°F, features a LED readout, and alerts, but again, no app connectivity.
In short, if you're looking for something that provides all these essential features, Ember is currently your only option.
However, there are other options that could meet your needs just as well, some of which were priced well below Ember. For example, there are dozens of beverage warmers available, including at many local retailers with a housewares section, which can be priced less than $10 and simply use a round disc to heat your traditional coffee mug. Some are powered via a USB port.
Although certainly much less elegant, there are even boiler elements you can purchase for less than $20 that dip into your coffee or tea and heat the liquid directly. Which of these is right for you? Let's go ahead and wrap everything up.
Our Final Thoughts About Ember Mug
Based on what we learned during our research, Ember Mug is attractively designed and rather unique.
On top of this, the mug has been on the market for quite some time and has garnered mostly positive online customer feedback since then. In other words, despite its meaningfully higher price compared to other heated mugs, it appears many customers found it provided a high level of value for the money.
But if you're looking to pay the lowest possible price for a mug that can help maintain a specific temperature, without all the bells and whistles, there seemed to be at least a couple other options as low as $35. Some of these could even be available locally, potentially saving you time and shipping charges.
Either way, the company stands behind Ember Mug with a 30-day refund policy, so if you give it a try and find it doesn't meet your needs, you likely won't be out much more than a few dollars in shipping and handling charges.
Tell us about your Ember Mug experience by writing a review below.
Great idea, poorly made

By Frank W.

,

Broomfield, CO

,

Mar 19, 2020
Verified Reviewer

My wife and I got Ember Mugs for Christmas 2019. It is now March and both mugs are failing. One mug has not worked correctly from the outset. Customer service has been terrible. Every contact has resulted in a series of resets and tests for us to do, which do not help! No offer to repair or replace. The other mug will not fully charge, will only last about an hour before recharging. It says charged at 37% after charging all night. Expensive and does not work!

Bottom Line: No, I would not recommend this to a friend

---

Delaminate

By Steve D.

,

Leavenworth, WA

,

Sep 9, 2018
Verified Reviewer

I purchased two for Christmas 2017 (me and her). It is now September 2018 as I write this. We are daily users, not abusers. Ember has replaced two mugs that delaminated. One of the replacements delaminated today. We will see if customer service remains helpful as it seems the issue is common.

Bottom Line: No, I would not recommend this to a friend

---

Advertisement

---

Spotty, at best

By Rick S.

,

Fairport, NY

,

Sep 9, 2018
Verified Reviewer

The presentation is nice. The travel mug is comfortably heavy. The rest? Not so great.

Unlike others, I didn't have much trouble synching with my phone. However, other than typing in a name for your mug, there's really no point in using it.

The issue I have is...moderately warm coffee for a little longer than a thermos doesn't merit the $150 price tag!

Half the time, the mug thinks it's empty when there's liquid in it. Even when it is charged (or left on the charger with liquid), it seems to turn itself off after a while. I'll end up going back to lukewarm coffee or tea with half a battery of charge left.

I also like my coffee really hot. The battery really REALLY struggles to keep up with anything over 145 degrees F. It'll be toast in an hour. OR you can leave the mug charging all day.

That means I need to cart around yet another charging device (which is huge compared to my phone's power adapter and if you plug it into a power strip it'll take up three slots) and the base.

The base is a joke since the part you're not supposed to get wet is literally at the base of the dish that traps liquid. I feel like an idiot going into a coffee shop and trying to find an extra wall socket to "PLUG MY COFFEE IN."

The touch-pad "ember" logo is an interesting novelty at first, but if you're drinking coffee while driving in the dark, you can't see the darn button. Sometimes I'll be drinking and I'll see the "Off?" message, meaning I was accidentally holding onto the button the whole time. Other times I try to press the Ember button for three seconds to turn it on, and it doesn't register my finger for several tries.

In addition to the above complications, it's nerve-wracking to wash the thing. Don't get any water on the bottom!

Ultimately, it feels like I'm babysitting a piece of technology while trying to enjoy a drink. Half the time I just use it as a regular thermos because it's NEVER charged.

This thing needs some major quality-of-life improvements:

- Put a drain on the base to ensure spilled coffee doesn't get on the gold charging contacts. Or use remote charging (like my phone has) so it's water-tight.

- Give some kind of tactile feedback for the button. Or just raise/depress the logo a bit so you can feel it.

- Let the mug do what it should do when it's on. No one cares if it's Empty or not. A needless complication that adds a point of failure.

- Ditch the phone app. The mug already has everything it needs on it, minus presets, which no one in the world is that precise that they need coffee at 140 degrees and tea at 145. Heck, you could release a cheaper version that just has "on" or "off." Most people are fine with an average-hot temperature. I don't need to dial it down to an actual degree. Especially in Celcius.

All in all, considering the technology involved, for 50 bucks this product would be reasonable. For 150, it's not worth your time or money.

Bottom Line: No, I would not recommend this to a friend

---

Avoid

By Tom Dooley

,

Texas

,

Jan 16, 2018
Verified Reviewer

After two weeks of use and following all of the instructions, the actual ceramic liner inside the cup delaminated and mixed in with my coffee. Avoid. Avoid. Avoid. Such a great idea turned into such a dangerous product. I'll file a complaint with my state consumer protection agency as well to see if there can be real consequences.

Bottom Line: No, I would not recommend this to a friend

---

Advertisement

---

Break instantly.

I received my Ember as a Christmas gift. It had fully self-discharged in the warehouse and required messaging support to learn how to trickle charge it back to life. The lid broke after three days of mild use (stuck CLOSED). Support sent me a new lid immediately via USPS. The new lid lasted 18 hours before breaking (stuck closed again)! Argh. It's such a fun mug, and I just want it to work.

Bottom Line: No, I would not recommend this to a friend

---

Disappointed

By Katherine

,

Denver, CO

,

Jan 11, 2018
Verified Reviewer

I bought the ceramic mug from Ember about two months ago. I loved it! What an awesome idea, and there is nothing better than being able to drink a hot beverage after forgetting you even made it!

I used this mug daily for about a month and noticed that the ceramic coating was chipping at the bottom of the mug AND starting to peel all over the inside.

I immediately reached out to Ember support, and they were great about shipping another one to me that day and sending me a return shipping label for the damaged mug. The mug I received worked for about a week and then stopped charging. One of the charging prongs on the saucer was pushed in so the mug was not coming into contact with coils on the bottom to charge, and the saucer was never dropped or damaged.

I have reached out to them again, requesting a full refund. Two defective mugs in less than two months? I'd rather spend $80 on something else.

Bottom Line: No, I would not recommend this to a friend

---

Very disappointed

By Marla Jones

,

Riverside, CA

,

Jan 4, 2018
Verified Reviewer

My husband bought two Ember Cups for Christmas gifts. One went to me his wife and I found the battery life very poor. Basically, I get one cup at 145 degrees and then after 20 minutes it's blinking low battery. This morning after enjoying one cup I looked into the cup and there is a large chip in the bottom of the cup with the grey metal showing. Really? Did I swallow the missing chip? Not happy for an $80 price tag.

Bottom Line: No, I would not recommend this to a friend

---

Taking mine back

By Brian DeBrie

,

Vancouver, WA

,

Dec 28, 2017
Verified Reviewer

I couldn't get mine to pair with my Pixel, no matter what I tried. Then I tried to contact tech support only to discover they accept only email for support issues. Are you kidding me? They call that support? I am taking mine back tomorrow. Very disappointed. I was really looking forward to it.

Bottom Line: No, I would not recommend this to a friend

---