EmeTerm Reviews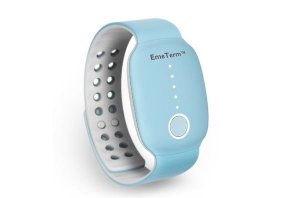 Manufactured by WAT Medical Enterprise, the electrical pulses generated by EmeTerm's neuromodulation technology claim to deliver relief from motion, morning, and VR-related sicknesses.
What Is EmeTerm?
EmeTerm is a wearable anti-emetic device that uses clinically proven neuromodulation technology to help prevent and relieve vomiting and nausea caused by VR sickness and motion sickness. It's also FDA cleared for pregnancy-induced nausea and vomiting.
Whether you're expecting, find yourself in a car, boat, plane, or typically become nauseous at high altitude, the website indicates this anti-nausea wristband works quickly, has a fashionable appearance, is easy to carry, and is hypoallergenic for sensitive skin.
The level of intensity it delivers is quickly adjustable using the button on the front, and once it runs out of juice, it's rechargeable using the included USB charging cable. And all of this without the use of drugs and their potential side effects.
Considering all of these advertised benefits, it's perhaps no wonder that EmeTerm is used by consumers in over 20 counties to reduce their nausea and vomiting.
Does this mean it will deliver the same results for you? How does it stack up against the competition? Before handing over your hard-earned money, we'll help you come to your own conclusion regarding essential questions like these. First, a few basics.
The Underlying Causes of Nausea and Vomiting
The Mayo Clinic Staff report that nausea—a feeling of sickness with an inclination to vomit—can be a symptom of dozens of potential causes; everything from chemotherapy and morning or motion sickness, to appendicitis and the ingestion of toxins.
From a physical perspective, though, MeMD's Kat Smith explains nausea symptoms can be triggered in two different areas of the brain:
"First is the chemoreceptor trigger zone (CTZ), which responds to chemical inputs from medication and hormones. It is this zone that sends signals to the digestive system should you take a medication that causes nausea or eat an illness-inducing food."
On the other hand, "when you feel motion sickness," she continues, "you are experiencing a reaction in the area postrema, which occurs due to pressure and equilibrium changes that can make you feel off balance."
If someone experiences nausea as a result of CTZ reactions, it's more likely they'll experience vomiting afterward, "as the body senses that a potentially harmful chemical is present in the digestive system."
As referenced on the EmeTerm website, if the nausea is severe enough and the brain sends appropriate signals, the stomach, diaphragm, and abdominal walls contract at different times to eject the contents of the stomach (i.e., vomiting).
With these (admittedly unsavory) details in mind, let's zoom in an look at how EmeTerm's technology promises to promote relief.
How Does the Neuromodulation Used by EmeTerm Work?
The WAT Medical website explains, "by releasing a particular low-frequency pulse, EmeTerm can adjust the vagus nerve signals traveling to and from the stomach, and can prevent or postpone it from receiving nausea signals. This then slows down the irregular gastric contraction, and reduces the nauseous sensation for the users."
To do this, the wristband features special electrodes that maximize conductivity—without the need for a gel—and send electrical currents to the P6 acupuncture point (aka median nerve) on the underside of the wrist.
From there, these targeted pulses are sent via the nervous system to the brain, where we're told they can "precisely block the signal of nausea and vomiting from the brain to stomach."
Together, this is what's commonly referred to as neuromodulation, a relatively new technology that the International Neuromodulation Society report "allow focused delivery of modifying agents – e.g., electrical, optical or chemical signals - to targeted areas of the nervous system in order to improve neural function."
EmeTerm's Specifications
Opposite these electrodes is EmeTerm's face, where you'll find a single control button. The user manual indicates that pressing it once causes the five indicator lights (each corresponding to a different intensity level) to above to illuminate.
Pressing it again will increase intensity and pressing it twice consecutively will decrease, giving you the opportunity to achieve the best effect according to your own experience. But in general, WAT Medical emphasizes that "the higher the intensity, the higher the stimulation power, and generally the better the treatment effect."
Turning the device off involves pressing and holding the button for three seconds.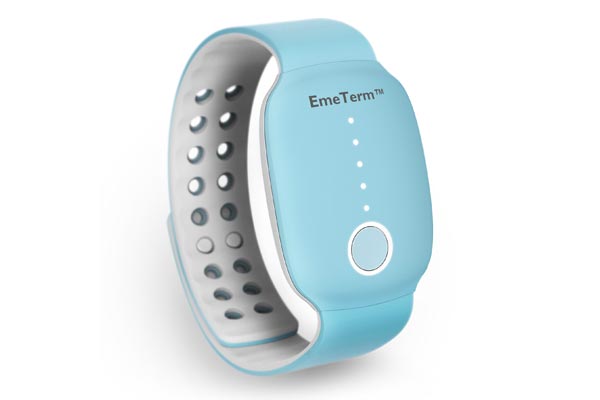 Here, we can see EmeTerm's single button on the front and the five indicator lights above. Not shown are the electrodes on the opposite side, which press against the underside of the wrist and generate electrical impulses to relieve nausea and vomiting. Credit: WAT Medical Enterprise Ltd
Pro tip: The website points out that you can use EmeTerm before or after nausea and vomiting symptoms manifest, and leave it in place for as long as your they persist. However, if you suffer from severe vomiting, the company recommends that you start using the device one-half hour in advance.
To maximize effectiveness, you'll also want to ensure that it's only applied to clean, healthy skin, worn on the underside of the wrist about 2 cm (or, the width of two fingers) from the palm, and that the hypo-allergenic band is buckled tightly to the skin. You can even alternate wrists from time-to-time for better results.
The EmeTerm device is designed to meet the IP65 rating, which makes it dust-proof and water-resistant, and its battery will last seven to nine hours. When the time comes, you'll find a magnetic charging port underneath that you can use with the included USB cable, which will take about two hours.
Is EmeTerm Clinically Proven?
The WAT Medical Enterprises website cites five clinical references to support their claims for EmeTerm:
While all of these seem to have come to positive conclusions about the efficacy of acupuncture for addressing GI-related conditions like nausea and vomiting, it's important to point out that EmeTerm isn't an acupuncture device, and instead uses electrical impulses delivered via wrist-based electrodes.
With this said, it was cleared by the US Food and Drug Administration in April 2018 as a "transcutaneous electrical nerve stimulator for pain relief."
Outside of the clinical arena, what are real-world customers saying about their experiences with EmeTerm? We'll learn more in a second, but let's first discuss price.
How Much Does the EmeTerm Anti-Nausea Device Cost?
EmeTerm is priced at $91, plus $10 S&H, which includes a USB charging cable, an instruction manual, and access to 24-hour customer service and email support.
All devices also come with a 30-day refund policy, less return S&H, as well as a one-year guarantee. Keep in mind, however, their website emphasizes items "must be unused and in the same condition that you received them," as well as in their original packaging.
To request one, you can reach support at 604-385-0656 or info@watmedical.com.
Details About EmeTerm's Online Customer Reviews
There were 13 customer reviews on WAT Medical's website for EmeTerm, who had given the device an average rating of five stars. Compliments frequently referenced effectiveness for reducing nausea caused by pregnancy, movement, and altitude, without the use of drugs.
We encountered another 14 EmeTerm customer reviews on Amazon.co.uk, who had cumulatively given the device a slightly lower average rating of 4.5 stars. Again, compliments often cited effectiveness for reducing nausea (related to chemotherapy, morning sickness, and motion sickness), as well as ease of use.
The relatively few complaints related to fit issues, as well as difficulty maintaining proper electrode contact with skin.
EmeTerm vs. ReliefBand 2.0
While you'll find scores of anti-nausea wristbands that use a small nodule to deliver light pressure to the P6 acupuncture point, the only anti-emetic wristband that currently implements electrical impulses like EmeTerm is ReliefBand 2.0.
When you take an in-depth look at both of these devices, you'll find they share many similarities outside of their technology and intended purpose, including rechargeable batteries, slim designs, and hypoallergenic bands. However, ReliefBand 2.0's contacts are located on the underside of the band, so its face is always pointing toward the user.
ReliefBand also comes with an LED face, although users still interact with the device using only two buttons on the side. Additional differences include:
| | EmeTerm | ReliefBand 2.0 |
| --- | --- | --- |
| Price | $91 | $174.99 |
| Intensity Levels | 5 | 10 |
| IP65 Rating | Y | N |
| Contact Coating | N/A | Copper |
| Battery Life | 7 - 9 hrs | Up to 15 hrs |
| Recharge Time | 2 hrs | 45 min |
| Conductivity Gel Needed? | N | Y |
Finally, depending on the severity of your nausea, the cause, and whether or not it's responded to antiemetics and other conservative therapies, ReliefBand is available in a prescription version that might even be covered by insurance, depending on your carrier.
What does all of this mean when it comes to your future with EmeTerm?
Our Bottom Line About the EmeTerm Band?
Based on its FDA clearance and overwhelmingly positive online customer reviews, it certainly seems like EmeTerm could have a real chance of relieving your nausea and vomiting caused by VR sickness, motion sickness, and pregnancy-induced nausea and vomiting.
Compared to the only other model on the market (ReliefBand 2.0), it's also meaningfully less expensive, doesn't require conductivity gel, and is IP65 rated if you're typically rough on wearables. It's important to balance this by pointing out that EmeTerm also features a shorter battery life, longer recharge time, and half as many intensity levels.
How to choose? While it might sound redundant, if you regularly experience nausea and/or vomiting, talk with your doctor before making a financial commitment to a product. They can speak with you about your needs and recommend options based on your diagnosis.
After all, if you decide to give EmeTerm a try, the WAT Medical website indicates your ability to process a refund goes away as soon as you remove it from its packaging and place it on your wrist. As such, you shouldn't consider it a risk-free transaction.