Envie Hair Straightening System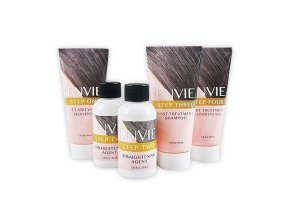 Envie is a hair straightening system that promises to keep your hair controlled and frizz-free for up to 90 days after treatment.
Envie Hair Straightening System Review: Is It Legit or Just Hype?
Tired of dealing with curly hair? The Envie Hair Straightening System claims to offer a solution; at least for 90 days.
This one-time, formaldehyde-free hair treatment is purportedly designed to penetrate deep into your hair shafts to relax the bonds that cause it to curl, so you are left with silkier, straighter hair.
The at-home hair straightening system is advertised as being hassle-free and cheaper than a professional hairstylist. The four-part treatment program includes a clarifying shampoo, straightening agent, and aftercare shampoo and conditioner.
In total, the straightening process is expected to take about two hours and create straight hair for up to three months.
Is it right for you, though? Here's what we learned during our research, starting with the basics of how you can use Envie.
How to Use Envie
According to the product website, anyone seeking straighter, frizz-free hair can benefit from Envie. You'll first allocate up to two hours for the treatment process and plan to keep your hair dry and sweat-free for at least eight hours afterward.
To start, wash your hair with the Clarifying Shampoo, (labeled step one). Rinse thoroughly, towel dry your hair so it's still damp, and comb it out.
Next, you'll pour the Straightening Agent (step two) into a small bowl. Use a hair color brush to carefully apply the product on your hair from root to tip.
You may need to rewet portions of your hair during the process. Comb each section of hair to ensure even distribution over your entire head.
Let the product set for 20 minutes without rinsing it out. You can then blow dry your hair with the product in place, and then flat-ironing small sections as it dries, brushing it as you go.
You'll need to wait an additional 20 minutes after the straightening, and then wash your hair with the Post Treatment Shampoo (step three) and rinse it thoroughly. Next, apply the Post Treatment Conditioner (step four) and let it set for three to five minutes before rinsing.
Once your hair is towel-dried, you can blow dry it again before treating it a final flat-iron session. Your hair should now be straight.
While Envie states that your straightened hair can last for up to 90 days after following the system, "virgin" hair might not stay as straight.
This refers to hair that hasn't been chemically treated with relaxers. If you fall into this category, you might need to re-treat your hair after four weeks before starting a 90-day schedule.
If you recently chemically straightened your hair, Envie suggests waiting four weeks before using their system.
Next, let's look at what causes you to have curly hair in the first place.
What Causes Curly or Straight Hair?
Popular Science tells us that whether or not you have curly hair comes down to your genetics.
Curly hair genes are dominant over straight, which is why textured hair is more common around the world, and perhaps why hair straightening treatments like Envie are so popular.
The shape of the hair follicle determines whether it twists. Asymmetrical follicles make an oval shape, which curls as they grow out, while symmetrical ones tend to grow straight.
Part of the reason for this asymmetrical growth pattern, according to Popular Science, is that curly hair has a naturally uneven distribution of the protein keratin.
As keratin is the primary component of hair, it's responsible for creating a smoother, straighter appearance when fused to strands through heat or chemical treatments.
Frizz, on the other hand, forms when the hair's cuticle layers are roughed up to the point that the strand doesn't lay flat.
Hair straightening treatments work to smooth cuticles when applied through heat treatments from blow dryers or straighteners. Afterward, hair lies smoother, is frizz-free, and takes half the time to straighten.
One popular treatment, called the Brazilian Blowout, relies on a formaldehyde solution to bind keratin to hair strands and straighten them.
These treatments are less damaging than Japanese Straightening, but they expose you to formaldehyde, which the United States Department of Labor reports is a known carcinogen.
Some keratin-based straightening agents like Envie are made without formaldehyde to make them safer for home use, and instead, use heat to fuse keratin to the strands. But how long will these treatments last? Let's explore that next.
How Long Do Keratin-Based Straightening Treatments Like Envie Last?
Formaldehyde-free products might not have the health risks associated with the compound, but these heat-based products are criticized on the website All Things Hair for not lasting as long as treatments that rely on chemicals.
The natural texture of your hair will dictate how long a keratin treatment like Envie can last. In general, we found on Envie's website and Allure that the curlier your natural texture, the quicker your curl pattern will revert to its regular shape.
It's important to note that the more you wash your hair, the faster the effects will wear off (no more than 2-3 times per week is recommended).
In the same way, keep your hair out of chlorinated pools and saltwater as much as you can, as they will leach out the active ingredients.
What Is the Science Behind Envie's Ingredients?
According to the Envie website, their hair straightening product is clinically proven safe and delivers guaranteed results.
However, we didn't see any references to these specific clinical studies on the site, and our requests for information went unanswered.
What is listed on the company website are "key benefit driving" ingredients used in the straightening products, which are below.
We researched the effects of these ingredients through reputable health websites like WebMD and the Cosmetics Database.
Panthenol: As a form of either plant-based or animal-based vitamin B5, panthenol is considered to be a safe, moisturizing ingredient that helps hair withstand breakage. It's common in shampoos and conditioners.

Surfactant System: Surfactant is the property of soap to lower the surface tension between two materials, which is essential for relaxing hair's curl pattern.

Conditioning System: Though Envie doesn't provide details on their conditioning system, they claim that it is a proven formula that delivers exceptional performance.

Sclerocarya Birrea Callus Extract: Coming from a West African tree, this extract also goes by the name Marula oil and is claimed by Envie to give hair more shine and slow down oxidation in cells.

Butyrospermum Parkii (Shea Butter): As a natural moisturizing ingredient in many cosmetic products, including hair systems like Envie, shea butter is used to add moisture back to the scalp and keep hair looking healthy after the treatment.​​​​​​

Syringa Vulgaris (Lilac) Leaf Extract: The sweet-smelling extract provides natural antioxidant protection against free radical formation on your scalp.

Camellia Sinensis Leaf Extract: As a potent plant source of antioxidants, this extract is claimed by Envie to help keep your scalp healthy.
The website also notes that the hair formula is completely free of sulfates, parabens, phthalates, and formaldehyde-releasing preservatives.
The clinical evidence reported on sites like WebMD and the Skin Deep Cosmetic Database indicates that most of the ingredients in Envie (at least the ones we're told about) are natural substances, instead of harsh synthetic chemicals like sodium hydroxide, guanidine hydroxide, or ammonium thioglycolate.
However, without getting a better understanding of the proprietary ingredients in its straightening and conditioning agents, it's hard for us to speak for the system's effectiveness for straightening hair from these ingredients alone.
We also don't know what portion of the formula these natural ingredients make up, meaning that they might constitute only a trace amount of the recipe.
How Much Does Envie Cost?
On the product website, the full Envie system costs $19.99. This includes five products: 1.5-oz of Clarifying Shampoo, 1.5-oz of Straightening Agent, 2.5-oz of Post Shampoo, 1.5-oz of Post Conditioner, and 1.5-oz of Envie System.
You can also purchase this same set with daily haircare products for $29.99. The included shampoo and conditioner set is designed to be gentle on your hair so that Envie's effects last longer.
Envie comes with a 60-day guarantee, meaning that you can contact the company at service@enviehaircare.com or 857-263-8683 within 60 days of your order to request a return.
How Does Envy Compare to Similar Products?
There are lots of keratin-based at-home hair treatment options available today. When making a comparison to Envie, we chose to look at two.
Popular on Amazon, the Brazilian Keratin Hair Straightening Treatment Kit claims to give you straight hair for up to three months and includes a clarifying shampoo, keratin straightening treatment, and post-treatment conditioner, just like Envie, though it doesn't include a post-treatment shampoo.
Overall, the product has positive feedback, averaging four stars after 107 reviews, and retails for $65.
This makes it approximately twice as expensive as Envie, which in contrast earned 2.5 stars after 24 reviews. It's also worth noting that this treatment is free of formaldehyde.
We also chose to look at a formaldehyde-free saffron smoothing treatment to see what else is on the market besides keratin for hair straightening.
This formula claims to take half the time of traditional methods to work, thanks to the high concentration of vitamin B12 in the treatment's 100 percent organic saffron.
Though the results should last 3-4 months like Envie, the product is considered to be for professional use only.
To use, this treatment is applied directly to the hair like other straightening agents and blow-dried and flat ironed before the hair is straight, and then rinsed out. Unlike Envie, you need to provide your own shampoo and conditioner for the post-treatment.
Though each bottle costs $115, the product averages over 3.5 stars after 48 reviews on Amazon, meaning it might be an excellent option to try if you have a professional friend to help with the details.
When choosing a hair straightening treatment, keep in mind that some harsh chemicals will be necessary if you want long-lasting results.
While home-based treatments might be formaldehyde-free, they also lack the power to permanently change the structure of your hair to straighten it.
For this reason, if you want results that last longer than two to three months, you'll need to consult with your hairstylist to see what they recommend for your hair type.
The Bottom Line: Should You Try the Envie Hair Straightening System?
Keratin-based home hair treatments are getting more popular, and Envie seems to stand with the crowd in offering a non-toxic alternative to formaldehyde straightening systems.
The product is at a similar price point to the other keratin-based straightening products we looked at, and it costs less than a professional treatment.
However, Envie claims to provide just 90 days of straightening, which is less than what salon treatments that rely on harsher chemicals can provide.
We also don't know what specific ingredients the product contains, despite reaching out to the company for more details.
Envie looks like a promising product from the information that we found on the website, but there wasn't enough information available about the ingredients or their concentrations for us to recommend it either way for you.
Without knowing much about the active ingredients, there's little way to understand how well this product will straighten your hair.
Amazon reviewers seem to find Envie average at best, so we suggest you keep your expectations realistic about what a home-keratin treatment can accomplish.