Enzyme 365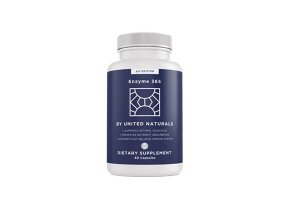 Enzyme 365 is a supplement from United Naturals that claims its mix of 17 enzymes can promote digestive health. The supplement comes with a high enzyme count but a high price tag, too.
Enzyme 365 Review: Is It Worth It?
Enzyme 365 is a daily enzyme supplement from United Naturals whose capsules include a 600-milligram mix of 17 enzymes the company claims will help you with digestion.
What makes the enzyme supplement different than other supplements we've seen is that the product's ingredients list is easily accessible, the ingredients are vegetarian and it is made in the United States.
The doctor behind the company is, according to the United Naturals website, Dr.Vincent Pedre, who is "a certified medical doctor, a functional medicine certified practitioner and chief wellness officer."
Pedre has degrees from Cornell University and the University of Miami.
In our review of Enzyme 365, we'll talk about how it works based on the limited information the company provides, what enzymes do, possible side effects and the supplement's pricing and return policy. We'll also compare it to a couple of other enzyme-based supplements.
How Enzyme 365 Works
A few seconds ago we mentioned that there isn't much information on the United Naturals website regarding how Enzyme 365 works.
What we do know from photos of bottles and information on the site is that the product is intended to:
Help you more fully digest food
Support optimal digestion
Promotes nutrient absorption
Support gut-related immunity
So, as you can see, the enzyme's main function is to aid your digestive system. The engine behind all these claimed benefits is the supplement's mix of 17 different enzymes. "Enzymes" refers to a substance that helps chemical reactions move faster or slower.
In the case of Enzyme 365, it seems that the ingredients are intended to speed up the chemical process that helps you digest your food, which is something we'll talk about in the next section.
United Naturals says that one serving of Enzyme 365 requires two capsules and that one jar of their supplement has 30 servings (60 capsules). You need to store the bottle at a temperature of between 59 and 86 degrees.
How Enzymes Help Digestion and Potential Side Effects
Each capsule of Enzyme 365 includes the following enzymes in varying dosage amounts:
| | | |
| --- | --- | --- |
| Amylase | Acid protease | Bromelain |
| Lactase | Glucoamylase | Pectinase |
| Phytase | Fungal protease | Neutral protease |
| Invertase | Maltase | Alpha-galactosidase |
| Beta-glucanase | Cellulase | Hemicellulase |
| Yeast lipase | Xylanase | |
Each of these enzymes is responsible for breaking down certain types of food, said registered dietitian Angie Kuhn, who is the director of research and nutrition at Persona.
"Age, stress, lifestyle, and dietary intolerances (e.g. lactose, casein, or gluten) can reduce the ability of our bodies to produce these necessary items for breaking down specific foods," Kuhn said.
Therefore, supplemental enzymes can provide a health boost in some people.
"Supplementing with digestive enzymes is a great way to provide your body with a well-rounded supply of enzymes that have unique functions for optimal digestion. In addition, supplementing with enzymes is a vital remedy for many individuals who cannot produce enough enzymes on their own," Kuhn said. "Enzymes are also a natural remedy for common indigestion.
Dr. Adam Nally, a physician who focuses on obesity and dieting, gave us a little bit of a different perspective. He said supplemental enzymes are needed for those dealing with pancreatitis. The pancreas creates its own enzymes to help aid digestion and, when it's inflamed, it can't produce enzymes as it should.
"Digestive enzyme supplements are designed to aid a pancreas that is poorly functioning or not producing adequate pancreatic enzymes," he said, going on to point out that the most common pancreatic enzymes are lipase, protease and amylase, three of the enzymes included in Enzyme 365.
He went on to discuss some of the side effects of taking these three types of enzymes.
"The most common side effect of misuse or overuse of pancreatic enzymes is constipation. These enzymes may also cause nausea, bloating, abdominal cramps and diarrhea, because of the changes they can make to fat, protein and carbohydrate in your diet," he said.
Nally also noted that, in some cases, taking lipase, protease and amylase could decrease your body's ability to absorb iron and some forms of salt.
He also advises the following: "Long-term use (longer than two weeks) of any enzyme preparation should be monitored by your physician because of the potential problems that may arise with their use."
Pricing and Return Policy
Enzyme is priced as follows:
1 Bottle: $45
3 Bottles: $99
The company will allow a return of up to two opened bottles but any additional bottles need to be "full and sealed". If you return more than two bottles of the product, you'll get a prorated return amount for the additional bottles.
United Naturals says it can take up to seven business days for your refund to appear on your bank or credit card statement.
Comparing Enzyme 365 to Alternative Supplements
Our in-depth research of supplements over the past five years has taught us that, as unique or interesting as a supplement may seem, there are more than likely other products offering the same thing for a lower price on Amazon.
With this in mind, we went to Amazon to find two comparable supplements that received excellent reviews from customers.
The first supplement we found was Genius Digestive Enzymes. This product has 45 servings in it and each capsule includes nine digestive enzymes. It cost $38.99 for a one-time purchase and received an average of 4.8 stars from more than 175 customer reviews.
The second supplement we found was Super ENZYMES from Nested Natural. One bottle contains 90 servings. Each capsule includes 11 digestive enzymes, 10 of which are included in Enzyme 365. One bottle cost $25.95. The supplement received an average of 4.8 stars from more than 310 customers.
These products reveal a couple of things about Enzyme 365. First, the two competing products contain more servings than Enzyme 365. Second, they also have customer reviews and the United Naturals supplement doesn't. Third, Enzyme 365 contains more enzymes than the two competing capsules.
Pricing is another area of comparison. Enzyme 365's one-bottle price makes the per-serving price $1.50. Genius Digestive Enzymes cost about $0.87 per serving and Super ENZYMES costs about $0.29 per serving.
As you can see, Enzyme 365 is the more expensive product but it also contains nearly twice the enzymes that Genius Digestive Enzymes contains. Super ENZYMES may have seven fewer enzymes than Enzymes 365 but it also costs around $1.21 less per serving.
In terms of cost per serving, Enzyme 365 is by far the most expensive.
The Final Word
Enzyme 365's strength is that it contains 17 different enzymes. Of those 17 enzymes, there are specific ones that are helpful for those who may have low enzyme counts due to pancreatitis.
Also, the product provides a clear list of ingredients, which means you know exactly what you're getting in each capsule.
The downside, however, is a downside that all enzyme supplements present. You don't know how effective the capsules will be and there is a chance that you could suffer some pretty uncomfortable digestion-related side effects, Nally pointed out.
Some of those side effects include constipation, bloating, nausea, and abdominal cramps.
There are some benefits that Enzyme 365 and other supplements like it can present. However, based on expert sources your body will tell you if it's worth spending the money on this product.
If you're worried that you might experience the digestive side effects listed above, then start out with a highly-rated enzyme supplement that costs less than $0.50 a capsule.
The investment is low and, should you find that you and enzyme supplements aren't a good fit, you'll lose out on $26, in the case of Super ENZYMES, instead of $45.
Really help in aiding digestion when need

By Michelle M.

,

Sacramento, CA

,

Nov 12, 2019
Verified Reviewer

Overall Experience:

I've been using the Enzyme 365 as needed for the last 4 months now, mind you, I do not take them every day nor do I take them with every meal, I take them on occasions if I had a meal that feels like it's just sitting in my stomach and not digesting such as beef or high-fat foods. Now, typically I eat small meals throughout the day but sometimes going out with family or friends I eat a little bit more than I should, usually I never eat to the point of getting full, which is also a good practice but once in awhile, like I said, you go out with family and friends the food is amazing, you can't stop eating, and bam! You feel heavy and sick and that's when I take these, so I will take two of them right after that meal and it just works wonders, makes me feel so much better, it really does work. I have tried several different enzymes over the years and none of them worked as well as this one product does. I definitely will keep these on hand and take as needed. But like with anything, you want to read the fine print, you don't want to take these every single day for the rest of your life, you have to give your body a break, just use them as needed, that's my suggestion. If you know you're going out with family and friends and you're going to have a big meal, maybe during holidays, these come in handy, but don't let that be an excuse to overeat. As anything, everything in moderation!

Bottom Line: Yes, I would recommend this to a friend

---

Advertisement

---