eSmart Tax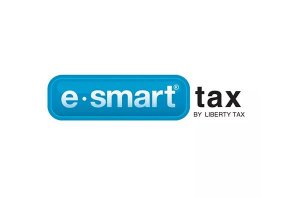 Summary
ESmart Tax's tax filing software has multiple support services that are a good resource for those who worry about DIYing their taxes but its plans are among the most expensive.
Pros
Live chat support for all plans
Audit support for all plans
Backed by a nationwide tax company
Cons
No free filing option
In-depth audit support costs extra
The basic plan is expensive compared to other software
State tax filing is expensive
eSmart Tax Reviews: Is It a Good Software for Filing Your Taxes?
eSmart Tax is an online tax software from Liberty Tax that provides four different plans priced according to how complex your return is.
What makes this software different is that it has a brick-and-mortar tax company behind it. This means that you can go into any Liberty Tax office to get support.
This in-person support is a valuable benefit if you're someone who isn't quite comfortable filing your taxes with purely online tax software.
In this review of eSmart Tax, we take a detailed look at its features to help you decide if this software is a good fit for your tax needs.
Features and User Experience
eSmart Tax uses an interview-style approach to your tax return. When you create an account and start your return, the software will get information from you by asking you questions.
This approach makes tax returns easier to understand. A question-based approach makes complex concepts simple.
As you answer questions, the software compiles information and uses it to fill out various forms and schedules related to your tax deductions, credits and refund amount.
When you complete your return, eSmart Tax will check your return for errors. You'll then electronically sign the return and submit it to the IRS.
Support Options
If you have any questions while you're working on your return, you can use the software's live chat option. You can email support, too. Certain customers who pay for eSmart Tax's more expensive plans will have access to tax professionals who can give advice.
Another option for resolving a problem is eSmart's support page, where you'll find a substantial number of articles covering all types of tax situations.
Refund and Accuracy Guarantees
eSmart guarantees their software can provide you with your maximum refund via a 100% accurate tax return. If you get a higher refund amount from a different site with the same information you gave eSmart, you can get your filing fees refunded.
The second part of eSmart's guarantee is their accuracy. If you enter all the correct information into your tax return and a miscalculation by the software results in you getting IRS penalties or interest, eSmart will reimburse you for those charges.
Pricing and Plans
| | Basic | Deluxe | Premium |
| --- | --- | --- | --- |
| Price | $44.95 | $64.95 | $89.95 |
| Homeowners | ✔ | ✔ | ✔ |
| Investors | | ✔ | ✔ |
| Business owners | | | ✔ |
| Real estate investments | | | ✔ |
| Live chat support | ✔ | ✔ | ✔ |
| Audit support | ✔ | ✔ | ✔ |
| Access to tax pros | | ✔ | ✔ |
All plans include audit support, which entitles you to conversations with an in-office Liberty Tax representative who can talk with you about what you can expect from the IRS audit process.
Also, all plans accept forms for expats who need to file forms 1116 (foreign tax credit) or 2555 (foreign earned income credit).
Other features include:
W2 import
Import of past tax returns
Import of tax returns from other sites
Form 8962: Premium tax credit for healthcare marketplace plans
Basic
This plan is best for homeowners and families that want to itemize their deductions and have to fill out forms specific to mortgage interest.
Common supported forms include:
1040
Income from W-2s
Form 8936: Mortgage interest credit
Form 8899: Health Savings Accounts
Earned Income Tax Credit
Schedule A: Itemized deductions
Schedule B: Interest payments and stock dividends
Deluxe
The main difference between Basic and Deluxe is that this plan is tailored for self-employed.
This plan would also be good if you want access to tax experts, as it includes assistance from Liberty Tax tax pros.
The forms this plan accepts include what you need to deduct common expenses:
1040
Form 4136: Fuel tax credit
Form 4562: Depreciation and amortization
Form 8829: Expenses for business use of your home
Form 8839: Adoption expenses
Schedule C: Business-related deduction
Premium
This plan is the best fit for you if you're a business owner who has income from a variety of sources including payment from business partnerships. You can claim numerous deductions with this plan that you can't make in the Deluxe plan.
Forms you can file in this plan include what you get in Basic and Deluxe plus the following:
Form 4684: Casualties and theft
Form 4835: Farm rental income and expenses
Schedule E: Real estate, royalty, and S-Corp income
Schedule F: Farm income and expenses
Schedule K-1: Partnership profit and losses
State Tax Filing: $36.95
No matter which of the plans you select, you'll pay an additional $36.95 to do your state taxes if your state charges income tax. The states that do not require tax returns are AK, FL, TN, NH, NV, SD, TX, WA, and WY.
eSmart Bundle: $29.99
This bundle provides you with three specific add-ons.
The first is enhanced audit assistance. You get advice about how to prepare for the audit, will help you craft your correspondence with the IRS, and will work with help you through your audit results and assist you in coming up with a plan.
The bundle also includes a printed, bound copy of your tax return (good for storing a hard copy) and online access to your return for five years.
Popular Alternatives to eSmart Tax
| | eSmart Tax | TurboTax | H&R Block |
| --- | --- | --- | --- |
| Free filing (simple tax return) | No | Yes | Yes |
| Deluxe | $44.95 | $60 | $49.99 |
| Premium (investments and rental property) | $64.95 | $90 | $69.99 |
| Self-Employed (personal and business income and expenses) | $89.95 | $120 | $104.99 |
| State filing cost* | $36.95 | $0 for free filing, $40 for paid version | $0 for free filing, $39.99–$49.99 for paid versions |
| On-demand CPA/ EA/ Tax expert access | Yes | Yes | Yes |
| Support options | Chat, email, in-office visit | Video, phone, chat, email | Phone, chat, email, in-office |
| Educational resources | Extensive | Extensive | Extensive |
| Paid access to CPAs and EAs | No | Yes | Yes |
| Audit services | Will help you draft your correspondence with the IRS but will not represent you in IRS meetings | Will correspond on your behalf and represent you in IRS audit meetings | Will correspond on your behalf and represent you in IRS audit meetings |
The Bottom Line
eSmart Tax's question-based tax software will make the filing process easy for you. The software's extensive education section, as well as their live support, provide a safety net for you if you're stressed out about filing or have had a difficult time DIYing your taxes in past years.
However, eSmart Tax offers no clear advantage over other tax software with similar price points. It does not have a free plan and its prices for business and self-employed filers are higher than the competition.
If your main reason for considering eSmart Tax is that there's a brick-and-mortar tax firm behind it, add H&R Block to your list of tax software options. Their prices are lower for federal returns and they have a nationwide network of offices.
Customer Reviews