ESPN Fantasy Football Reviews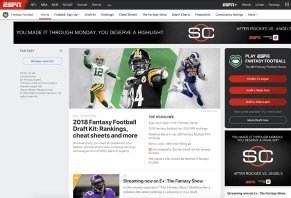 ESPN.com Fantasy Football is a leading fantasy football site that provides free leagues, mock drafts and a drafting platform that accommodates, live, autodraft and offline drafts.
About ESPN Fantasy Football
ESPN.com Fantasy Football provides season-long fantasy football games and has a robust advice section along with articles that are a part of a paid ESPN Insider subscription.
The site is one of the most popular fantasy football platforms on the internet. ESPN's most popular and well-known fantasy expert is Matthew Berry, whose yearly Love/Hate articles detailing the players he loves and hates in the upcoming fantasy season is the site's cornerstone fantasy article.
To understand if ESPN fantasy football is the right fit, you'll need to know the aspects of the site that are most relevant to fantasy football players:
Types of fantasy football games they offer
Mock drafts
Experts who provide rankings
The app
In addition to this, it's really helpful to compare ESPN to other sites. Because fantasy football is such a big industry, you've got plenty of options ranging from big sites like NFL and Yahoo to smaller apps like Sleeper.
In our review, we're going to cover all these points and, in the end, provide our thoughts about the site's strengths and weaknesses.
A Quick Word About Fantasy Football Scoring
At the heart of ESPN fantasy football and any other platform, for that matter, is the concept of scoring. Fantasy football leagues assign point values to the yards a player gains, the touchdown he scores and the turnovers he commits.
Likewise, team defenses are rewarded points for how well they limit their opponent's scoring during a game, how many turnovers they create and how many sacks they get.
Kickers get positive points for field goals they make and negative points for field goals they miss.
The Types of Games that ESPN Fantasy Football Offers
ESPN.com has one main type of fantasy football league: head-to-head.
These leagues have two options: starting your own league or joining an ESPN league. Whichever you choose, the basic structure of the league is the same. Once the number of teams your league allows joins, then you can set a draft date.
Once the draft has completed, ESPN will randomly generate a season schedule in which you play against the other teams in your league.
The teams with the best records go to the playoffs to compete for the championship, while the rest of the teams miss out on the playoffs.
As we mentioned a few seconds ago, you can join a league that ESPN creates or make one on your own. These are often called public and private leagues. Public leagues are ones that ESPN makes and they have either eight, 10 or 12 teams in a league, whereas making private league means you can have between four and 20 teams.
Both leagues implement PPR (point per reception) or non-PPR scoring. In PPR leagues, players earn a point every time they make a reception. If you make your own private league, you become the league manager and have the ability to change your league's scoring settings, which means you could make receptions worth 2 points, 1 point or even 0.5 points.
You also have the option of creating a League Manager league, in which the person who started the league can make all kinds of changes, including adding keepers and implemented draft-pick trades. You can also change roster sizes, waiver rules (adding players to your team who aren't on another team), how many teams make it to the playoffs and many other aspects of your league including keepers.
If the thought of customizing your league's scoring overwhelms you, then you don't have to make a single change. ESPN does a standard scoring system that will dictate scoring without you have to click anything.
If you aren't a league manager and want to join a league, then you can either join an existing public league or get invited to a private league.
Either way, the most important thing you can do when you join is to study the league's scoring settings. Most leagues will assign four points to every 100 yards.
ESPN Fantasy Football Draft Platform
The fantasy football season is split into three main phases: the draft, the regular season and the playoffs.
In many cases, how well you draft dictates how well your season goes. The goal is to draft players you think will score a lot of points and, hopefully, lead you to a championship. Therefore, there's a tremendous amount of information out there about who to draft.
Much of this information comes in the form of rankings, in which ESPN's experts will rank all the players at a particular position. For example, they'll provide a top-to-bottom ranking of all running backs. Many fantasy managers refer to these lists or make their own, to decide who they want to pick in their drafts.
These rankings are based on ESPN's projections of how many point search player will score, projections that are based on past performance, the team on which the player plays, the player's schedule and other metrics.
Rankings can vary from site-to-site and there's really no way to tell which rankings are better because the outcome of their predictions aren't known until the end of the season, barring any season-ending injuries to the players they rank.
An example of how rankings can vary is included in the chart below, in which we compare the top five running backs as projected by ESPN, Yahoo, CBS and NFL.com:
| ESPN | Yahoo | CBS | NFL.com |
| --- | --- | --- | --- |
| Le'Veon Bell | Todd Gurley | Todd Gurley | Le'Veon Bell |
| Todd Gurley | Le'Veon Bell | Ezekiel Elliott | Todd Gurley |
| David Johnson | David Johnson | Le'Veon Bell | Ezekiel Elliott |
| Ezekiel Elliott | Ezekiel Elliott | David Johnson | David Johnson |
| Alvin Kamara | Saquon Barkley | Saquon Barkley/Kareem Hunt | Alvin Kamara |
If you want to take your understanding of players deeper, then you can read through ESPN's articles about players in each position. The writers will provide you with some insight into why certain players are ranked where they're at.
Sometimes you'll learn that a team has a new offensive coordinator that is able to boost a team's scoring, which bodes well for a player's fantasy value. Other times they may point out that they ranked a running back higher or lower because of changes to the offensive line, which, in theory, affects a running back's performance.
One of the best resources for your draft is ESPN's Draft Kit, which includes a variety of helpful tools in one place:
Position rankings
Overall rankings
Cheat sheets (list of fantasy players for every team)
Articles (Draft strategy, Position strategy, Writer's favorite players, Players you should avoid)
If you're a newcomer to fantasy football, then this resource is critical.
The drawback to ESPN's fantasy site is that 16 of the 39 articles in their draft kit at the time of publishing were only accessible through ESPN Insider, the site's paid membership for premium content. Insider is $39.99 a year. There's also a $4.99/month option if you want to use it from August to December, which would be about $25. Both subscriptions come with a free, one-year subscription to ESPN The Magazine.
ESPN allows three types of league drafts: live, autodraft, and offline.
Live drafts use ESPN's draft mobile or web draft platform. The league manager will assign a draft time for the league. To access the draft, you head to the league page and click on the Draft button, which should appear about 10-15 minutes before your draft's scheduled start time.
We tried a live draft through Google Chrome and found the experience to be flawless. The keys to a good draft platform are that you can quickly search for players, see who is already on your team and see how much time is left until your pick.
The web version hits all these requirements and, as far as the user experience goes, ours was flawless. The draft page's design is simple and not too cluttered...all the necessary information is easily identifiable: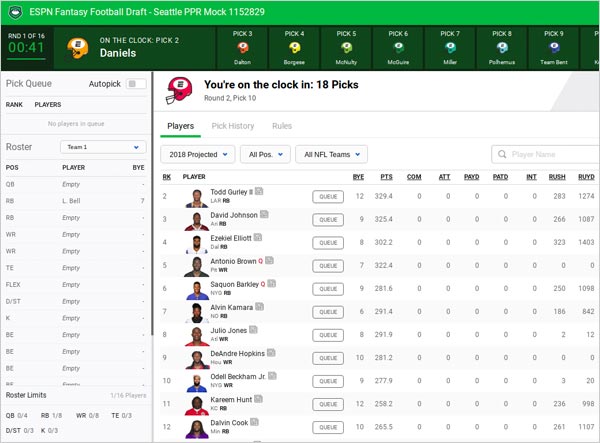 We also tried the mobile version. The interface is, understandably, a little more jumbled than the web version. The key to succeeding in this draft, from a functional standpoint, is to utilize the "Queue" button next to each player. Doing so will put them in a queue from which you can draft players. You're basically pulling the players you want to draft from a big list and putting them in a small list you can access with one tap.
You can sort players by their overall rankings, their projected points, their 2017 points or their average draft position, which is calculated by taking the average position the player was drafted in all ESPN drafts this year.
The other two types of drafts you can do are autodraft, in which ESPN does a draft based on your league's draft order and the player rankings you submit. Once ESPN conducts the autodraft, they send you a notification and you can go to your team page and see which players you drafted.
The final draft type is offline. You'll use this if your league drafts in-person.
ESPN's Fantasy Football Experts
Two the site's most well-known experts are Matt Berry and Eric Karabell. Berry is known for his "Draft Day Manifesto" and "Love/Hate" articles. The former is an article meant to help you formulate a draft strategy based on Berry's advice. The latter is an article on the players he thinks are going to better than expected and worse than expected.
It's hard to judge how well these two experts do when it comes to player rankings and performance predictions. To get a sense of their performance, we referred to FantasyPros'2017Fantasy Football Accuracy rankings, in which they rate 200 experts' predictive accuracy.
The 2017 rankings available at the time of publishing did not include Berry or Karabell in their rankings, indicating that the two experts' performance wasn't good enough to make the top 200, according to FantasyPros.
How ESPN's Fantasy Football Compares to the Competition
Based on our research of other sites' leagues and draft platform, we believe that ESPN offers some distinct advantages.
The site's draft engine is a smooth, fluid experience that provides quick access to stat lines and players whose projected points and previous season's totals are easy to read.
CBS Sports' draft tool is the opposite. Adding players to your queue requires drag and drop and only works if you don't try and click on the player's name, at which point the draft platform things you're trying to drag a link somewhere. Also, CBS' stat lines are hard to read.
Yahoo's draft platform is pretty easy to use. Players can be added to your queue by clicking on the star symbol next to their name. If you want to view a player's stats, you can click on the player's name and his stats will show in a banner across the top of the draft page.
NFL.com's draft platform rivals ESPN's in terms of how clean it looks and the ease with which you can add players to your queue and search through them to view their previous season's stats and the current season's projections.
The main drawback to ESPN's actual leagues is that they offer no paid leagues, whereas CBS, Yahoo and NFL.com do. If you're just a casual player who wants to compete among friends without any money on the line, then you probably don't mind that there aren't any pay leagues on the site.
However, you if you want to participate in a league where there's a cash prize and the site takes care of collecting fees and paying out winners, then Yahoo, NFL.com, and CBS Sports might be a better fit.
Expert Insight About ESPN Fantasy Football
We reached out to Jimmy Wagner, a fantasy football expert who's published a book on fantasy football and appears on podcasts to provide advice and tips.
In Wagner's personal rankings of ESPN, Yahoo, CBS and NFL.com, he puts ESPN at the bottom of the list due to issues that his leagues have faced during the regular season.
"ESPN is the bum of the group. The app constantly crashes on game-day Sundays. You cannot get immediate updates. In addition, the app is a clunker and difficult to draft from your phone. There is too much going on with the app," he said.
Wagner pointed out, however, that the mock draft tool is great and the site has plenty of leagues that newcomers can join.
The Final Word: Pros and Cons of ESPN Fantasy Football
Based on our research of this site, we believe that ESPN fantasy football has some clear strengths and weaknesses. As far as strengths go, we believe their mobile drafting app is an excellent, user-friendly tool and that their desktop draft tool is highly functional and very approachable for new and seasoned players.
The downsides to the site have to do with quality and consistency. None of the site's fantasy football experts made Fantasy Pros' list of the 200 most accurate fantasy football experts.
The site doesn't offer any paid leagues, which is a big drawback for seasoned players like Wagner who want to play in leagues where they can win cash prizes.
We'd say the final con of the site is that, according to Wagner, the app gets very buggy and slow on Sundays, which are the premier day of the week for fantasy football. If you sit at home, watch games and want second-by-second updates, you may run into glitches with the app.
However, you can always switch to the desktop version, which, based on my experience, doesn't get clunky or glitchy on game days.
In general, we believe that ESPN fantasy football is a great choice for the beginner who wants to get their feet wet with a site that offers plenty of options for public leagues an easy-to-understand draft tool.
» For Further Reading: Guide to the Best Fantasy Football Sites: Comparison of Yahoo, ESPN, NFL, CBS Sports, and Sleeper