ESPN+ Reviews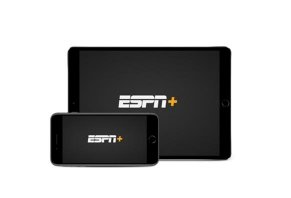 ESPN+ is an add-on subscription service from ESPN whose coverage focuses on soccer, baseball, and less popular sports like auto racing, boxing and lacrosse.
What Is ESPN+?
ESPN+ is a subscription service that gives you access to live and archived sporting events, shows and documentaries.
The advantage it offers is that those without a cable package that includes ESPN are able to get streaming content that's not available to them otherwise. However, that streaming content does not include live content on ESPN and ESPN2. In that sense, ESPN+ is its own channel with its own unique content.
The subscription sports service was launched in April 2018 as an additional package that individuals could by at a low monthly rate, which we'll discuss later in this review.
Those who love sports will certainly want to know what ESPN+ offers. How much does it cost per month? Which types of sporting events does it offer and are there limitations? Is it meant to be a substitute for ESPN's regular lineup of sports and talk shows? How does it compare to other add-on sports subscriptions?
These are the questions we're going to answer in this review via our own in-depth analysis and expertise. At the end of our review, we'll provide you a basic list of the service's pros and cons.
ESPN+ Subscription Fees
You have the option of choosing between a $4.99 monthly fee or a $49.99 yearly fee, both of which are pretty reasonable fees for someone who is trying to cut the cord. Choosing the yearly fee will save you $9.89 per year.
In terms of cable sports subscriptions, Comcast had several options for adding sports channels. However, those options were limited to specific sports and did not give you access to an add-on channel that allowed you to watch multiple sports.
As is the custom with most cable companies, you have to buy an upgraded cable package – say, $99 a month instead of $59 a month – in order to get ESPN.
In this sense, ESPN Plus provides an economical way to get access to games, matches, talk shows and documentaries.
The real value of these additional options lies in the sports, shows and documentaries you have access to, which we'll cover in the next section.
ESPN Plus offers a seven-day free trial, which we took advantage of in order to do research for this review.
The Sporting Events, Shows and Documentaries You Get and the Limitations
The value of any added streaming service is what you get for the money you pay. The ESPN+ lineup at the time we did our research included several different sports, shows and documentaries.
To access your subscription, you can use your phone or your web browser. Via the web browser, you'll be presented with a home page in which there's a large video screen playing a live sporting event, a lineup to the right that details what's available for live viewing and then a series of options below.
We did our research between 10 a.m. and 10:30 a.m. EST. At that time, ESPN Plus was streaming the 2018 FIL World Lacrosse Championships. We did a quick search of the ESPN Plus upcoming broadcasts for the day. There were eight more lacrosse matches as well as a Canadian Football League matchup between the Saskatchewan Roughriders and the Hamilton Tiger-cats.
The schedule for the next day, a Friday, presented a little variety:
Car racing (Porsche Supercup Series)
MLB baseball
Canadian football (CFL)
Lacrosse (World championships)
Rugby (Super Rugby)
Soccer (United Soccer League)
We gave a quick look at the weekend events and found that ESPN+ also offers MLS soccer games as well as coverage of the Little League Softball World Series and eSports.
Replays of these events were limited. According to the schedule we checked during our research, there were no archived replays of any of the events we listed above.
We did, however, find a replay of a Manny Pacquiao fight against Lucas Matthysse that took place five days previous.
ESPN+ Shows and Documentaries
Our free-trial research revealed that many of the shows you can watch on ESPN Plus are archived. Most of those shows focused on boxing and soccer. Here's a sample of the 123 archived episodes that were available when we took advantage of our free trial:
The Boxing Beat with Dan Rafael
Ariel and the Bad Guy (MMA)
In This Corner (Boxing)
Lacrosse Weekly
Detail (NBA)
I'll Take That Bet (Sports betting)
Enhanced (sports tech)
In addition to these archived episodes, ESPN+ gives you access to ESPN's full library of 30 for 30 documentaries. We also saw that they offer access to the ESPN "Best of Boxing" series and archives of every Indianapolis 500 race dating back to 2010.
Is ESPN+ a Substitute for ESPN?
Based on our research, we believe that ESPN+ does not serve as a substitute for someone who wants access to ESPN's coverage. Rather, we believe it's a supplement to what ESPN already offers.
We make this statement based on our survey of the programming that was available during our free trial as compared to what was available on ESPN, ESPN2 and ESPN3.
First, ESPN's flagship program, Sportscenter, is not available to ESPN+ subscribers. In order to access it, you'll need to log in via your cable company. If ESPN isn't part of your cable package, then you won't be able to access any of their shows. The same goes for ESPN2 and ESPN3.
So, in that sense, you'll be missing out on Sportscenter as well as other notable shows like First Take, Monday Night Football and more.
In addition, you won't be able to access Monday Night Football as well as other mainstream sports aside from the MLB coverage that you get via your subscription.
Because of these gaping holes in what would be considered ESPN's most popular offerings, we think ESPN+ acts as a supplement to the more comprehensive coverage of popular sports that ESPN provides.
Pro tip: You may not be able to watch teams in your local market due to blackout rules. A good example of this would be a city in which games aren't televised unless ticket sales for the game exceed a certain amount.
How ESPN+ Compares to Other Add-On Sports Subscriptions
The assumption we're making about the average consumer is that you already have some sort of TV viewing package, whether it's through a traditional cable provider or a service like Sling TV.
Whichever package you have, you tend to have one of two options: add the stations you want by upgrading your package or by adding on a channel or series of channels a-la-carte style.
For example, Sling TV gives you ESPN, ESPN2 and ESPN3 as part of their Orange package. If you want to add on ESPNU and ESPNEWS as well as NHL and NBA games, it's an extra $5 a month.
You can also choose a $10/month package that includes the NFL, NHL, NBA and golf channels as well as the Olympics channel and several other channels.
Now, if you're a cable customer like I am, the options are a bit different. I'll use my own situation as a Comcast customer to help you understand how it works. I pay $59.99 a month for 75 Mbps internet, HBO and Showtime plus basic cable.
If I wanted to upgrade my cable package to include ESPN, I would have to upgrade to their "Starter" cable level, which would cost me an extra $65 a month. Comcast does not provide options to add a single channel to your package.
Hulu TV, on the other hand, includes ESPN, ESPN2 and ESPN3 in their $39.99 package.
In our opinion, ESPN Plus' value doesn't quite measure up to what you get out of the $5 add-on package from Sling TV, mainly because the Sling package is giving you ESPN's three main channels whereas the $4.99 you're paying for ESPN+ gives you one channel.
The Final Word: Pros, Cons and Who We Think ESPN+ Is Good For
Based on our research, we believe ESPN Plus' greatest strength is that you get good value for the money as compared to the entire cable and non-cable landscape. When you compare it specifically with Sling TV's $5 add-on, it loses some of its value, but that all depends on what you want out of your sports package (more on that in a second).
We also want to know that, via our 75 Mbps internet connection, we had no streaming quality issues during the few hours we tested out content on the site.
And, finally, we like the fact that you can watch MLB games.
The downside to ESPN+ is that the sports it offers are considered, by American standards, fringy. The bulk of the coverage available during our free trial was lacrosse, soccer and rugby, three sports that have small, albeit devoted, followings.
In our opinion, ESPN+ is an excellent fit for someone who loves baseball and soccer. Since the subscription includes MLB games and MLS games, you'll get your fill for a very affordable rate. If you're a sports fan who loves hockey, basketball or football, this won't be the best choice.
» See Also: Guide to Streaming Video Services: How to Find the Best Subscription
Not what expected

By T K.

,

Lakeland, FL

,

Nov 22, 2019
Verified Reviewer

I was under the understanding that if I did not have cable that I could sign up and watch NFL live. Not true. It asked for my cable provider which I had none. Also paid for a full year upfront and after two days of signing up, I was told canceled at the next billing cycle, which will be in a year. What a scam. Not truly what was believed to be. Also, after I mentioned about a credit, NO RESPONSE. Word of mouth will go a long way.

Bottom Line: No, I would not recommend this to a friend

---

ESPN+ awful product

By Jacques L.

,

North Carolina

,

Oct 10, 2019
Verified Reviewer

The functionality is terrible. The app is not easy to find on FireStick. Having to stream the fight from a laptop is cumbersome. We end up missing significant portions of the sporting event. The MMA events should go back to PPV. They're going to lose viewership. ESPN+ is an awful product.

Bottom Line: No, I would not recommend this to a friend

---

Advertisement

---

Mad subscriber

By Randon L.

,

Edmond, OK

,

Sep 22, 2019
Verified Reviewer

ESPN is trying to control college sports. This app lags way behind and requires better than normal internet. You get score updates for games almost 2 minutes before you get to watch it. If I could give negative stars I would.

Bottom Line: No, I would not recommend this to a friend

---

Football

By Eugene B.

,

Florida

,

Aug 31, 2019
Verified Reviewer

Save your money, it is not worth it. If you're looking to watch live football you will be disappointed. I canceled after one hour, too bad you can't get your money back. Make sure you know what channels you get. ESPN+ does not mean you get all the other ESPN channels.

Bottom Line: No, I would not recommend this to a friend

---

Advertisement

---

Don't do it!

By Lino L.

,

Las Vegas, NV

,

Aug 26, 2019
Verified Reviewer

Wish I read these reviews first! They are spot on. This service sucks. Total rip off! Tried to convert to my TV from my iPhone and it would send to ESPN's home screen. So the app blocks you from watching on your TV. I used an Apple HDMI converter from my iPhone X to my 2-year-old TV (should be sufficient, right). Customer service tried to blame on my TV. But I can transfer Netflix and YouTube or anything else that was on my phone. Then I asked to speak with a supervisor or anyone else. He said there's no way to transfer the call to anyone else. You can't do anything about it. They got your money.

Bottom Line: No, I would not recommend this to a friend

---

Terrible

By Ashley M.

,

Nevada

,

Jul 29, 2019
Verified Reviewer

We have been using ESPN + for one reason only - there is no choice. If there was a choice between this and going back to cable we would choose cable all day every day. The service is convoluted from log-in to playing, pausing and restarting the programming. Resolution goes in and out too. It works nothing like cable, Netflix or other streaming platforms...just to be clear, using this program is unbelievably frustrating.

Bottom Line: No, I would not recommend this to a friend

---

Worst beyond worst

By Billy B.

,

California

,

Jun 24, 2019
Verified Reviewer

Lost my money. They have a strict refund policy. If it doesn't work, tough luck, we have your money. The viewing is dial-up status. Will give you the runaround, hopefully, you just say well, I'll just lose my money. They hope you buy it. But you have to digest the website to find what devices are not capable. They want you to research what devices are not capable before you buy but you buy first then research. They want your money no question, just want the piece of the business.

Bottom Line: No, I would not recommend this to a friend

---

ESPN+ for a group

By Anthony H.

,

The Mainland

,

Apr 19, 2019
Verified Reviewer

Yeah, this is the last time I'll spend a single cent on a live stream with ESPN or any service. Direct TV apparently loves their customers so much that if you're late 5 minutes after a PPV Sporting event (UFC) starts, you can no longer purchase the fight, instead, you have to spend $40 more on a membership with ESPN to watch the fight on your television set with family or friends, etc. A waste of money. Froze every 5 minutes, then would kick us out of the event. Can't even rewind the fights if it freezes or pauses to let it fix itself out...but I don't know.

Bottom Line: No, I would not recommend this to a friend

---

HORRIBLE

By Stance S.

,

California

,

Apr 8, 2019
Verified Reviewer

Can't stream to my Smart TV or share it from my phone. USELESS. I tried to cancel and they took an extra month and refuse to provide even basic support for refund request issue. Last time I ever do business with ESPN!

Bottom Line: No, I would not recommend this to a friend

---

Horrific experience

By Mike S.

,

California

,

Mar 7, 2019
Verified Reviewer

Service is awful! Click on a game, then doesn't work, then called the so-called customer service and no help there. And asked for an address to send a letter and nothing. Asked to speak to a supervisor, nope, don't have that either.

I guess I'm filing a complaint with the FCC.

Bottom Line: No, I would not recommend this to a friend

---

Total ripoff

By Kay D.

,

Denver, CO

,

Feb 5, 2019
Verified Reviewer

Funny how during the free trial I watched top-ranked men's NCAA basketball. The day the trial ended the selection become unranked college sports. Pure chance? I don't know, and I don't care. Do NOT think for a minute the ESPN+ is remotely related to ESPN. ESPN+ is a bunch of random unranked sports and colleges. A total waste of money. And NO REFUND policy. I canceled and am done this with ripoff.

Bottom Line: No, I would not recommend this to a friend

---